In my journey through Nova Scotia in June this year, it seemed that Crab Cakes became my signature dish. On my first night in Halifax, I chose Crab Cakes (bottom left) as my starter at Stories at the Halliburton and enjoyed them very much. The second time I had Crab Cakes was at Pictou Lodge Resort, chef chose the menu for me and it included Crab Cakes with Pineapple Carpaccio and Corn Salsa (top photo), then finally I made Northumberland Snow Crab Cakes with Dill Remoulade (bottom right) on a cooking day on the farm with the Kilted Chef.
I enjoyed all of these different Crab Cakes, although the Snow Crab Cakes were probably the best of all, simple and scrumptious. Now back in Scotland and summer seems to have gone on it's holidays, it was 13C and pouring with rain the other day. ​A new survey carried by International Currency Exchange (ICE) found that majority of people choose their holiday purely based on the food available at the destination. I hadn't really thought about that before, but it certainly is a factor when I'm planning my holidays. In order to keep that holiday feeling going I decided to recreate a version of Nova Scotia Crab Cakes. I didn't have any Snow Crab, in fact I was struggling to find any crab at all in the small town where I shop as there is no fish shop and the supermarket didn't have any fresh crab. I had the choice of tinned crab or or the not very appetising looking 'Seafood Sticks'. In the end I decided to go with the Seafood Sticks and I'm pleased to say that they worked very well indeed, making this dish one much less expensive and still delicious.
'Crab' Cakes with Dill Remoulade
makes 24 small crab cakes
500g crab meat or seafood sticks (if you use the seafood sticks, blitz them in a food processor first)
1/2 yellow pepper, finely chopped
1/2 red pepper, finely chopped
1/2 a large red onion, finely chopped
2 tbsp fresh dill, chopped
60g mayonnaise
1 egg white
15g breadcrumbs
1/2 tsp salt
1/4 tsp pepper
2 eggs beaten
2 tbsp flour
300g fresh white breadcrumbs made from day old bread
Dill Remoulade
2 tsp fresh dill finely chopped
2tsp fresh lemon juice
2 tbsp shallots, finely chopped
180g Mayonnaise
Mix all the ingredients together and divide into 24 small cakes. Dip each cake in flour, then egg and then in the breadcrumbs, place on a baking tray lined with parchment and place in the fridge for a couple of hours to firm up.
Make the Dill Remoulade by mixing all the ingredients together and leave for at least 30 minutes for the flavours to blend.
Saute the crab cakes a few at a time, keeping them warm in the oven, then serve with the Dill Remoulade.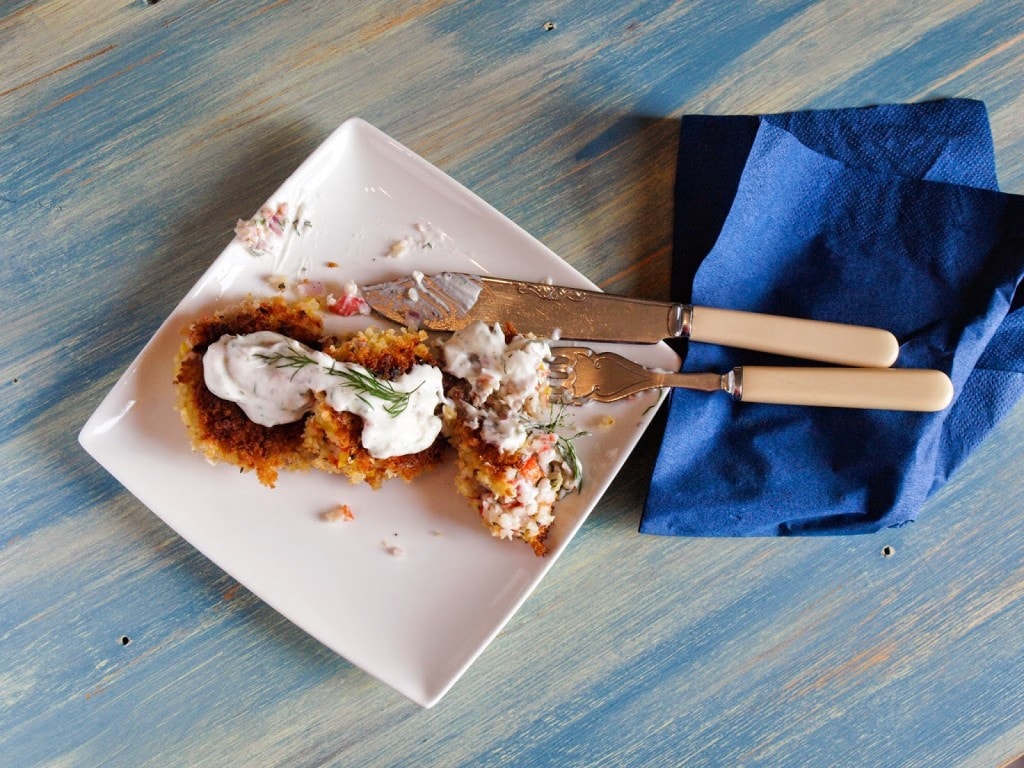 Nova Scotia 'Crab' Cakes with Dill Remoulade
Here are a few memories of my trip to Nova Scotia, I can certainly recommend it as a foodie holiday destination.
This post is my entry to the ICE competition, I received expenses for the ingredients I used but was not paid to write this post and all opinions are my own.