I had an amazing day with the Kilted Chef in Nova Scotia, read all about the fantastic North Atlantic produce in
The Kilted Chef Part 1
before moving on to see me learn knife skills, how to make candied bacon and Lobster 101 or How to break down a lobster in The Kilted Chef Part 2!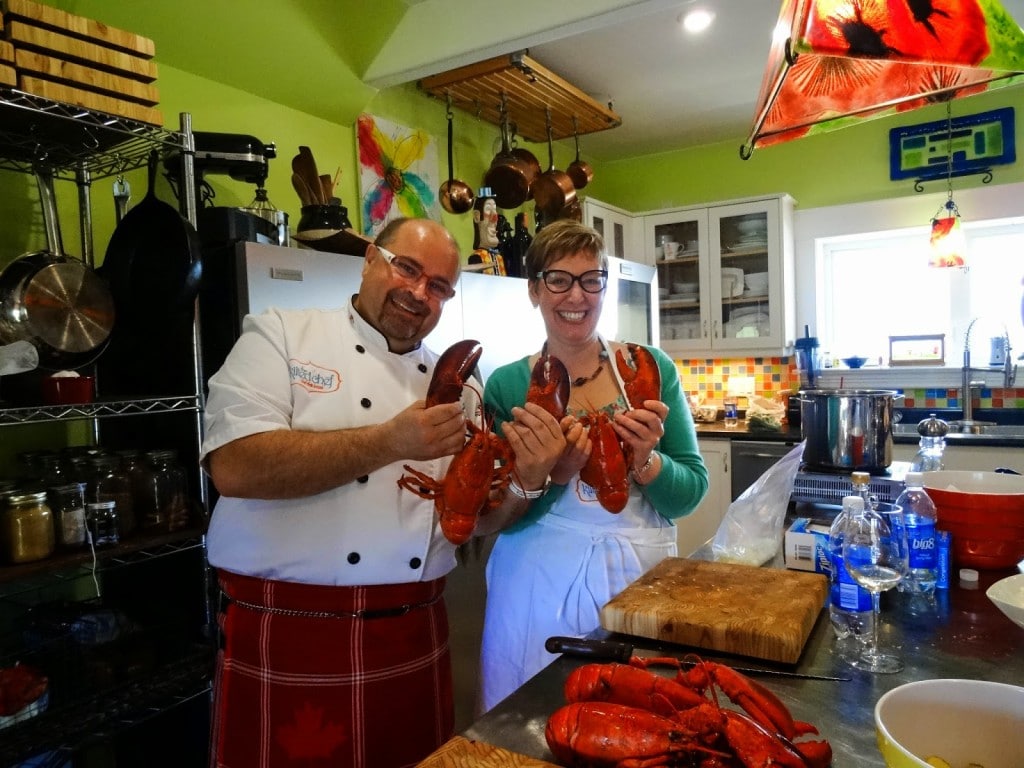 Now to the exciting part of my day with The Kilted Chef! It's time to cook, there may have been wine involved, but not until we had learned to use our large, sharp and scary knives. Alain taught us how to hold the knife, avoid cutting our fingers off and then we moved on to our victims practice pieces which were carrots. We learned to chop them into different shapes and sizes, a great way to practice using the knives.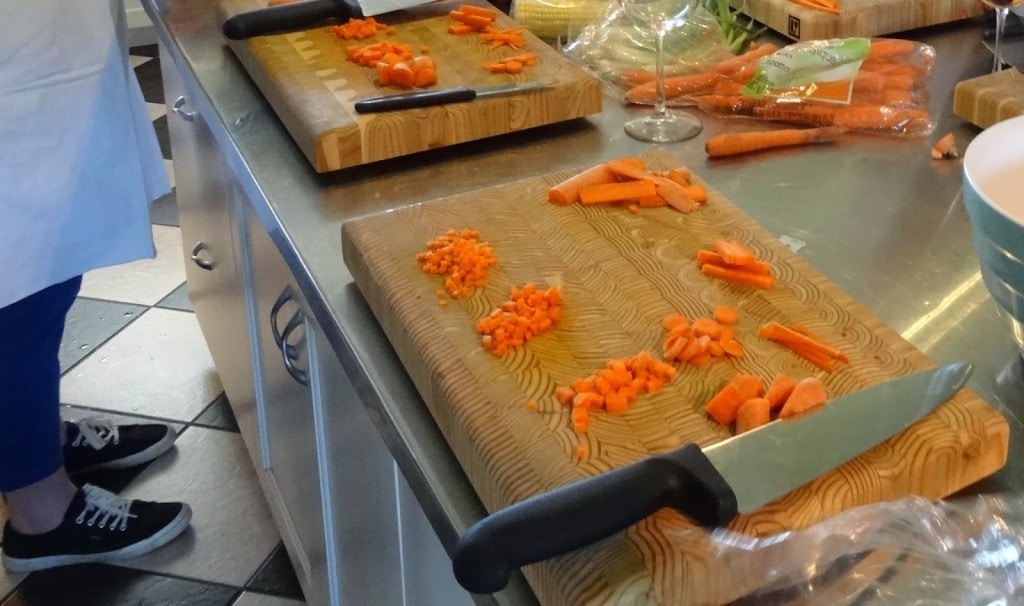 Then we were ready for the first recipe: Curried Carrot Soup. All the carrots we had chopped went into the pot! I'll be posting the recipes separately when I have made them at home, I've made some already but for now this is an overview of the fabulous time you can have at a Cooking Class with the Kilted Chef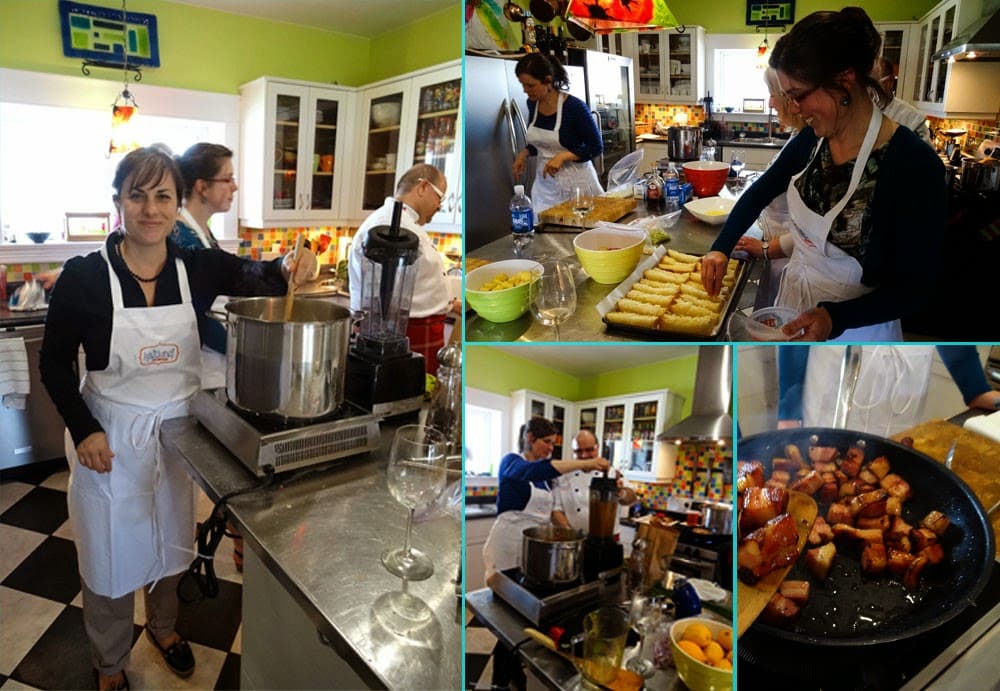 The Soup is in the big pot that Licia is stirring, later it was blitzed in the Vitamix. Up a the top Buttery Asiago Bread Sticks (butter soaked bread with a sprinkling of grated cheese then baked in the oven) are being prepared, these were served with a lobster chowder. In the pan is Candied Double Smoked Bacon, big chunks of smoked bacon sautéed and coated in maple syrup.
I don't seem to have any photos of the making of the Northumberland Snow Crab Cakes with Dill Remoulade, quite possibly because I had my hands in the crab mixture forming it into cakes and others were up to the elbows in egg or breadcrumbs!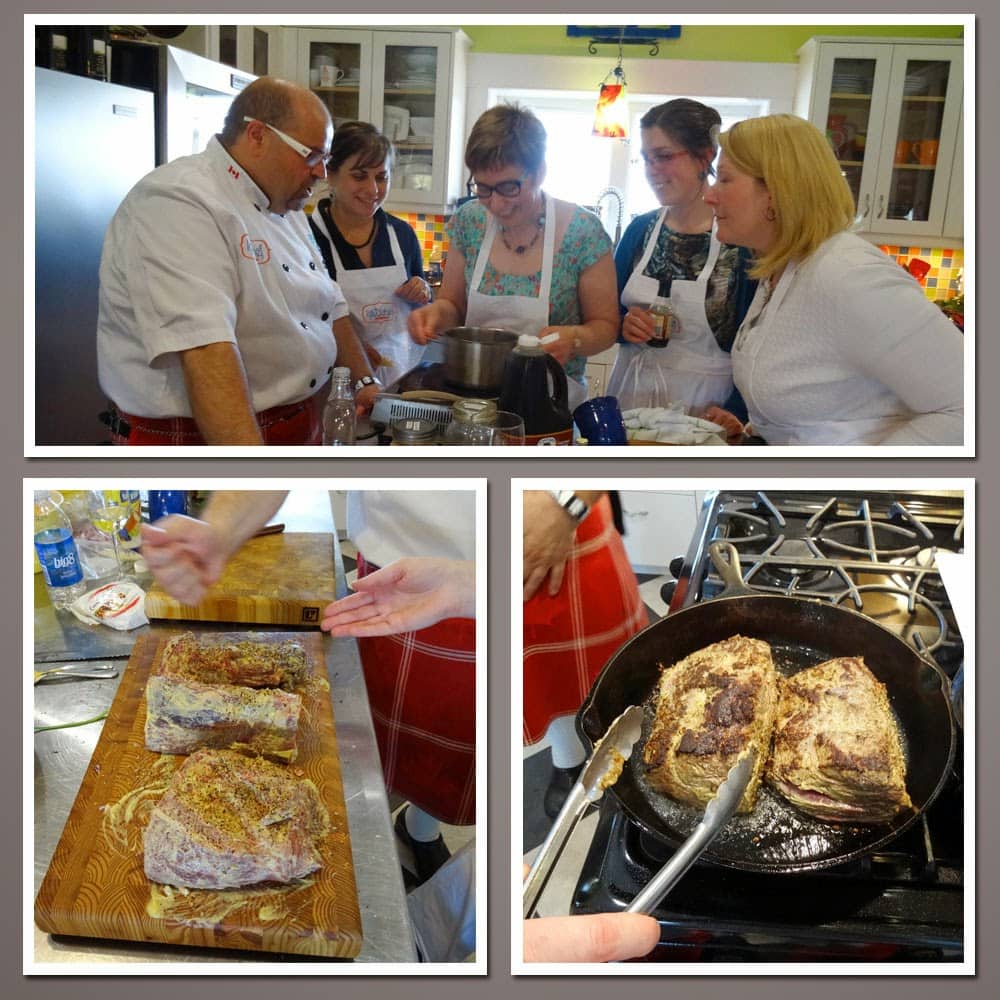 The main course was Slow Roasted Beef Tenderloin with Maple Ginger Sauce. The beef is rubbed with mustard and seasoned before searing and then slow roasting. In the top photograph we are all carefully watching the Maple Ginger Sauce, waiting for the right moment to add the sesame seeds, maple syrup, fish sauce and chilli sauce into the ginger and garlic.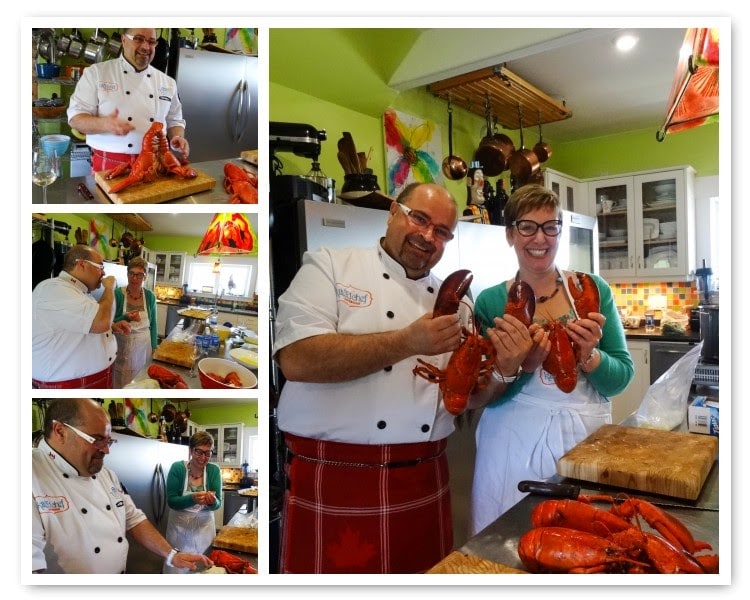 Alain is known for cooking with seafood and so it was time for 'Lobster 101'. We had already learned how to get the lobsters into the pot, removing the rubber bands from their claws and not getting nipped! Now it was time for a demonstration of how to get the meat out of the lobster as simply as possible. You can watch a video of Alain doing just that on his website How to Break down a Lobster.
We had a few 'moments', top left is Alain demonstrating how lobsters have sex! Then once the lobster was deconstructed, I was offered one of the thin 'legs' to suck out the the 'sweet goodness' – you can see I didn't believe it and I have to say it really didn't do it for me, my face said it all and we all ended up laughing, I laughed so much I cried. We really had a ball.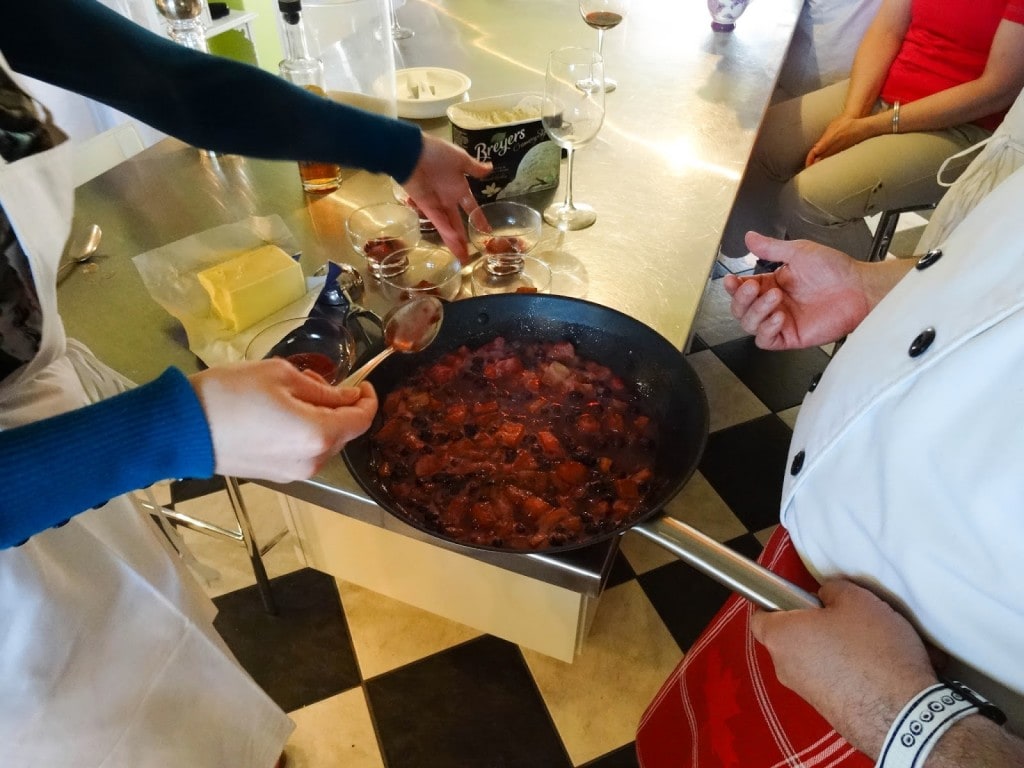 Dessert was something I had never heard of, let alone tried. Rhubarb and Wild Blueberry au Poivre, this pan of gently stewed fruit gets 50 turns of freshly ground pepper into it! It tastes fantastic and not peppery at all. I chose to make this as my contribution to our blogger dinner later in the trip, so you will see more of it later.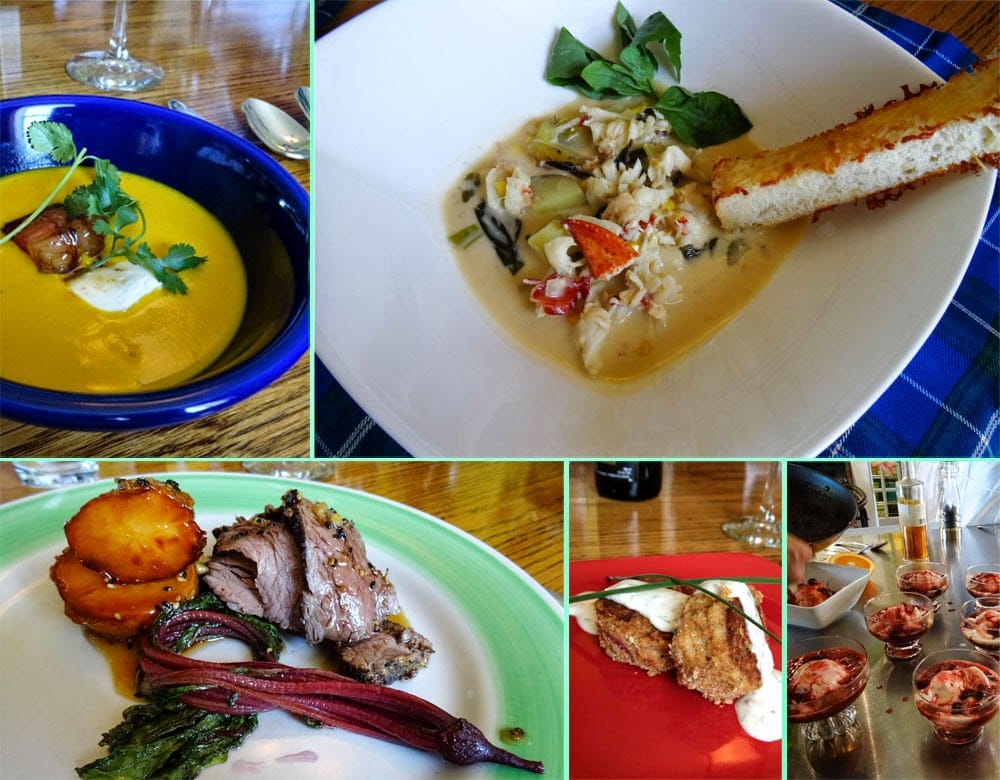 We were each given responsibility for one course of the meal and served each other at the table. Here is the full menu:
Curry Carrot Soup with Candied Double Smoked Bacon
Northumberland Snow Crab Cakes with Dill Remoulade
Lobster Chowder iwth sweet Basil, corn and Brie
Buttery Asiago Bread Sticks
Ferguson fresh Slow Roasted Beef Ternderloin with a Maple Ginger Sauce
Sauted Beet Greens
Candied Roasted Potatoes
Rhubarb Wild Blueberry au Poivre
Served with an assortment of Nova Scotia Wine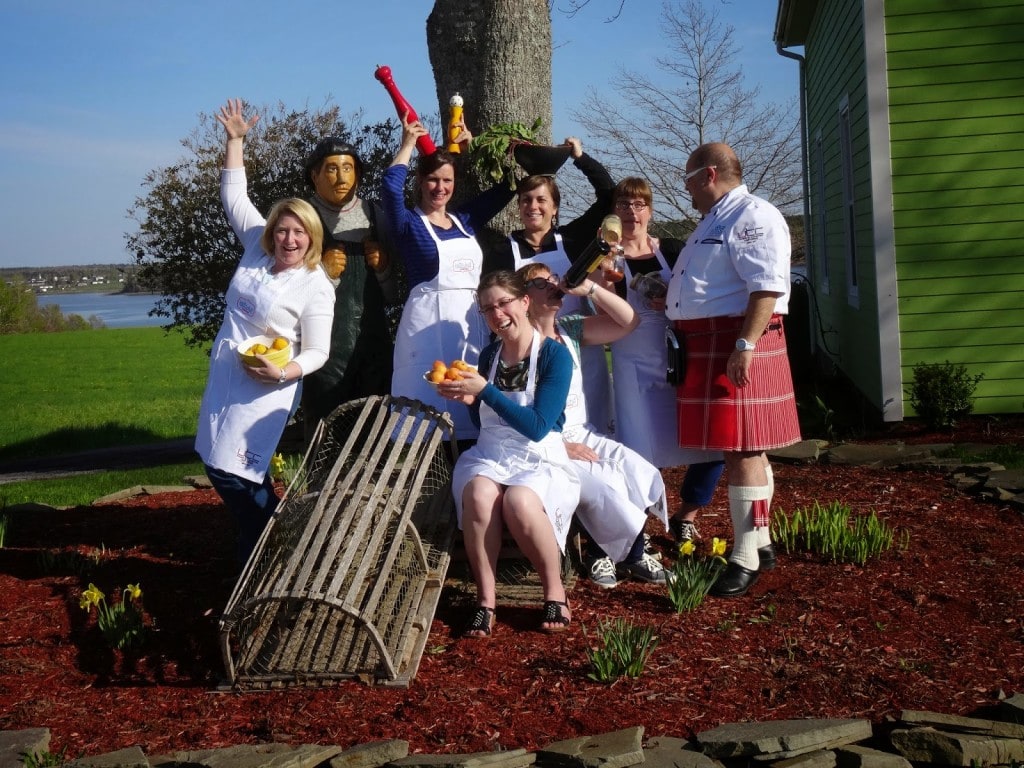 I'd like to thank Alain Bosse, The Kilted Chef, and his wife Joanne for their outstanding hospitality. I'd also like to thank Licia, Angela, Erin, Heather and Sarah for sharing the day with me and being such good fun. The day was relaxed and fun but at the same time I learned skills that I have brought home with me. I'll never be able to work with a small knife again and I've managed to keep holding it as instructed which has vastly improved my knife skills. I am not sure I will ever be prepping lobsters, but many of the other recipes have already graced my table and I'll be sharing them with you soon.