Everyone loves cupcakes, right? I certainly can never resist them and homemade is always best. These Mon Cherry Amour Cupcakes are ideal for Valentine's Day or any celebration or simply to give yourself a little boost. I love how the bright red of the cherries contrasts with the cool creamy buttercream and the sprinkling of green pistachio nuts.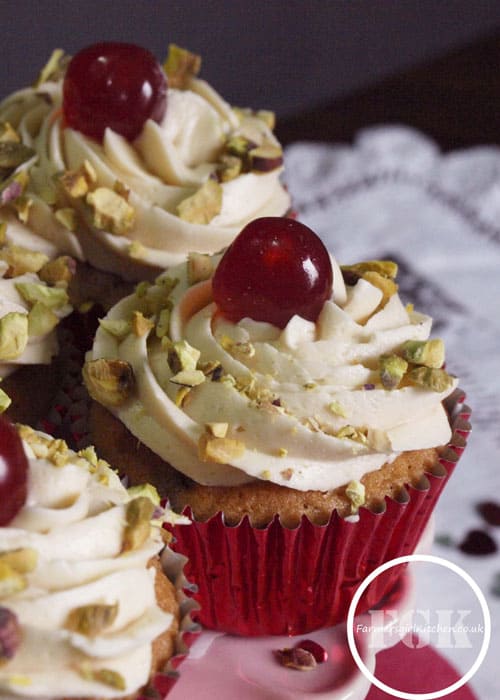 Mon Cherry Amour Cupcakes come from Le Cookie
Michael Benichou and his French pastry chef design cool and quirky cookies for luxury brand
Moon Street
. The cookies are available to buy through exclusive outlets in Paris, New
York and at branches of Harvey Nichols in major cities in the UK. In this collection, Michael shares more than 25 recipes for cookies as well as deliciously different macarons, whoopie pies, brownies and cupcakes in this sweet little book.

Le Cookie: Delicious sweet treats designed in Paris, baked in New York by Michael Benichou. Photography by Steve Painter
There are five chapters in this little book each illustrated with a beautifully styled photograph of the cookie or cake.
Cookies:
The chapter starts with 'Le Cookie',the original and most traditional of the cookie recipes, these are definitely on my list of makes. It also includes Orange Crush Cookies, Praline Chic Cookies; Tres Yummy Cookies and Rebel Rose Cookies.
Brownies:
There are six recipes in this chapter starting with Bonjour Brownies, Sugar and Spice Brownies with cardamom and milk chocolate (mmmm!), The Supreme which combines brownie with orange and zest and a sticky Bailey's syrup, Coffee Lover's Brownies (might make these for my husband's next birthday), the Bijou Blondies contain extra virgin olive oil and white chocolate, and finally Crackling Brownie French Fries containing popping candy, cut into fingers and dipped in chocolate hazelnut spread.
Whoopies:
Very Berry Whoopies look a bit like a Devon split, a sandwich of whoopie pie fresh cream and summer berries, Made in France Whoopies are a salted caramel version, Fit for a Queen Whoopies are apparently inspired by a trip to London, Wicked Pecan Pie Whoopies with pecan nougatine, are you drooling? Fit for a King Whoopies is an Elvis special: Peanut butter and banana. The final Whoopie is a Jello Whipped Cream Whoopie a sort of Jelly and cream or bite-sized trifle.
Cupcakes:
Good As Gold Cupcakes are a vanilla sponge with chocolate cream embellished with edible gold lustre dust, Mon Cherry Amour Cupcakes (see below), Pavlova Cupcakes don't have any meringue in or on them, which I thought was a bit odd. Cupcakes du Jardin is an unusual combination of Lemon, Basil, and strawberry which sounds very good. Dulce de Leche Cupcakes are sure to be popular.

The Mon Cherry Amour cupcake recipe is great for creating evenly risen cupcakes.
Macaron:
The final chapter gives us six Macaron recipes: Flower Power Macarons include crystallised rose petals, Raspberry cheesecake Macarons are pink and swirled with darker pink, filled with a sweet cheesecake filling; Mojito Macarons have a marbled effect and a white rum, lime and mint kick! Possibly the most unusual combination is the Carrot Top Macarons which contain carrot, cumin and orange, Tea Voyage Macarons made with green tea and jasmine look very sophisticated. The chapter and the book ends with the rich and decadent After Dinner Macarons a combination of rich
chocolate and mint.
Who is it for?
This is a book of special occasion bakes, for showing off or treating a friend or loved one to a very special treat. All of the bakes look like those you would get at an expensive afternoon tea. If you are a fan of Moon Street cakes and would like to try and make your own, then this book is for you. If you are fed up of the same old cupcakes and cookies, then you might enjoy trying the unusual flavour combinations.
Pros
Great photographs mean that you know what you are aiming to achieve.
Once you have mastered the basic technique for each bake, then you will find the variations are easy to achieve and might be inspired to make your own unusual combinations.
I learned a new way of making cupcake batter, I've never had a recipe which you leave in the fridge overnight, but it works!
Cons
There are only 27 recipes in this book.
I really didn't like the way that the basic recipe, in my case for the cupcake was only written out once and as it wasn't included in the My Cherry Amour page, I had to keep flipping back and forward. I thought that was poor and expect each recipe to include all instructions on one page.
Ease of use
The book includes both US and Metric measurements
The quantities in the recipe I made were accurate to create the number
of cakes stated
As I said in the Cons, the flipping back and forth was a nuisance.

Mon Cherry Amour Cupcakes would make a pretty addition to an afternoon tea.
Worth buying?
There are some really nice recipes in this book, but if you already have a lot of baking books you probably have enough Cookie, Brownie, Whoopie, Cupcake and Macaron recipes to last you a lifetime.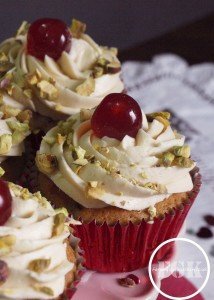 Mon Cherry Amour Cup Cakes
A moist cherry and vanilla cupcake topped with pistachio butter cream and decorated with pistachio nuts and topped with a cherry.
Ingredients
Vanilla Cupcake Mixture
1/2

vanilla bean

3

eggs

15

g/1cup icing/confectioners' sugar

150

g/1 cup plus 2 tbsp plain/all purpose flour

1

tsp

baking powder

150

g/1 stick plus 3 tbsp butter

melted

50

g/ 1/2 cup finely chopped pistachios

plus extra to decorate

12

glace/candied cherries
Pistachio Buttercream
180

g/ 2 1/4 cups icing/confectioners sugar

50

ml/ 3 1/2 tbsp milk

1

tablespoon

pure vanilla extract

2

tbsp

pistachio paste*

1

tablespoon

Kirsch cherry liqueur

green food colouring

optional

cupcake pan

lined with 12 cupcake cases

piping bag

fitted with a star-shaped nozzle tip
Instructions
To make the Vanilla Cupcake Mixture, START THE DAY BEFORE you want to bake the cupcakes.

Split the vanilla bean length ways and scrape the seeds out into a bowl. Add the eggs and sugar and beat with an electric whisk until tripled in volume and the beaters leave a thick ribbon trail when you lift them out of the mixture.

Sift the flour and baking powder into the bowl and whisk lightly. Add the melted butter and fold in gently with a large metal spoon.Fold in the chopped pistachios. Cover and refrigerate for 24 hours.

Divide the mixture between the cupcake cases and bake in the preheated oven for about 15-20 minutes. Remove from the oven and allow to cool completely.

To make the pistachio buttercream put the butter sugar, milk, vanilla extract pistachio paste and Kirsch in a bowl and beat with an electric whisk or by hand with a wooden spoon until you get a light fluffy texture. Stir in drops of the food colouring until you get the desired shade of pistachio green, if you like.

Fill the piping bag with the buttercream and pipe on top of the cold cupcakes. Balance a glace/candied cherry on top and sprinkle extra chopped pistachios around the edge.

*To make your own pistachio paste, roast 125g/1 cup pistachios on a baking sheet in a a preheated oven at 160C (325F) Gas 3 for 10 minutes, taking care not to let them burn. Transfer to a bowl. Put 175ml/ 2/3 cup water and 60g/ 1/3 caster sugar in a saucepan and bring to the boil. When the sugar has dissolved and the liquid is boiling, cook over medium heat for 5 minutes. Carefully pour this syrup into a food processor with the roasted pistachios and 30g/ 1/3 cup ground almonds and pulse until you get a smooth paste.
Notes
I have any pistachio paste and decided against the green food colouring. I also substituted Cherry Brandy for the Kirsch. I was impressed with the cupcakes, the texture is firm and not over sweet. My work colleagues were even more impressed and the cupcakes disappeared very quickly.
Nutrition
Calories:
2926
kcal
Carbohydrates:
367
g
Protein:
29
g
Fat:
148
g
Saturated Fat:
81
g
Cholesterol:
338
mg
Sodium:
1110
mg
Potassium:
1271
mg
Fiber:
9
g
Sugar:
225
g
Vitamin A:
3960
IU
Vitamin C:
1.5
mg
Calcium:
385
mg
Iron:
9.4
mg
Don't Miss My Latest Recipes
CLICK TO SUBSCRIBE NOW to join my newsletter list & receive a FREE 'How To Adapt Recipes For Your Slow Cooker' printable!
Share by Email

PIN FOR LATER
The Mon Cherry Amour Cupcakes look very luxurious, taste delicious and would be perfect for a Valentine's Day treat.
Published by Ryland, Peters and Small
RRP £9.99
Popular Online retailer £6.89. I was supplied with a copy of Le Cookie to review, I was not expected to give a positive review and all opinions expressed are my own.