Chocolate Dipped Viennese Fingers are a classic retro bake. Short crumbly piped cookies that melts in your mouth. Dipping these cookies in chocolate takes them to another level of deliciousness.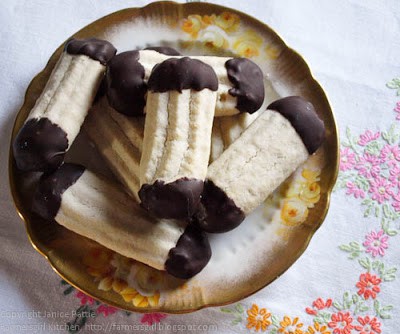 Retro Cakes and Cookies – Wendy Sweetser
Take a trip down memory lane and discover recipes for delicious,
retro-style cakes and cookies in this book by food writer Wendy Sweetser, author of 20 cookery books and a member of the UK Guild of Food Writers and the Slow Food Association.
There are 26 recipes in this little book, a similar number to
'LeCookie'
the book I reviewed earlier this month. The books are from the same publisher and have a very similar format.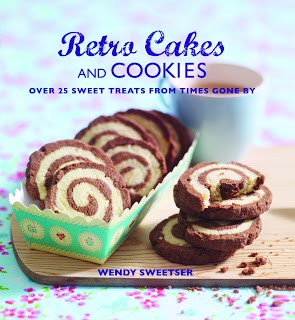 The Chapters
The book is divided into three chapters:
Small Cakes, Bars and Buns
including Maids of Honor; Date, Apricot, and Pecan Sheet Cake;  Lemon Bars; Chocolate Fridge Cake;  Rock Cakes; Swiss Buns;  Coconut Pyramids and Butterfly Cakes
Cookies and other treats
including Snickerdoodles;  Double Chocolate Pinwheels; Melting Moments; Jam Sandwich Cookies; Shortbread Petticoat Tails; Ginger Nuts; Chocolate Dipped Viennese Fingers and Macaroons.
Large Cakes including Coffee Walnut Layer Cake;  Devil's Food Cake; Dundee Cake; Pineapple Upside-Down Cake; Christmas Yule Log;  Iced Orange Seed Cake; Cherry Almond Sponge; Pound Cake; Spiced Apple Cake and Cornish Saffron Cake.
Who is it for?
I was a little disappointed with the selection of recipes in this book.  Perhaps it is because the selection of 'Retro' cakes seem to have a bit of a US bias and also because I already have the majority of these recipes in other books.
However, if you don't have an extensive collection of baking books and
you want to try some classic UK and US bakes then there are some tasty recipes in this little book.
Pros
A nice photograph of each cake beside the recipe, metric and US measurements.
Recipes are clearly laid out and simple to follow.
There are some slightly different recipes that really appeal to me e.g.
Date, Apricot and Pecan Sheet Cake, Ginger Nuts and Iced Orange Seed Cake.
There are 'Cook's Tips' for some of the recipes some have variations
and others have interesting information about the history of the different bakes.
Cons – Limited number of recipes, many of them in any general baking book.

Chocolate-Dipped Viennese
Fingers
I've always liked the idea of making Viennese Whirls or Fingers, but have never done so.  This was the perfect opportunity to give it a
try.
Preparation time: 15 minutes
Baking time: 7-8 minutes
Makes about 20 (mine must have been too big because I made 10!
For the cookie dough:
125g unsalted butter, softened
25g icing sugar, sifted
½ tsp. vanilla extract
¼ tsp. baking powder
115g plain flour
40g cornflour
About 2 tbsp. milk
For the chocolate icing:
100g dark or milk chocolate
Preheat the oven to 160C.  Make
the cookie dough: in a mixing bowl, beat the butter until soft and creamy.  Sift in the icing sugar, add the vanilla and
beat again until the mixture is light and fluffy.
Sift in the baking powder, plain flour and cornflour, and add the milk.
Stir rather than beat everything together to make smooth soft dough.
Line two baking sheets with baking parchment.  Spoon the mixture into a piping bag fitted
with a large star nozzle.  Pipe the
mixture onto the baking sheets in lines about 10cm long, spaced well apart, to
make about 20 cookies.

Bake in the oven for 7-8 minutes or until the cookies are pale
golden.  Leave to cool on the baking
sheets for 5 minutes, before very carefully transferring to a wire rack with a palette
knife to cool completely.

To make the chocolate icing, break or chop the chocolate into small
pieces, and place in a heatproof bowl. Stand the bowl over a pan of simmering water, making sure the bottom of the bowl does not touch the water, and leave until the chocolate has melted, stirring occasionally until smooth.
Re-line the baking sheets with clean baking parchment or foil. Dip both
ends of the cookies into the melted chocolate, let the excess chocolate drip back into the bowl, and place the cookies back on the baking sheets until the chocolate has set.  When set, store the
cookies in an airtight container.

Cooks Tips
The mixture needs to be soft enough to pipe, but it must also be firm enough to hold its shape, so you may need to adjust the quantity of milk to ensure the right consistency.  The baked cookies are crumbly and delicate,
so handle them with care as you could break them when lifting them off the
baking sheets and dipping them in chocolate, if you are too heavy handed. On the other hand, eating the broken ones is the cook's perk.
Farmersgirl Tips
You do need the extra milk to get the consistency soft enough.  I used a large 'potato'  or 'cream' piping nozzle as I couldn't get the dough through anything else and ended up having to move the dough to a new piping bag.  
The Viennese fingers are very delicate, I broke one  cookie when I took it off the baking sheet, the chocolate was left on the paper and the biscuit came away in my hand!  However, these were a big hit with young (my two year old grandson) and old (my 88 year old mother-in-law!) and everyone else in between.  The taste and texture was exactly what I would expect from a Viennese Finger even though making them felt a bit like being on the Great British Bake Off!
Retro Cakes and Cookies by Wendy Sweetser is published by Cico Books at £9.99 and is available from www.cicobooks.com
I received a copy of Retro Cakes and Cookies to review, I was not paid for this review and all opinions are my own.