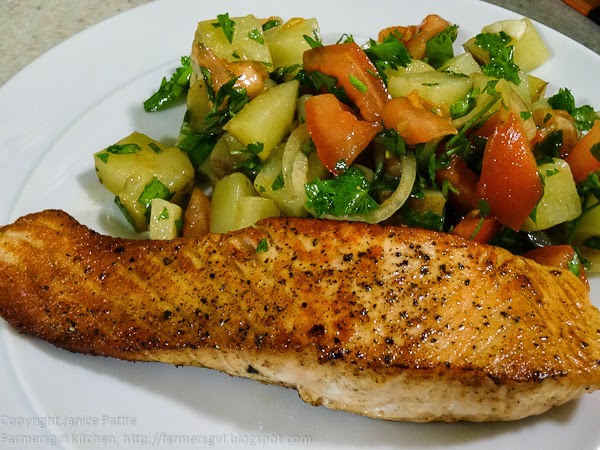 So, apparently, Spring is here! Here in Scotland it still feels like winter with rain, wind and even some flurries of snow further north. We did have a few days of more spring -like weather and I wanted to make something fresh and light.
The salmon fillets were simply seasoned with salt and freshly ground pepper and pan fried skin side down first until the salmon goes opaque about 2/3 of the way up the side of the fish. Then turn over and cook for a couple of minutes on the other side.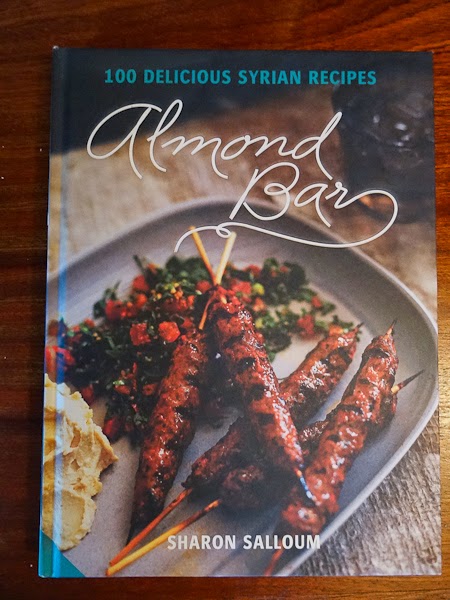 Syria is not a country I know much about and I wasn't aware that it also had its own cuisine. The book, Almond Bar, is named for the restaurant in Sydney, started by Sharon Salloum and her sister, Carol, to bring to life their mother's love of food. Sharon feared she might not be able to emulate the passion her mother puts into food but, after much blood, sweat and tears, she likes to believe that she has done her parents and family proud.
Almond Bar starts with a look into The Syrian Pantry, some ingredients are familiar, like chickpeas, Bulgar wheat and Haloumi. Others such as Baladieh, a semi-soft cheese, Freekeh, a green dried wheat grain and grey courgettes. There are also a couple of pages of Middle Eastern Food Suppliers to ensure you can make the recipes in the book.
Spice Blends are crucial to capturing Middle Eastern flavours and there are the instructions for four different blends. We then move on to a chapter of Sauces and Dips, I liked the Smoked Aubergine Dip, Mint and Walnut Sauce, a vibrant Beetroot Dip and the classic Labne, a dried yoghurt dip.
Finger food is a speciality of The Almond Bar and this chapter if full of tempting bites from Za'atar Pizzas to Scallops and Basturma Drizzled with Pomegranate Butter.
Learn how to make Arish Cheese and Shanklish in a step by step guide.
I think the Sharing Platters look amazing and are one of my favourite ways of eating. There were some delicious recipes like Lemony Lentil Soup, Crushed Chickpeas with Yoghurt Almonds and Pine nuts, Za'atar Prawns with Pumpkin Mash and a step by step photo guide to making Falafel.
On to Salads and Sides including one of my favourite salads, Fatoush or Toasted Bread Salad, Tabouli, Haloumi, Lentil and Watercress Salad and Salatet batata– a Syrian Potato Salad which Sharon's mother's recipe, a light fresh, well balanced salad.

Salatet batata (Potato Salad) serves 4
4 main crop or Russet Potatoes, peeled and cut into 1.5cm cubes
2 tomatoes, roughly chopped
1/2 brown onion, thinly sliced
Large handful of flat leaf parsley, roughly chopped
Small handful of mint, roughly chopped
Dressing
1 clove garlic, crushed
1 tsp salt flakes
1 tsp sweet paprika
60ml (1/4 cup) extra virgin olive oil
60ml (1/4 cup) lemon juiceRinse the potato cubes to remove any excess start, then place in a medium saucepan and cover with enough cold water to come 2cm (3/4in) above the level of the potato. Bring to the boil, then reduce the heat and simmer for 10-15 min until tender but not soft enough to fall apart. Drain and leave to cool to room temperature.
To make the dressing, place all the ingredients in a small bowl and mix together well.
Combine the potato, tomato, onion, parsley and mint in a bowl, pour over the dressing and gently toss to coat. This salad is best served while the potato is still lukewarm bu it can be made ahead of time, refrigerated and served cold as well.
We are not finished with Almond Bar by any means, it's time for the 'Mains'. There are some really luscious dishes such as Middle Eastern Lamb Dumplings, Stuffed Small Aubergines, Minced Lamb, Parsley and Onion Skewers, Chilli Fish, Spaghetti Cooked in Milk and Cannellini Bean, Tomato and Beef Stew to name just a few.
Syrian Desserts bring a delicious Middle Eastern twist to the usual favourites, I was taken with Rosewater Ice-cream, Fig Sorbet, Sweet Semolina and Coconut Slice, Turkish Delight with Pistachio and a number of recipes using 'Middle Eastern Clotted Cream'.
Who is it for?
This is a book for the adventurous cook, someone who likes big flavours and likes to create food for sharing.
Pros
This is a beautiful book, the photographs, the styling and the graphics are stunning. There are over 100 classic and contemporary recipes with many suitable for vegetarians and plenty for meat eaters too. I loved the huge variety of small dishes in the sauces and dips section, finger food, shared plates, salads and sides. These reflect the Middle Eastern way of eating, the importance of celebrating food and sharing.
Cons
Some of the ingredients could be a little difficult to source, most of the suppliers are in London and the South East although there are some online suppliers.
The Verdict
This is an excellent book to add to your collection, even if you already own some books of Middle Eastern cookery. I will definitely be returning to make more of the recipes.
Book:
Almond Bar
Author:
Sharon Salloum
ISBN:
978-1-909342-57-6
Published by
Jacqui Small Publishing
Cover:
Hardback
RRP:
£25.99
Many thanks to Jacqui Small Publishing for providing me with a copy of Almond Bar, I was not paid for this review and all opinions are my own.