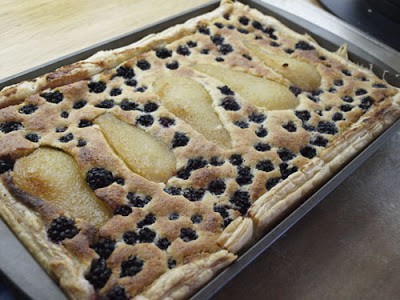 It was a rather wet start on Sunday, but when it dried up after lunch, I went out and noticed that there were a lot of 'brambles' which were ripe. I started to pick them, but once my hands were full, had to come back to the house for a bowl!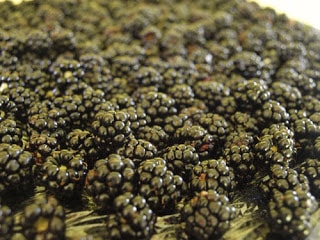 I put most of the blackberries in the freezer but decided to keep some back to make a dessert.
Pear and Blackberry Frangipane Tart
1 traybake tin approx 30 x 23 x 4cm (12″ x 9″ x 1 ½")
1 sheet frozen puff pastry
3 tbsp raspberry jam
1 or 2 poached pears, quartered
100g blackberries (or a couple of handfuls)
for the Frangipane
55g butter
55g caster sugar
40g ground almonds
1 large egg
15g plain flour
1. Heat the oven to 180C/170C fan oven
2. Line the tin with the pastry and trim to fit
3. Spread the raspberry jam on the base of the pastry
4. Using an electric mixer or a wooden spoon, beat together the frangipane ingredients
5. Add peached pears and sprinkle over the blackberries, push them down into the frangipane mix.
6. Bake at 170C for 20 minutes until risen and golden brown.
I served the tart warm with icecream, but you can also eat it cold. If I was going to make this again I would make shortcrust pastry for the base as the puff pastry wasn't so good underneath especially when cold.

I had some company when I was out picking brambles, the horses in the next door field were very interested in what I was doing!