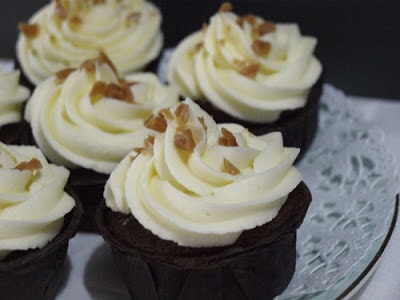 Sticky Toffee Pudding Cupcakes
I thought I'd show you the baking I did for the Macmillan Cancer Support 'World's Biggest Coffee Morning. We didn't have our coffee morning on 28th September, we had ours on Friday 5th October. There are three different buildings where I work and usually all the bakes would be brought together in one of the buildings. However, staff in the building where I work were having a staff meeting at the time of the coffee morning, so I agree to keep my bakes in our building so they could make their donations and enjoy the baking. I'm pleased to say that the cakes raised £30 and along with the sale of raffle tickets and some additional donations, we raised a total of £85.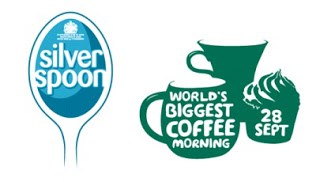 Mini Sticky Toffee Pudding Cupcakes
I made some teeny tiny cakes for those who wanted a small sweet treat.

Rum and Raisin Chocolate Chip Cookies
This cookie recipe is in the Great British Bake Off book 2. I used Old Jamaica chocolate which is a dark chocolate with rum and raisins. These were very popular especially with men!

Lorraine Pascale's Party Time Chocolate Fridge Cake
These sweet treats went down well at the coffee morning, adding maltesers to a chocolate 'tiffin' recipe is a great idea from Lorraine Pascale and the recipe is in the 'Little Book of Treats' sold by Marks and Spencer on behalf of Macmillan Cancer Support.
Sticky Toffee Pudding Cupcakes
for 12-16 cupcakes
180g (6 1/2oz) pitted and chopped dates
180ml (6 1/2 fl oz) boiling water
80g (3oz) unsalted butter, softened
150g (5 1/2oz) soft brown sugar
2 large eggs
180g (6 1/2) plain flour
1/2 tsp baking powder
1tsp bicarbonate of soda
1/4 tsp salt
1tsp vanilla extract
for the buttercream
75g (3oz) butter, softened
225g (8oz) icing sugar, sieved
3 tbsp milk
for the decoration
Toffee or fudge pieces
1. Place the chopped dates in a bowl, pour over the boiling water and leave to soak for about 20 minutes.
2. Preheat the oven to 190C/375F, Gas 5 and line a muffin tin with cases
3. Beat the butter and sugar together until soft and fluffy. Break in the eggs, one at a time and mix well.
4. Sift together the flour, baking powder, bicarbonate of soda and salt. Gradually add the dry ingredients to the egg and butter mixture and mix until the batter is smooth.
5. Add the vanilla extract to the date mixture, add this and mix by hand until evenly dispersed.
6. Fill each case about 2/3 full with the mixture.
7. Bake for 18-20 minutes until risen and springy to the touch. Leave to cool slightly before removing from the tin and place on a wire rack to col completely before icing.


Buttercream
1. Place all the ingredients together in a bowl and beat until they are smooth and blended, about 2-3 minutes.
2. Fill a piping bag and using a Wilton 1M star nozzle, pipe from outside to the centre of the buns.
3. Decorate with toffee or fudge pieces