Slow Cooker Spiced Ham is the simplest of recipes. All you need to do is add the citrus fruits and spices to the Slow Cooker with the liquid of your choice. The juices and spices infuse into the ham during the long slow cooking, leaving the ham gently flavoured and wonderfully moist.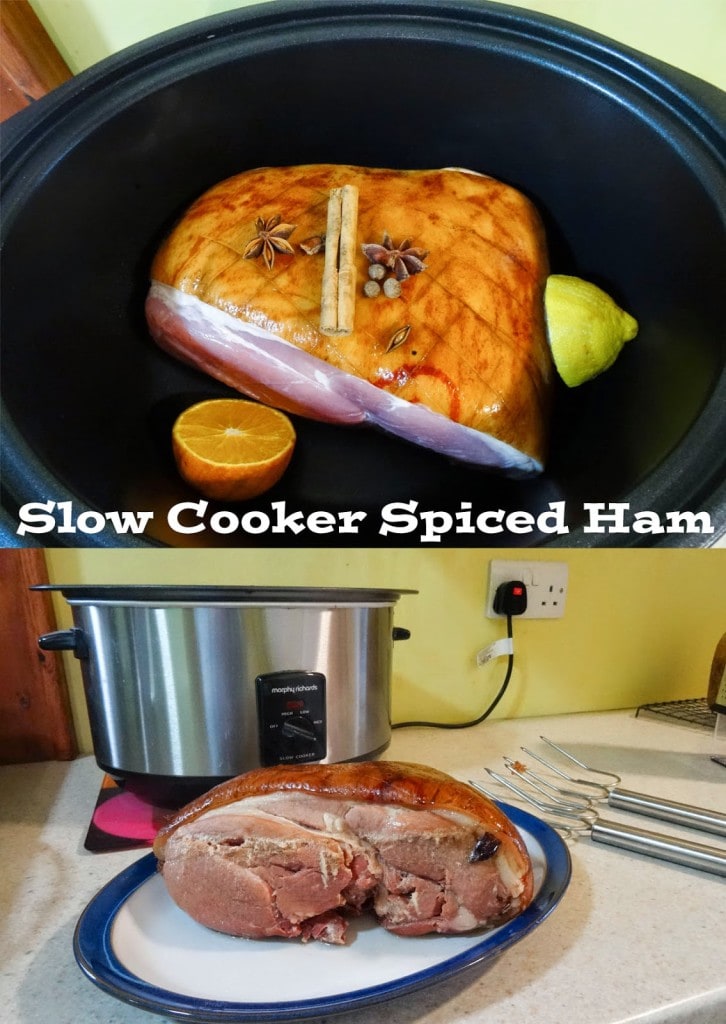 It might seem like a bit of an extravagance to buy a ham in January, but you can get an awful lot of eating out of a large ham like this eating it sliced, warm and cold, then stretching the rest into several meals using rice, pasta, quiche, bakes, pies and pasties.
Adding some spices and citrus fruit to the cooking liquid just adds a little extra flavour to the ham. It's not overpowering and is more obvious in the cold ham than when it is served warm.
Slow Cooked Spiced Ham
1 ham or gammon joint (2.5 kilos)
1 cinnamon stick
2 star anise
3 all spice berries
1/2 lemon
1/2 orange
1 litre of liquid (you can use apple juice, cider, white wine or water or a combination)
Place all the ingredients in your Slow Cooker or Crockpot, put on the lid and cook on low for 4-5 hours.
Farmersgirl Tips
If you are using a smaller gammon joint, simply reduce the liquid, spices and cooking time, it's a really that simple.
If you want to glaze your ham, remove the rind, then using a sharp knife, make a criss cross pattern in the fat. Make a mixture of 50g dark brown sugar and 1 tsp dried mustard powder and rub into the fat. Heat the oven to 180C and bake until the rind is bubbling about 10-12 minutes. I would recommend lining your tin with foil as the sugar mixture is really sticky and difficult to remove.
This is my entry for my #SlowCookedChallenge, the theme for January is CITRUS, why not join me?