You are going to absolutely love this Sensational Strawberry Pavlova! I've been making pavlova for many years and didn't think I had much to learn about making this meringue-based dessert but I was WRONG!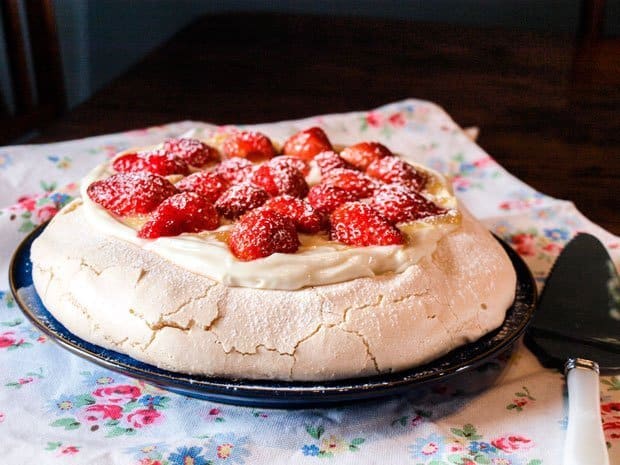 You see, I've been reading How Baking Works (and what to do when it doesn't) by James Morton. You may remember James Morton from the Great British Bake Off, this young medical student (now qualified) has taken his medical scientific mind and applied it to the science of baking.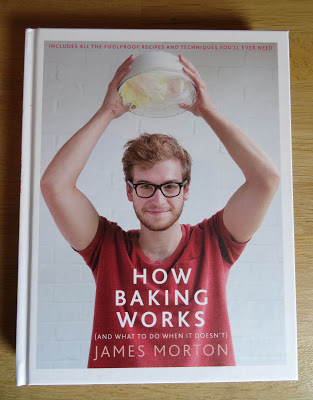 So what is in the book?  It starts by telling us 'How This Works', James promises no flowery language everything simple and direct.  The book is designed to explain to you how to make the basics of baking, with some recipe suggestions but with the intention that, once mastered, you will go on to make your own variations.
Forebake is an excellent primer for baking well.  A list of ingredients with a full explanation of their contribution to the bake and how best to use them.  There is also a list of essential equipment which won't scare you off as it really is pretty basic.
The Basics takes you through techniques and staples, reducing the fear factor of Creme Patissiere, Creme Anglaise,  Creme Brulee, Frangipane and Caramel, including how to save crystallised caramel.
Melting chocolate is demystified and chocolate ganache couldn't be easier.  Three different types of buttercream to fill those lovely cakes, marizpan, crumble topping and even jam and curd making.  Each one described carefully and simply with step by step instructions.
Get Baking
So now we are really ready to start baking each chapter starts with some basic instructions and lots of reasons why you need to do certain things, I do like to know why, don't you?
Detailed Notes
The detailed notes on the variations will help you make changes to your recipes without risking disaster.  If things still go wrong, James is ready with a list of troubleshooting tips.
This is the pattern for CAKE, SPONGE, BROWNIE, MUFFINS, TORTE, BISCUIT, SHORT, SWEET, CHOUX PUFF, MERINGUE and  MACARON. Following the whys and wherefores are the recipes.
Recipes I want to make
Celeriac Cake with Strawberries and Cream
Wee Sponges with Passion Fruit Curd and Italian Meringue
Macadamia and Raspberry Blondies
Yoghurt Muffins
Squidgy Gingerbread Muffins
Torta Caprese
Chocolate Orange Cookies
Iced Rings
Mushroom and Thyme Tart with Poached Egg
Cherry Bakewell
Frangipane Fruit Tart
Choux Divorces
 Mango, Raspberry and Pistachio Roulade
Kiwi Pavlova (I have adpated this recipe for my Sensational Strawberry Pavlova)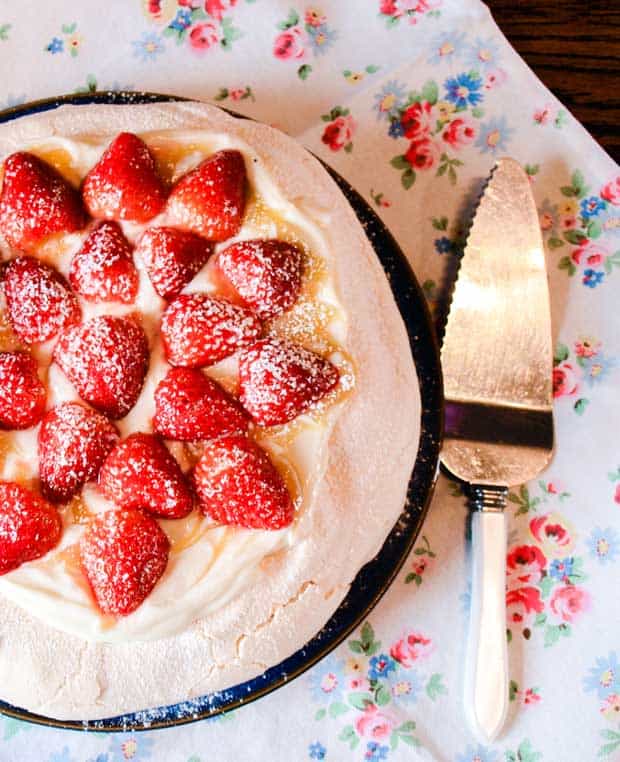 Who is it for?
When I first started to read this book, I thought it was a book for baking geeks, who look at baking as a science rather than an art and who need to know every little detail before they start to bake.
That isn't true because although it would suit that type of baker, I think everyone who bakes would benefit from reading How Baking Works and I do mean READ.
It was only when I sat down to read the book that it all came together for me and I could see what James was trying to achieve.
Pros
One of the things I really liked about this book was just how clearly you could hear James' voice.  Perhaps that was easier because I watch GBBO avidly, however, while the style is informal, the language is quite clearly James' own.
Cons
There are fewer recipes than you usually get in a cookbook this size, but as explained at the beginning that's because the real purpose is to teach you to understand how each type of bake works.
The Verdict
This book should be on the shelf of every wannabe baker and also of those of us who have been baking successfully for years but didn't know quite why we were successful!
I will certainly branch out a little more using the knowledge I've gained from reading How Baking Works.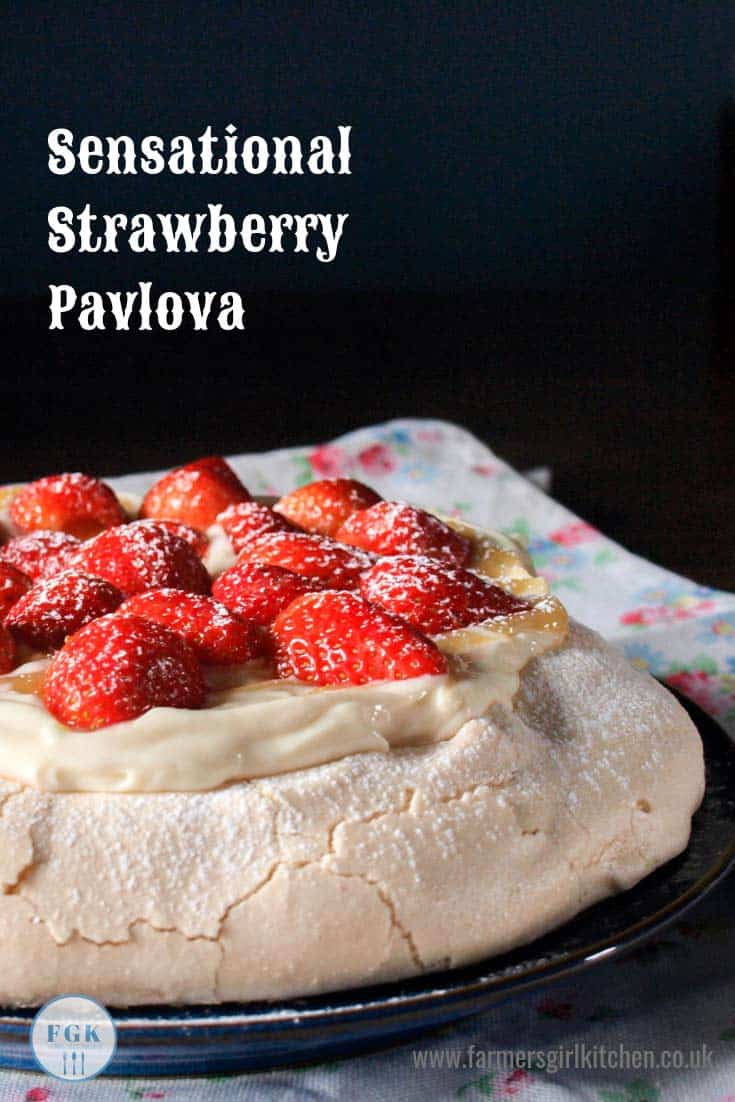 WHY NOT PIN FOR LATER?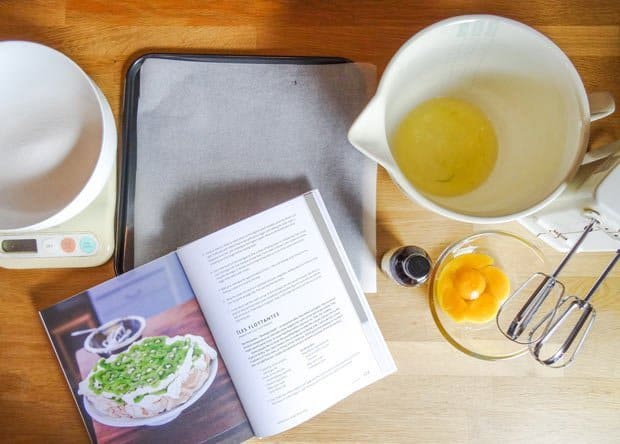 Get all the ingredients ready to make the pavlova meringue base, you can use the leftover egg yolks to make the Lemon Curd which you add to the cream.  The acidity of the lemon helps the overall balance of the dessert.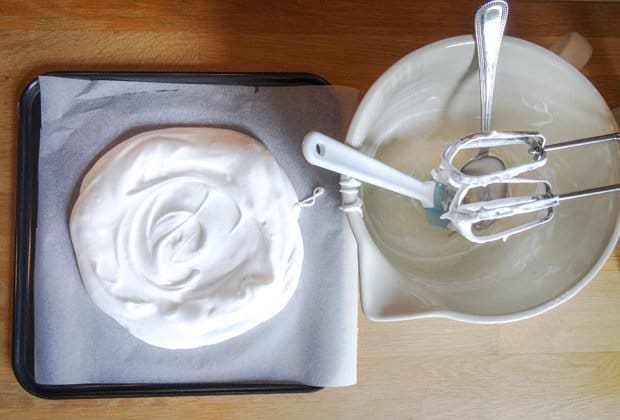 If you are not confident about making a circle, then draw around a plate onto your baking parchment, then turn the parchment over and you should still be able to see the line and can use it as a guide.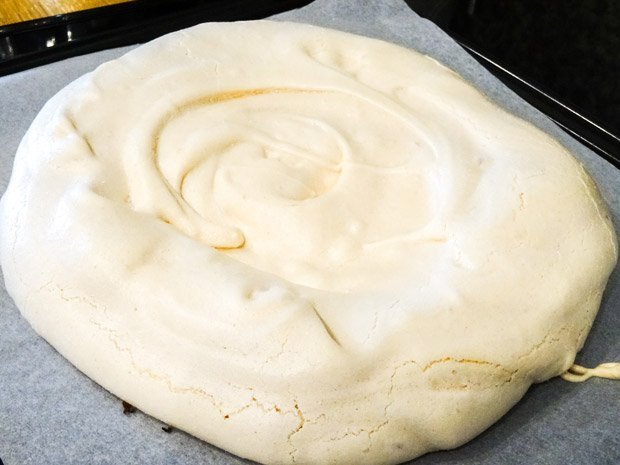 Once baked, the meringue base should be a pale golden brown.  Don't worry if it cracks as you will be covering any imperfections with cream and berries.  I have to say that I have found this particular recipe very robust and not inclined to crack. I've always added cornflour and vinegar to my strawberry pavlova to create the marshmallowy texture inside the crisp shell, but this recipe did all that without any additives and was just fabulous and will be the ONLY way I will make pavlova in future.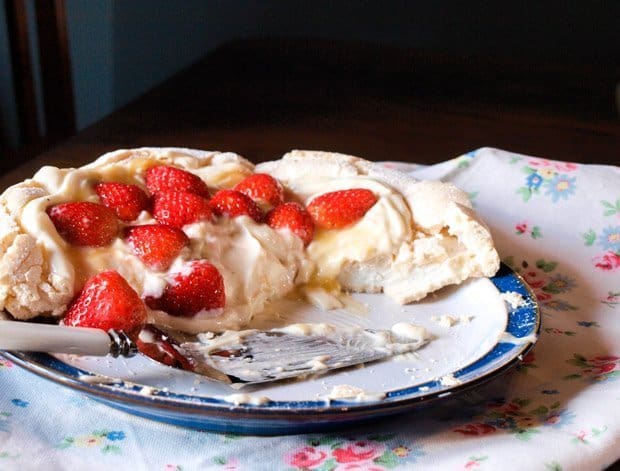 As James would say of the pavlova of his childhood: " There would be an attempt to slice it, but then it would simply be scraped from its tray and shoveled into a bowl, just as it should be"


How Baking Works by James Morton
Photography by Andy Sewell
Published by Ebury Press
RRP £20
More Strawberry Recipes from Farmersgirl Kitchen
More Pavlova Recipes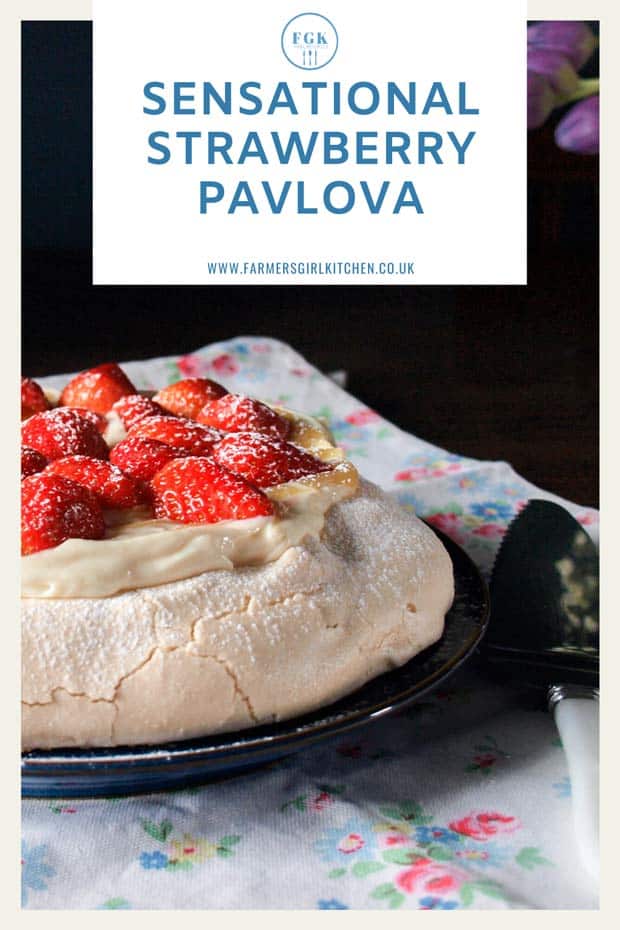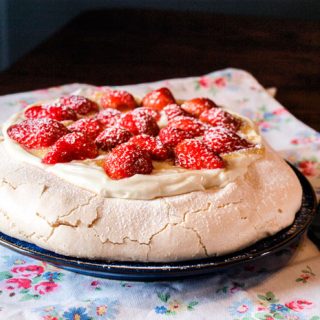 Sensational Strawberry Pavlova
The pavlova meringue recipe is from James Morton's How Baking Works, but the strawberry and lemon pavlova variation is my own combination.
Ingredients
4

medium egg whites

200

g

caster sugar

600

ml

double cream

4

tbsp

lemon curd

300

g

strawberries
Instructions
For the meringue
Preheat your oven to 120C/100C fan/Gas 1/2.2. Into a large clean bowl (not plastic or silicone), place the egg whites. They should be free of any trace of yolk - if there is any remaining, use an eggshell to scoop it out and use a torch or the light on your phone to make sure there is none left.

Using an electric whisk or stand mixer on the highest speak available, whisk the whites until light, fluffy and stiff.

When they're not getting any bigger, start adding the caster sugar, a teaspoon at a time, still whisking on the highest speed.

When it's all incorporated, keep whisking for a bit longer before setting aside.4. Use a wee touch of the meringue to stick a sheet of baking paper to a baking tray.

Then, scoop your meringue into one massive circular blob.  Try to make it thinner in the middle and thicker towards the edges.  A thicker crust is required because so much of the centre will become soggy when laden with cream.

Bake your meringue for approximately 2 hours - I like a bit of beige (even brown) on my Pavlova.

Leave it to cool on the tray.
For the topping
Whip the cream by hand in a cold bowl until just coagulated add 3 tsp of the lemon curd and fold gently through the cream.

Hull and half the strawberries.

Scoop about half the cream on top of the meringue disc and spread it around.

Add about a third of the kiwi fruits then cover completely with another layer of cream and swirl through the remaining tbsp of lemon curd, then top with the rest of the fruit. Preferably in a big pile.

You can serve immediately or keep in the fridge and serve the following day.
Notes
You can use any soft fruit to top your pavlova.  The original recipe by James Morton features kiwi fruit, I've mixed strawberries and kiwi fruit as a topping before and that is totally delicious. 
Nutrition
Calories:
407
kcal
Carbohydrates:
35
g
Protein:
3
g
Fat:
28
g
Saturated Fat:
17
g
Cholesterol:
102
mg
Sodium:
82
mg
Potassium:
138
mg
Sugar:
32
g
Vitamin A:
1105
IU
Vitamin C:
22.5
mg
Calcium:
55
mg
Iron:
0.2
mg
Don't Miss My Latest Recipes
CLICK TO SUBSCRIBE NOW to join my newsletter list & receive a FREE 'How To Adapt Recipes For Your Slow Cooker' printable!
Share by Email