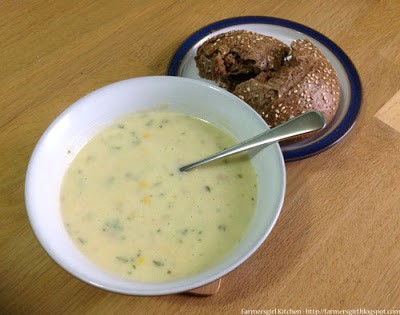 It's Lisa's turn to host 'No Croutons Required' this month: "As the winter holidays are soon upon us, this month I want you to come up with a vegetarian soup or salad that you would serve as part of a special holiday meal. It can be simple or elaborate – the choice is up to you." 
We had a family party yesterday, it's usually a pre-Christmas party, but the weather has prevented us from holding it a couple of times, so we decided to bring it forward. The soup I made for this celebratory meal was a Sweetcorn Chowder, it was easy to make and lovely and creamy, the herby cheese really adds to the flavour and I had lots of positive comments from my guests.
Sweetcorn Chowder (serves 8)
4 shallots, finely chopped
2tbsp olive oil
400g (14oz) potatoes, peeled
50g (2oz) flour
350g frozen sweetcorn
900ml (1 1/2pt) vegetable stock
2 bay leaf
400ml (7fl oz) milk
50g Boursin (herb) cheese
bunch flat leaf parsley
1. Sauté the shallots in the olive oil gently for 4 minutes, making sure
they don't colour. Cut the potatoes into small cubes. Add to the shallots and cook for a further 2 minutes.
2. Remove from the heat and add the flour, mixing well.
3. Add the frozen sweetcorn to the pan along with the
stock and bay leaves. Mix well, bring to the boil and simmer for 20 minutes.
4. Add a little of the milk to the Boursin cheese to slacken it, mix into the rest of the milk then add to the soup and bring to the boil again and serve topped with finely chopped parsley.