Salted Vanilla Oatmeal Cookies are the most delicious sweet and salty chewy oatmeal cookies. Make them with ingredients you will have in your larder.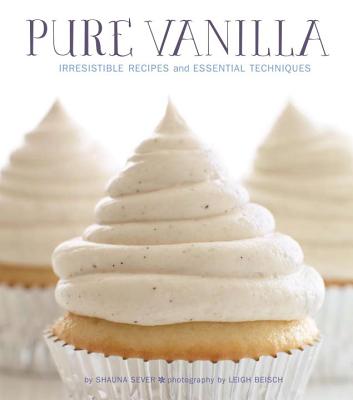 The recipe comes from a lovely book called Pure Vanilla by Shauna Sever with photographs by Leigh Beisch
Vanilla
Vanilla is the world's most universally loved flavour and for good reason. No flavour is more widely recognised, used and enjoyed across the globe.
This book aims to show the versatility of vanilla and tell the story of
vanilla from its start as a green pod nestled inside a tropical flower to its transformation into the fragrant beans we all recognise and love.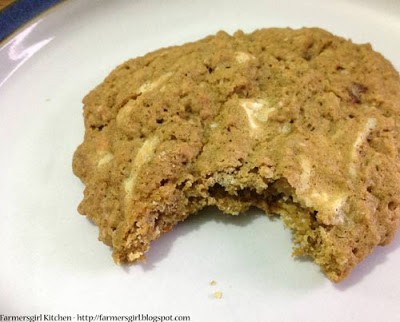 Review of Pure Vanilla
The comprehensive Introduction starts with a brief history of vanilla tracing the history of vanilla from 1519 up to the present day. The history is told in a very accessible way in short 'bites' of readable story.
In From Orchid to Extract, Shauna explains how Vanilla is produced and why it is so expensive.
There is also information about vanilla in all its forms. An exploration of the different forms of vanilla you can use in your cooking and baking.
I had no idea there were different varieties of vanilla with different
subtle tastes, but all is explained in the section: Vanilla origins, Varieties and Tasting notes . The introduction concludes with 'Vanilla FAQs' to answer any remaining questions.
Salted Vanilla Oatmeal Cookies

Makes 3 dozen cookies (I reduced the ingredients by a 1/3 to make 1 dozen)
3 cups old-fashioned rolled oats
1 1/2 cups all-purpose flour
1 teaspoon baking soda
3/4 teaspoon salt
3/14 cup (1 1/2 sticks) unsalted butter, at room temperature
1 tbsp pure vanilla extract
2/3 cup dark brown sugar, packed
2/3 cup granulated sugar
2 large eggs, at room temperature
8oz white chocolate, chopped
2 tbsp Vanilla Fleur de Sel (make it like vanilla sugar, but with flaky sea salt) for sprinkling
Position racks in the upper and lower thirds of the oven and preheat oven to 350F, line 2 baking sheets with parchment paper or silicone baking mats.
In a large bowl, whisk oats, flour, baking soda, and slat to blend well.
In the bowl of a stand mixer fitted with the paddle attachment, beat butter and vanilla extract on medium high speed until blended and creamy. Add sugars and beat until light and fluffy, about 2 minutes. I don't have a stand mixer so used an electric hand mixer.
Beat in the eggs 1 at a time. Reduce mixer speed to low and gradually add oat mixture, then white chocolate.
Scoop batter, 2 tbsp at a time, onto prepared baking sheets, about 8 cookies to a sheet, Sprinkle a bit of vanilla fleur de sel onto each cookie.
Bake until cookies are golden around the edges but still a bit soft in a centres, 12 to 14 minutes, rotating sheets from front to back and top to bottom half way through baking. Do not over bake. Let cookies cool on sheets for 2 minutes and then transfer to a wire rack to cool completely.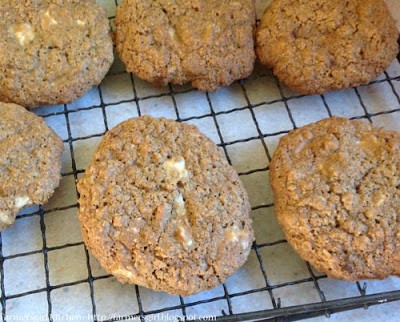 I'm not a huge fan of salted with sweet, so didn't bother with the Vanilla Fleur de Sel, the cookies went down well with my visitors and were the first to be chosen.
They have a nice texture, slightly soft and chewy. I realise I have chosen two recipes with oats in as well as vanilla, not deliberate just what appealed to me!
There are lots more recipes with different ingredients, I've given you a taster of some of the titles below.
The Pure Vanilla Recipes
There are 80 recipes in the book divided into the following chapters:
Breakfasts including Vanilla Brown Sugar and Black Pepper Bacon, Slow Cooked Vanilla Spice Oatmeal* and Buttery Baked Vanilla Bean French Toast.
Cakes and Pies Including Vanilla Cloud Cake, Twinkie Bundt Cake and Vanilla Cream Pie
Cookies and Bars including Vanilla Latte Cookies, Mini Vanilla Eclairs and Salted Vanilla Chip Oatmeal Cookies*
Candies and Confections
including Vanilla Bean Marshmallows, Golden Pear-Vanilla Jam and Vanilla Lollipops
Custards and Creams
including Warm Vanilla-Rum Rice Pudding, Australian Vanilla Slice and Favourite Vanilla Ice Cream
Drinks including Vanilla Mojito, Fruity Vanilla Iced Tea and Melted White Hot Chocolate
Resources
As this is an American book, the speciality stores are
all in the US.
Conversion Chart
I was pleased to see there was a conversion chart in the back of the
book and I used it to reduce the ingredients for the Vanilla Chip Oatmeal Cookies
Who is it for?
This book is for anyone who loves vanilla. The recipes are all cakes
and desserts, but the two that I tried were not over-sweet, with much of the sweetness coming from the vanilla itself. There are a number of interesting and different recipes, the drinks
chapter was a bit of a revelation and there are lots of interesting new ideas to try in the Candies and Confections chapter.
Pros and Cons
If you read all the information in the introduction you will be much
better informed about vanilla and how to use it to full advantage.
The quantities for some of the recipes are huge, I don't usually make 3 dozen cookies at a time.
Ease of use
The recipes are varied, some very simple and others more challenging. The recipes are well laid out and I found them easy to follow.
Slow Cooked Vanilla Spice Oatmeal

Serves 4
1 cup steel-cut oats
1/2 vanilla bean , split length ways
2 tablespoons light brown sugar (optional) plus more for serving
1/4 tsp ground cinnamon
1/8 tsp freshly grated nutmeg
1/8 tsp ground cardamom
single or double cream for serving
Coat the sleeve of a 5 quart slow cooker with nonstick cooking spray. Place sleeve in slow cooker and combine all ingredients in it; add 3 1/2 cups water and stir to blend. Set slow cooker to low and cook for 8 hours. Remove vanilla bean and scrape any remaining caviar into oatmeal. Stir well and serve with brown sugar to taste and a drizzle of cream.
I don't have a slow cooker, but wanted to try this, so this is what I did:
I only used half the quantity and cooked the oatmeal with the water in the microwave for 1 minute until hot, add the other ingredients,except the cream, and pour into a wide mouthed vacuum flask Leave overnight and serve with Greek yogurt or creme fraiche.

It worked brilliantly, the oatmeal could have been a little warmer but had absorbed all the vanilla and spice flavours and had a lovely texture. I would definitely make this again.
Worth buying?
It's a surprising book, with so many different ways to use
vanilla. However, I am not sure that I
would buy a book that focused on one flavour, but if you really love vanilla
then I'm sure you would have a lot of fun making these recipes.
Published by Quirk Books
Available at On line bookshop from £10.71
I received a copy of Pure Vanilla to review, I was not paid to review this book and all opinions are my own.