I just love apricots, fresh or dried, they are probably my favourite fruit, with raspberries coming a close second. So I was very pleased indeed when I saw that 'We should Cocoa' had chosen Apricots as the ingredient to combine with some form of chocolate in July.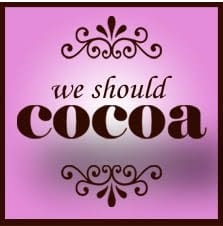 I was looking for something that was quite light so chose this recipe from Rosemary Conley's Low Fat Cookbook. In the book it is a 'Low Fat chocolate and black cherry pudding' but I thought it would work just as well with apricots.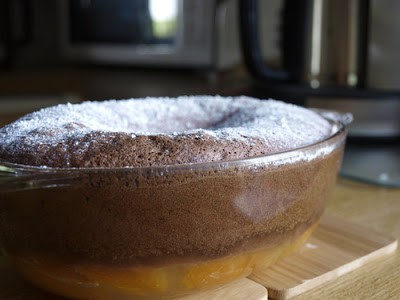 Low-fat chocolate and apricot sponge
3 large eggs, separated
4oz (100g) caster sugar
3ox (75g) self-raising flour
1oz (25g) cocoa powder
6 fresh apricots
2 tbsp fresh orange juice
1 tsp caster sugar
Gently poach the apricots with the orange juice and 1 tsp of caster sugar until they are soft. Place them in the base of an ovenproof dish.
Pre-heat the oven to 180C, 350F, Gas Mark 4.
Whisk the egg whites until stiff. Add the yolks and whisk in. Add the caster sugar and whisk until all the sugar has dissolved.
Sift the self-raising flour with the cocoa powder. Using a figure of eight action, fold half the four into the ff an sugar misxture. When the flour is almost folded in, add the remaining flour in the same way until the mixture is smooth. Spoon the mixture over the top of the apricots.
Bake in the oven for approximately 40 minutes or until golden brown. When cooked leave to cool for a few minutes. Serve with low fat fromage frais, greek yogurt or vanilla ice-cream.

The combination worked really well, the sponge is very light, moist and delicious and dig down to find the soft, sweet, golden apricots.