Beetroot Chorizo & Feta Salad is a wonderful plate of tastes and textures. The beetroot brings a sweet earthy flavour, the chorizo is crisp and spicy and the feta brings a salty, creamy luxury to this simple salad plate.

These diverse ingredients sit on a bed of fresh lettuce leaves and the whole dish is brought together by an oil and vinegar dressing sweetened with honey.
What ingredients do I need for Beetroot Chorizo & Feta Salad?
Cooked Beetroot (Beets)
Chorizo Sausage
Feta Cheese
Olive Oil
Cider Vinegar
Honey
Fresh Mint Leaves
Salad leaves

What is beetroot?
Beetroot is a round, or long tapered, root vegetable that is most commonly purple. However, beetroot also grows in other colours and these are becoming more easily available. Beets are available in classic purple, golden yellow, white and a variety called Choggia which is white with candy pink stripes.
Can I eat beetroot raw?
Beetroot is delicious grated raw into salads just the way you would with carrots. However, you should cook the beetroot for this recipe.
How do I cook beetroot for Beetroot, Chorizo & Feta Salad?
Beetroot is easy to cook, although it is quite a dense, hard vegetable. Cook beetroot in its skin and always tear off the leaves rather than cut them off. You should do this because if you cut any part of the beetroot before cooking, the colour will 'bleed' out.
In the oven: Wash the beetroot, twist off the leaves and wrap in foil. Bake in the oven at 180C for an hour to an hour and a half.
In the Slow Cooker: Wash the beetroot, wrap in foil and place in the base of the slow cooker with a little water. Bake for 5-6 hours on low or 3-4 hours on high
The cooking time also depends on the size of the beetroot., large beetroot will take longer to cook than small beetroot. Check the beetroot by gently squeezing the beets inside their foil jackets. Remember to use a cloth or oven gloves to protect your hands, as the beetroot will be very hot.
Can I use pre-cooked beetroot?
Yes, you can use the pre-cooked beetroot that you buy in vacuum packs. However, make sure that the beetroot is not preserved in vinegar.

What is Chorizo?
Chorizo is a pork sausage that is seasoned with paprika, garlic and hot pepper. It is very popular in Spanish and Mexican cooking, the main difference between them is that the Spanish chorizo is smoked.
What can I substitute for Chorizo in this salad?
You can substitute any strongly flavoured sausage, try the following:
Kielbasa
Pepperoni
Garlic Sausage
Salami
or even bacon (lardons or pancetta)

What is Feta Cheese?
Feta is a brined curd cheese made from sheep's milk or a mixture of goat and sheep's milk. It has a firm texture that doesn't melt when cooked. Feta adds a deliciously salty tang to the beetroot salad.
Can I substitute another cheese for Feta?
Feta is the best cheese for this salad, but you can substitute any firm flavourful cheese for the Feta. Try the following:
Firm block mozzarella
Halloumi
Edam or Gouda
Do I have to add fresh mint to the salad?
Mint leaves add a fresh taste to the salad and complement the sweet beetroot, spicy chorizo and salty feta. If you don't have fresh mint you can substitute chopped chives or coriander leaves. Do not use dried mint, if you don't have any fresh herbs then leave them out.

Can I make Beetroot Chorizo & Feta Salad in advance?
Cook the beetroot in advance and store it in a sealed container in the fridge for up to 3 days.
Make up the dressing the day before you plan to use it. Store in a jar with a lid or a lidded plastice box. Don't put the dressing in the fridge or the olive oil will go solid.

Can I freeze Beetroot Chorizo & Feta Salad?
You can freeze cooked beetroot but I would not recommend using frozen beetroot in this salad. Frozen beetroot is ideal for adding to soups like Beetroot and Black Cumin Soup or serve as a side dish with a cheese sauce.
Can I make the salad vegetarian?
You can make Beetroot Chorizo & Feta Salad suitable for vegetarians.
Buy vegetarian chorizo.
Buy a vegetarian alternative to Feta as the cheese is traditionally made with animal rennet. Or use an different cheese.

How do I serve Beetroot Chorizo & Feta Salad?
I serve this salad as a light lunch or supper with crusty bread. Serve as a side salad with grilled chicken, serve the salad leaves separately and make a big bowl of the salad. I recommend you dice the beetroot instead of slicing to make it easy for people to help themselves and ensure they get all the ingredients. If liked, you can increase the quantities of chorizo and feta to make it a more substantial dish.
More Beetroot Recipes

Roast Beetroot with Honey and Thyme is a simple and delightful side dish recipe. The beetroot is roasted in the oven then coated in a delicious dressing that brings out all the sweet earthy flavours of the beets.

These luscious Beetroot Burgers are served in a toasted brioche bun. And accompanied by layers of salad, gherkins and a delicious smoky chipotle mayo.

Beetroot and Black Cumin Soup is such a beautiful rich red colour and it looks so good with a contrasting spoonful of yogurt and some finely chopped parsley.   Add a drizzle of olive oil and enjoy the sweet and sour taste is a revelation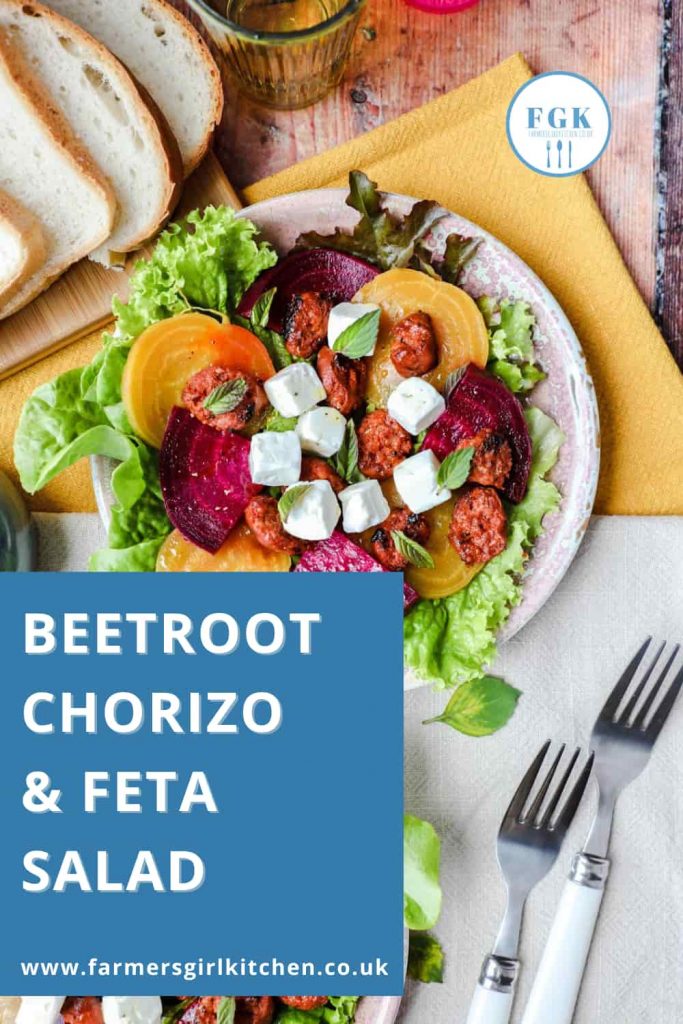 PIN FOR LATER

Beetroot Chorizo & Feta Salad
Beetroot Chorizo & Feta Salad is a wonderful plate of tastes and textures. The beetroot brings a sweet earthy flavour, the chorizo is crisp and spicy and the feta brings a salty, creamy luxury to this simple salad plate.
Equipment
Sharp knife

chopping board

Frying Pan

small bowl

fork

Measuring spoons
Ingredients
500

grams

Cooked beetroot

100

grams

Cooking chorizo

cubed

100

grams

Feta

crumbled or cubed

2

tablespoon

Olive oil

1

tablespoon

Cider vinegar

1

teaspoon

Honey

¼

teaspoon

Salt

1

Pinch of pepper

1

tablespoon

Fresh mint

roughly chopped

100

grams

Salad leaves
Instructions
100 grams Cooking chorizo

Place the cubed chorizo into a hot frying pan and fry until golden and crisp. Take care that it doesn't burn. Set aside to cool.

Cover the plates with a variety of salad leaves.

500 grams Cooked beetroot

Slice the beetroot and lay it out on the leaves.

Divide the cooked chorizo between the two plates.

100 grams Feta

,

1 tablespoon Fresh mint

Add the crumbled or cubed feta to the plate sprinkle with chopped mint.

2 tablespoon Olive oil

,

1 tablespoon Cider vinegar

,

1 teaspoon Honey

,

¼ teaspoon Salt

,

1 Pinch of pepper

Thoroughly mix the olive oil, cider vinegar and honey with the salt and pepper.

Drizzle the dressing over the salad and serve immediately.
Notes
Serve as a light lunch or supper with crusty bread.  Or as an accompaniment to grilled or roast chicken. 
Nutrition
Calories:
470
kcal
Carbohydrates:
31
g
Protein:
17
g
Fat:
32
g
Saturated Fat:
14
g
Polyunsaturated Fat:
2
g
Monounsaturated Fat:
13
g
Cholesterol:
80
mg
Sodium:
1794
mg
Potassium:
1050
mg
Fiber:
8
g
Sugar:
23
g
Vitamin A:
1838
IU
Vitamin C:
30
mg
Calcium:
384
mg
Iron:
4
mg
Don't Miss My Latest Recipes
CLICK TO SUBSCRIBE NOW to join my newsletter list & receive a FREE 'How To Adapt Recipes For Your Slow Cooker' printable!
Share by Email
I'm linking up this post to #CookBlogShare the link up for great recipes. Hosted for the next two weeks by Melissa Traub.
First published July 2012