Sloe Cordial is a non-alcoholic cordial that is easy to make and not too sweet. It makes a great gift for Christmas or at any time of year.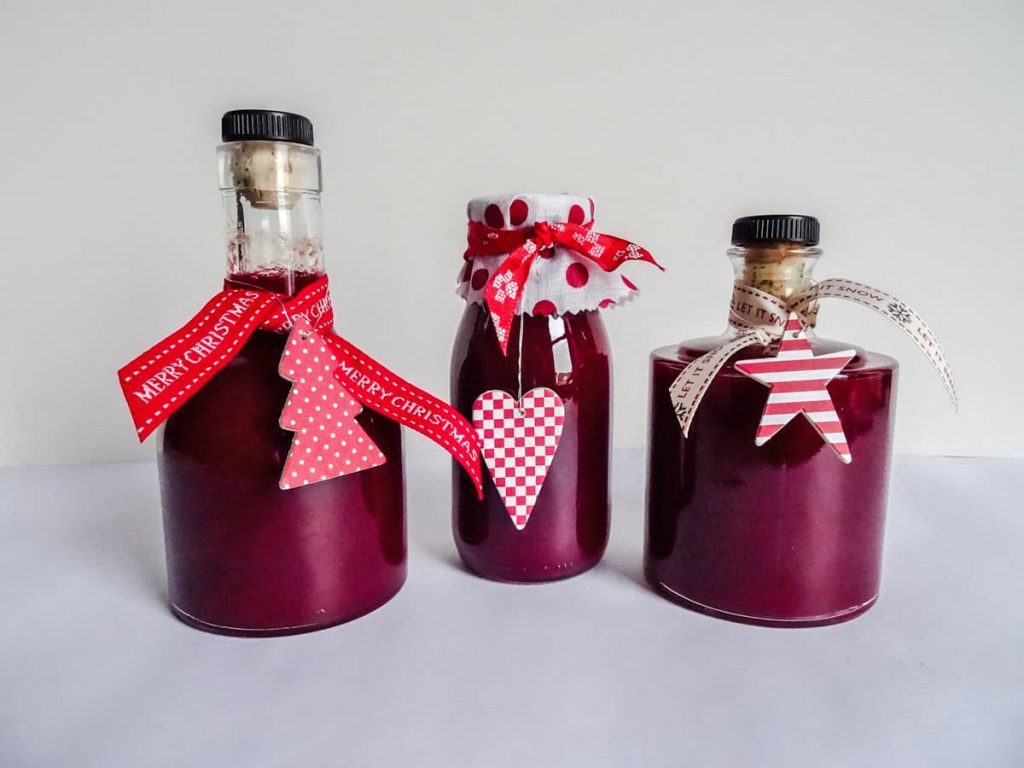 How do you serve Sloe Cordial?
Serve it with alcohol i.e. Gin, Vodka, Prosecco, dry white wine or with non-alcoholic mixers like tonic water, soda water or lemonade.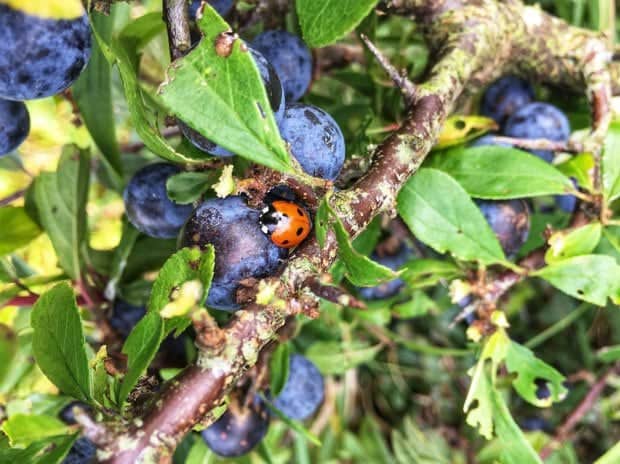 What are Sloes?
Sloes are the fruit of the Blackthorn. The Blackthorn is a small thorny native tree that has white flowers in spring followed by oval back fruits.
The raw sloe fruits are very sour and have a large stone compared to the size of the fruit.
The Blackthorn has fierce spines and was often used as a hedging plant. It has largely been replaced on our farm by hawthorn, we have one stretch of old hedge which remains and provides me with sloes each year.
When do I pick sloes?
Sloes are usually ripe from the end of September. However, it is recommended that you wait until there has been a frost before picking the fruit.
If you can't wait, then pick your sloes and freeze them whole. You can use them straight from frozen or let them defrost, depending on what you are making.
Sloe Gin or Sloe Cordial?
Sloe Gin is very popular and  I did think about making some with these sloes.  To make Sloe gin you need gin, sugar, and sloes.  It makes a great gift too, however, I think Sloe Cordial is more versatile.   
Can I use the sloes from my sloe gin to make sloe cordial?
I would not recommend using sloes from sloe gin to make the cordial. The flavour from the sloes has already been infused into the gin and there will not be enough flavour for the cordial.
If you do try this, please be aware that even after boiling the cordial will retain some alcohol and should not be served to children or anyone driving.
How do I sterilise the glass bottles?
I sterilise my glass bottles, jam jars, and metal lids by thoroughly washing and rinsing them. I then put them, still wet, upside down onto a baking tray and place it in the oven at 150C just before I start to make the relish.
The water creates steam which helps to sterilise the jars. I take them out of the oven and fill them with the hot relish, then put on the lids. If you would like to know more then Tin & Thyme has a comprehensive guide to sterilising jars and lids.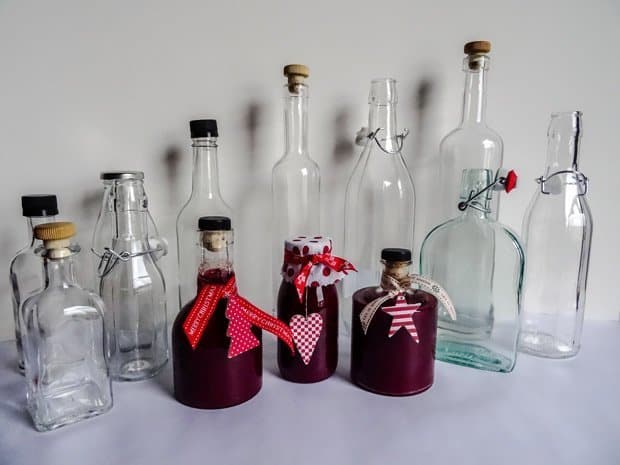 Glass Bottles
I was rather pleased that I had because I was contacted by Pattesons Glass with the offer of some jars or bottles to review. I decided to go for the bottles and make some gifts for Christmas.
Pattesons have a fantastic range of glass bottles and jars which are ideal for those of us keen on preserving in all its forms,.
The bottles are also great for styling in food photography and I'm sure you will be seeing more of these bottles in future posts.
Jars are not too difficult to get hold of, but a great range of interesting bottles like the ones in the photograph above are much less widely available. I have plans for some flavoured vinegar for the larger bottles.
The only drawback with these bottles is that they are only available in fairly large quantities. You can order a sample set of three different bottles or jars for £10.
If you want to order bottles, then you may wish to get together with a group of friends and share the bottles between you, as 50 is the minimum order.
Pattesons also sell Le Parfait jars in smaller quantities which are ideal for preserving.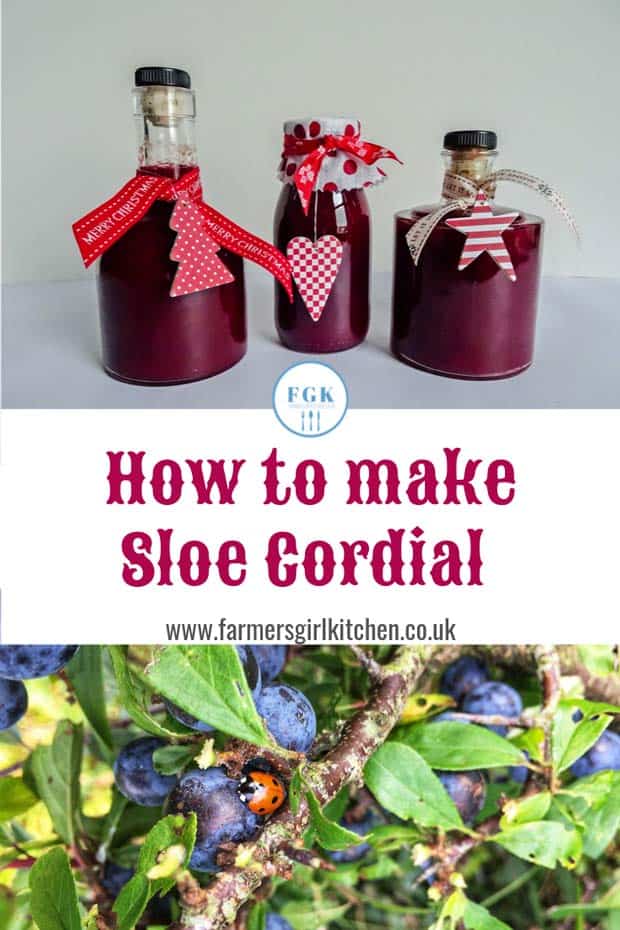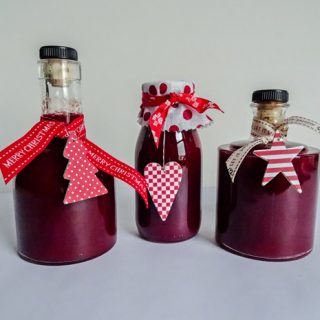 Sloe Cordial
A simple recipe for a non-alcoholic cordial made with hedgerow sloes.
Ingredients
1

kg

Sloes

1

litre

water

1

lemon

juice

Granulated Sugar

80g per 100ml liquid
Instructions
Bring the sloes, water and lemon juice to the boil and simmer for 5 minutes.

Break up the cooked sloes with a wooden spoon or potato masher, don't bother about the stones as they will be sieved out later.

Simmer for a further 10 minutes.

Pour the mixture through a sieve.  If you want your cordial to be clear you should line your sieve with muslin and don't push the pulp through. 

Measure the juice to calculate the amount of sugar required (80g per 100 ml)

Clean the pan and pour the juice back in, add the sugar and heat gently until the sugar has dissolved.

Bring to the boil an simmer for another 10 minutes.  Cool and bottle in sterilised bottles.
Notes
To drink, add 10 parts water to one part cordial. 
Don't Miss My Latest Recipes
CLICK TO SUBSCRIBE NOW to join my newsletter list & receive a FREE 'How To Adapt Recipes For Your Slow Cooker' printable!
I received a range of glass bottles from Patteson's Glass, I was not paid for this review and all opinions are my own.