Sloe Cordial is a non-alcoholic cordial that is easy to make with foraged sloe berries. It is not too sweet and makes a great gift for Christmas or at any time of year. 

Why should I make Sloe Cordial?
Sloe Cordial is a non-alcoholic alternative to Sloe Gin and it is much more versatile. Sloe Gin is a popular alcoholic drink to make with sloes and the one that most people know about.  The method to make Sloe Gin is similar to this Hedgerow Vodka recipe.
The big advantage with Sloe Cordial is that you can mix it with water or soft drinks or add alcohol if you wish. It's a great way for everyone to enjoy a sloe drink.

What are Sloes?
Sloes are the fruit of the Blackthorn. The blackthorn is a small thorny native tree that has white flowers in spring followed by oval back fruits.  Blackthorn has fierce spines and was a popular hedging plant but most hedges in Scotland are now hawthorn. I guard the one stretch of old blackthorn hedge on our farm which provides me with sloes each year. 
Sloes are quite difficult to see on the hedge and I often find that there are more there than it seems. Use a pair of tough gardening gloves to pick the sloes to avoid being jabbed by the thorns! The raw sloe fruits are very sour and have a large stone compared to the size of the fruit.  

When do I pick sloes for Sloe Cordial? 
Sloes are usually ripe from the end of September. The sloes should be firm, not soft and dark purple in colour with a white bloom  Sloes become sweeter and the skins softer after the first frost. If you can't wait, then create your own frost by freezing the whole sloes. It's a great way to store them and you can use them straight from frozen or let them defrost, depending on what you are making. 
What kind of sugar do I use to make Sloe Cordial?
I use ordinary white granulated sugar to make the cordial. Do not use brown sugar as this will change the taste of the cordial.
Why add lemon juice?
Although the sloes are sharp-tasting, the lemon juice provides a fresh taste and adds to the flavour of the cordial.  It also helps to reduce the growth of bacteria, however, if you sterilise your bottles that shouldn't be a problem.

Can I use the sloes from my sloe gin to make sloe cordial?
I do not recommend using sloes from sloe gin to make cordial. The flavour from the sloes has already been infused into the gin and there will not be enough flavour for the cordial.
If you do try this, please be aware that even after you boil it, the cordial will retain some alcohol and should not be served to children or anyone driving.

What does Sloe Cordial taste like?
It's quite hard to describe the taste, but the cordial tastes a little bit like blackberries and a little bit like plums or damsons. Despite the sugar in the cordial, it does not taste overly sweet. This makes it a great alternative drink for adults.
Sloe Cordial will also taste a little different depending on what you use to mix with it.
How much Sloe Cordial will I make with this recipe?
This recipe makes approximately 750ml of Sloe Cordial. This will vary slightly depending on the sloes you use and the cooking time.
How do I sterilise the glass bottles?
I sterilise my glass bottles, jam jars, and metal lids by thoroughly washing and rinsing them. Put them, still wet, upside down or on their sides, onto a baking tray. I then put the tray with the glass in the oven at 120C just before I start to make the cordial. The water creates steam which helps to sterilise the jars. I take them out of the oven and fill them with the warm cordial, then seal the lids.
If you would like to know more about other methods of sterilising jars and bottles then Tin & Thyme has a comprehensive guide to sterilising jars and lids.

What kind of glass bottles can I use?
I use glass bottles that have a clip-on top with a rubber seal. I take the metal frame and stopper off and sterilse those in a jug with boiling water while the bottles sterilise in the oven, as described above.
If I don't have that kind of bottle, I recycle cordial bottles I have bought with cordial in them from Belvoir or Bottle Green. Wash them thoroughly and sterilise as above.
How do I strain the sloes?
Cover a sieve or colander with muslin, a jelly bag or a new, clean pair of tights.
Place the covered sieve or colander over a bowl or wide jug.
Use a ladle to move the sloe mixture and liquid into the muslin.
Leave the mixture to drain through for several hours or overnight.

How do I calculate how much sugar to use?
Pour the strained liquid into a measuring jug and weigh out 80 grams of sugar for every 100 ml of liquid. This will ensure that you have the correct ratio of sugar to liquid.

How do I serve Sloe Cordial?
Serve the sloe cordial over lots of ice and slices of lime or lemon. In my photographs put a few sloes onto a cocktail stick just for fun. Don't eat them raw as they are not nice to eat, alternatively, you could use blueberries as a garnish and you can certainly eat those. Pair it with non-alcoholic mixers such as:
Water
Sparkling (carbonated) Water
Tonic Water
Soda Water
Lemonade (7 Up/Sprite)

Sloe Cordial is also excellent mixed with alcoholic drinks such as;
Gin
Vodka
White Wine
Prosecco
More Hedgerow Recipes
Blackberry and Vanilla Cordial
A rich and delicious cordial made from blackberries and vanilla, a great combination of sweet and sharp flavours, very refreshing.
Check out this recipe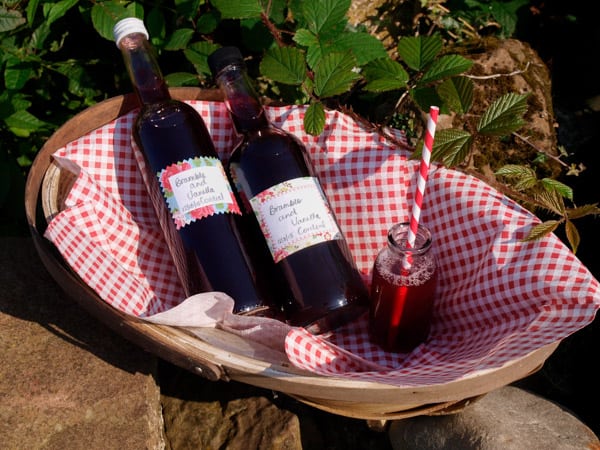 Honeysuckle and Meadowsweet Spritzer
A delicious floral simple syrup made with summer hedgerow foraged honeysuckle and meadowsweet flowers.
Check out this recipe

Blackberry & Apple Jelly
Blackberry & Apple Jelly is a classic and delicious jelly that is the perfect way to preserve the flavours of autumn (fall).
Check out this recipe

Low Sugar Blackberry & Apple Jam
Low Sugar Blackberry & Apple Jam has all the flavour of Blackberry & Apple Jam with two-thirds less sugar than traditional jams and jellies.
Check out this recipe



Sloe Cordial
A simple recipe for a non-alcoholic cordial made with hedgerow sloes.
Equipment
large pan

Lemon squeezer

wooden spoon

Potato masher

measuring jug

weighing scales

Muslin or clean pair of tights

Large bowl

Glass bottles with lids
Ingredients
1

kg

Sloes

1

litre

Water

1

Lemon

juice

600

g

Granulated Sugar (approximately)

80g per 100ml liquid
Instructions
1 kg Sloes

,

1 Lemon

,

1 litre Water

Put the Sloes, water and lemon juice in a large pan.

Bring the sloes, water and lemon juice to the boil and simmer for 5 minutes.

Break up the cooked sloes with a wooden spoon or potato masher, don't bother about the stones as they will be sieved out later.

Simmer for a further 10 minutes.

Pour the mixture through a sieve.  If you want your cordial to be clear you should line your sieve with muslin and don't push the pulp through. 

Measure the juice to calculate the amount of sugar required (80g per 100 ml)

600 g Granulated Sugar (approximately)

Clean the pan and pour the juice back in, add the sugar and heat gently until the sugar has dissolved.

Bring to the boil and simmer for another 10 minutes. 

Cool and bottle in sterilised bottles.

Serve over ice with your choice of mixer.
Notes
Makes approximately 750 ml.
To drink, dilute to taste.
The calorie count for the finished drink will depend on how much you dilute the cordial and what you dilute it with.  
Nutrition
Calories:
141
kcal
Carbohydrates:
36
g
Protein:
1
g
Fat:
1
g
Saturated Fat:
1
g
Polyunsaturated Fat:
1
g
Monounsaturated Fat:
1
g
Sodium:
1
mg
Potassium:
87
mg
Fiber:
1
g
Sugar:
35
g
Vitamin A:
174
IU
Vitamin C:
8
mg
Calcium:
5
mg
Iron:
1
mg
Don't Miss My Latest Recipes
CLICK TO SUBSCRIBE NOW to join my newsletter list & receive a FREE 'How To Adapt Recipes For Your Slow Cooker' printable!
Share by Email
This recipe was first published in November 2013.