Beetroot and Black Cumin Soup is such a beautiful rich red colour and it looks so good with a contrasting spoonful of yogurt and some finely chopped parsley. Add a drizzle of olive oil and the sweet an sour taste is a revelation .
It's a recipe from The Moro Cookbook, read on and I'll tell you some more about the cookbook and give you the recipe for this hearty soup.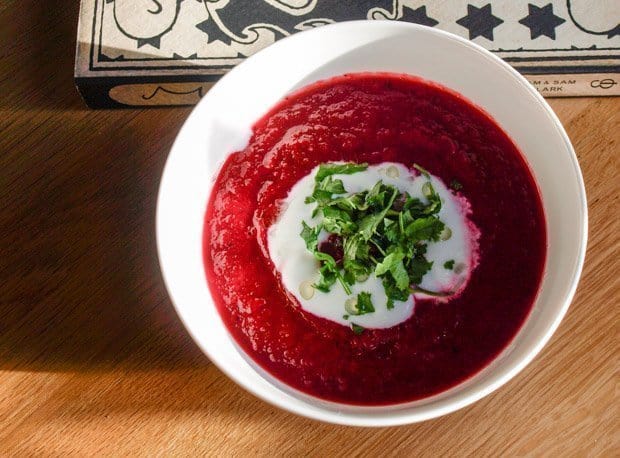 Dom at Belleau Kitchen has invited us to cook from a new cookbook. Now I only got one cookbook for Christmas and it features nothing but…CHOCOLATE!
However, the house is still full of chocs and biscuits, the fridge still has two jars of homemade mincemeat and we have only just finished the Christmas cake, so I really couldn't face making any more sweet things.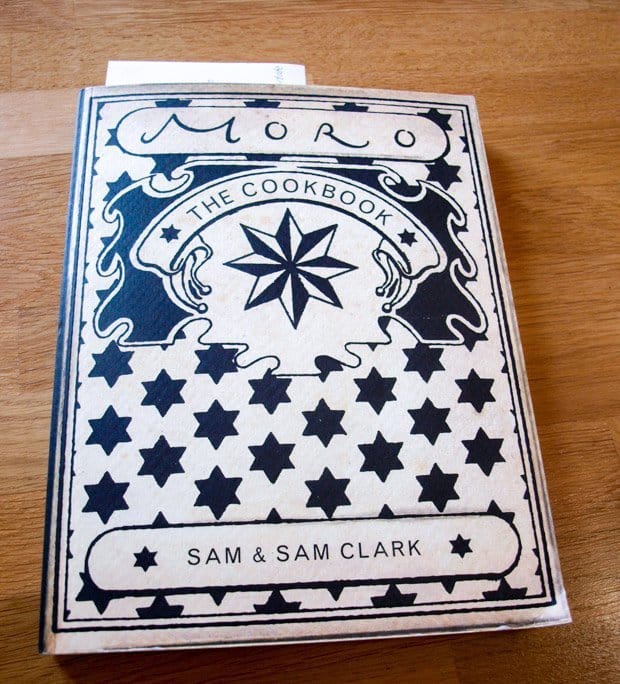 So instead I turned to the books I won from Ren Behan the prize was all three of the Moro cookbooks by Sam and Sam Clark.
I randomly chose the original Moro book from the three. Then I opened the book randomly and found that I had chosen Beetroot Soup with Black Cumin.

How to make Beetroot and Black Cumin Soup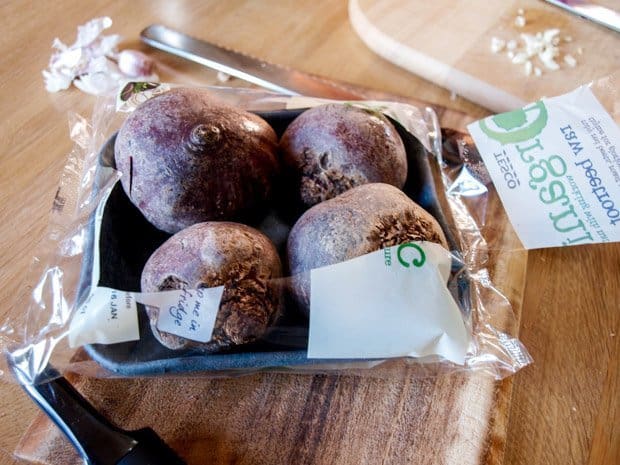 I grow my own beetroot in the garden but I made this soup before we had built our raised beds in the garden, so I bought four organic beetroots for the recipe.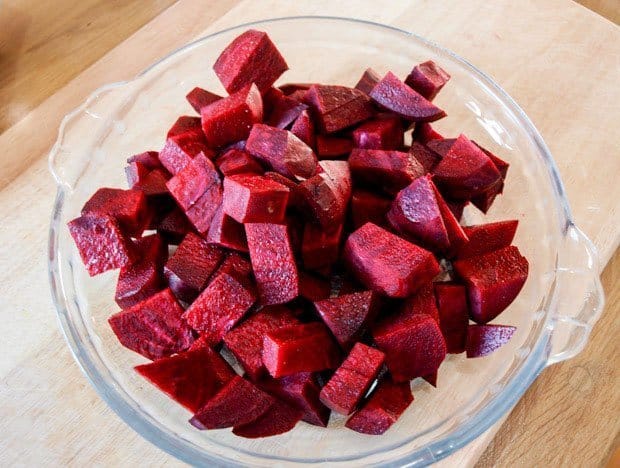 Peel the raw beetroots and chop them into chunks, you might want to wear rubber gloves as otherwise, you will end up with very red stained hands!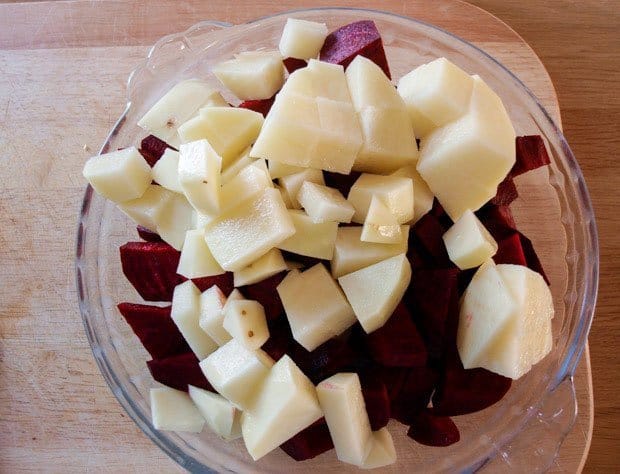 As well as the beetroot, there is onion, garlic and a diced potato in the Beetroot and Black Cumin Soup – oh and, of course, black cumin seeds!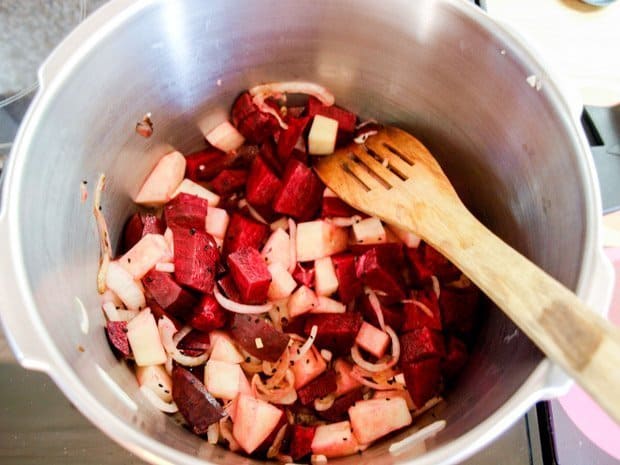 The recipe is really very simple with all the ingredients going into the pot then, once cooked they are blended to a smooth puree.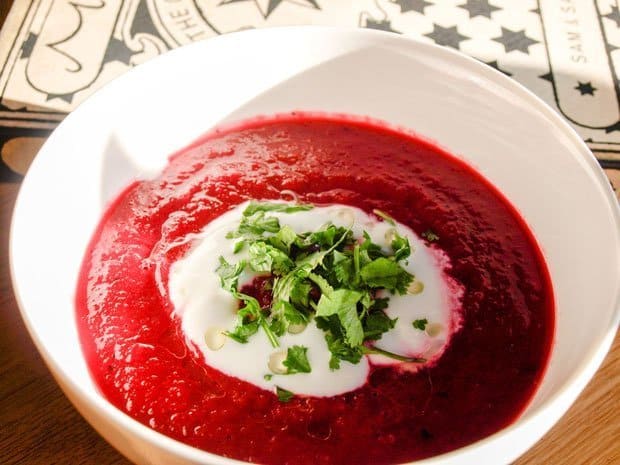 The soup was very easy to make and looks incredible, it has an interesting sweet and sour taste with the combination of the sweet beetroot and the red wine vinegar.
I was a bit disappointed that I couldn't taste the cumin and I did actually use black cumin but I can't say it was obvious.
I would make it again but might increase the amount of cumin, or maybe use some ground as well as cumin seeds.
More Beetroot Recipes from Farmersgirl Kitchen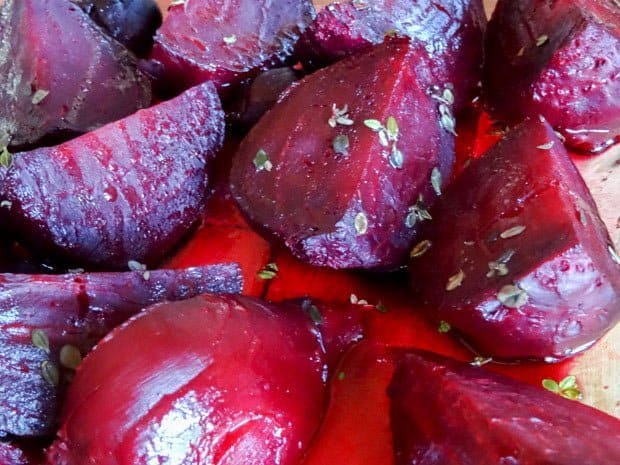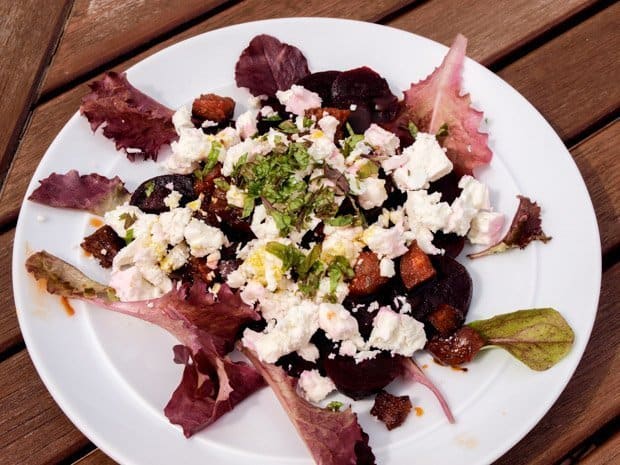 More Blended Soup Recipes
Spicy Parsnip and Apple Soup – Farmersgirl Kitchen
Spicy Roast Pumpkin and Coconut Soup – Farmersgirl Kitchen
Carrot Root Vegetable Soup – Fab Food 4 All
Cauliflower Cheese Soup with Broccoli – Tinned Tomatoes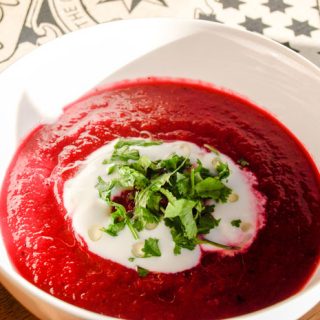 Beetroot and Black Cumin Soup
Beetroot and Black Cumin Soup is such a beautiful rich red colour and it looks so good with a contrasting spoonful of yogurt and some finely chopped parsley and a drizzle of olive oil.
Ingredients
4

tbsp

olive oil

1/2

large Spanish onion

thinly sliced

2

garlic cloves

thinly sliced

1

tsp

black cumin or normal cumin seeds

750

g

raw beetroot

peeled and finely diced

1

large potato

finely diced

1.25

litres

cold water

3

tbsp

good quality red wine vinegar

1

small bunch fresh flat-leaf parsley

roughly chopped

100

g

home-made or Greek yogurt,

thinned with a little milk an seasoned with 1 garlic clove crushed to a paste with sea salt and black pepper
Instructions
Heat the oil in a large saucepan over a medium heat. Add the onion and a pinch of salt.

Cook for 10 minutes, stirring occasionally until the onion begins to colour. Now add the garlic and cumin and cook for 2 more minutes to release their flavour, followed by the beetroot and potato.

Pour in the water, bring to a gentle simmer and cook until soft, about 15 minutes (I don't think I chopped mine small enough as it took much longer to soften).

Place the vegetables and the cooking liquid in a blender or food processor and blend until just smooth. You may need to do this in two stages. Return to the pan, add the vinegar, half the parsley and salt, and pepper to taste, bearing in mind you may need more salt than you think to balance out the acidity of the vinegar.

Serve with a little yogurt on top, the rest of the parsley and an extra drizzle of olive oil.
Nutrition
Calories:
262
kcal
Carbohydrates:
27
g
Protein:
5
g
Fat:
15
g
Saturated Fat:
2
g
Cholesterol:
3
mg
Sodium:
166
mg
Potassium:
897
mg
Fiber:
6
g
Sugar:
14
g
Vitamin A:
110
IU
Vitamin C:
17.1
mg
Calcium:
87
mg
Iron:
3.7
mg
Don't Miss My Latest Recipes
CLICK TO SUBSCRIBE NOW to join my newsletter list & receive a FREE 'How To Adapt Recipes For Your Slow Cooker' printable!
Share by Email