Today I made the Best Crockpot Beef Stew & Dumplings. The Crockpot Beef Stew is made with beautiful Scotch Beef, carrots and onion and a few little additions that make all the difference to the flavour, the dumplings are a light and fluffy way to soak up all the glorious gravy.
Beef Stew was a dish that was regularly on our table when I was a child, my Mum would cook it on the stovetop or in a casserole dish in the oven, however, the main ingredients were pretty much the same. Mum wasn't a great one for dumplings, they were a favourite of my Granny, who called them 'doughboys' presumably a variation on 'dough balls'. I've always loved savoury dumplings and adding them to the Best Crockpot Beef Stew means you don't have to cook potatoes!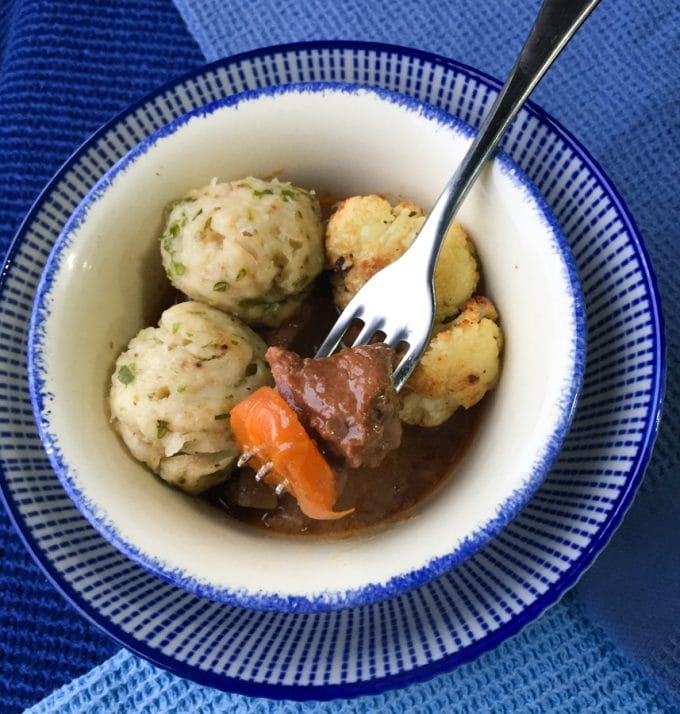 Let me share with you the 6 Secrets of how to make the Best Crockpot Beef Stew & Dumplings
Secret #1
I started off with good Scotch Beef, you don't want an expensive cut because all the flavour is in the fat and the connective tissue which will break down as it cooks slowly. Shoulder steak, chuck steak or 'casserole' steak is what you are looking for to make The Best Crockpot Beef Stew.
You will also need one onion, roughly chopped and some carrots sliced into thick rounds, the carrots add a sweetness to the beef stew and I can't imagine beef stew without them, but if you really don't like carrots, you can leave them out. You can add other vegetables, like celery, leeks or parsnip, however, I feel that if you add too many strongly flavoured vegetables then you lose the beef and after all, what we are making here is The Best Crockpot Beef Stew with Dumplings.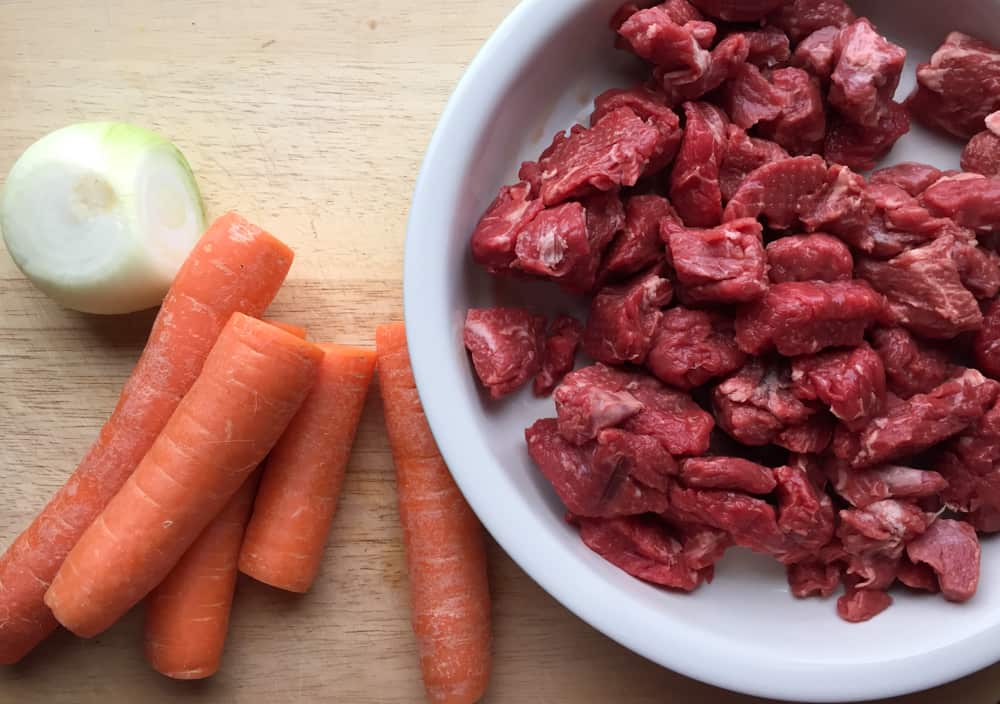 Secret #2
Have you ever found that your Crockpot/Slow Cooker recipes end up with a crockpot full of thin liquid? The answer to this is to start by coating your beef with some seasoned flour. Only one tablespoon of plain flour with salt and pepper put into a plastic bag, then add the beef and shake it thoroughly so that the flour coats all the meat. This will thicken the juices and create a delicious gravy without you having to do anything else.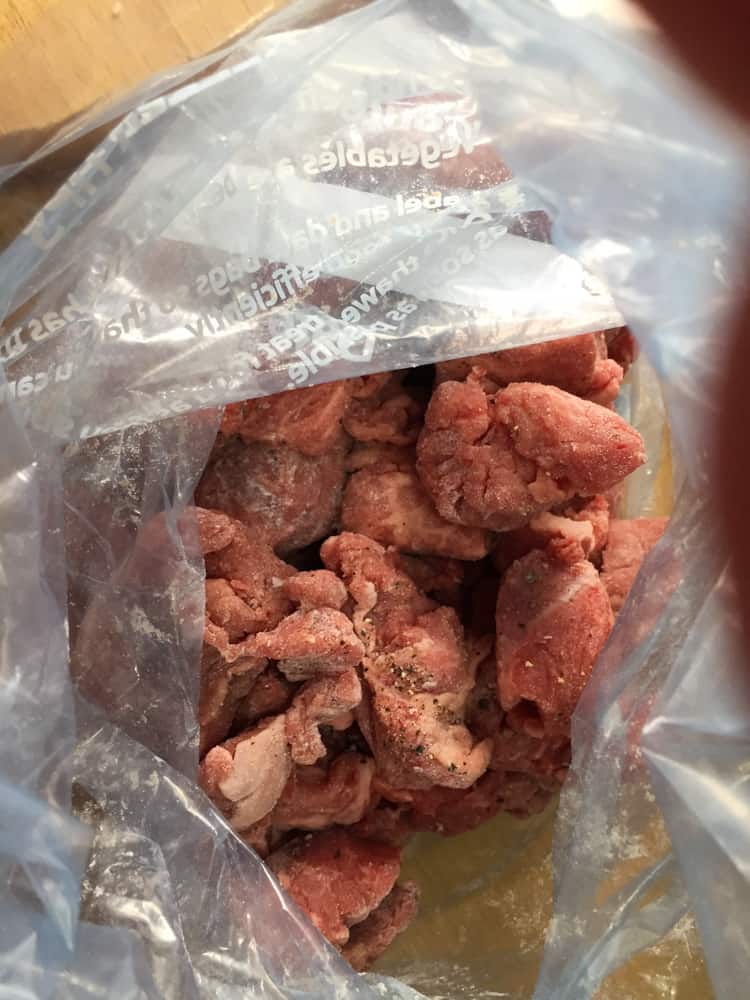 Secret #3
Brown the beef. Yes, I know that many Crockpot/Slow Cooker recipes tell you to put everything straight into the pot without browning. Browning the beef seals in all the flavours, it also creates caramelisation which is one of the keys to getting flavour into The Best Crockpot Beef Stew and Dumplings.
The key to good caramelisation is not to put too much beef in the pan at once. If there is too much meat, then it will steam rather than brown, so brown the meat in batches covering the base of the pan in one layer. I have a slow cooker with a steel pot which can be used on the stove, but if you don't have one of these then brown the meat in a frying pan then add to the Crockpot.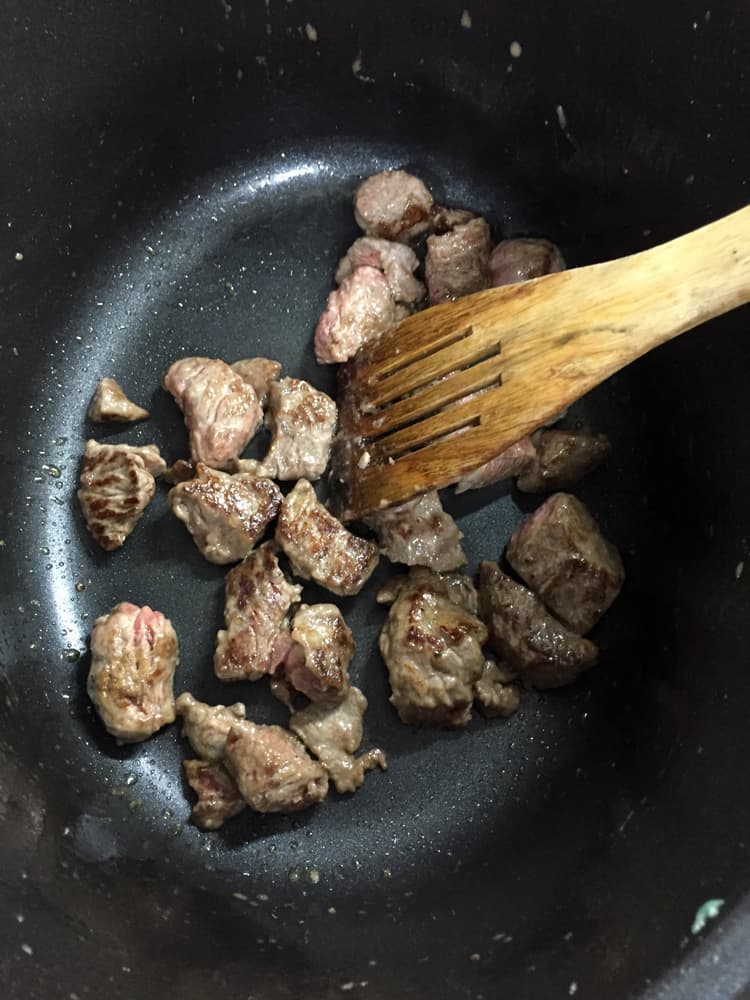 Secret #4
Once the beef is browned, lift it out of the pot, turn down the heat and saute the onion and carrots. Without being sauteed, onions can be a little harsh in flavour, so just cook the onions and the carrots for about 4 or 5 minutes, stirring every now and then. The vegetables will also absorb any pan juices left by the browning meat, keeping it all in one pot makes the most of the flavours.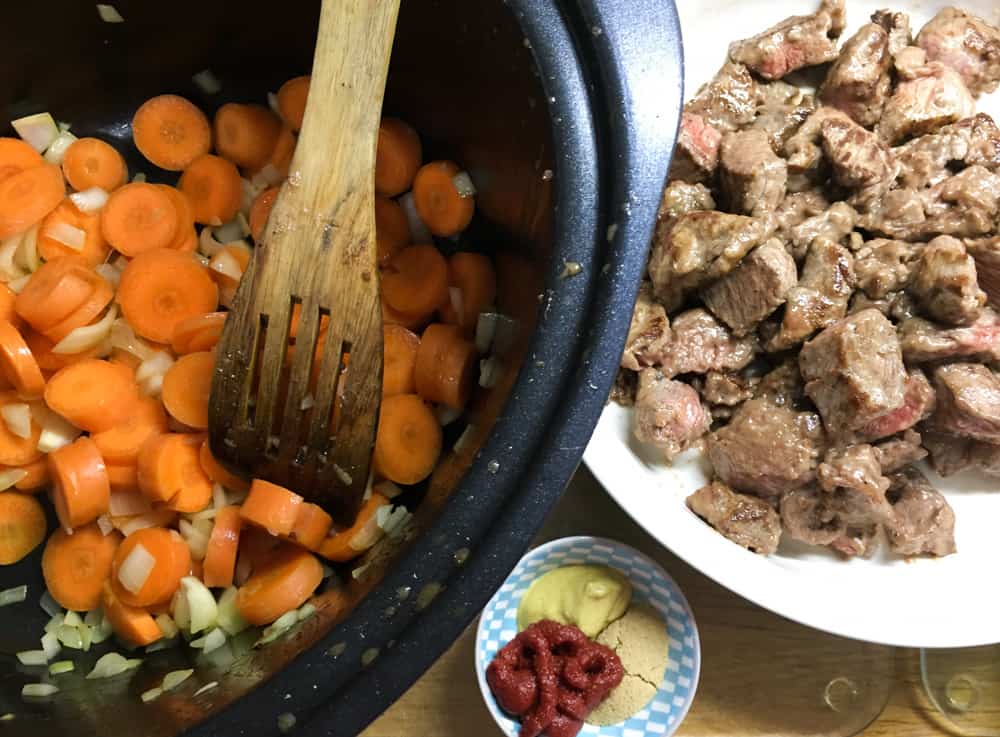 Secret #5
These three ingredients will take your Crockpot Beef Stew to another level. A teaspoon of Dijon mustard, a teaspoon of soft brown sugar and a tablespoon of tomato puree will add sweetness, piquancy and richness to your beef stew and you won't taste any of them in the finished dish.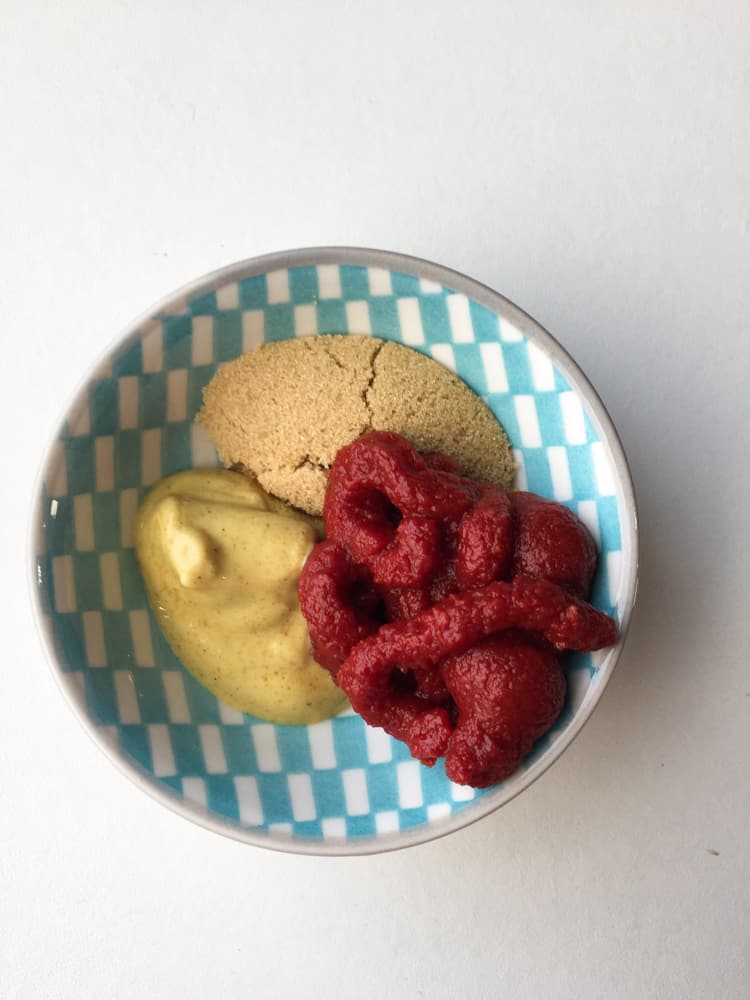 Secret #6
Don't add too much stock. When it's cooking your Crockpot/Slow Cooker is sealed and the liquid doesn't evaporate as it would if you were cooking it in the oven. Therefore, you don't need to add as much stock, you only need 400 ml of beef stock for this recipe.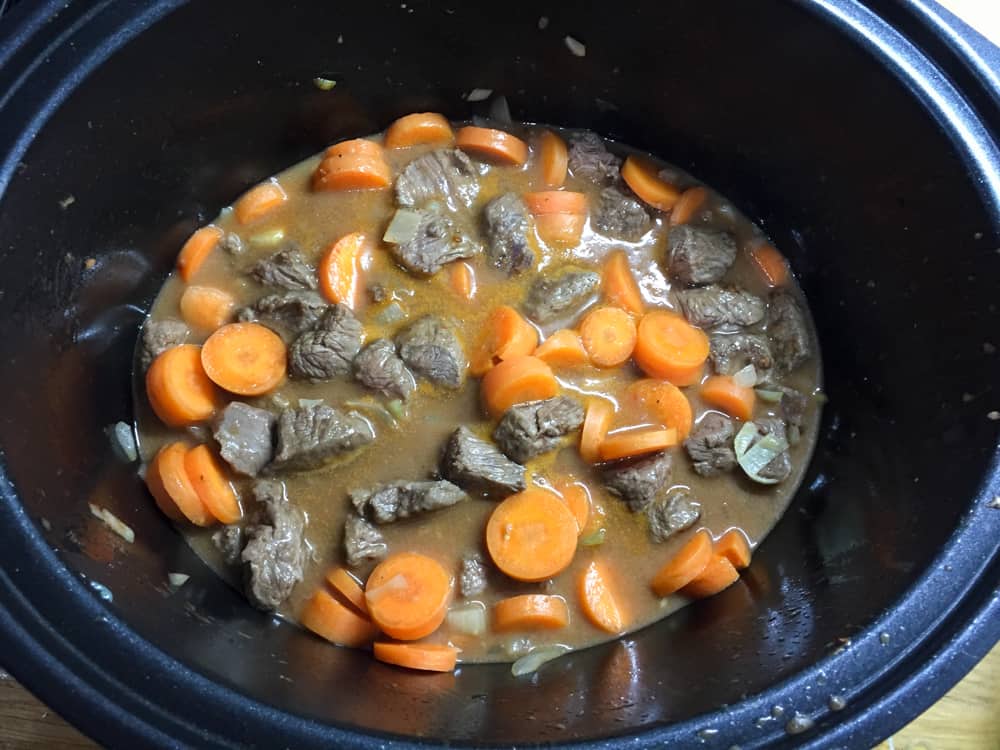 Making the Dumplings
There isn't a huge secret to making dumplings, in fact, they are really rather easy to make. You just need flour, suet (I used vegetable suet) salt and pepper. flavouring and water. In this case, I used fresh herbs, thyme, chives and parsley all picked from my garden to flavour the dumplings,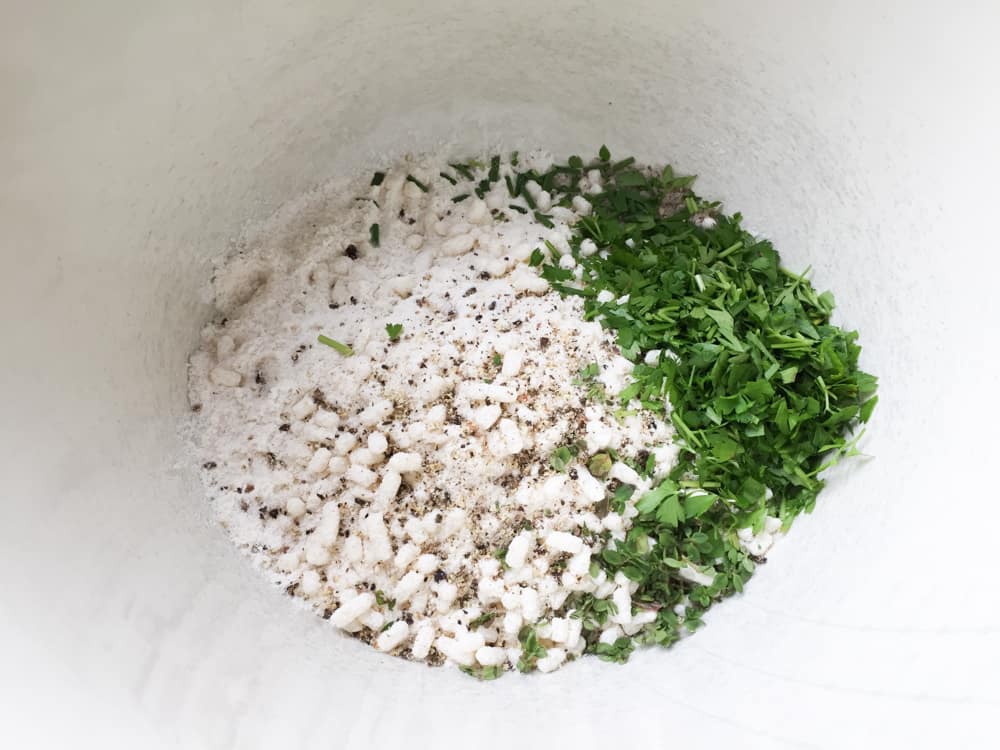 Divide the dough into 8 pieces and roll into balls.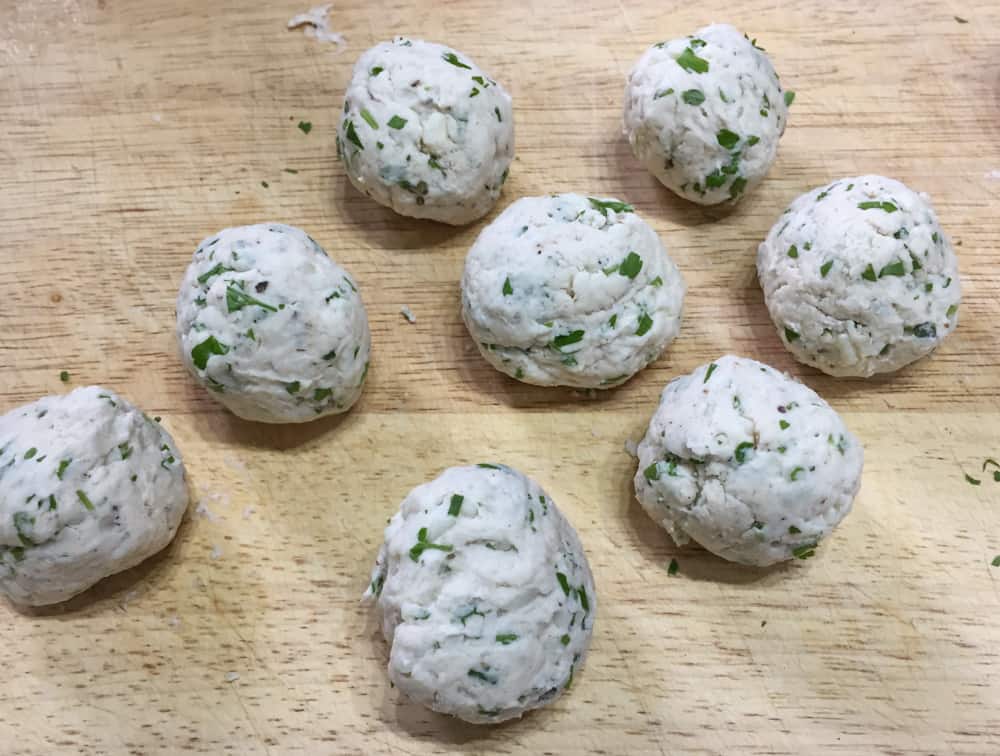 Add the dumplings to The Best Crockpot Beef Stew and quickly put the lid back on then leave to cook for another hour.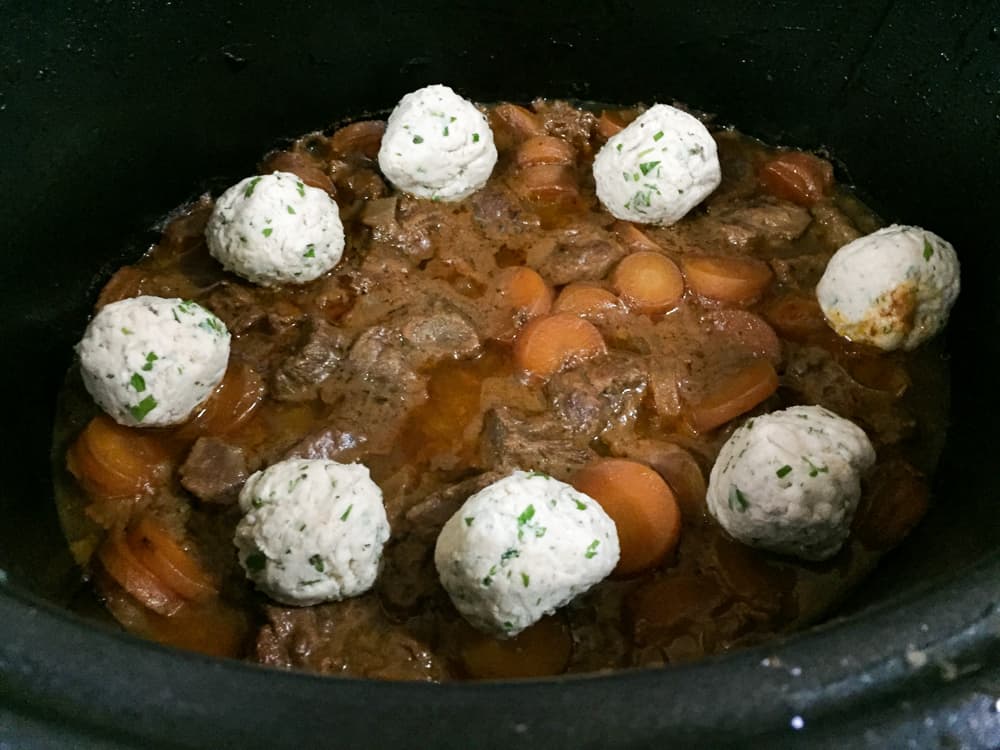 What makes this the Best Crockpot Beef Stew & Dumplings?
The beef is tender and, as you can see, it hasn't disintegrated, there are still nice chunks, the carrots are also meltingly soft but still hold their shape. There is plenty of great tasting gravy which is not too thick and not too thin and perfect to soak up with the herby dumplings. I served the beef stew and dumplings with roasted parmesan cauliflower, but it would also be great with green vegetables like spring greens or savoy cabbage.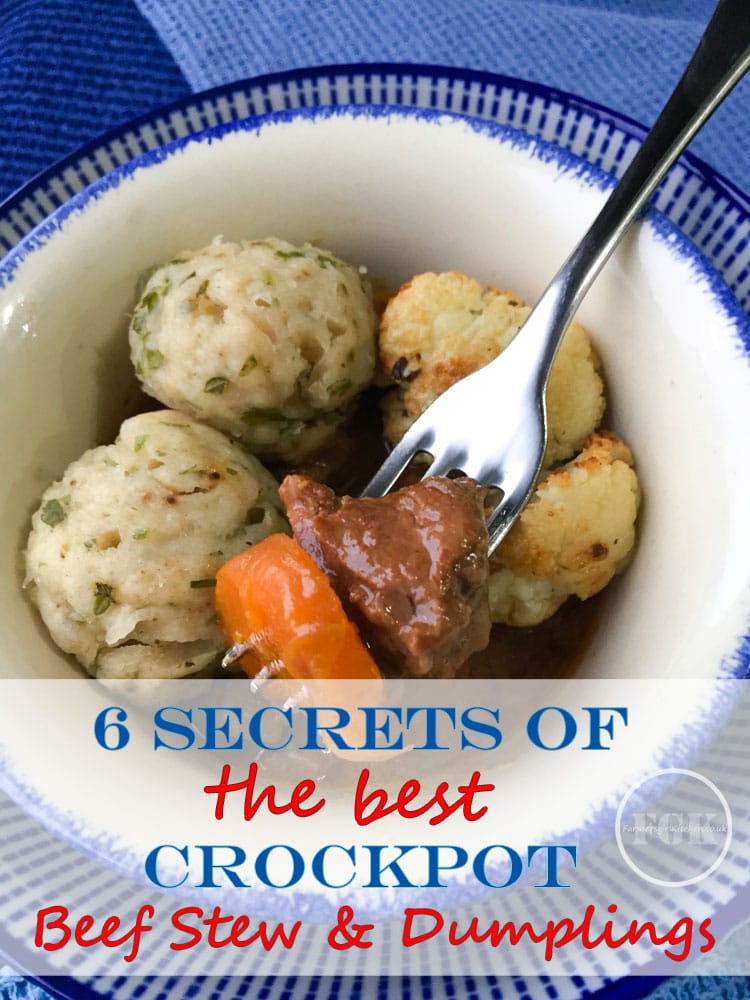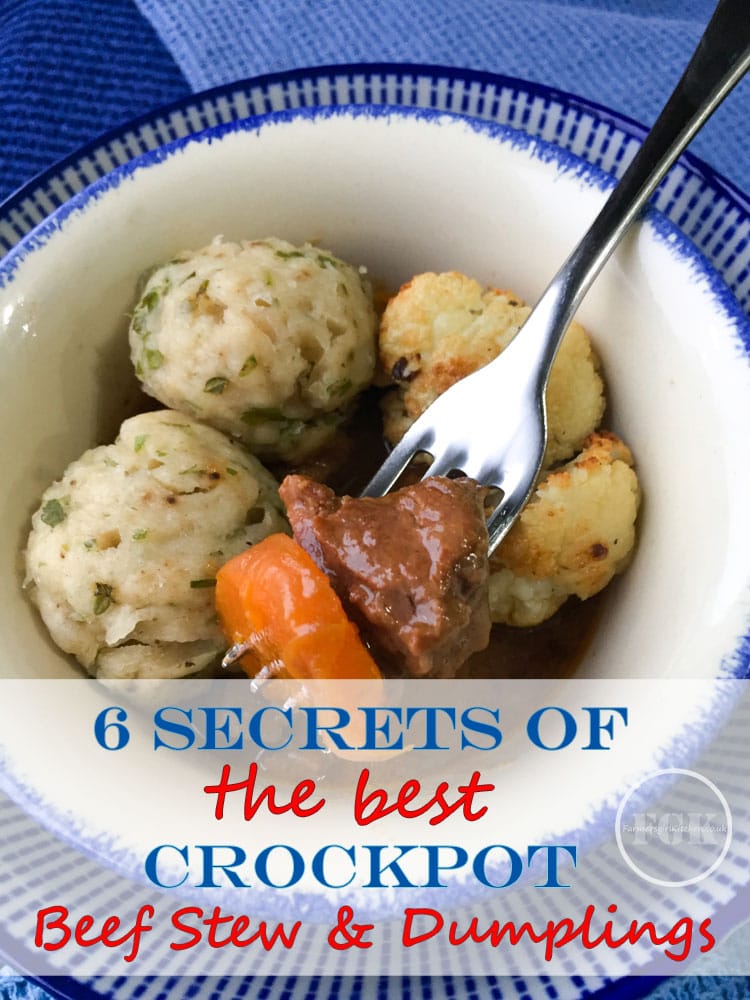 PIN FOR LATER
Recipe for the Best Crockpot Beef Stew & Dumplings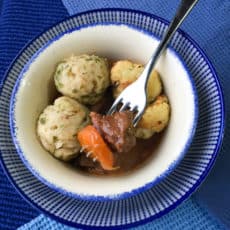 The Best Crockpot Beef Stew & Dumplings
A few simple techniques make this the Best Crockpot Beef Stew & Dumplings, a comforting homemade stew topped with light and fluffy dumplings
Print
Pin
Rate
Total Time:
8
hours
20
minutes
Ingredients
For the stew
1

large onion

chopped

400

g

carrots

sliced

800

g

diced beef

1

tbsp

flour

1 -2

tbsp

oil

400

ml

beef stock

1

tbsp

tomato paste

1

tsp

soft brown sugar

1

tsp

Dijon mustard
For the dumplings
100

g

self-raising flour

50

g

vegetable or beef suet

pinch

of salt

freshly ground black pepper

1

tbsp

finely chopped fresh herbs

I used parsley, thyme and chives

60-80

ml

cold water
Instructions
Prepare the vegetables, peel and roughly chop the onion, wash the carrots no need to peel, top and tail them and cut into thick rounds.

Put 1 tbsp plain flour into a large plastic bag and add 1/2 tsp salt and about 1/2 tsp of ground black pepper, mix well.

Add the chunks of beef to the bag and shake it around in the bag until it is all covered.

Heat 1 tbsp oil in a large frying pan or if you have a slow cooker with a suitable metal pot, heat the oil in the pot.

Add enough of the floured meat to cover the base of the pan, leave for 2 minutes before moving it around and turning the chunks so they get browned on all sides.

Once browned remove to a plate, add more oil and sear the next batch of beef until all the beef is browned.

Turn down the heat to medium, add a little more oil and add the onion and carrots. Saute the vegetables moving them around until the onion is translucent.

Add the beef back into the pan.

Add 400 ml beef stock (I made mine with a beef stock cube)

Then add the tomato paste, sugar and Dijon mustard.

Stir and bring up to simmer, then either pour into the crockpot or, if using the crockpot base to sear, place it into the slow cooker base, put on the lid.

Cook on LOW for 7 hours.
AFTER 7 HOURS
Mix together the flour, seasoning and herbs in a bowl.

Add the water and mix to a thick paste

Roll into balls.

Lift the lid of the crockpot, test the stew for seasoning and adjust accordingly, place the balls evenly around the stew and quickly replace the lid.

Cook for a further 1 hour on HIGH.
Notes
*Variations* Instead of mustard, try adding creamed horseradish Replace beef stock with beer or wine, remembering to adjust the seasoning.
Nutrition
Calories:
371
kcal
|
Carbohydrates:
23
g
|
Protein:
34
g
|
Fat:
15
g
|
Saturated Fat:
6
g
|
Cholesterol:
88
mg
|
Sodium:
285
mg
|
Potassium:
861
mg
|
Fiber:
2
g
|
Sugar:
5
g
|
Vitamin A:
224.6
%
|
Vitamin C:
8.1
%
|
Calcium:
5.9
%
|
Iron:
19.4
%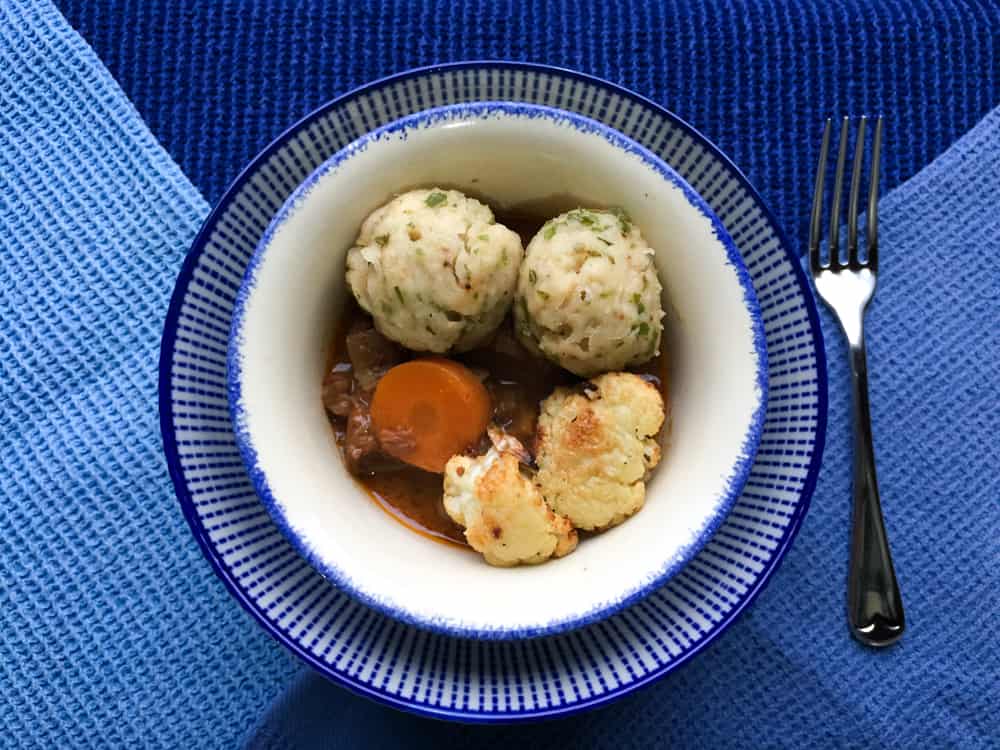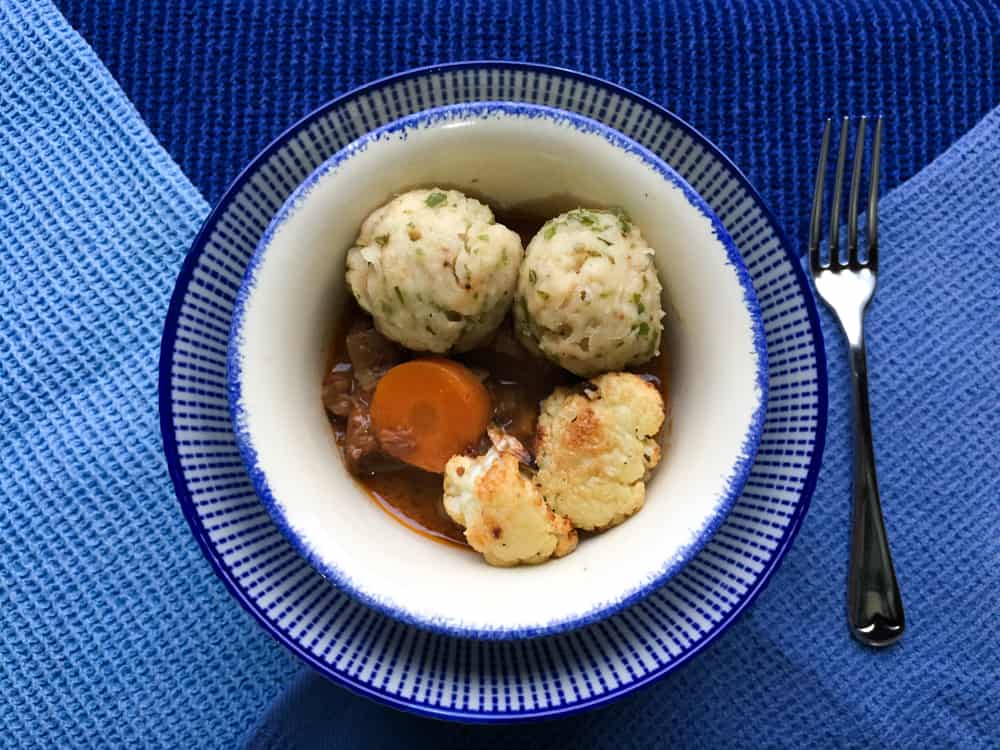 You may also like: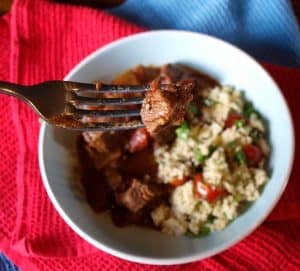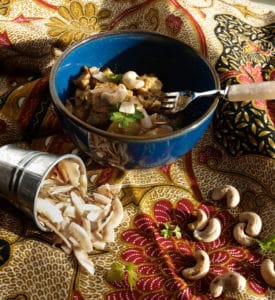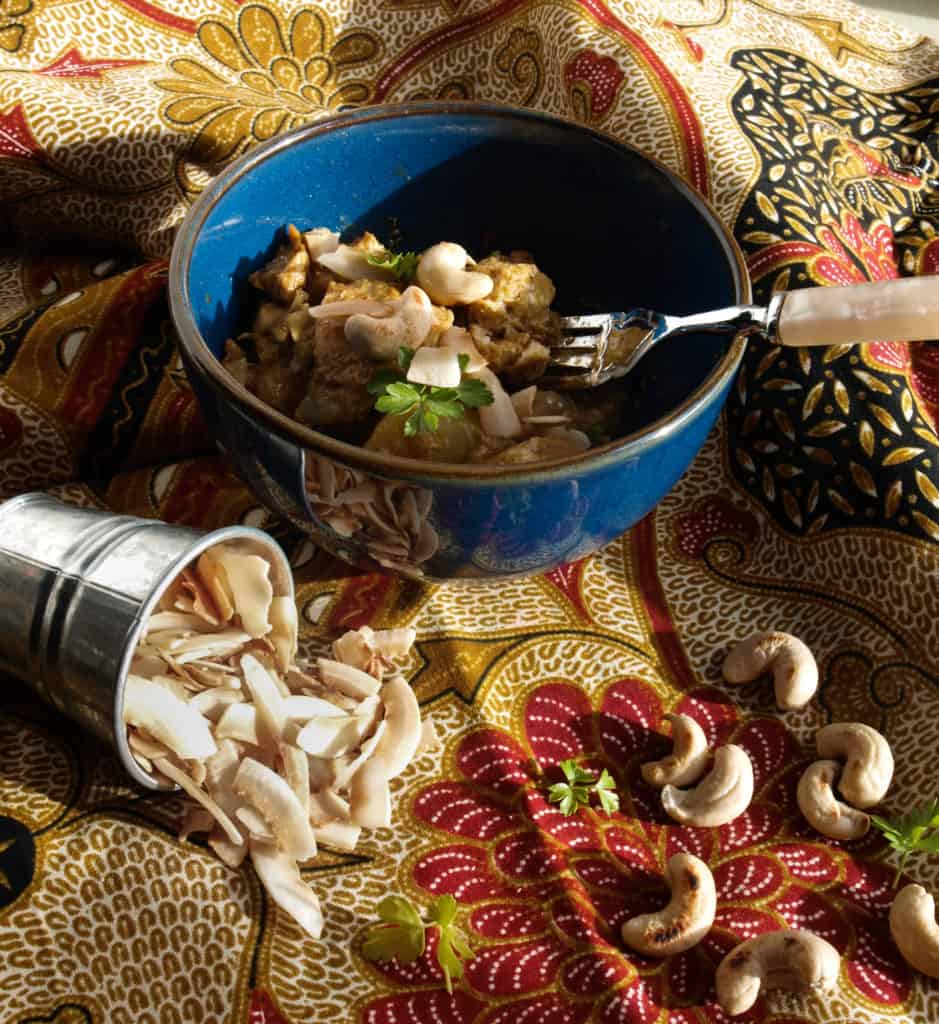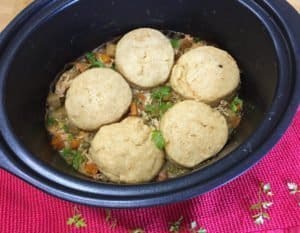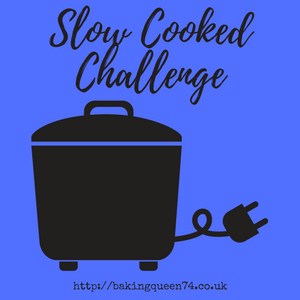 I'm entering The Best Crockpot Beef Stew & Dumplings to the Slow Cooked Challenge over at Baking Queen 74. If you love slow cooked food then you will definitely find lots of inspiration there.
And here are more delicious slow cooker recipes from top UK bloggers:
Slow Cooked Chicken Italian – Fab Food 4 All
7 Ingredient Slow Cooker Jerk Chicken – Recipes from a Pantry
A Sort of Spanish Stew, Slow Cooker Style – Munchies and Munchkins