Every year I pick blackberries from the hedgerow. Some years I get a good crop of sloes but although I often look at the red rosehips and hawthorn berries, this is the first time I've used them in a recipe. I first heard of Hedgerow Vodka from a member of a Facebook Group who goes by the delightful name of 'Sunshine'. I'm hoping this Hedgerow Vodka will bring a little warmth and sunshine to the dark days of mid-winter as we will surely need it.

I really find foraging in the hedgerows quite irresistible, all those glowing berries and fruits. We are fortunate to live on a farm with traditional hedgerows surrounding grass meadows and in the spring and summer they are bright with flowers and in autumn they are packed with fruit just waiting to be picked.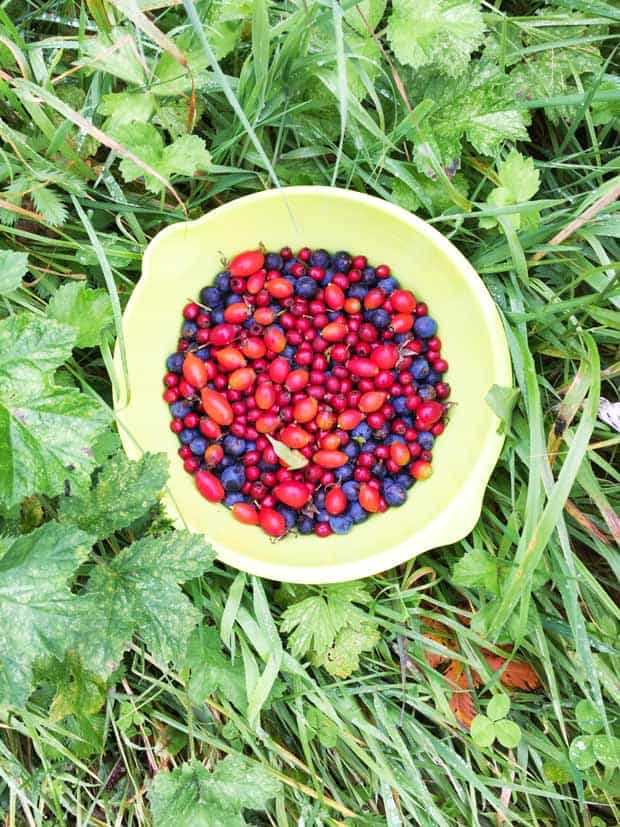 Rosehips are the most difficult to gather in our hedgerow as the wild dog roses get cut back by the hedge cutter and only produce a few flowers and fruits. We have a little row of blackthorn hedge which is the plant which produces sloes. This year there was a good crop, although it's always a challenge to avoid the vicious spikes of the blackthorn to find the sloes nestling behind the leaves.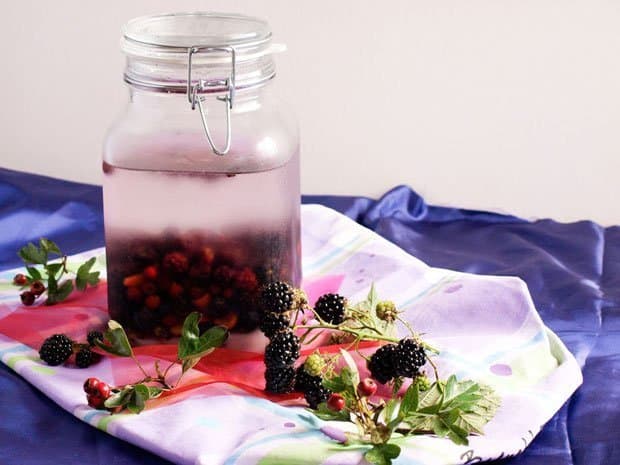 PIN FOR LATER
How to make Hedgerow Vodka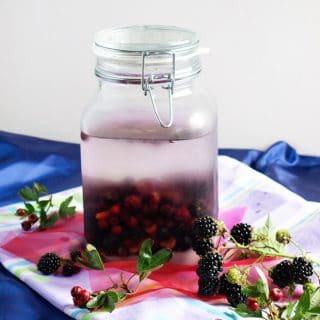 Hedgerow Vodka
Combine the fruits of the hedgerow with vodka and sugar to create a delicious drink to warm the cold winter days.
Ingredients
450

g

of mixed blackberries

sloes, rosehips and hawthorn berries (I used approximately 150 g blackberries, 200 g sloes and about 50 g each of rosehips and haws)

225

g

granulated sugar

1

litre vodka
Instructions
Place the fruit and berries into a large jar with a lid which is watertight.

Add the sugar and the vodka.

Close the jar seal tightly and shake well.

Store in a cool, dark cupboard and shake every other day for a week, then shake once a week for at least two months. Keep for up to a year for an even better drink, if you have the patience!

Strain the vodka through muslin or a coffee filter into sterilised bottles.
Notes
Sloes are usually best after the first frost, so pop them in the freezer overnight before making the Hedgerow Vodka. I used frozen blackberries and sloes.
The seed of rosehips is an irritant, so make sure they stay whole or split them and remove the seeds before placing in the jar.
Don't Miss My Latest Recipes
CLICK TO SUBSCRIBE NOW to join my newsletter list & receive a FREE 'How To Adapt Recipes For Your Slow Cooker' printable!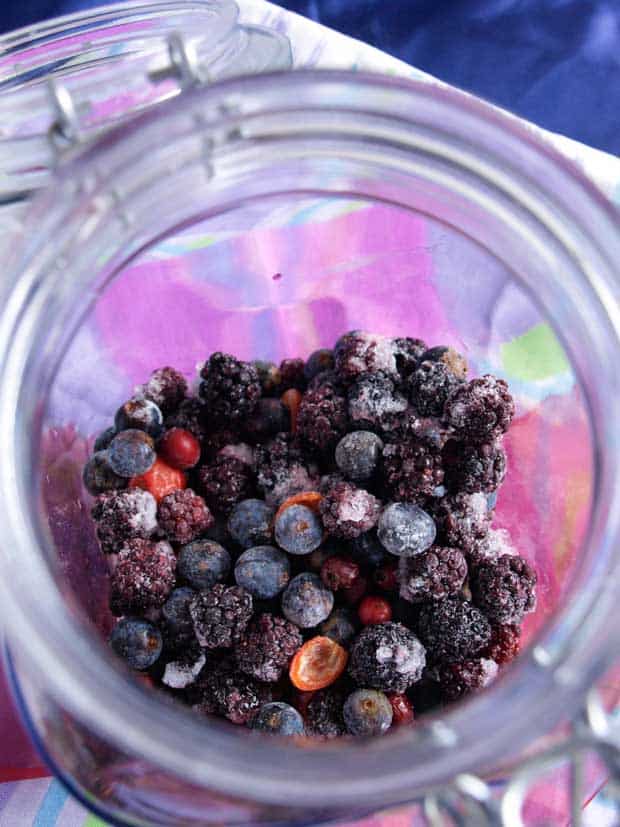 I used frozen blackberries and sloes along with rosehips with their seeds removed and hawthorn berries. You can change the proportions of the fruit creating slightly different flavours and to match what you can gather.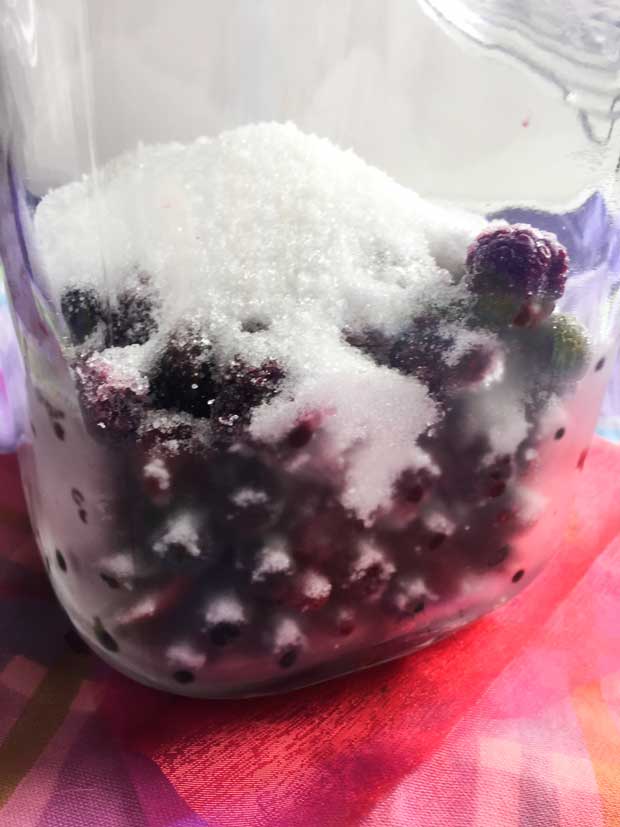 I used granulated sugar, but you can use caster (superfine) sugar but not icing (confectioners) sugar. The granulated sugar dissolved easily within a few days.
I had a bit of a moment at the supermarket when I bought the vodka. You don't need to buy expensive vodka to make this, so there I was at the checkout and all that was in my trolley was a bottle of cheap vodka and six individual ready-meals that I had bought as back up rations for my mother-in-law! I'm surprised the checkout assistant didn't call Alcoholics Anonymous. At this point I should say, please drink responsibly, despite the fruit and sugar, this is still 40% proof vodka.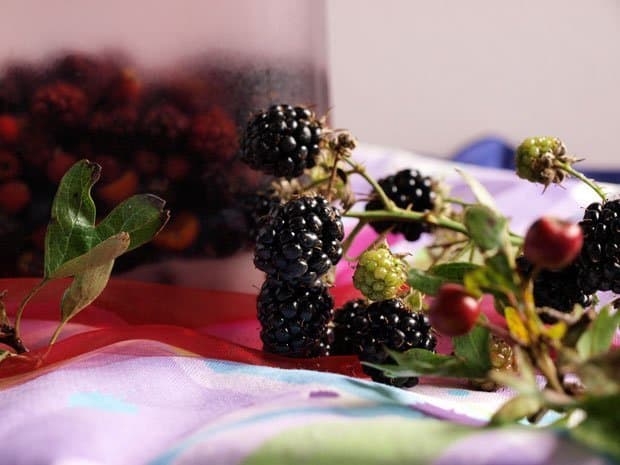 and that's all there is to it, all the flavours of the hedgerow preserved in a warming and delicious drink to bring a little warmth and sunshine into the cold winter days.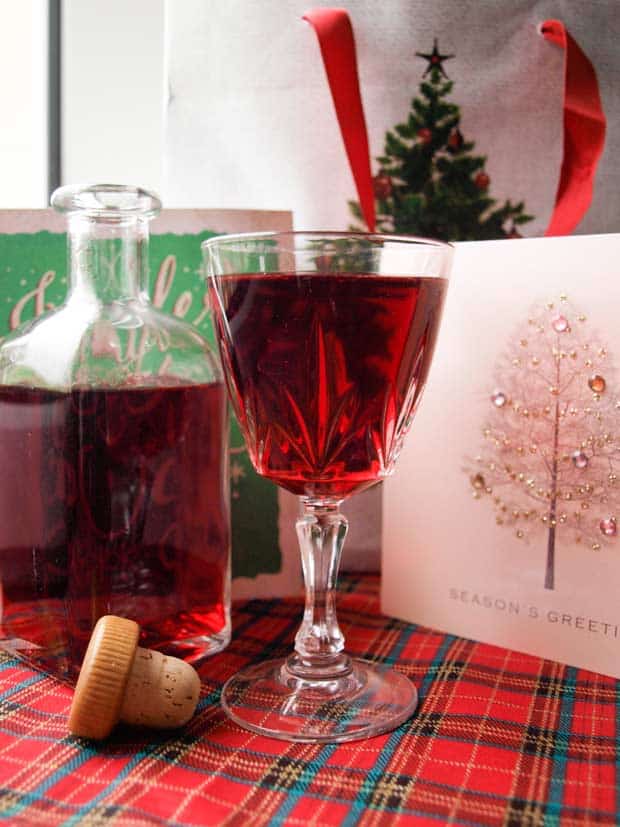 The Taste Test
Of course, I had to do a bit of a taste test, just for quality control purposes you understand. The Hedgerow Vodka has a rich, round flavour, it has a bit of tannic dryness, like red wine, it would be really good as a base for a prosecco cocktail or served diluted with tonic or soda water. Served on its own it would be a good as an after-dinner drink for serious sipping!
Hedgerow Vodka would also make an ideal gift for Christmas or any other occasion put it in a pretty bottle and add a label.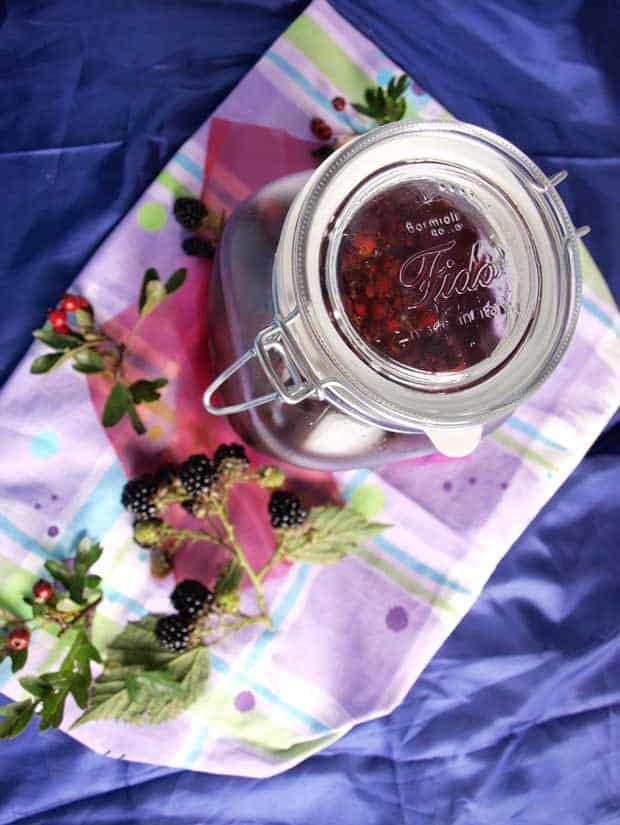 If you'd like to try some other homemade liqueurs here are some recipes from Top UK food writers:
Cranberry Infused Gin – Supper in the Suburbs
Homemade Blackcurrant Cassis – Hedgecombers
Pomegranate & Vanilla Vodka – Ren Behan
Rhubarb Gin – Foodie Quine