Mince Pies are a Christmas tradition in the UK and they are filled with sweet mincemeat. You can buy jars of mincemeat in groceries and supermarkets, but homemade is always so much better. Let me take you through the steps and show you How to make Easy Slow Cooker Mincemeat with Ginger, my own twist on this age-old tradition.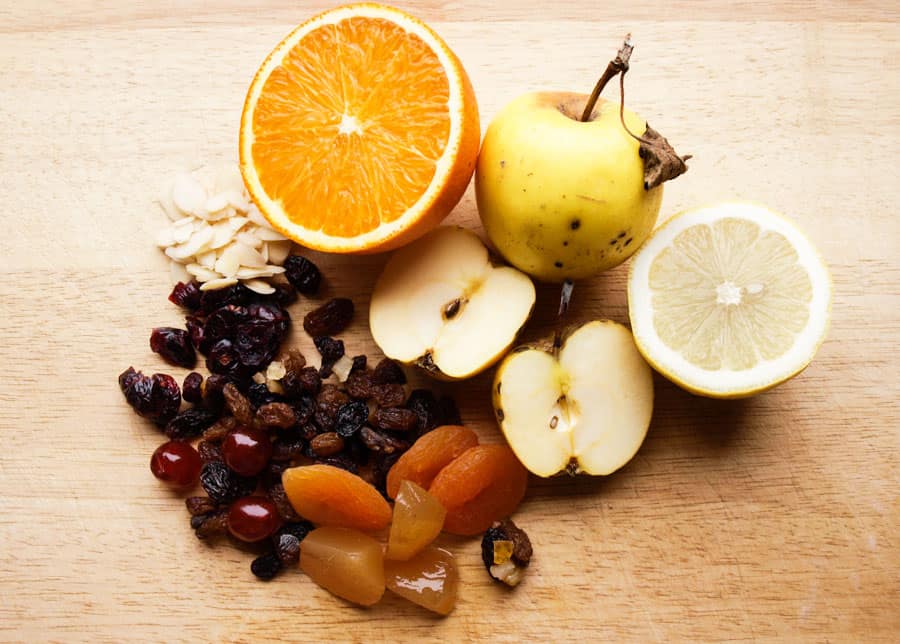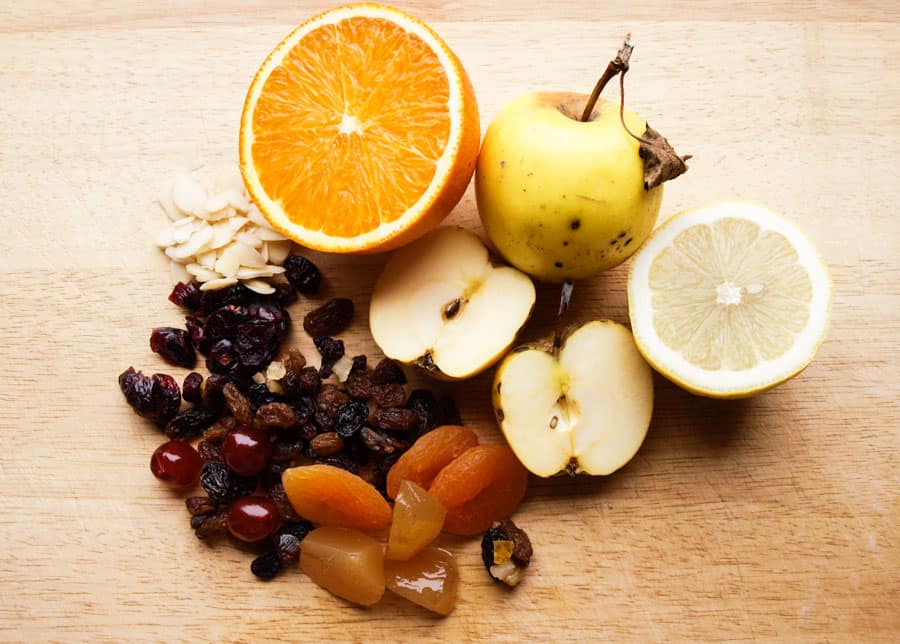 What is Mincemeat?
Mincemeat is a rich mixture of dried fruits, spices, apples, citrus zest and juice, alcohol and suet which is mainly used to fill sweet shortcrust pastry and served as individual Mince Pies. Originally, there was meat in mincemeat but that was replaced with beef suet, I usually use vegetable suet which does the job just as well and means the mincemeat is also vegetarian.
There are lots of different recipes for mincemeat, like my Instant Chocolate Mincemeat which is great for last minute baking. However, this is the first time I have made Slow Cooker Mincemeat. It certainly won't be the last, as it was so easy to do and the result is really delicious.
How to make Easy Slow Cooker Mincemeat with Ginger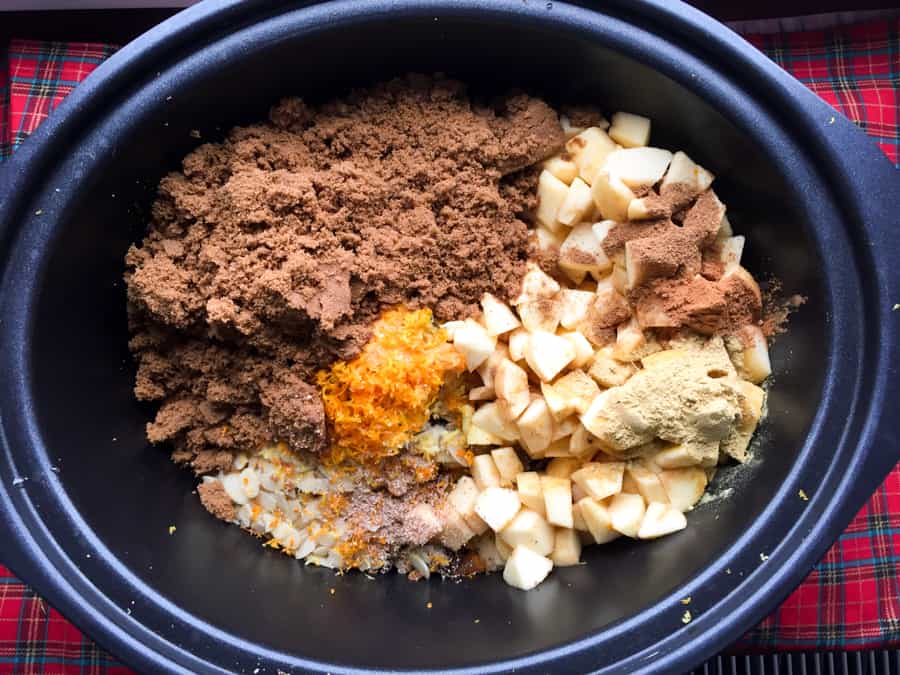 This Slow Cooker Mincemeat recipe couldn't be easier. Just peel, core and chop the apples, add with all the other ingredients and half the brandy into your slow cooker.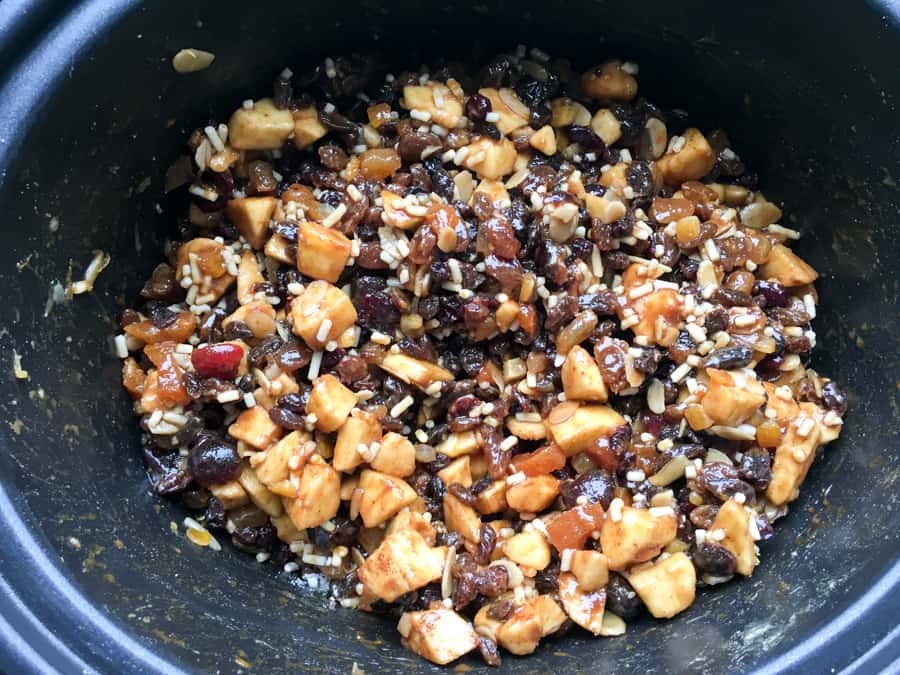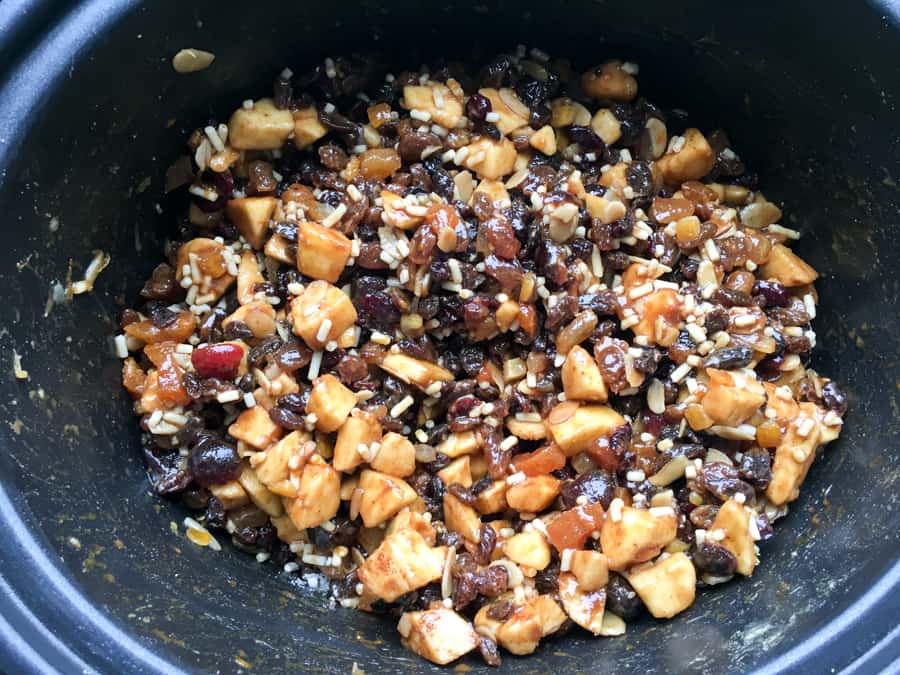 Mix up the ingredients and put the Slow Cooker on HIGH for one hour, then on LOW for one hour.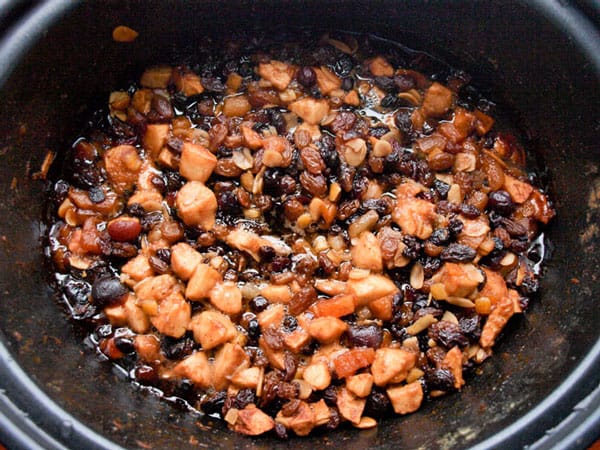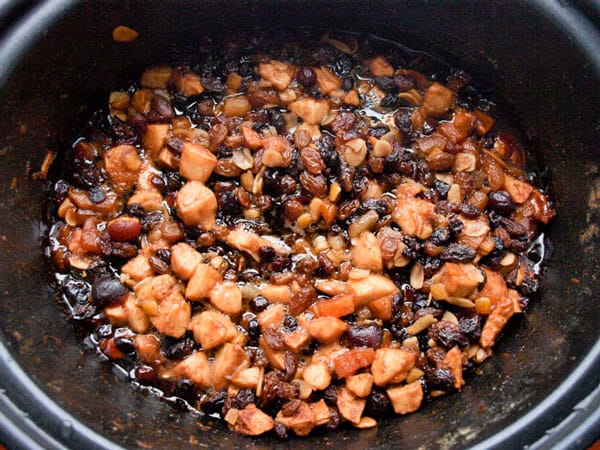 When it's cooked add the rest of the brandy, stir it through and pot it up into sterilised jars. That's all there is to it, so easy.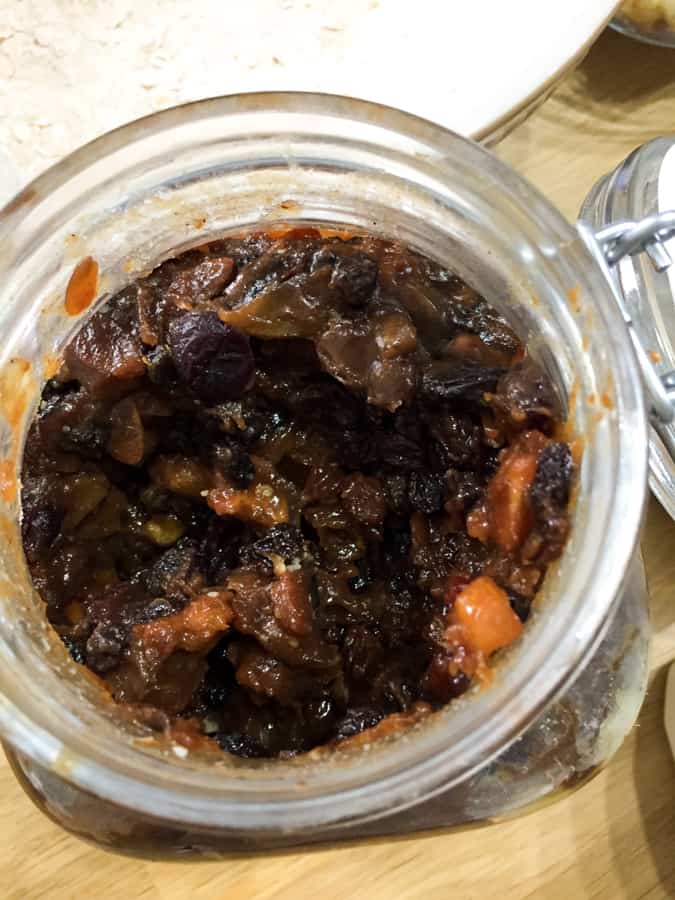 I filled a large jar with a clipped lid with the Easy Slow Cooker Mincemeat. I keep it in the fridge so I can take out what I need for any recipes I want to make. You can keep unopened jars in a cool dark cupboard, but once opened they should be stored in the fridge.
Why make the Slow Cooker Mincemeat now?
The Slow Cooker Mincemeat is fine to bake with straight away, but it does mature over time and the flavours will improve. So making it now will mean that it will be even better by Christmas!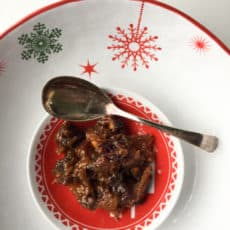 Easy Slow Cooker Mincemeat with Ginger
A fruity and delicious mincemeat recipe, ideal for Christmas mince pies and other festive treats. The added ginger in syrup makes a nice change, it doesn't dominate but adds a little zing!
Print
Pin
Rate
Total Time:
2
hours
10
minutes
Ingredients
450

g

peeled

cored, chopped apples (use cooking apples or other sharp flavoured apples)

800

g

mixed dried fruit

the kind that contains mixed peel

100

g

dried cranberries

100

g

dried apricots

snipped into small pieces with scissors

100

g

glace cherries

washed and quartered

60

g

preserved ginger in syrup

cut into small dice

60

g

chopped almonds

225

g

dark brown sugar

225

g

vegetable suet

Grated zest and juice of 2 lemons

Grated zest and juice of 2 oranges

2

teaspoons

ground ginger

1

teaspoon

mixed spice

1

teaspoon

cinnamon

1/2

tsp

grated nutmeg

150

ml

brandy

or additional orange juice
Instructions
Place all the ingredients into your slow cooker, with 75 ml of the brandy (or orange juice).

Cook on High for 1 hour.

Turn the slow cooker down to Low and cook for 1 hour.

Sterilise the jars (see notes)

Once cooked, stir in the rest of the brandy.

Fill the sterilised jars.
Notes
There are many ways to sterilise your jars. You can put them through the dishwasher but I like to wash and rinse my jars and metal lids (do not dry) place them on a baking sheet into the oven and set to 100 C and leave for at least 20 minutes or until all the water has evaporated. Take them out and let them cool slightly before filling with the mincemeat. Seal and store in a cool dark place. Once opened store in the fridge. I filled most of my mincemeat into one 1.5 l clip top lid and keep it in the fridge so I can spoon out what I need.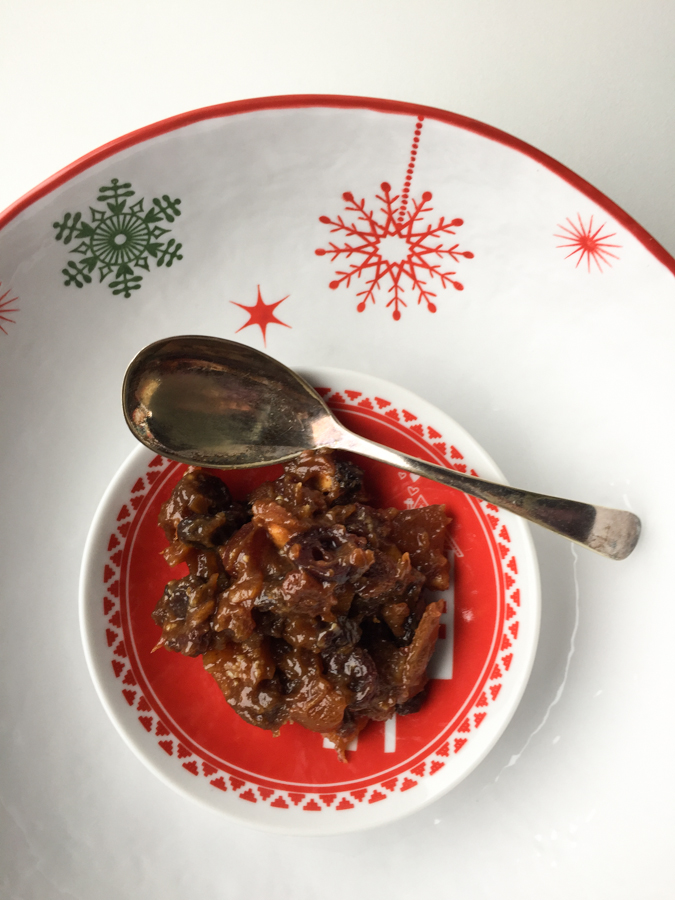 A jar of Easy Slow Cooker Mincemeat with Ginger would make a great gift, or why not make some mini-mince pies with your own homemade mincemeat and give those as a gift? They are bound to be appreciated.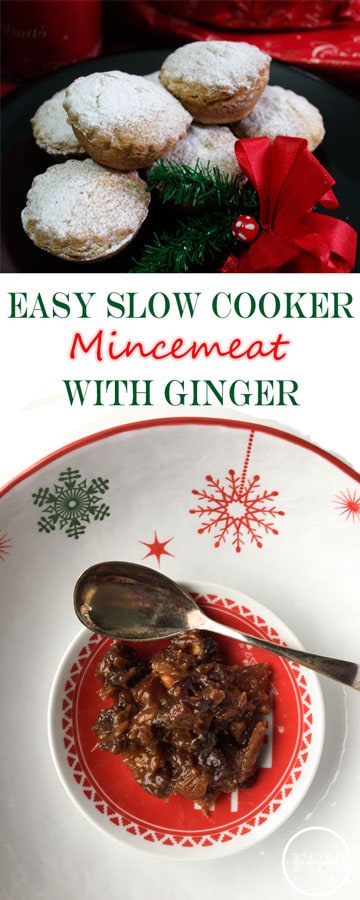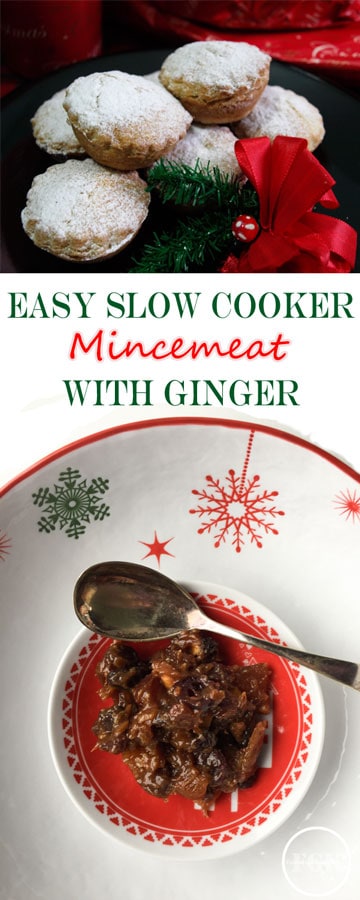 PIN FOR LATER

Mincemeat makes a great gift too especially when it is homemade, Just pop on a pretty label, some festive paper and a ribbon and this handmade gift can be included in a hamper or given to friends and family to enjoy.
If you loved my Slow Cooker Mincemeat with Ginger, here are some other alternative mincemeat recipes:
Pumpkin MIncemeat – Veggie Desserts
Easy Beetroot & Hazelnut Mincemeat – The Veg Space