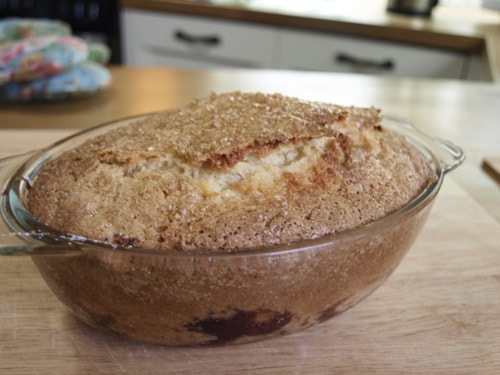 or rather…Blackberry and Apple Cobble! I think I should have chosen a shallower dish for this as the cobber pieces all joined together into one big cobble! It did taste delicious though!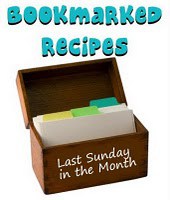 It's the last day of Bookmarked Recipes, run by Jac at Tinned Tomatoes from an idea by Ruth at
Ruth's Kitchen Experiments
, and I thought I wasn't going to get an entry in in time. But for tonight's dessert I chose a recipe I had bookmarked in
Woman and Home – Dinner Tonight for October.


Blackberry and Apple Cobbler
500g (1lb 2oz) Apples
400g (4oz) blackberries
200g (7oz) golden caster sugar
1/2 teaspoon cinnamon
1tbsp cornflour
150g (5oz) self-raising flour
50g (2oz) chilled butter, cubed
100ml (4fl oz) buttermilk
1tbsp demerara sugar
1.2litre (2 pint) greased ovenproof dish
1. Heat the oven to 200C, 180C Fan, 400F, gas 6. Fill a bowl with water, peel the apples and put into the water to stop them browning. Quarter, core and slice the apples and place in the ovenproof dish.
2. Add the blackberries to the apples and sprinle over 50g (2oz) of the sugar, as well as the cinnamon and cornflour. Gently stir everything together to mix the apples and blacberries with the dry ingredients.
3. Put the flour in a bowl or food processor, add the butter and the remaining 150g (5oz) sugar, and cut with a knife or whizz until it forms crumbs. Add the buttermilk and blend until a squidgy dough forms.
4. Scatter clumps of the dough over the fruit – don't cover completely. Spinkle with the demerara sugar and bake for 40 minues, or unitl the fruit is tender and the cobbler golden.
I didn't have any buttermilk, normally I would use a bit of yogurt in the milk to sour it or some lemon juice, but instead I used an egg and topped up to 100ml with semi-skimmed milk, it rose beautifully as you can see.