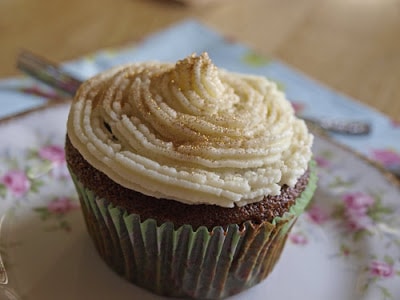 When I first spied this recipe in
The Great British Bake Off 'How to Bake'
book, I knew right away that I had to make them. I just love gingerbread and these little cakes do not disappoint, they are moist and rich with all the dark spicy flavours you expect from great gingerbread. It's also an incredibly easy recipe.
The other reason I chose this recipe was because 'ginger and bonfire treats' is the theme for the Teatime Treats challenge run by Karen, who is hosting for November at Lavender and Lovage and Kate at
What Kate Baked
. Which might just explain why I called these 'Sparklers'!!!

I have adapted the recipe a little as I didn't have any stem ginger, also the GBBO version is not iced, but I wanted to try a little piping. Depsite having been cooking and baking for around 40 years I've never really mastered piping, I think this isn't bad for a first attempt but I need to get a bigger piping nozzle to make the squishy sort of toppings that go with cupcakes, any recommendations for which nozzles to get and where to get them, gratefully accepted.
Gingerbread Cupcake
Makes 12 (I froze the other six un-iced)
175g plain flour
1 tsp bicarbonate of soda
1 teaspoon cinnamon
1 teaspoon mixed spice
1 teaspoon ginger
pinch of salt
100g butter
2 tbsp golden syrup
2 tbsp treacle
100ml milk
100g muscovado sugar
1 egg beaten
1. Heat the oven to 180C/350F/gas 4. Sift flour, bicarb, spices and salt into a bowl.
2. Melt the butter with the syrup and treacle in a pan, when melted remove from the heat and allow to cool.
3. Warm the milk and sugar in another pan, stirring until the sugar has disolved. Remove from heat until the milk is lukewarm.
4. Pour the milk mixure onto the flour mixture, followed by the butter mixture and the beaten egg.
5. Mix well to make a thick, sticky batter.
6. Spoon the mixture into 12 muffin cases.
7. Bake for 18-20 minutes or until firm to the touch.
8. Remove from the oven and lift the gingerbread cupcakes onto a wire rack and leave to cool.
Butter Icing
Will ice 12 large cupcakes (I halved the quantities for 6 cupcakes)
125g unsalted butter, softened
400g icing sugar
3-4 tablespoons of milk
1 tsp vanilla extract
Edible gold glitter (optional)
1. Put the butter into a mixing bowl and beat with a wooden spoon or an electric mixer until pale and creamy.
2. Sift the icing sugar into the bowl.
3. Add the milk and vanilla extract.
4. Beat until smooth and thick.
5. Fill a piping back with a star nozzle and ice the cupcakes.
6. Sprinkle a little gold glitter over the cupcake before the icing sets.