Bolo do Caco is a local bread from the beautiful island of Madeira.   It is a stovetop pan baked bread often served as an appetiser with garlic butter.  Let me show you how to make it, it's really very simple.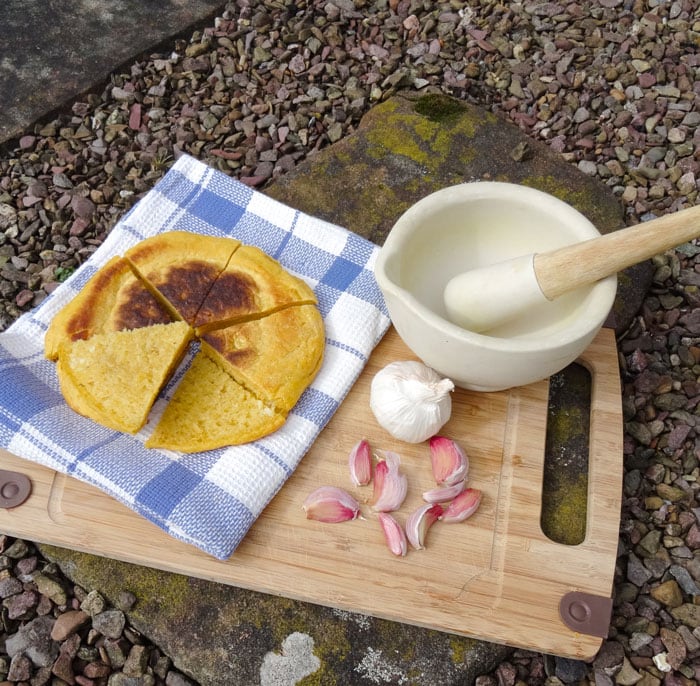 Traditional Bread of Madeira
I have visited the Island of Madeira twice and eaten in quite a few restaurants. This flatbread is served warm at the table spread thickly in parsley or garlic butter and cut into wedges. You may also be served a side plate of local soft cheeses and olives.
You can buy Bolo do Caco at street stalls, where it is made on-site, and then filled and sold as a sandwich.
The Quest for a Bolo do Caco Recipe
What does Bolo do Caco mean?
Bolo is a Portuguese word that means ball or round.  It is commonly used to describe any type of cake, for example, Bolo de Miel is a rich fruit cake the equivalent of our Christmas Cake. 
Caco translates as a piece or fragment, which leads me to think that it refers to the wedges that are cut from the round.
Does Bolo do Caco contain Sweet Potato?
On our return, I did a little research and found that one of the ingredients in Bolo do Caco is sweet potato. The sweet potato used in Madeira is white whereas I could only get the orange sweet potato. This means that the colour of my bread is a little different but the taste is pretty much the same. 
Apparently, not all Bolo do Caco contains sweet potato.  However, all the recipes I found in my research use sweet potato, so that is why I have included it in the ingredients. 
Is Bolo do Caco a sourdough bread?
Some recipes suggest using a sourdough starter, this recipe uses fast action yeast to make it more accessible to all.
How do you bake the bread?
I have kept faithful to the method of baking which is in a pan. I like to think of it as a cross between a Scottish tattie scone and a giant English Muffin.
How to make Bolo do Caco bread
Bake the Bola do Caco in the pan (a smaller high sided pan is recommended but I didn't have one and it worked just fine)
Leave the dough to rise for a second time.
The texture of the bread which is slightly chewy on the outside but soft and light inside.
Cover the bread rounds with a clean tea towel to keep them soft.

It really is very easy to make the Bolo do Caco. It rises well and although it bakes in a pan, the bread bakes right through without any difficulty.  The texture of the bread is good and it tastes delicious.

Serving Suggestion
Serve split across the middle and spread with garlic butter in the traditional way, or fill the bread with the sandwich filling of your choice. Fill with bacon for a great bacon butty!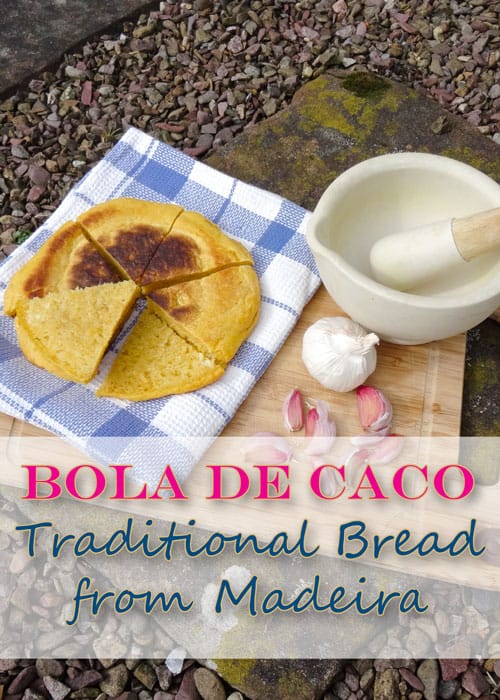 PIN FOR LATER
More International Bread Recipes
Spicy Chicken Stuffed Bun is a soft bread roll filled with a mixture of cooked chicken, ginger, chilli, and coriander. They are quite delicious and ideal to serve warm at a buffet.
Oatmeal Irish Soda Bread is a non-yeasted bread that is quick to make and tastes very delicious indeed
Sesame Bagels -Feast Glorious Feast
Malawach Fried Flatbread – Family Friends Food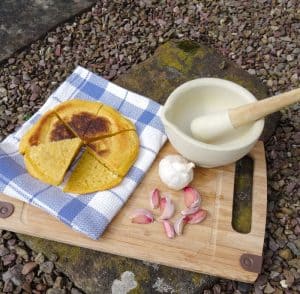 Bola do Caco
A traditional sweet potato bread from the island of Madeira, baked in a pan and usually served with garlic butter, local soft cheeses and olives.
Ingredients
500

g

plain flour

not strong bread flour

7

g

sachet Fast Action Yeast

200

grams

sweet potatoes

(about 2)

1/2

tsp

salt

1/2

tsp

freshly ground pepper

350

ml

warm water
Instructions
Bake the sweet potatoes, either in the oven for about 30-40 minutes or in the microwave for 8-10 minutes (timings depend on size of sweet potatoes). Once cooked until soft, scoop out the flesh and mash until smooth.

Combine the sweet potatoes with the other ingredients and enough warm water to make a very soft, wet dough. Using one hand, bring all the ingredients together and mix thoroughly for 5-10 minutes or until dough becomes elastic.

Cover dough loosely with cling film and leave in a warm place for 30 minutes.

Divide the mixture into 4 equal portions. Oil your hands, so they don't stick to the dough, shape into flattened rounds and set aside to prove for another 30 minutes, covered with a damp towel.

Melt a little butter in a small, high sided pan (or whatever kind of pan you have) and cook each round over a low heat for 8-10 minutes on each side until browned and cooked through.

Repeat process with remaining bread, keeping the cooked Bola soft by covering with a clean tea towel on a cooling rack.
Notes
Adapted from by Farmersgirl Kitchen
Nutrition
Calories:
504
kcal
Carbohydrates:
106
g
Protein:
14
g
Fat:
1
g
Sodium:
326
mg
Potassium:
318
mg
Fiber:
5
g
Sugar:
2
g
Vitamin A:
7095
IU
Vitamin C:
1.2
mg
Calcium:
36
mg
Iron:
6.1
mg
Don't Miss My Latest Recipes
CLICK TO SUBSCRIBE NOW to join my newsletter list & receive a FREE 'How To Adapt Recipes For Your Slow Cooker' printable!
Share by Email