We visited the delightful island of Madeira and we loved the food. Madeira is a Portuguese island and the food influences from Portugal are clear, we particularly loved the fish and this dish of Mackerel with Madeiran Special Sauce was one of our favourites.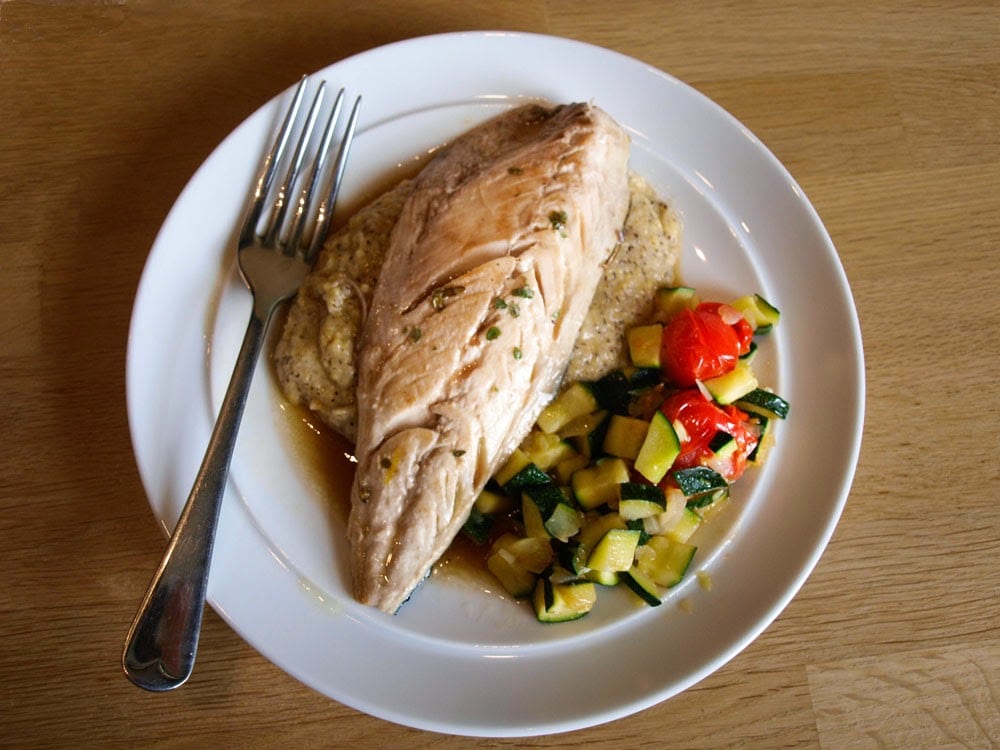 This is my take on the Mackerel with Madeiran Special Sauce served with Mihle (maize meal/polenta) which we enjoyed at the Apolo Cafe in Funchal, Madeira. We had just visited the local farmers market, including the fish market and it had whetted our appetite for lunch.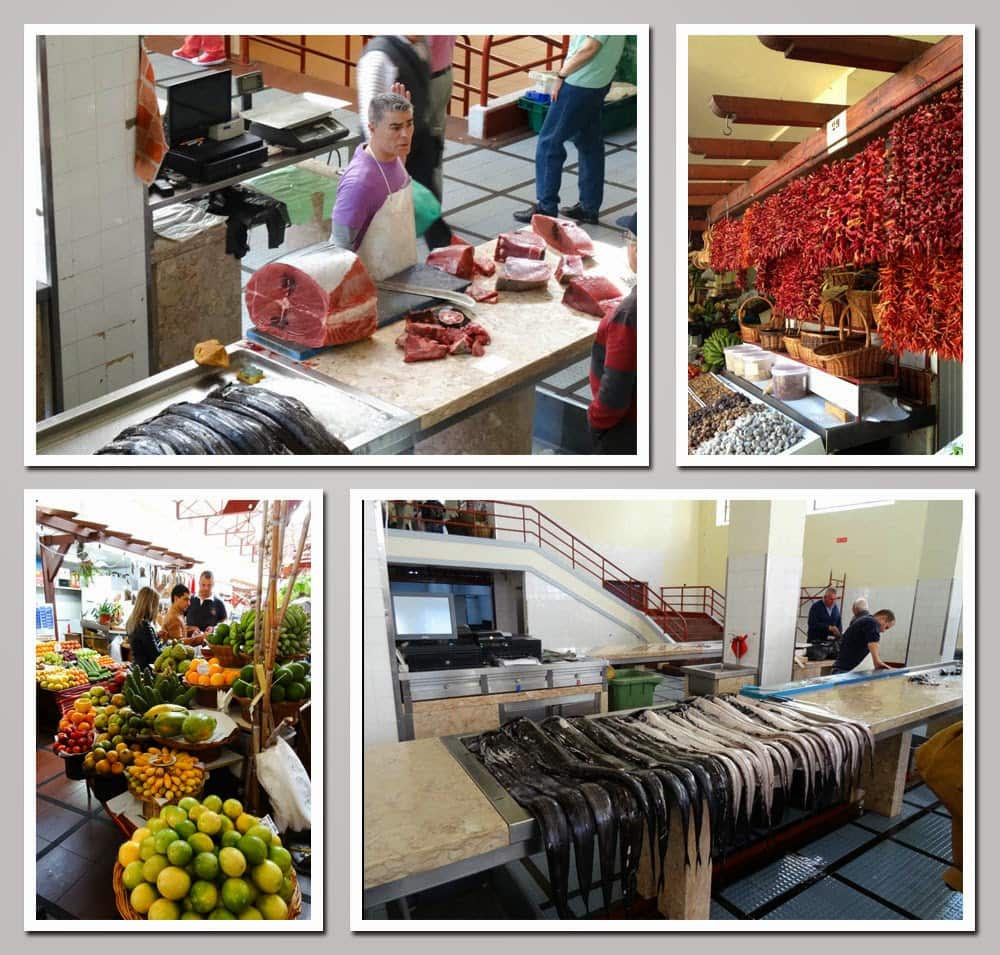 The Cafe Apolo is right in the centre of Funchal right opposite the Cathedral and we were tempted by the special 'Fresh from the Market' lunch of 'Mackerel Fillets with Madeiran Special Sauce and Cooked Maize (Polenta)'.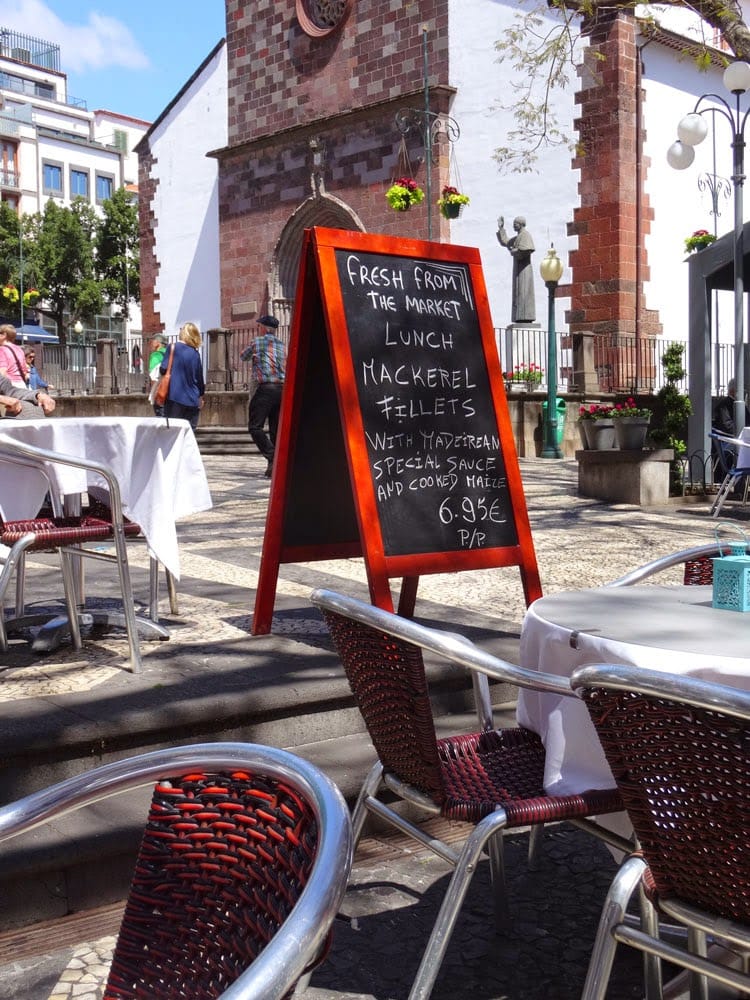 We really enjoyed eating at this street cafe, it is frequented by locals and tourists alike and is a great place for people watching.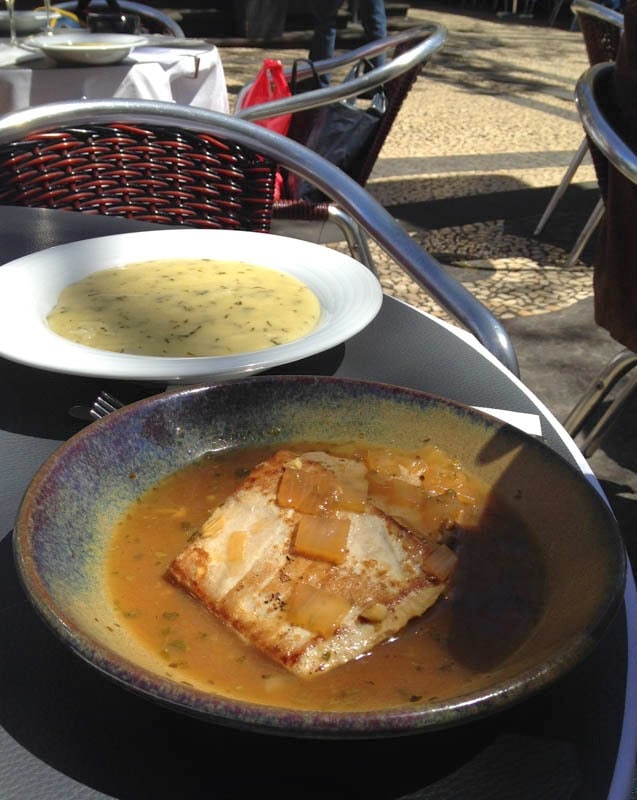 This was our meal, a bowl of creamy polenta and a plate with two huge fillets of mackerel with a pool a lovely Madeira sauce flavoured with thyme.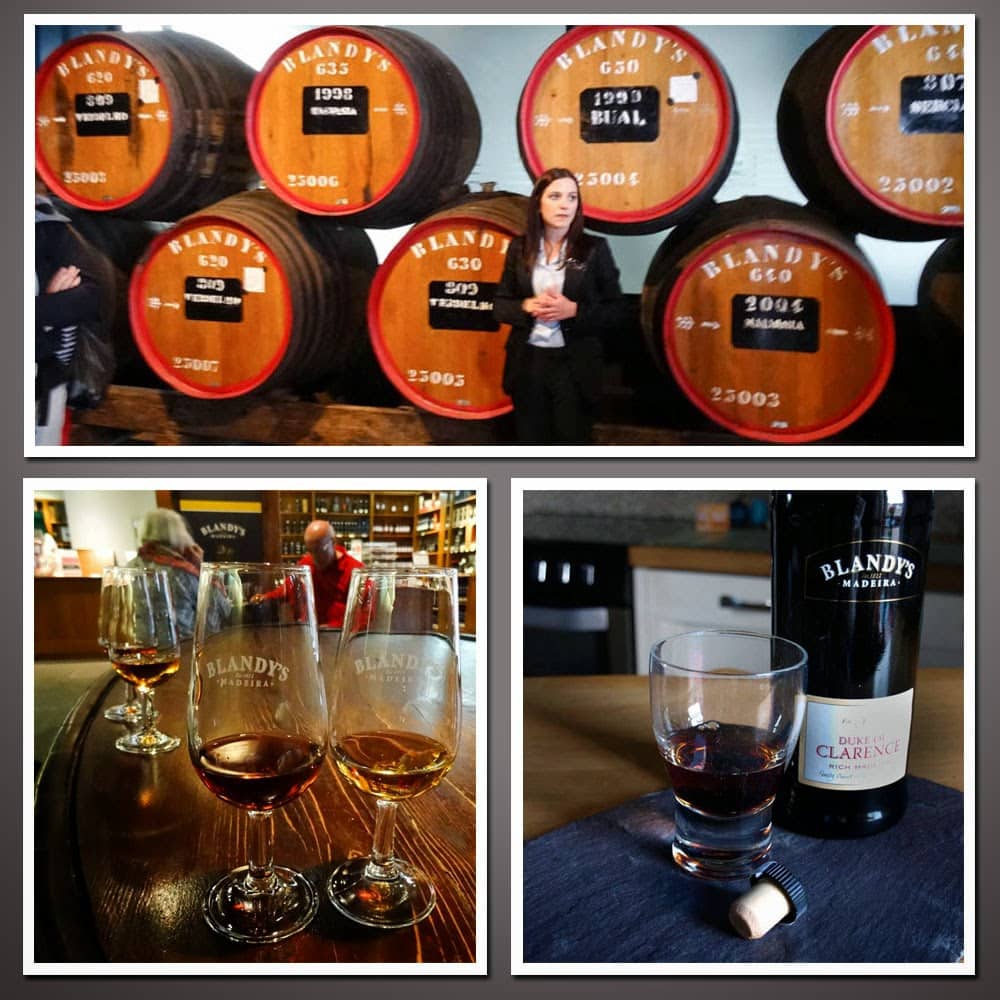 I wanted to recreate this fish dish, all I had to go on was the name of the dish and what I had tasted. I reckoned that if it was a Madeiran Sauce it would contain Madeira, don't you think? We had really enjoyed drinking a glass of Madeira on our holiday and had also been to the tour of Blandy's to learn about how Madeira was made and the history of this group of producers. I was pleased to find a bottle of Blandy's Duke of Clarence Madeira in my local supermarket. I had also definitely seen and tasted thyme in the sauce and that's about all Here is what I came up with: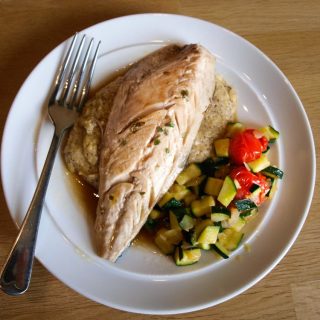 Mackerel in Madeiran Special Sauce with Cooked Maize (Mihle)
Fresh mackerel fillets simply marinated and cooked, served on soft and delicious maize meal (polenta), we loved this recipe when we visited the island of Madeira so I've recreated the recipe to share with you.
Ingredients
For the Polenta
1.5

litre

water

1

tsp

salt

180

g

polenta

100

g

grated cheese

20-30

g

butter
For the Mackerel
4

mackerel fillets

1

small

onion

finely chopped

1/2

lemon

zest and juice

2

tsp

butter

1

tbsp

olive oil

1

tsp

fresh thyme leaves

50

ml

Madeira wine

1/4

tsp

salt

1/4

tsp

freshly ground pepper
Instructions
Bring the water to the boil in a large pan, add the salt.

Pour the polenta in a stream into the boiling water whisking gently.

Keep whisking until the polenta has thickened.

Cover the polenta and either keep cooking on the stove at a low heat, or put in the oven at 150C.  Stir well every 10 minutes scraping down the sides.  Cook for about 30 minutes.

Stir in the cheese and butter and serve immediately.
For the mackerel
Place the mackerel on a flat plate or baking tray and cover with the grated lemon zest, lemon juice and a tsp thyme leaves stripped from the stalks, cover with cling film and leave for at least 20 minutes.

Put the Madeira in a small pan on a medium high heat and simmer to reduce the liquid by half. Heat the olive oil in a pan on a medium heat and sauté the onion until soft, add the butter then cook the mackerel fillets for about 3 minutes each side.

Serve the mackerel fillets on top of the creamy polenta and season the pan juices to taste and pour over the dish, the pour over the reduced Madeira.
Notes
I also chopped some courgettes and pan fried them in butter with garlic and cherry tomatoes to serve with the mackerel and polenta.
Nutrition
Calories:
1084
kcal
Carbohydrates:
39
g
Protein:
100
g
Fat:
53
g
Saturated Fat:
19
g
Cholesterol:
253
mg
Sodium:
1324
mg
Potassium:
1966
mg
Fiber:
1
g
Sugar:
1
g
Vitamin A:
815
IU
Vitamin C:
17.7
mg
Calcium:
291
mg
Iron:
5.9
mg
Don't Miss My Latest Recipes
CLICK TO SUBSCRIBE NOW to join my newsletter list & receive a FREE 'How To Adapt Recipes For Your Slow Cooker' printable!
Share by Email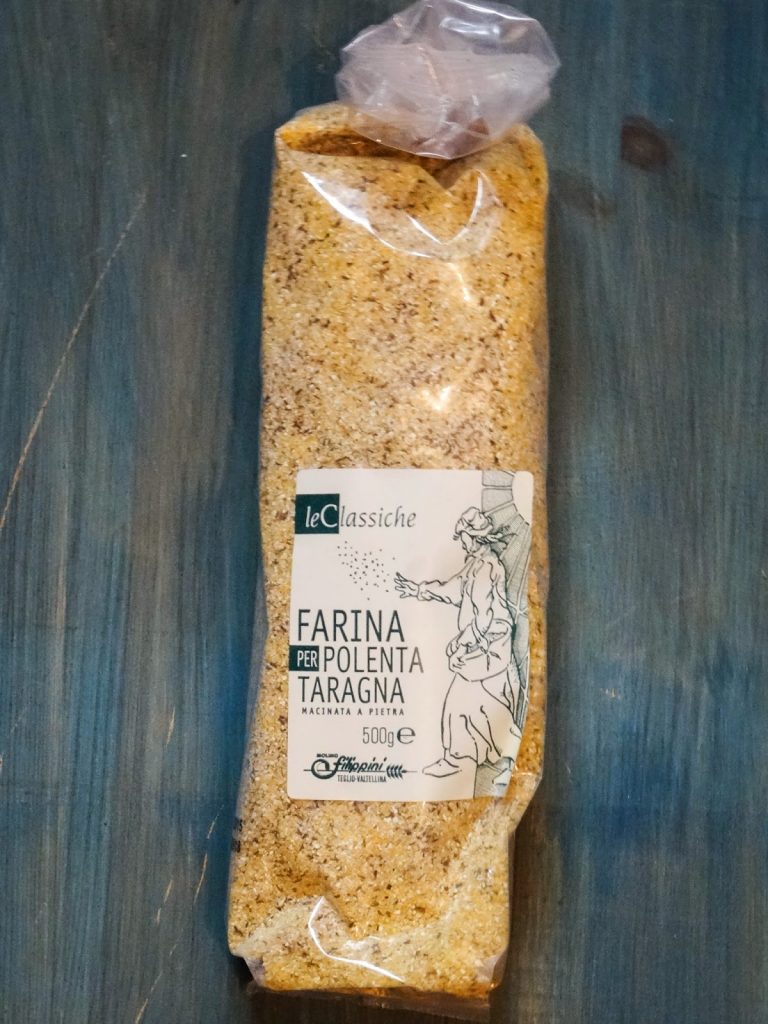 I used this amazing Farina Polenta Taragna from UFUUD a specialist supplier of traditional Italian food. Molino Filippini's special flour for taragna polenta is composed of a mixture of ground buckwheat and maize, carefully blended to ensure a top-class product that respects the traditions of northern Italy. I'll be sharing more delicious Italian foods from UFUUD very soon.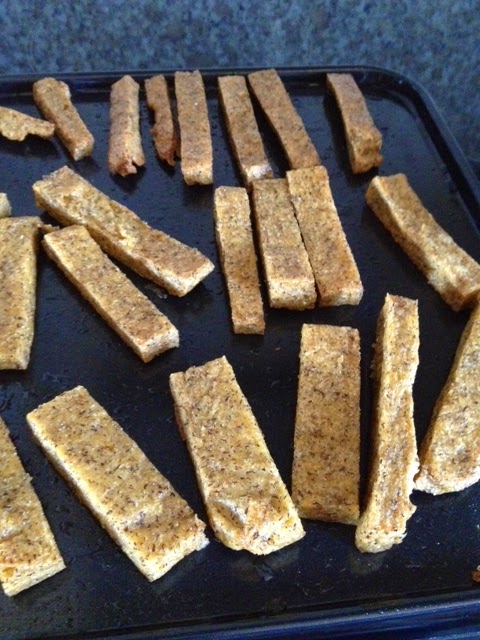 Polenta Chips
Polenta is incredibly filling so we found that we had quite a lot left over. I lined a tray with baking paper and spread the thick polenta on top. I then left it in the fridge for a few days, although you can use it as soon as it is cold and set., and sliced it into finger shapes.
To bake the 'chips' I brushed oil onto a non-stick baking sheet and laid out the chips with a little gap between each one, I then brushed all the chips with oil and baked in the oven at 180C for 15 minutes. I took the tray out and turned the chips over, then returned to the oven for another 15 minutes.
They were crisp on the outside and soft on the inside, the flavour of the cheese came through more strongly than in the wet polenta. The change in taste reminded me of the gnocchi I made, which was also much tastier when sautéed in butter!