Cherry and Almond Frangipane Dessert combines a sweet cherry filling with a delicious light almond sponge topping. It's a simple dessert to make but feels luxurious and a real treat.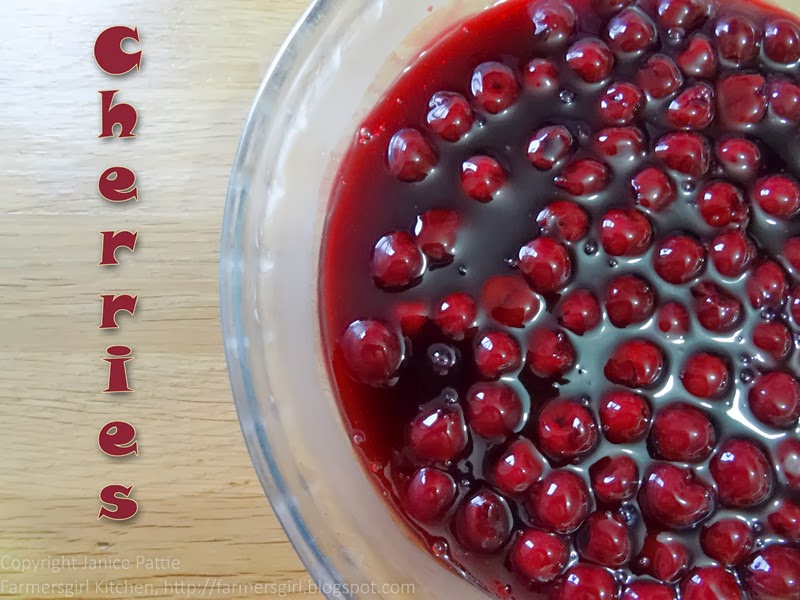 Don't those cherries just look so good? A real taste of summer in the middle of winter. I received them in a parcel of ingredients from the French company, Sabarot. The company was formed in 1819 by an ancestor of the current manager and Sabarot aim to maintain the traditions and know how passed down through the family.

Sabarot specialise in red fruits, dried vegetables (including puy lentils), dried mushrooms and snails, and they sent me a selection of their produce.

I haven't tried all the products yet, but I have cooked the mushrooms in some risotto and they were very good quality. I decided to use the cherries in a Cherry and Almond Frangipane dessert. These cherries have had the stones removed and presented in a jar with a light juice. The juice and cherries are not particularly sweet which means you can regulate the sweetness yourself or even use them in savoury dishes. As I was making a dessert and wanted a slightly thicker and sweeter syrup, I heated the juice gently in a pan and added a teaspoon of cornflour slaked with a little water, once cooked out this created the texture of a cherry pie filling as shown in the first photograph.
Cherry and Almond Frangipane
Serves 6
1 jar Sabarot cherries in juice
100g caster sugar
1 tsp cornflour
for the Frangipane
55g butter
55g caster sugar
40g ground almonds
1 large egg
15g plain flour
1. Heat the oven to 180C/170C fan oven
2. Put the juice from the cherries and the sugar in a pan and heat gently until the sugar has dissolved.
3. Mix the cornflour with a little water and add to the warm, sweetened cherry juice and bring to a gentle boil. Cook for 2 minutes,stirring all the time until the starch is cooked out.
4. Add the cherries to the sauce and place in a shallow dish, leave to cool slightly.
4. Using an electric mixer or a wooden spoon, beat together the frangipane ingredients.
5. Spoon the frangipane mixture over the cherries.
6. Bake at 170C for 20 minutes until risen and golden brown.
7. Serve with cream or greek yogurt.

I was very pleased with how the cherries worked with the frangipane. I've made a cherry frangipane before with fresh cherries but the bottled cherries had a lovely intensity of flavour and were a good contrast to the soft, almond sponge.


I was supplied with these products by Sabarot for review. I was not paid for this post and all opinions are my own.