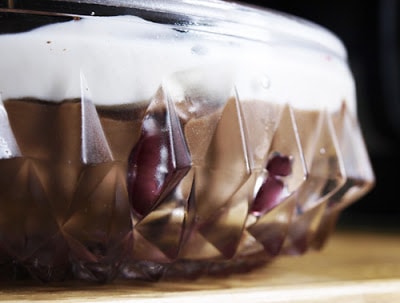 'We should Cocoa' is celebrating a year of chocolate challenges by asking us to create a dish worthy of a 1st birthday party. Find out more over at Chocolate Teapot Now, as far as I am concerned, no party is complete without a luscious trifle.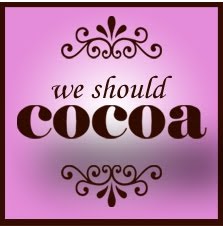 I really did cheat quite a lot with this trifle, but it is delicious for all that. No recipe – who needs a recipe for trifle? Here are some vague instructions instead – hee hee!

The finished trifle
Easy Chocolate Cherry Trifle
Sponge Fingers
Tin of cherries in light syrup
Tub of chilled fresh custard
80-100g dark chocolate
Greek Yogurt
Creme Fraiche
1 tsp caster sugar
20g dark choc, grated to decorate

1. Fill the bottom of your trifle bowl with boudoir fingers, trifle sponges or any kind of sponge cake.
2. Open a tin of cherries in light syrup, pour the juice over the cake. Take the stones out of cherries, don't worry if they look a bit of a mess, this is a trifle! Put the cherries on top of the soaked cake. You could add some cherry brandy at this stage if you want.
3. Take a tub of bought fresh custard, warm it gently in a pan. Finely chop about 80-100g of dark chocolate, add to the custard and stir until it is all melted. Take the custard off the heat and let it cool for about 5 mintues, then spoon it over the cake and cherries.
4. Put it in the fridge to cool completely.
5. Mix together about 150g Greek Yogurt and 150g Creme Fraiche with a teaspoon of caster sugar. Spread it evening over the chocolate custard.
6. Decorate with the grated chocolate.
7. Chill until ready to serve.

A single serving

Luscious layers left for tomorrow
Happy Birthday 'We Should Cocoa'