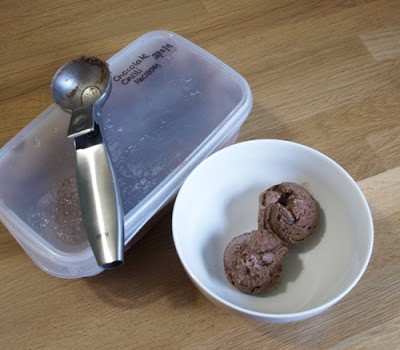 This has been on my list of 'must makes' for about two years since I first tasted it at the Appleby Manor Hotel. I love the combination of the rich chocolate, the cold ice-cream and the sweet heat of the chillies. We ate this on Christmas Eve with homemade mini mince pies filled with my Chocolate Mincemeat and it proved very popular, although my son would have been up for even more chilli!
I am entering this for the Sweet Heat Challenge #3 'Christmas'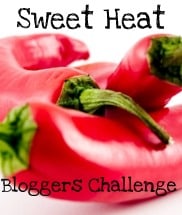 The recipe is adapted from a couple of different ones, so here is what I did:
Chocolate Chilli Ice Cream
600ml double cream (you can use 300ml milk and 300ml dbl cream)
200g Dark Chocolate
4 large egg yolks
100g caster sugar
3 red chillies
1/4 tsp chilli powder
Slice the chillies and add with the cream to a saucepan, include the chilli seeds.
Warm the cream until just below boiling point then leave to infuse for 30 minutes.
Strain the chillies and seeds from the cream, add the chilli powder and reheat the cream.
Mix the egg yolks and sugar in a bowl and slowly pour the cream onto the eggs stirring all the time.
Return the egg mixture to the saucepan along with 150g of the dark chocolate broken up into small pieces, heat gently stirring until the mixture thickens slightly. Remove from the heat and let it cool in the fridge.
Chop the rest of the chocolate and stir this into the mixture once it is cool.
At this point it is ready for the ice cream maker (if you don't have one then you can freeze it in a shallow box but you will have to keep taking it out of the freezer and beating it every 30-40 minutes) once it has thickened and frozen in the ice cream maker, decant it into a box and freeze.
Homemade ice creams generally need around 30 minutes out of the freezer before serving.