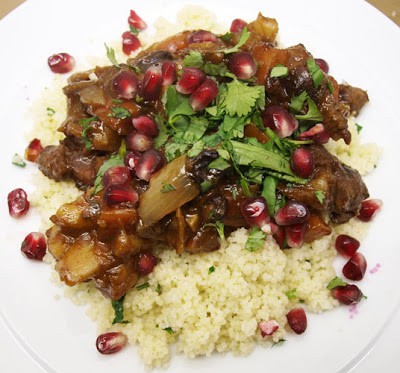 I bought a pomegranate last week and then wondered what to do with it! So I thought I'd make a Lamb Tagine, I used the recipe from my Good Housekeeping book but bumped up the veg content to make it go further and make it healthier. I topped it off with chopped coriander and the pomegranate seeds which I loved by were not so popular with my husband!
Moroccan Lamb Tagine
1.4kg boneless leg or shoulder of lamb
4 parsnips, peeled and cubed
6 medium carrots, peeled and cubed
1/2 Celeriac root, peeled and cubed
2 tsp ground ginger
2tsp ground coriander
1/2 tsp saffron strands
5 tbsp olive oil
salt & pepper
275g pearl onions or shallots (I just used ordinary onions and cut them into chunks)
1 garlic clove, peeled and crushed
1 tbsp plain flour
1tbsp tomato paste
450ml lamb or chicken stock
150ml sherry
2tbsp chopped fresh coriander
2tbsp chopped fresh parsley
1 bay leaf
1 cinnamon stick
75g stoned dates
1 tbsp honey
coriander leaves to garnish
1. Cut the lamb into 4cm cubes. Place in a bowl with the ginger, ground coriander, saffron and 1 tbsp oil. Season, cover and leave to marinate in the refrigerator for at least 4 hours, preferably overnight.
2. If using pearl onions or shallots, immerse them in biling water for 2 minutes, drain, refresh in cold water and peel.
3. Heat 1 tbsp oil in a heavy based flameproof casserole and brown the lamb in batches, using more oil if necessary. Add the garlic and stir over the heat for 1 minute. Add the onions and the cubed vegetables and cook over a medium heat until slightly softened and caramelised.
4. Return the lamb to the casserole. Stir in the flour and tomato paste, then add the stock, sherry, herbs and cinnamon stick. Season with salt and pepper. Bring to the boil, cover and cook at 180C for 1 1/4 hours, stirring occasionally.
5. Discard the cinnamon and bayleaf. Add the dates and honey and return to the oven for 15-20 minutes. Garnish with coriander and serve with couscous.