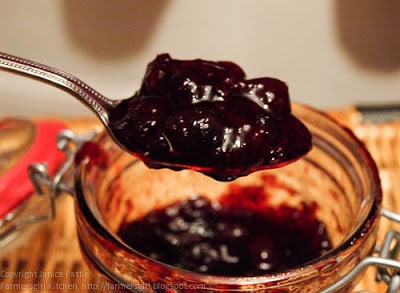 It was time to clean out the freezer, it was getting beyond a joke, the drawers were difficult to open and I spotted some frozen green goo in the bottom of one of them,  I thought my ice cream maker had burst and leaked but it hadn't so I'm not sure quite what that was, but it's gone now!  As part of my 'storecupboard empty' campaign I had been trying to use up things in the freezer and not fill it full again until I had cleaned it out.
Down near the bottom of the freezer were several boxes of berries.  Blackcurrants from the garden, blackberries from the hedgerow, a few redcurrants (that had been there for about three years!) and half a pack of cranberries from I bought and froze in December. I decided it was time to clear them out and make a mixed berry jam.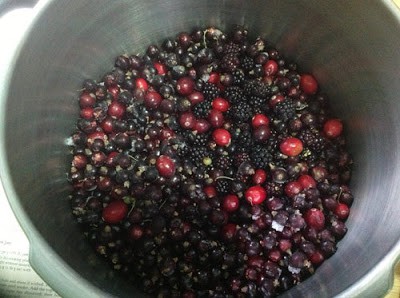 Blackcurrants are really easy to make into jam, they are full of pectin and give a good set, I made double the amount in the recipe, it's an easy one to adapt to the quantity of berries you have at your disposal.
Mixed Berry Jam
Makes 1kg (just over 2lb) jam
450g (1lb) mixed berries including blackcurrants
450ml (3/4 pt) water
550g (1 1/4 lb) sugar
Remove the stalks (hmm, you will see that I didn't get them all removed, but you can fish them out when the berries are softened) then wash the fruit.  Simmer gently with the water until the skins are really soft.  Add the sugar; stir until dissolved; then boil rapidly until setting point is reached.
If you have never made jam before, read this
excellent article
,
published in the Guardian Lifestyle, by Darina Allen which should
answer any questions you have.  But really, it's not that difficult, you
don't need sugar thermometers or liquid pectin, my mother and
grandmother never used them. A cold saucer in the fridge, a teaspoonful
of jam, let it cool, then push with your finger and if there is a 'skin'
then it is set, if not boil for another 5 minutes and try again.