I made my friend a book of 50 treats for her birthday in April, you can see it here and she is calling in some of the treats as she has her neice and nephew visiting.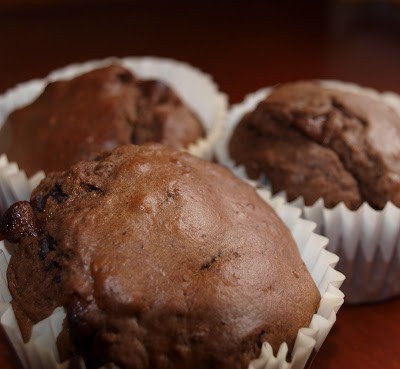 She got 6 chocolate muffins
The recipe is one by Delia Smith from the Comic Relief 'Delia's Red Nose Collection' from 1997. Delia made these as mini-muffins, I doubled up the mix and made mine full size.
5oz (150g) plain flour
2 level tbsp cocoa powder
1 level dessertspoon bkaing powder
1/4 tsp salt
1 large egg, lightly beaten
1 1/2 oz (40g) golden caster sugar
4 fl oz (120ml) milk
2oz (50g) butter, melted and cooled slightly
2oz (5og) plain chocolate drops
Preheat the oven to gas mark 6, 400F, 200C
Start off by sifting the flour, cocoa powder, baking powder and salt into a large bowl.. Then in a separate bowl mix together the egg, sugar, milk and melted butter. Now return the dry ingredients to the sieve and sift them straight on to the egg mixture (this double sifting is essential becuse there wont be much mixing going on). What you need to do now is take a large spoon and fold the dry ingredients into the wet ones – quickly, in about 15 seconds. Don't be tempted to beat or stir, and dont be alarmed by the rather unattractive, uneven appearance of the mixture: this, in fact, is what will ensure that the muffins stay light. Now fold the chocolate drops into the mixture – again with a minimum of stirring, just a quick folding in.
Divide the mixture between the muffin cups about 1 heaped teaspoon in each, and bake on a high shelf in the preheated oven for 10 minutes, until well risen. Then remove the muffins from the oven and cool in the tins for 5 minutes before transferring them to a cooling tray.
She also got 6 fruit scones, just a very basic scone recipe with some dried fruit added.