Rhubarb and Pecan Muffins are probably the nicest rhubarb muffins I've tasted. Soft sweet muffin filled with sharp rhubarb, crunchy pecans and topped with cinnamon sugar, so delicious, so easy to make.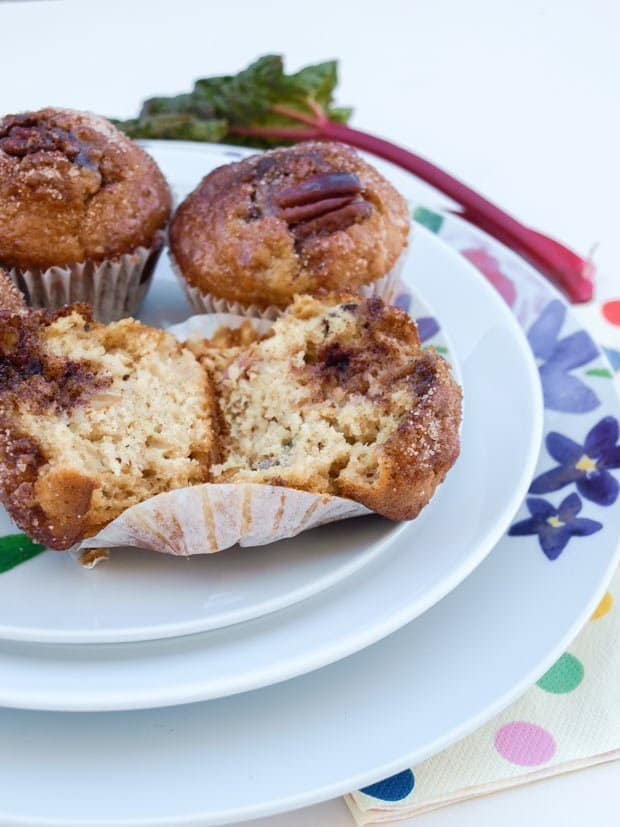 What is rhubarb?
Rhubarb is a hardy perennial plant with pink, red or pale green stems that are most often used in desserts like crumbles and pies.
It has a tart flavour and is too sharp to eat raw, but combined with sugar and other ingredients it has a delicious tangy taste.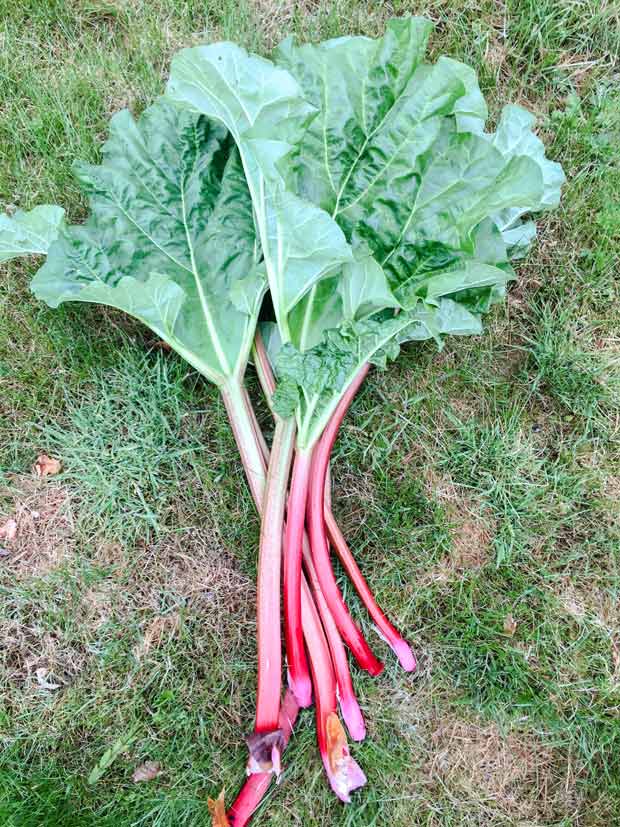 When is rhubarb in season?
The best rhubarb is available in Spring. The earliest rhubarb you can buy is forced, this means it has been grown in the dark
Forced rhubarb has pale pink stems and is tender and sweet.
Rhubarb continues to grow throughout the summer but as the season progresses the stems become tougher.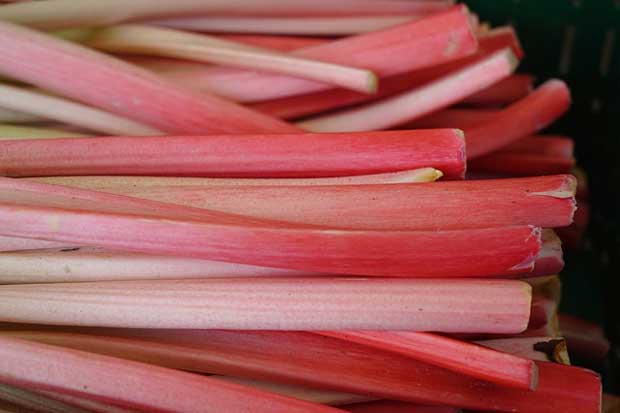 How do you grow rhubarb?
Rhubarb is grown from a crown. This is a thick rhizome that is planted just below the surface of the soil.
Rhubarb plants like lots of moisture and you need to mulch the plant to keep it from getting too dry.
We have a rhubarb crown growing in our back garden. It has been there for at least fifty years and has provided me with rhubarb every year for the last 35 years.
Rhubarb is not a demanding plant, it's very easy to grow, particularly in the cool damp climate of Scotland. it just needs a bit of feeding in the autumn and it will reward you with the crisp sharp stems of rhubarb all summer.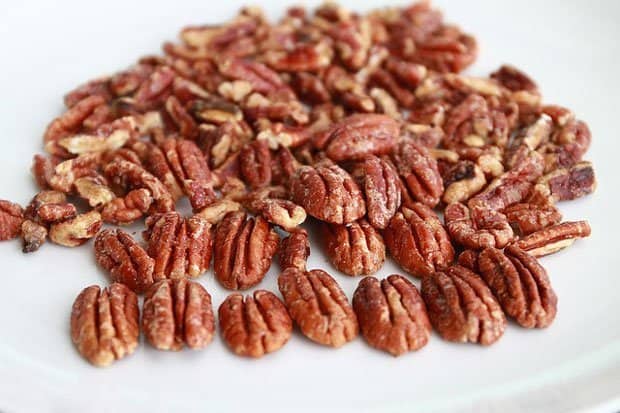 What are Pecans?
Pecan Nuts are the nut of particular species of hickory tree that grows in North America. Pecan nuts have a sweet creamy flavour and are usually used in desserts such as Pecan Pie.
The sweetness of the pecan nuts goes particularly well with the tart rhubarb and adds a pleasant crunch.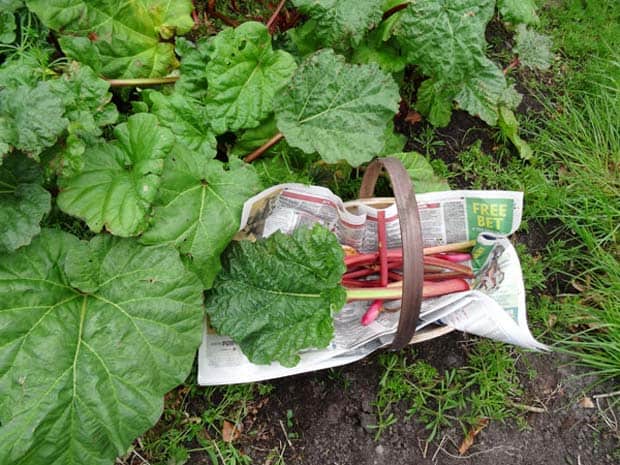 How to Make Rhubarb and Pecan Muffins
Rhubarb and Pecan Muffins are ideal for the start of the rhubarb season as they only use a small amount of rhubarb. I used three fairly short stems and produced 18 full-sized muffins.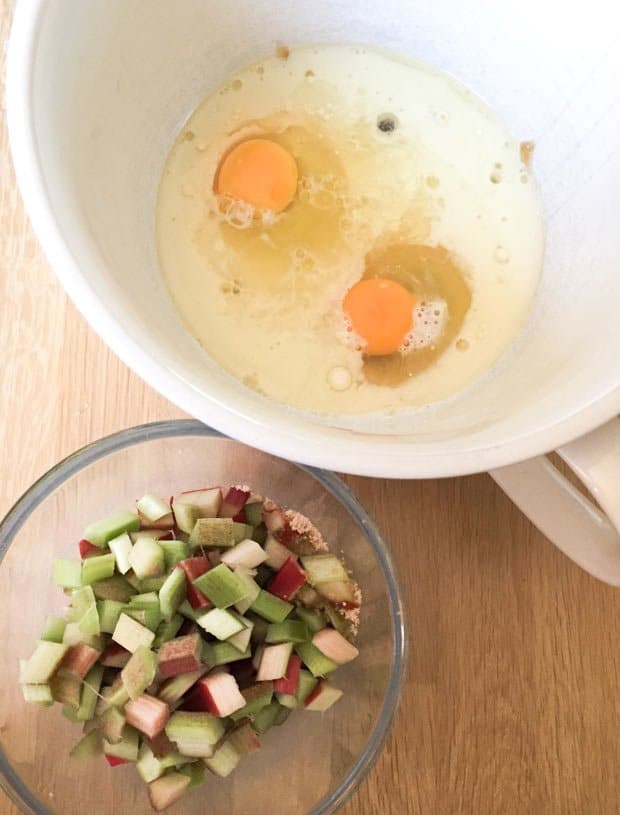 Chop the Rhubarb
It's really important to chop the rhubarb into small pieces. I quartered the rhubarb stems lengthways before slicing across, smaller pieces. This makes sure that the rhubarb is well distributed through the muffin mixture.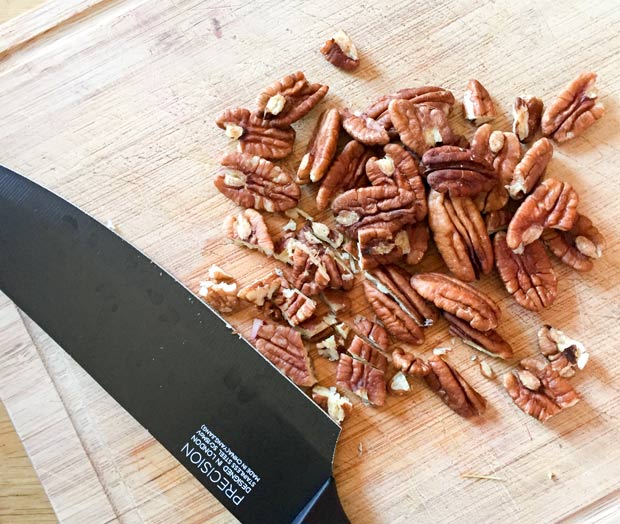 Chop the Pecans
Roughly chop 50g of pecan nuts. Keep them fairly roughly chopped so that you get little chunks of pecan nut in the muffin.
If they are too small they will disappear into the mixture and it's all about the textures for these muffins. You will also need another 18 whole pecans to top the muffins.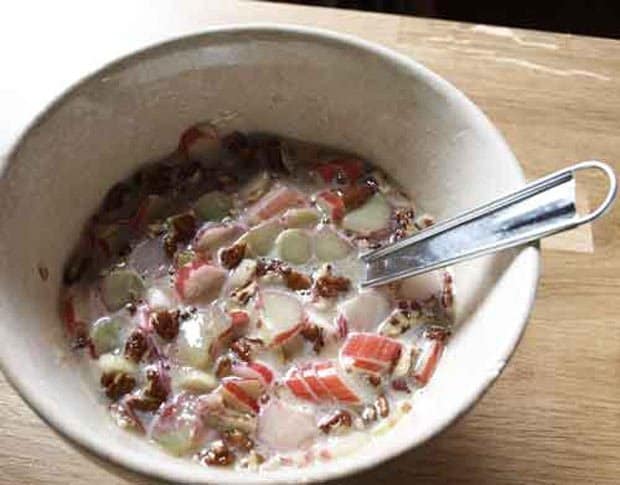 Mix the Wet Ingredients
Then simply beat the brown sugar, oil, and eggs together. Add the rhubarb and pecan nuts and buttermilk.

Combine the Dry Ingredients
Combine the flour, baking powder, baking soda, and salt in another bowl and mix well. Pour the wet ingredients into the dry ingredients and gently fold the two together. Prepare the melted butter, cinnamon, and sugar mixture.

Mixing Tip
With all muffin mixtures, you will have a bowl of wet ingredients and a bowl of dry ingredients and then very gently combine the two. Too much mixing will make your muffins come out rather tough, don't worry if there are some lumps, that is normal.

Muffin Tins
You will need two muffin tin as the recipe makes 18 full-sized muffins, either grease the muffin cups or line with paper cases.
Spoon the mixture or use an ice cream scoop, and three quarters fill the muffin cups or cases. Spoon over the cinnamon sugar topping and place a whole pecan nut on to of each muffin. Bake for about 20 minutes, keeping a close eye on the rise.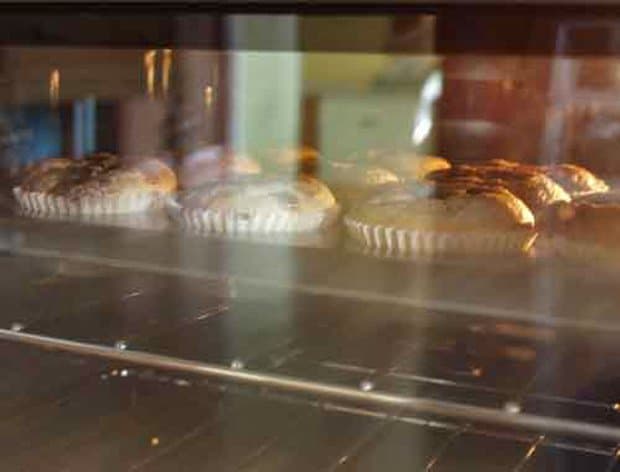 Baking Tip
Every oven is different, so you may find your muffins take a little less time or a little more. When they are ready they should be springy to the touch.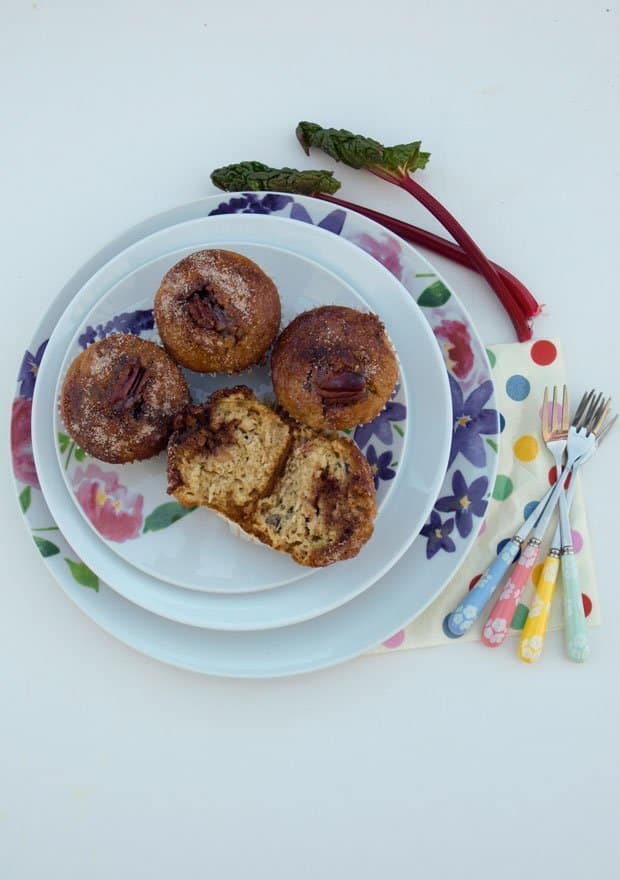 What really makes these Rhubarb and Pecan Muffins special is the contrasts of taste and texture. There is just enough sharpness from the rhubarb to counteract the sweet cake and the crunch of pecans and the cinnamon, sugar, and butter topping makes them a real favourite with all of my family.
More Rhubarb Recipes from Farmersgirl Kitchen

This Easy Rhubarb Tart recipe creates a really delicious dessert from simple ingredients. Make your own melt in the mouth shortcrust pastry or use ready-made all-butter pastry for an even quicker fix.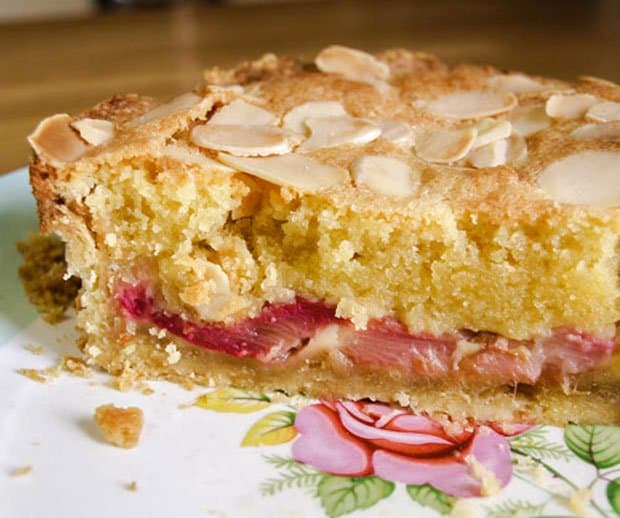 This simple Rhubarb Bakewell Tart recipe is a variation on a classic and delicious British dessert. The tart has a sweet almond shortcrust pastry shell filled with a rhubarb compote and topped with a frangipane almond sponge.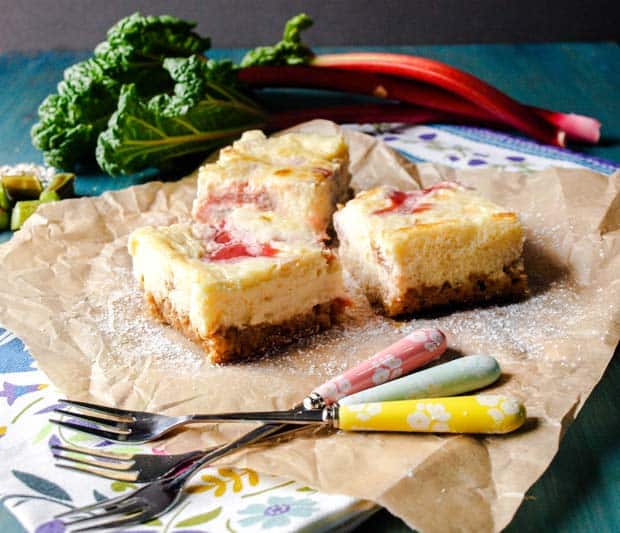 Rhubarb Cheesecake Bars are a delicious combination of flavours and textures. The base is a bit like a flapjack, sweet, crisp, and oaty and is topped with smooth baked cheesecake with roasted rhubarb.
More Fruity Muffin Recipes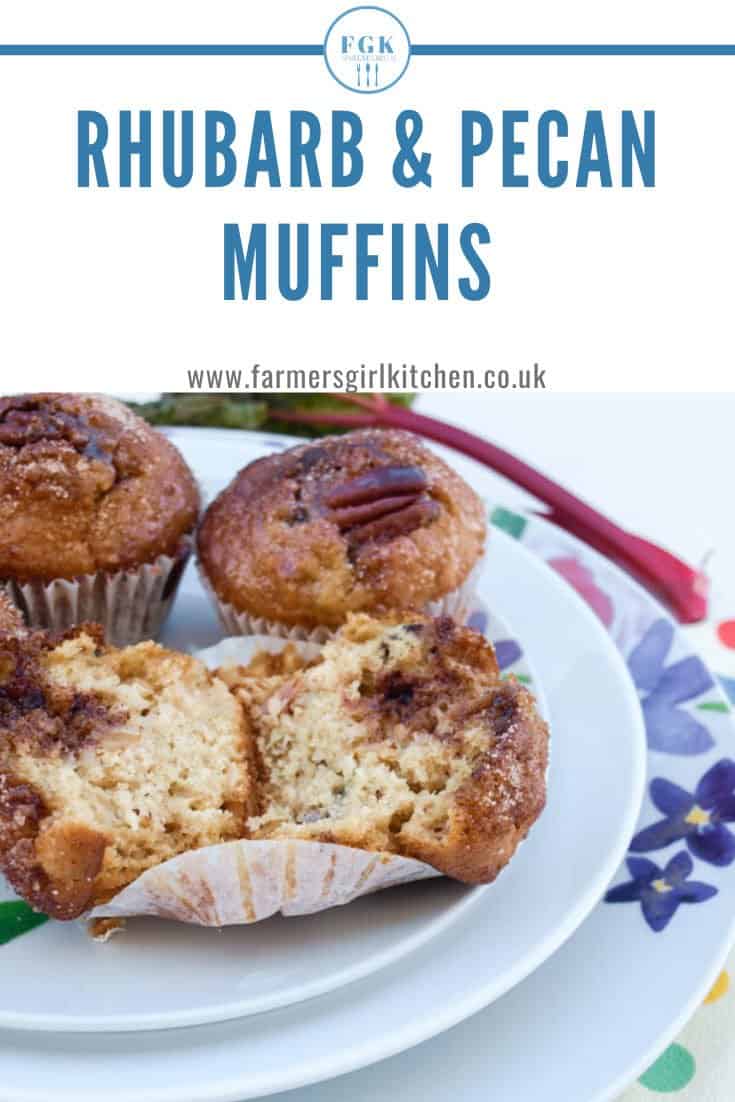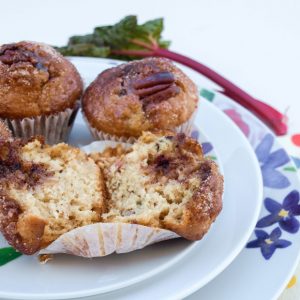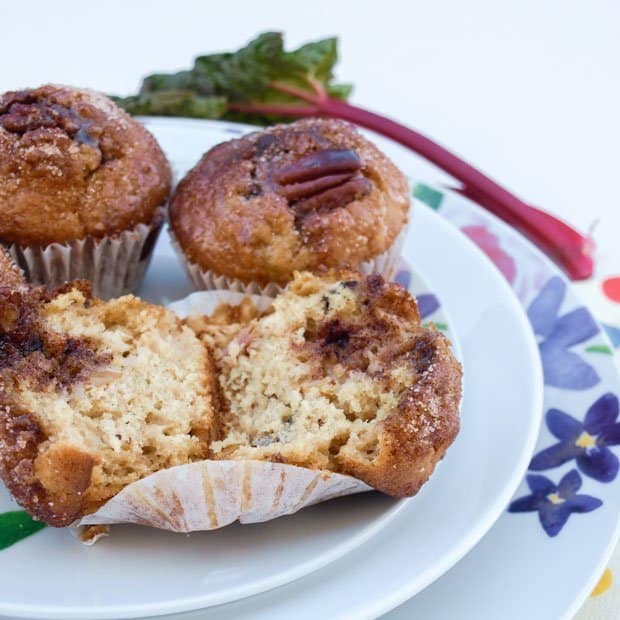 Rhubarb and Pecan Muffins
A quick and easy muffin recipe that combines sharp rhubarb, sweet cake and crunchy pecan nuts with a delicious cinnamon-sugar topping.
Ingredients
180

grams

brown sugar

50

millilitres

oil

2

eggs

250

millilitres

buttermilk

1

teaspoon

vanilla extract

180

grams

rhubarb

finely diced

50

grams

pecans

chopped

350

grams

plain flour

1

teaspoon

baking powder

1

teaspoon

baking soda

1/2

teaspoon

salt
Topping
70

grams

granulated sugar

1 1/2

teaspoon

cinnamon

15

grams

butter

melted

18

whole pecan nuts
Instructions
Preheat oven to 200C (400F)

You will need two 12 hole Muffin tins or one 12 hole and one 6 hole tins, greased or paper-lined

In a bowl whisk together brown sugar, oil, eggs, and vanilla; mix well. Add buttermilk, rhubarb and walnuts or pecans.

In another bowl combine flour, baking powder, baking soda, and salt.

In another bowl combine sugar, cinnamon, and butter.

Add the wet mixture to the flour mixture and gently fold together, do not over mix or your muffins will be tough.

Spoon batter into prepared muffin tin, filling three-quarters full. Sprinkle with topping and add one whole pecan nut to the top of each muffin.

Bake in preheated oven for about 20 minutes.
Notes
This recipe calls for buttermilk if you don't have any you can make an easy substitute.  Take 250ml of milk and add 1 tsp of either lemon juice or white vinegar, stir together and leave for a few minutes before using. 
Nutrition
Calories:
202
kcal
Carbohydrates:
31
g
Protein:
4
g
Fat:
8
g
Saturated Fat:
1
g
Cholesterol:
22
mg
Sodium:
166
mg
Potassium:
134
mg
Fiber:
1
g
Sugar:
15
g
Vitamin A:
80
IU
Vitamin C:
0.8
mg
Calcium:
56
mg
Iron:
1.2
mg
Don't Miss My Latest Recipes
CLICK TO SUBSCRIBE NOW to join my newsletter list & receive a FREE 'How To Adapt Recipes For Your Slow Cooker' printable!
Share by Email