Do you remember Home and Freezer Digest? There were far fewer cookery magazines around in the 1980s and this pocket-sized magazine was one of my favourites.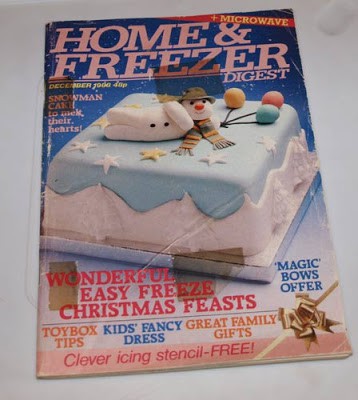 Home & Freezer Digest
I started buying Home and Freezer Digest around 1982. I admit I am a recipe hoarder and had kept dozens of these magazines. Eventually, I gave them to a charity shop and have regretted it ever since.
The Snowman
The Snowman Movie was released in 1982, so it's surprising to see that it took until 1988 for this cake to be featured on the front cover. This is one of the few copies I have left and was probably kept because of the Snowman cake. I never quite got round to making it though.
Green Popcorn Ring
There are some great recipes but I'm not sure that a Green Popcorn ring is one of them. It's not one I ever made that's for sure.


Coffee Filter Machines
Home and Freezer Digest also reviewed kitchen equipment. In this magazine, there is a feature on coffee filter machines. I received a coffee filter machine as a wedding present and it lasted 27 years before we replaced it.
Coffee Filter Machines were still not that common in 1988 most people would drink instant coffee. One of the best things the US exported to us has to be the coffee house habit, good coffee is now available everywhere.
More about Home and Freezer Digest
Freezer Mincemeat from Home & Freezer Digest
Black Forest Gateau – Christmas from the Freezer