Post in collaboration with Hamlyns of Scotland
Oaty Rhubarb Cheesecake Bars are a delicious combination of flavours and textures. The base is a bit like a flapjack, sweet, crisp and oaty, it's topped with a rich, smooth baked cheesecake layered with pieces of tart, roasted rhubarb with more rhubarb puree swirled on top.
I get really inspired by good ingredients and, in Scotland, we have some of the finest you can find, so when Hamlyns of Scotland asked me to come up with a recipe using their Scottish Porridge Oats, I wanted to develop something that reflected that produce. Other than vanilla and lemons you can pretty much find all the other ingredients, including sugar from sugar beet, grown or produced in Scotland.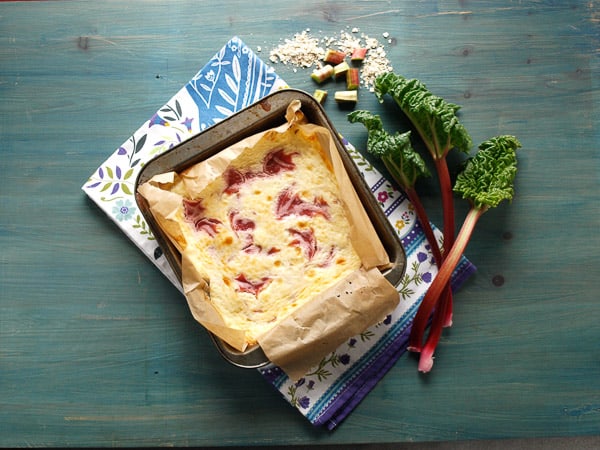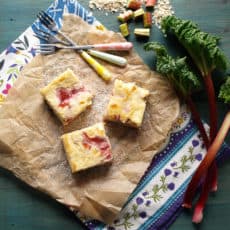 Ingredients
125

g

butter

125

g

Demerara sugar

5

tbsp

golden syrup

225

g

Hamlyns Scottish Porridge Oats

200

g

rhubarb

finely sliced

40

g

caster sugar

360

g

full fat cream cheese

125

g

caster sugar

1/4

tsp

vanilla extract

1

tbsp

lemon juice

2

eggs. beaten
Instructions
You will need a 20 cm square cake tin

Heat the oven to 190C

Put the butter, demerara sugar and golden syrup in a saucepan and heat slowly heat, stirring occasionally, until the butter has melted, and the mixture is combined.

Add the Hamlyns Scottish Porridge Oats and mix thoroughly. Press the mixture into 20 cm square baking tin lined with baking parchment.

Wash the rhubarb and slice into 1cm pieces, place in a single layer in a non-metal ovenproof dish, sprinkle over the caster sugar.

Put the baking tin with the oatmeal mixture and the rhubarb in the dish, into the oven and cook for 10 minutes.

Remove the tin and, leaving the oatmeal base in the tin, set aside to cool.

Check the rhubarb is tender, a knife should slip easily into each piece of rhubarb, if not ready put it back in the oven for another 3 minutes and test again. Leave to cool.

Once cooled, puree half the rhubarb in a blender or push it through a sieve, set aside.

Reduce the oven temperature to 160C

10. Beat the cream cheese and the sugar together, add the vanilla extract, lemon juice and beaten eggs and beat on a low speed until combined.

To assemble

Pour half the cream cheese mixture over the oatmeal base.

Spoon the roasted rhubarb pieces evenly across the cream cheese mixture.

Pour the other half of the cream cheese mixture over the rhubarb.

Gently place spoonful's of the rhubarb puree on top of the cream cheese mixture, use a skewer to swirl the puree.

Bake for 30 – 35 minutes. Check after 25 minutes and if the cheesecake is browning too much on top, place a piece of foil loosely over the cake tin and continue baking until the cheesecake is set.

Remove from the oven and cool on a wire rack for about an hour.

Refrigerate for at least 2 hours or overnight and then cut into squares.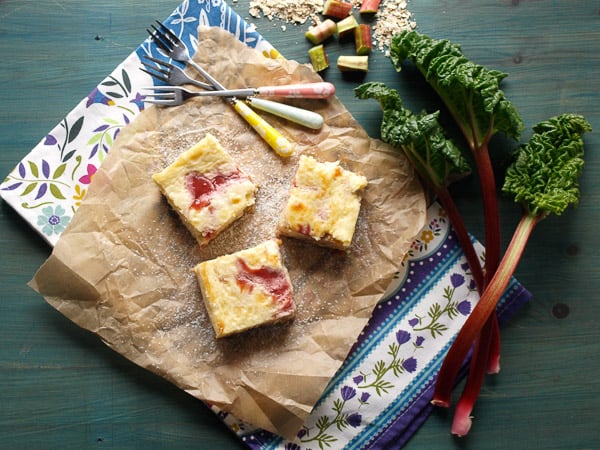 The Oaty Rhubarb Cheesecake bars are really so good, don't be put off by the list of ingredients it's really a very simple recipe to make and produces a knock out dessert which will woo even those who claim not to like rhubarb. If you can't get fresh rubarb you could make the recipe with frozen rhubarb, just make sure it's not too wet.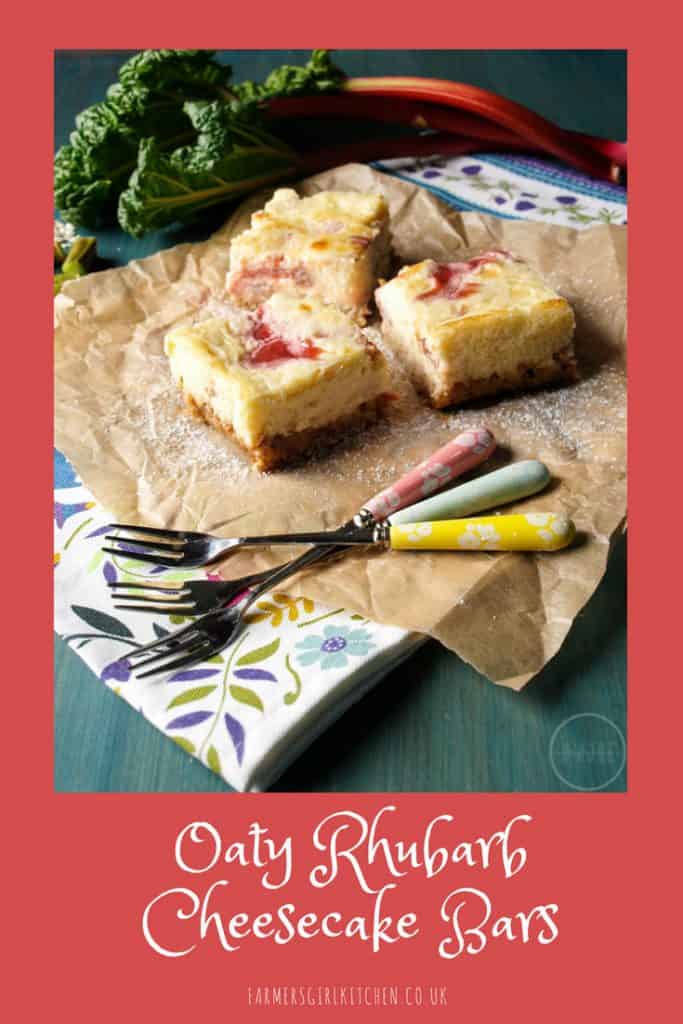 IF YOU LIKE THIS RECIPE, WHY NOT PIN IT FOR LATER?
Why not try some other oaty treats?
Fruity, Nutty, Oaty Flapjack Bars – Farmersgirl Kitchen
Cranachan Flapjacks with Whisky Icing Drizzle – Foodie Quine
Blueberry and Lemon Oaty Breakfast Bars – Tinned Tomatoes
Cranberry and Sour Cherry Flapjacks (with peanut butter) – Farmrersgirl Kitchen