Rhubarb Cheesecake Bars are a delicious combination of flavours and textures.  The base is a bit like a flapjack, sweet, crisp, and oaty.
I topped the oaty base with a rich, smooth baked cheesecake layered with pieces of tart, roasted rhubarb, and even more rhubarb puree swirled on top. They are absolutely delicious.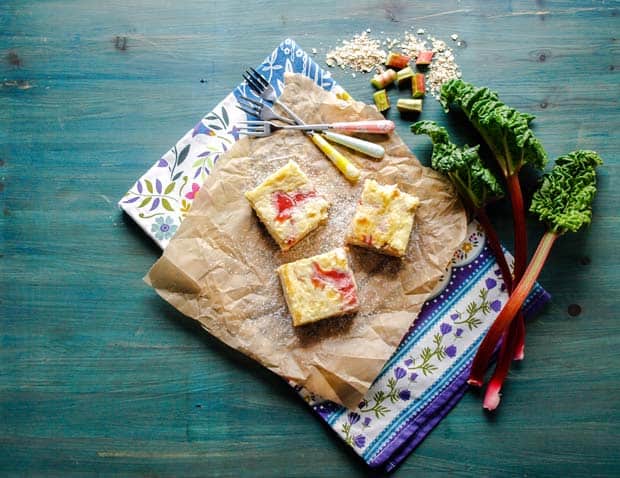 Advertisement: Post in collaboration with Hamlyns of Scotland for more information please see my PRIVACY POLICY
I get really inspired by good ingredients and, in Scotland, we have some of the finest you can find. So when Hamlyns of Scotland asked me to come up with a recipe using their Scottish Porridge Oats, I wanted to develop something that reflected that produce.
All the ingredients, other than vanilla and lemons. are grown and produced in Scotland including sugar from sugar beet.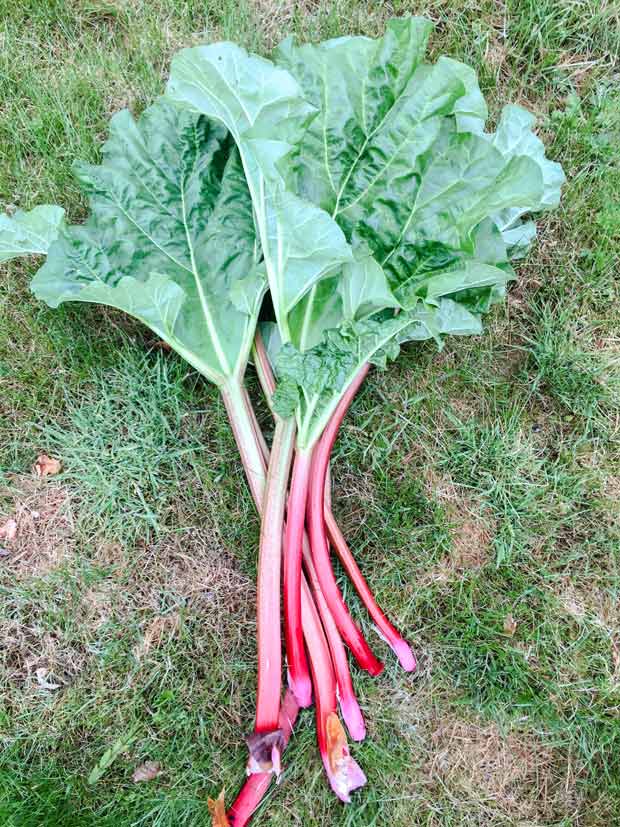 What is Rhubarb?
Rhubarb is a hardy perennial plant with pink, red or pale green stems that are most often used in desserts like crumbles and pies.
It has a tart flavour and is too sharp to eat raw, but combined with sugar and other ingredients it has a delicious tangy taste.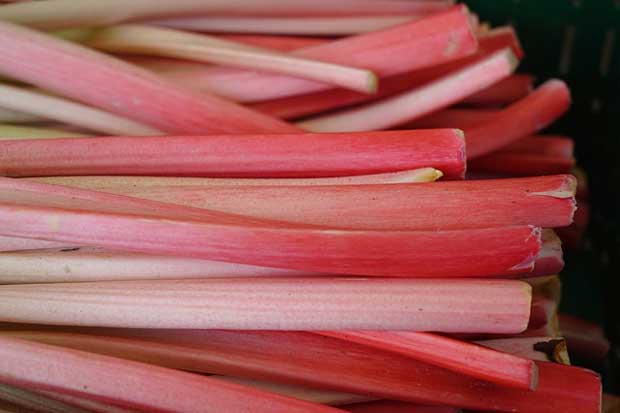 When is rhubarb in season?
The best rhubarb is available in Spring. The earliest rhubarb of the season that you can buy is forced, this means it has been grown in the dark. Forced rhubarb has pale pink stems and is tender and sweet.
Rhubarb continues to grow throughout the summer but as the season progresses the stems become tougher.
How do you grow Rhubarb?
Rhubarb is grown from a crown. This is a thick rhizome that is planted just below the surface of the soil.
Rhubarb plants like lots of moisture and you need to mulch the plant to keep it from getting too dry.
My garden rhubarb
I have several well-established crowns of rhubarb in my garden. They have been in the garden for at least 50 years and pop up every year providing lots of delicious rhubarb stalks.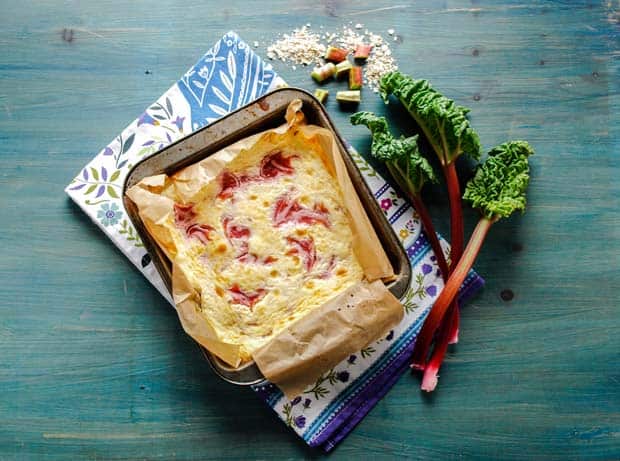 How to make Rhubarb Cheesecake Bars
Rhubarb Cheesecake Bars is really a very simple recipe to make. Follow the three simple steps:
Make the oatmeal base using butter, sugar, golden syrup and rolled oats
Prepare and roast the rhubarb. Keep half the rhubarb whole and puree the rest.
Make the cheesecake mixture, assemble the cheesecake and bake.
I made the cheesecake in a square tin. this makes it easy to cut and serve in attractive bars. You could also make it in a 20cm round tin and serve in wedges.
It produces a knock-out dessert that will delight even those who claim not to like rhubarb.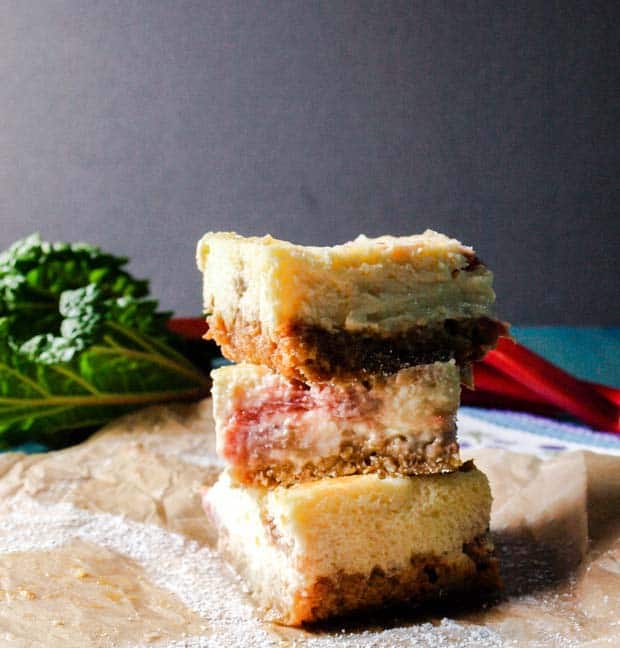 Can I use frozen rhubarb?
If you can't get fresh rhubarb you can make the recipe with frozen rhubarb. You may get more liquid from frozen rhubarb so drain this off before adding the pieces to the cheesecake mixture. Also, drain before blending the puree.
More Rhubarb Recipes from Farmersgirl Kitchen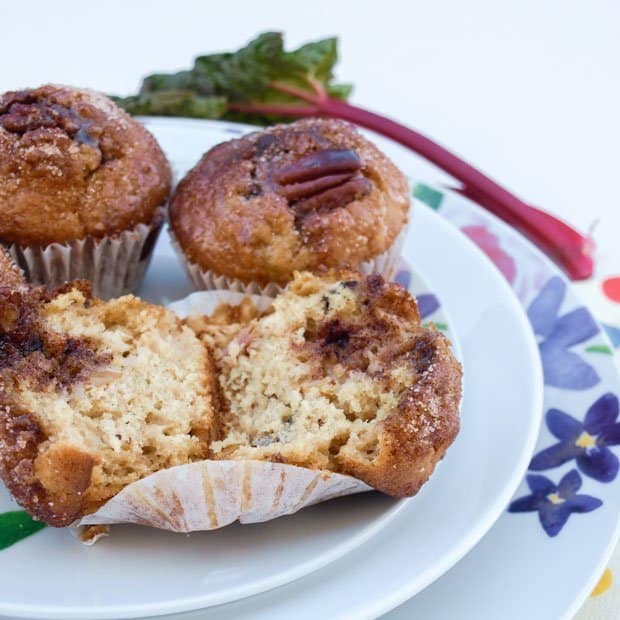 These Rhubarb Pecan Muffins are perfect for breakfast or as a snack any time of day.

Rhubarb and Orange Fool, a delicious creamy dessert with the fresh tang of citrus.

You only need only a few stalks of rhubarb and make these wonderful Rhubarb and Ginger Trifles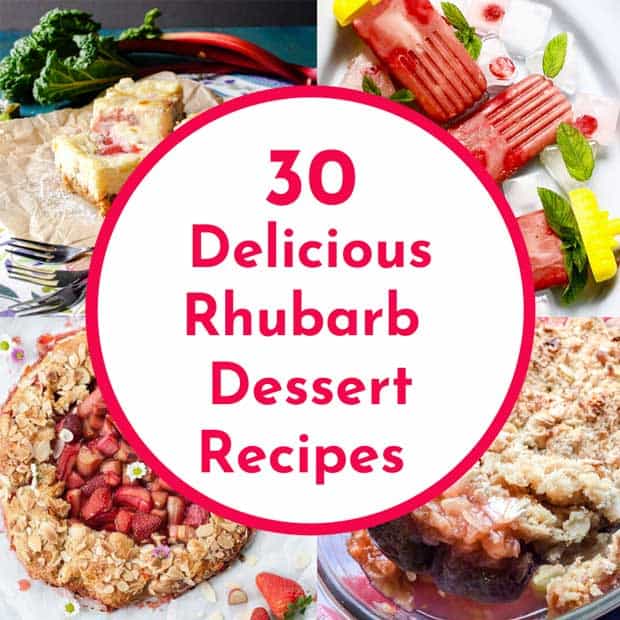 For lot's more Rhubarb Desserts check out my 30 Delicious Rhubarb Desserts Recipes.
Recipes using oats (oatmeal)
Fruity, Nutty, Oaty Flapjack Bars – Farmersgirl Kitchen
Cranachan Flapjacks with Whisky Icing Drizzle – Foodie Quine
Blueberry and Lemon Oaty Breakfast Bars – Tinned Tomatoes
Cranberry and Sour Cherry Flapjacks (with peanut butter) – Farmrersgirl Kitchen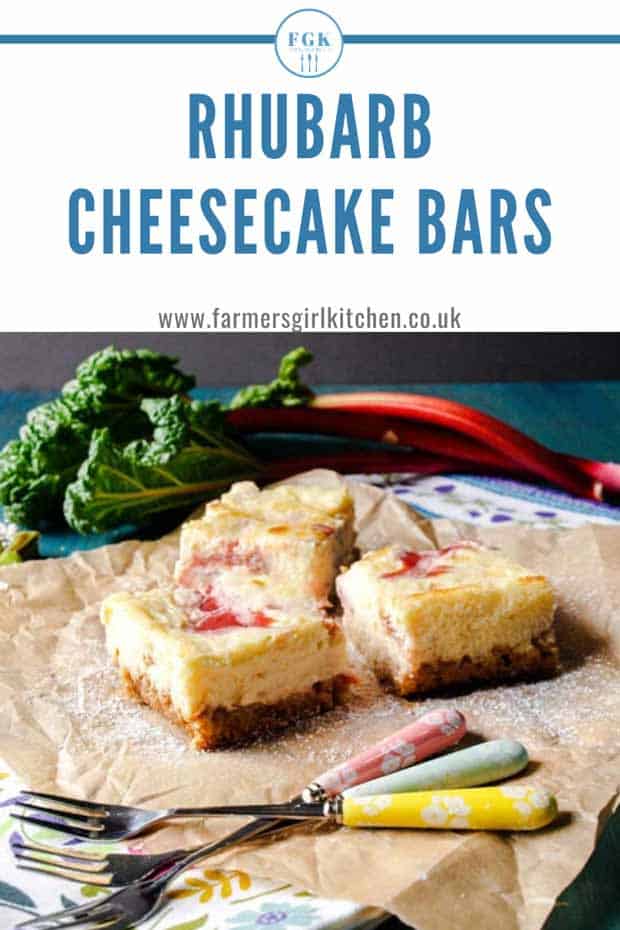 Stay in touch with everything that's going on at Farmersgirl Kitchen.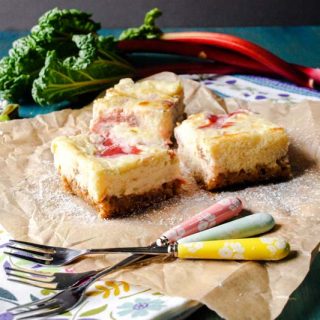 Rhubarb Cheesecake Bars
A sweet oaty base topped with rich, smooth baked cheesecake layered with pieces of tart, roasted rhubarb, and even more rhubarb puree swirled on top. 
Equipment
20 cm square cake tin

Large saucepan

wooden spoon

Sharp knife

chopping board

non-metallic ovenproof dish

weighing scales

Large bowl

electric mixer

Blender

Lemon squeezer
Ingredients
200

g

rhubarb

finely sliced
For the base
125

g

butter

125

g

Demerara sugar

5

tbsp

golden syrup

225

g

Hamlyns Scottish Porridge Oats
For the cheesecake
40

g

caster sugar

360

g

full fat cream cheese

125

g

caster sugar

1/4

tsp

vanilla extract

1

tbsp

lemon juice

2

eggs. beaten
Instructions
To make the base
Put the butter, demerara sugar and golden syrup in a saucepan and heat slowly heat, stirring occasionally, until the butter has melted, and the mixture is combined.

Add the Hamlyns Scottish Porridge Oats and mix thoroughly. Press the mixture into 20 cm square baking tin lined with baking parchment.

Put the baking tin with the oatmeal mixture and cook for 10 minutes.

Remove the tin with the oatmeal base from the oven and set aside to cool.
To roast the rhubarb
Wash the rhubarb and slice into 1cm pieces, place in a single layer in a non-metal ovenproof dish, sprinkle over 40 g caster sugar.

Check the rhubarb after 10 minutes. If it is tender, a knife should slip easily into each piece of rhubarb, if not ready put it back in the oven for another 3 minutes and test again. Remove from the oven and leave to cool.

Once cooled, set aside half the rhubarb pieces. then puree the remaining rhubarb in a blender or push it through a sieve, set aside.
To make the cheesecake
Reduce the oven temperature to 160C

Beat the cream cheese and the sugar together, add the vanilla extract, lemon juice, and beaten eggs and beat on low speed until combined.

Pour half the cream cheese mixture over the oatmeal base.

Spoon the roasted rhubarb pieces evenly across the cream cheese mixture.

Pour the other half of the cream cheese mixture over the rhubarb.

Gently place spoonful's of the rhubarb puree on top of the cream cheese mixture, use a skewer to swirl the puree.

Bake for 30 – 35 minutes. Check after 25 minutes and if the cheesecake is browning too much on top, place a piece of foil loosely over the cake tin and continue baking until the cheesecake is set.

Remove from the oven and cool on a wire rack for about an hour.

Refrigerate for at least 2 hours or overnight and then cut into squares.
Notes
You can cook the oatmeal base and roast the rhubarb at the same time. 
Nutrition
Calories:
516
kcal
Carbohydrates:
62
g
Protein:
7
g
Fat:
28
g
Saturated Fat:
15
g
Cholesterol:
110
mg
Sodium:
244
mg
Potassium:
227
mg
Fiber:
3
g
Sugar:
44
g
Vitamin A:
960
IU
Vitamin C:
3
mg
Calcium:
82
mg
Iron:
1
mg
Don't Miss My Latest Recipes
CLICK TO SUBSCRIBE NOW to join my newsletter list & receive a FREE 'How To Adapt Recipes For Your Slow Cooker' printable!
Share by Email