These Cinnamon Spice Pancakes have a lovely sweet cinnamon flavour and make a perfect base for the cinnamon poached plums, soaking up the lovely juices, a little topping of cream or thick yogurt counteracts the acidity of the fruit.
Shrove Tuesday or Mardi Gras
Shrove Tuesday or Mardi Gras is the traditional time to serve pancakes to use up rich foods before the start of Lent. But it seems a shame to keep such a delicious dessert just for one day, especially when they are so easy to make, so don't wait, get the pan out and make these delicious pancakes.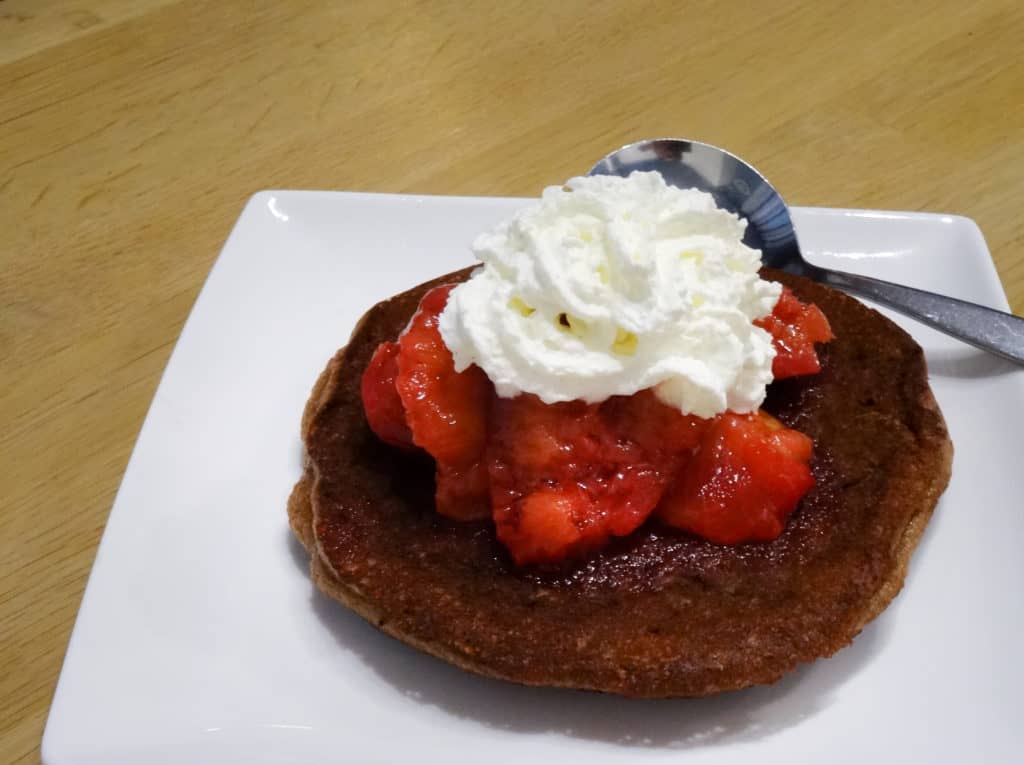 Cinnamon Spice Pancakes
makes 8-10 pancakes
150 g plain flour
2 tablespoons dark brown sugar, packed (light brown may be substituted)
2 tablespoons granulated sugar
2 teaspoons cinnamon
1 teaspoon baking powder
1 teaspoon baking soda
1/2 teaspoon ground cloves
pinch salt, optional and to taste
125 ml semi-skimmed milk
60 ml 0% Greek Yogurt
1 large egg
1 teaspoon vanilla extract
3 tablespoons Golden Syrup
1 tablespoon vegetable oil
1. In a large mixing bowl or jug add all the ingredients and whisk until just combined. The batter will be thick.
2. Pre-heat the (flat) griddle or frying pan over a medium heat and wipe with oil or butter.
3. Using a 1/4 cup measure or a large serving spoon, pour the batter onto the warm griddle or frying pan.
4. Cook for about 2 1/2 to 3 minutes, until the bubbles form on the surface and start to pop. Flip them over and cook for another 2-3 minutes.
5. Once the pancakes are cooked place them on a cooling tray lined with a clean tea towel, covering the pancakes with the tea towel to keep them warm.
6. Repeat until you have used all the batter, keeping the pan lightly oiled and clean between pancakes.
Cinnamon Poached Plums
serves 4
4 plums, stoned and quartered
2 tbsp granulated sugar
1 cinnamon stick
50 ml water
1. Heat the oven to 180C.
2. Put the plums, sugar, cinnamon stick and water into an ovenproof dish with a lid
3. Poach the plums in the oven for 20-25 minutes until soft.
4. Remove from the oven and leave to cool to room temperature.
Place a pancake on a plate or in a bowl, spoon over the poached plums and juice, top with whipped cream or thick yogurt.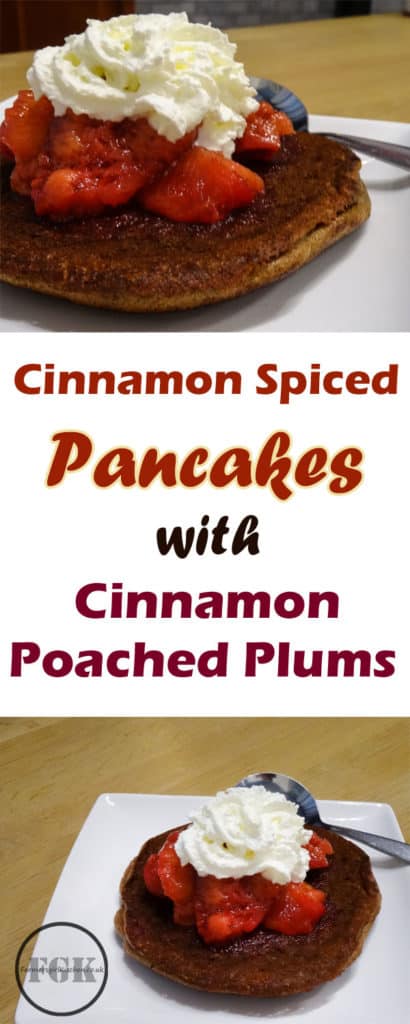 Here are some other pancake recipes you might like: