Make this Easy Smoked Mackerel Pate in under 10 minutes! It's so simple to make in your food processer with only 4 ingredients.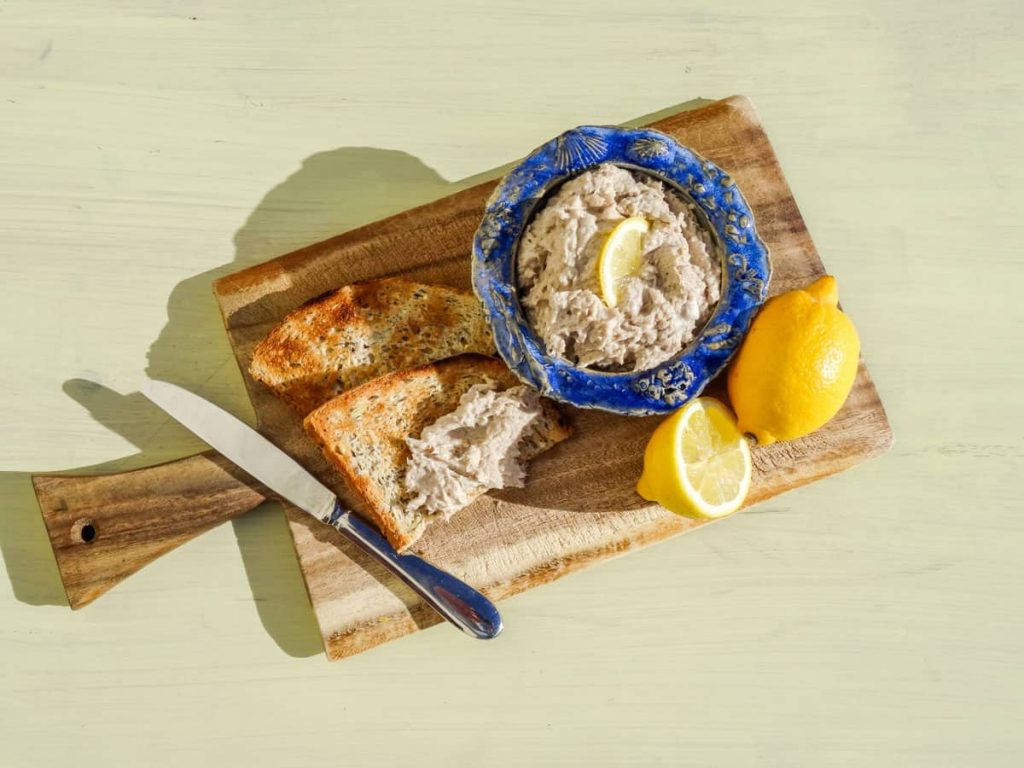 What is Smoked Mackerel?
Smoked Mackerel is a sea fish. The mackerel is cured and hot smoked. Because the smoking cooks you fish you can use it without cooking again.

What are the benefits of eating Smoked Mackerel?
Smoked Mackerel is full of omega-3 the good fat that keeps your heart healthy and helps with brain function and development. And it is also a good source of minerals and vitamins.

How do I make a Lighter Pate?
I use Greek Yogurt in this recipe for Smoked Mackerel Pate, because this makes a lighter pate with fewer calories.
Use cream cheese, creme fraiche or sour cream for a different flavour and a richer pate.
What 4 ingredients are in Easy Smoked Mackerel Pate?
Smoked Mackerel fillets
lemon juice
horseradish (optional)
Greek Yogurt
How much does it cost to make Smoked Mackerel Pate?
The total cost for the pate is approximately £2.80, in other words about 70p per person. Prices correct in 2020
Can I add different flavours to the Smoked Mackerel Pate?
Yes, you can add other flavours to the pate. Use fairly strong flavoured ingredients such as garlic, chilli or peppercorns because smoked mackerel will overpower milder flavours.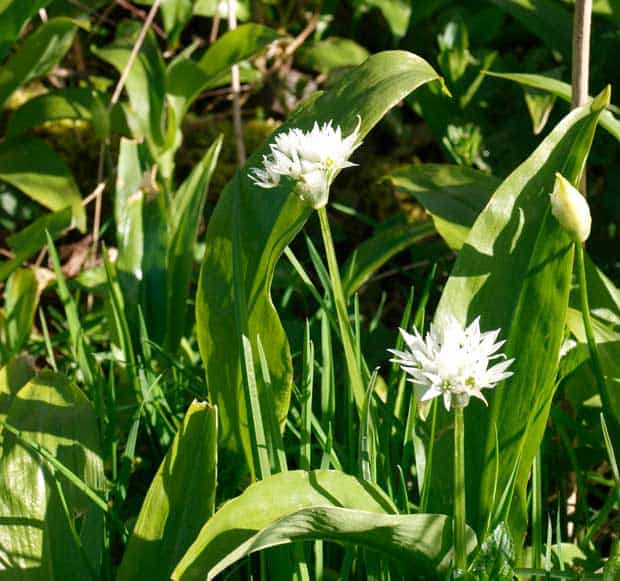 Foraging for Wild Garlic
In the spring I collect wild garlic in the local woods. And I'm always looking for different ways to add it to my recipes. Smoked Mackerel Pate, works really well with wild garlic, the pate is incredibly delicious.
WHAT IS WILD GARLIC?
Wild Garlic is also known as Ransoms and is a leafy plant that appears in spring. You can eat the young leaves and the flowers which both have a pungent smell of garlic but are mild in flavour.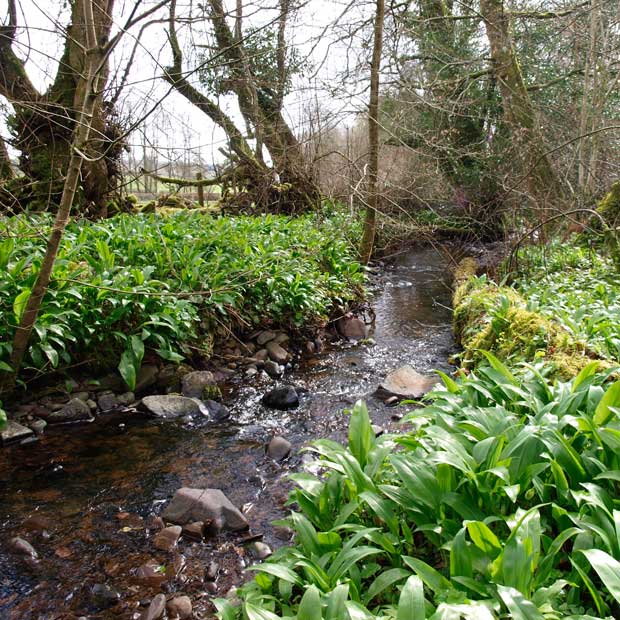 WHERE DOES WILD GARLIC GROW?
Close to where I live there are some woods with a burn (stream) running through them and this is my favourite place to walk. The Wild Garlic (Ransoms) grows all along the banks of the burn and into the woodland. It even spills out onto the roadsides.
Always pick wild garlic far from the roadside and traffic pollution. Get more information about foraging for wild garlic on the Countryfile website

Add Wild Garlic to the food processor
A large handful of roughly chopped wild garlic leaves goes into the food processor with the rest of the ingredients and process as usual.

What does Wild Garlic Smoked Mackerel Pate taste like?
The wild garlic adds a subtle garlic flavour to the pate and gives it some pretty green flecks too.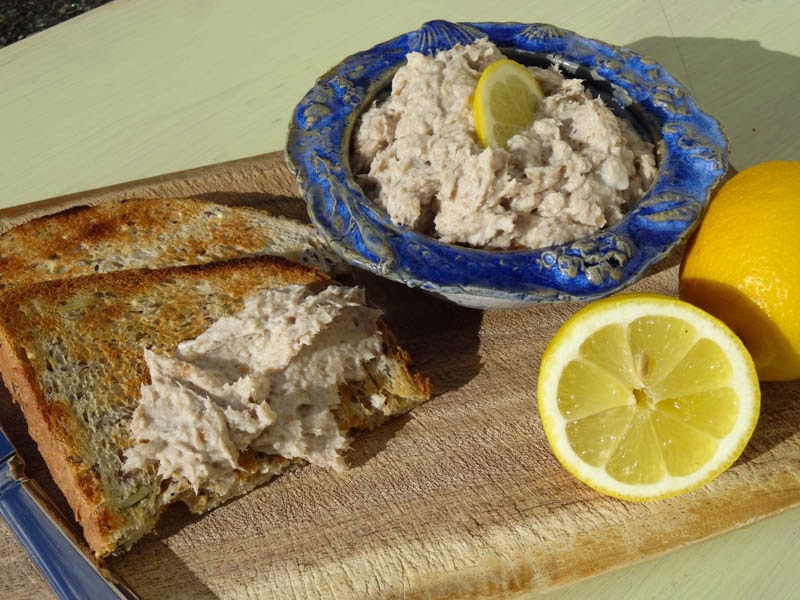 Serving suggestion
Serve the Smoked Mackerel pate on toast, on oatcakes, crackers, or serve it with a crusty baguette. Top a baked potato with this creamy savoury pate for a light meal.
More Easy Pates and Spreads from Farmersgirl Kitchen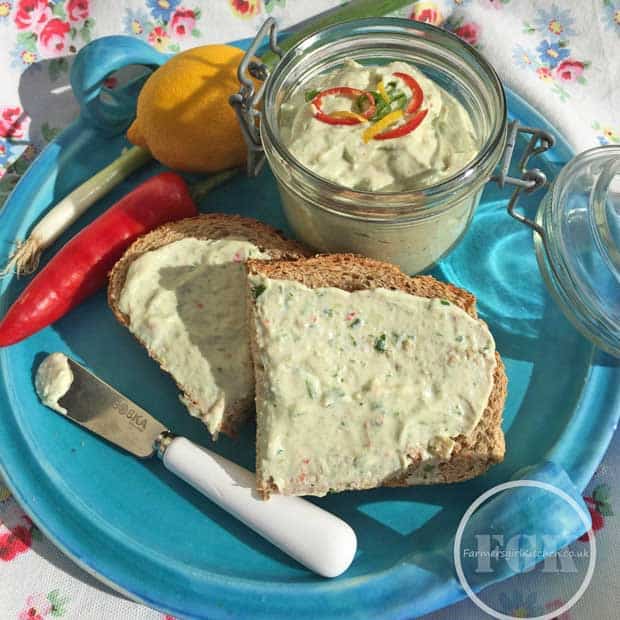 Chilli Garlic and Tofu Sandwich Spread is whizzed up in my blender and it's dairy-free and vegan-friendly.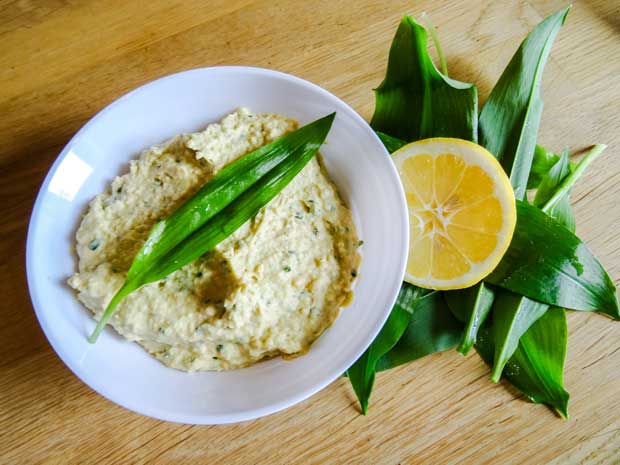 Easy Wild Garlic Hummus is a really versatile recipe using chickpeas and wild garlic to make a flavour-packed dip or spread in your food processor.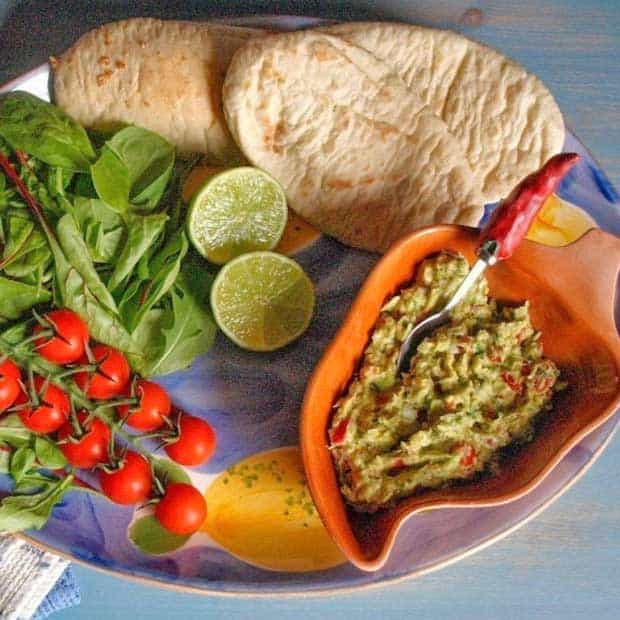 Perfect Picnic Guacamole is a simple recipe, not too much work but totally delicious and great to serve with bread and salad for a simple lunch or supper.
More Easy Pates and Spreads



I am entering this recpe in Cook Blog Share, the link up for Food Bloggers. Also for Tea Time Treats, as this month the theme is ' Toast, on Toast or Toasties'. Karen at Lavender and Lovage and Janie at The Hedgecombers run Tea Time Treats.
And finally adding to Credit Crunch Munch as it was a very thrifty dish. Helen at Fuss Free Flavours and Camilla at Fab Food 4 All developed Credit Crunch Munch. And Elizabeth's Kitchen Diary hosts the challenge this month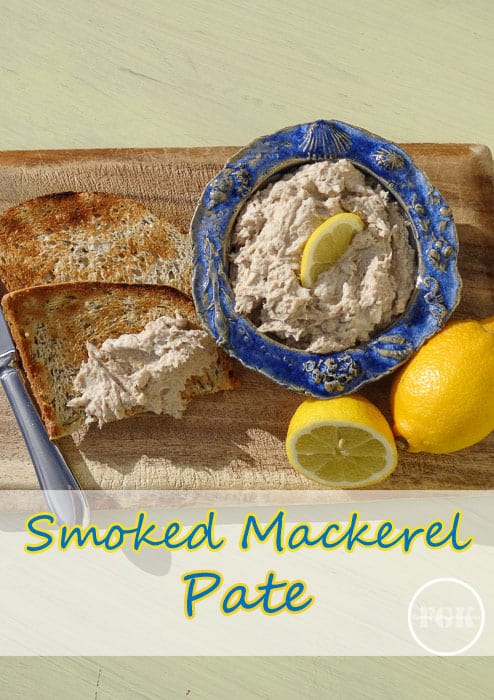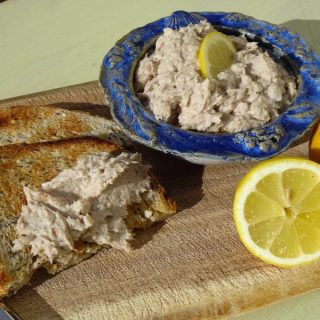 Smoked Mackerel Pate
A very simple recipe for a delicious light and creamy smoked mackerel pate.
Ingredients
200

g

Smoked Mackerel

skin removed

2

tbsp

0% fat Greek Yogurt

1

tsp

Creamed Horseradish

Juice of half a lemon
Instructions
Place all the ingredients into a food processor and process until smooth.
Notes
Cream Cheese
Use 50 g  cream cheese or Creme Fraiche instead of Greek Yogurt for a richer pate 
Horseradish
If you don't like horseradish or don't have any, then you can leave it out completely or substitute a tsp of Dijon Mustard. 
Wild Garlic Variation
Add a large handful of roughly chopped wild garlic leaves to the food processor and process with the rest of the ingredients. 
Nutrition
Calories:
84
kcal
Carbohydrates:
1
g
Protein:
11
g
Fat:
4
g
Saturated Fat:
1
g
Cholesterol:
24
mg
Sodium:
51
mg
Potassium:
213
mg
Sugar:
1
g
Vitamin A:
31
IU
Vitamin C:
1
mg
Calcium:
20
mg
Iron:
1
mg
Don't Miss My Latest Recipes
CLICK TO SUBSCRIBE NOW to join my newsletter list & receive a FREE 'How To Adapt Recipes For Your Slow Cooker' printable!
Share by Email