Classic Apple Crumble is a traditional and very popular warm apple dessert. Soft sweet apples are topped with a crisp buttery crumble topping to make one of the simplest desserts and one that makes everyone smile.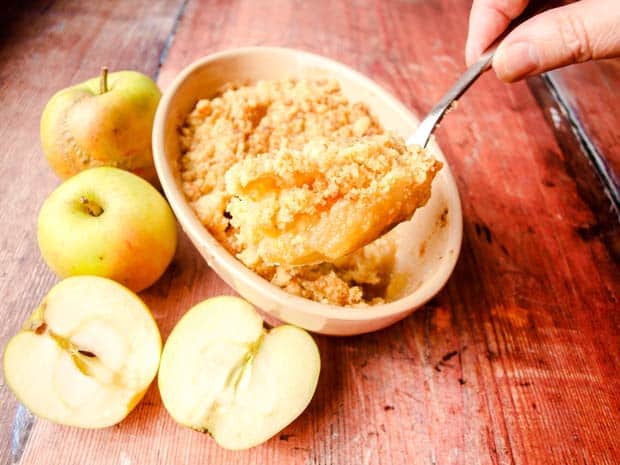 Crumble desserts are very much a part of my life. My Mum often made apple crumble and I make all kinds of crumbles such as Rhubarb Crumble, Plum & Oat Orange Crumble, and Mincemeat & Apple Crumble. They are a 'go-to' recipe for a quick and filling pudding for my family.
Classic Apple Crumble is just that, a classic. So I have kept the recipe simple with no extras. You can, of course, take the basic recipe and add your own touches if you wish. But first, I urge you to make it as it is and I think you will find that it needs no enhancement.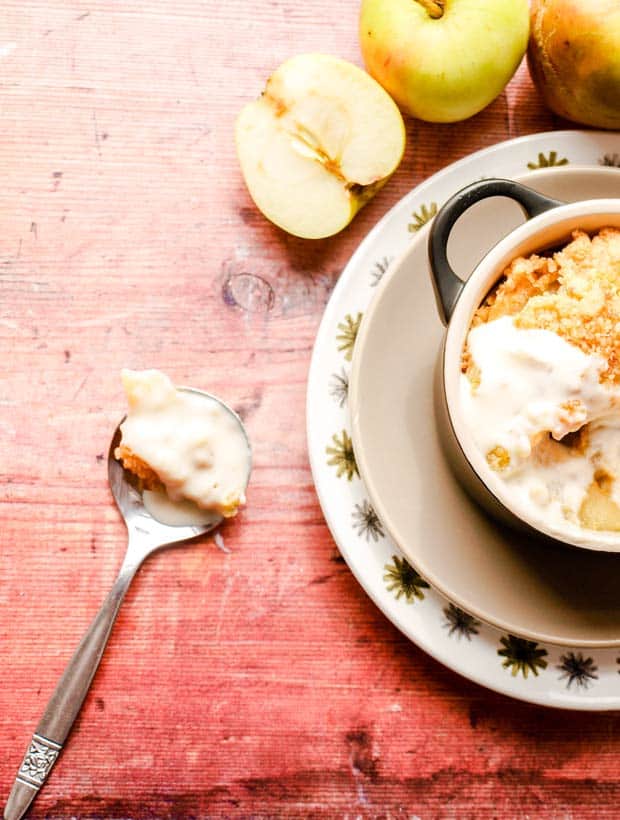 What ingredients do I need to make Classic Apple Crumble?
You will need:
Apples
Sugar
Flour
Butter
Spices (optional)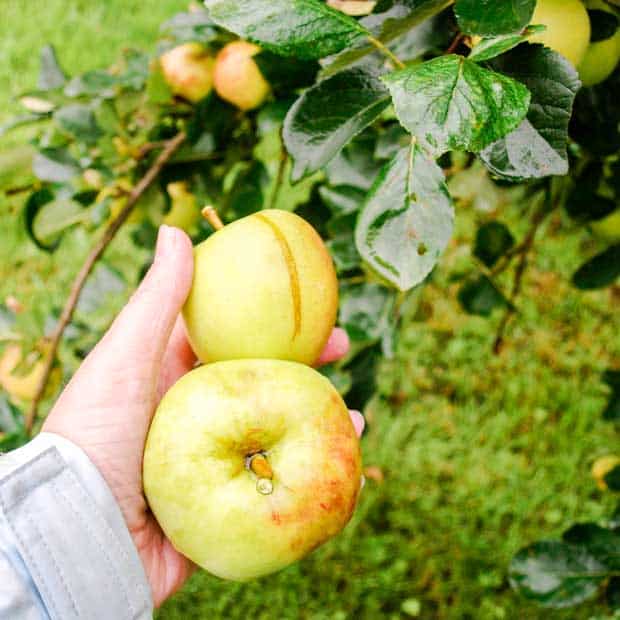 What kind of apples should I use?
Use a sharp-tasting apple. Cooking apples such as Bramley Seedlings are ideal but I also use Discovery apples from my apple tree. You can use dessert apples but the contrast between sharp apple and sweet crumble makes the best crumble.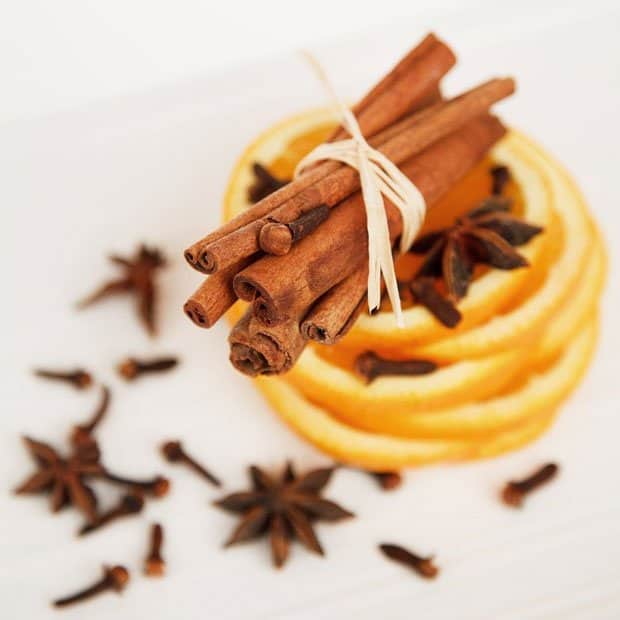 What kind of spices can I add to apple crumble?
Apple Crumble is perfect served without any spices but cinnamon is the most common spice to add to apple recipes. My mother always put a few whole cloves in her apple crumble and apple tart and I love that flavour. Cardamom, mixed spice, allspice, and star anise are all spices that would work with apples.
Add only a 1/4 tsp of the ground spice of your choice to the apples before topping with the crumble mixture. Any more will overpower the taste of the apples.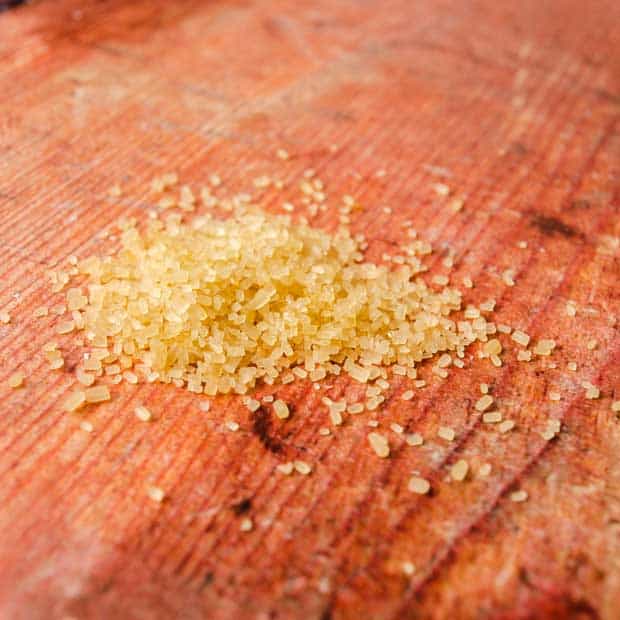 What is demerara sugar?
Demerara sugar is a light coloured raw cane sugar with large crystals. It has a mild flavour and brings a delicious crunch and caramelisation to the crumble topping.
I don't have demerara sugar, what else can I use?
If you don't have demerara sugar then use granulated sugar.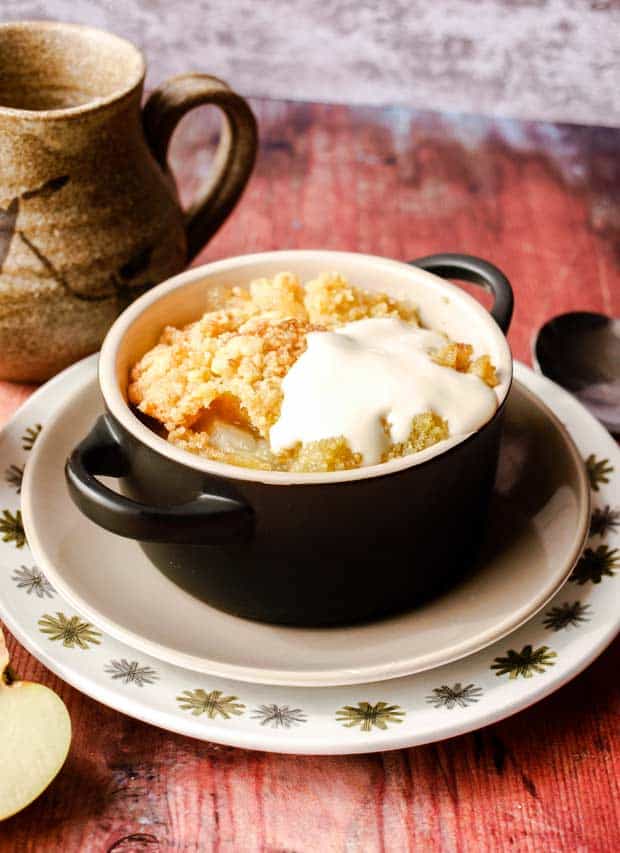 How to make Classic Apple Crumble
Follow the steps and once you've made it once you'll see just how easy it is and I hope it will become as much of a favourite in your home as it is in ours.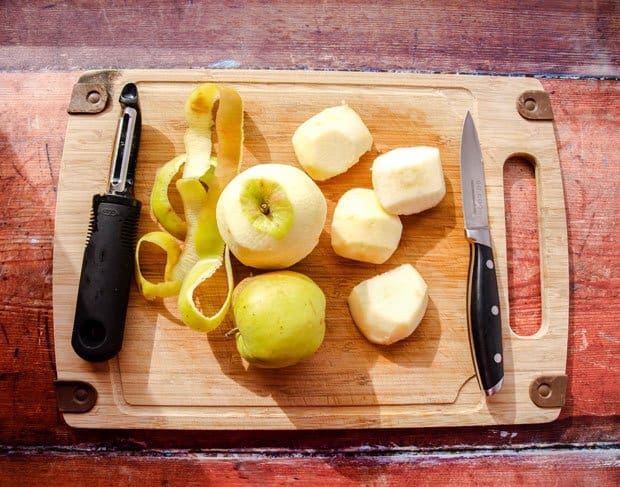 Prepare the apples
Peel, core and slice the apples into even size slices.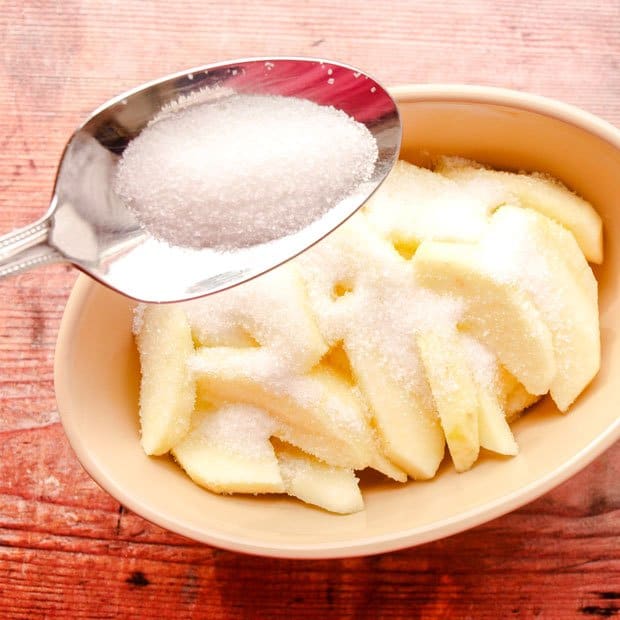 Put into an ovenproof dish
Place the apples in an ovenproof dish.
Cover with the sugar.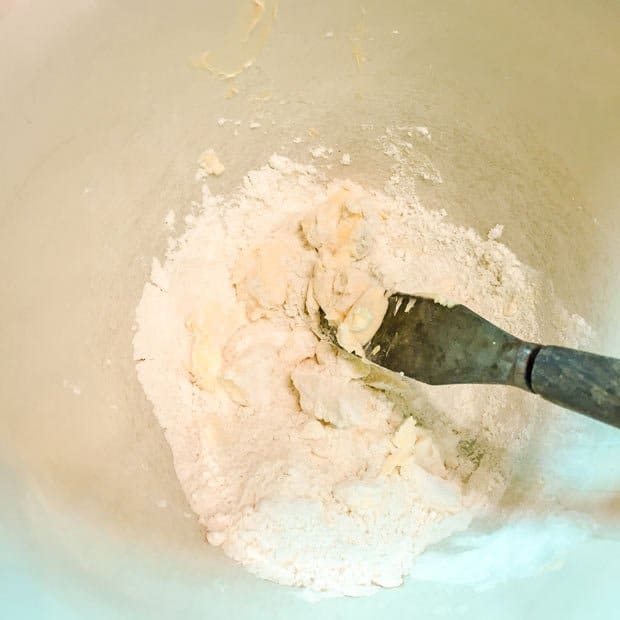 Make the Crumble
Weigh the flour and butter or baking spread and put into medium to large bowl.
Use a knife to cut the butter into smaller pieces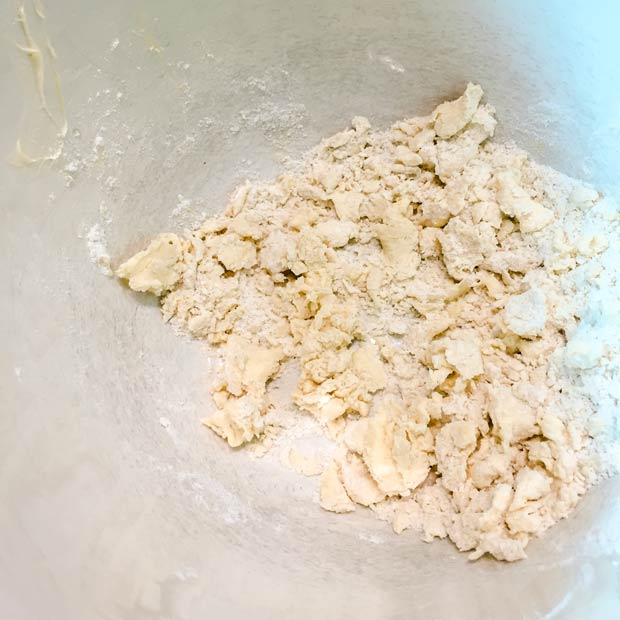 Rub in the butter
Use your fingers to rub the pieces of butter until you have a mixture that looks like large breadcrumbs or small peas.
Stir in the demerara sugar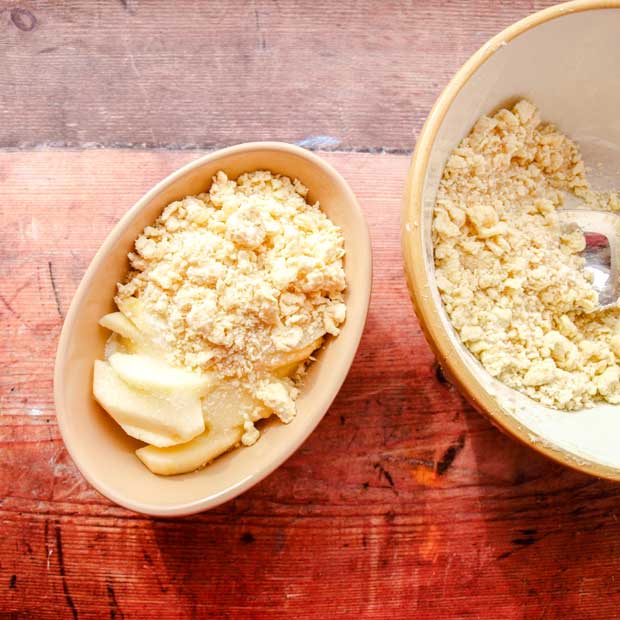 Add the crumble topping
Cover the fruit with the crumble mixture and bake in the oven for about 40 minutes until the fruit is bubbling and the crumble is golden brown.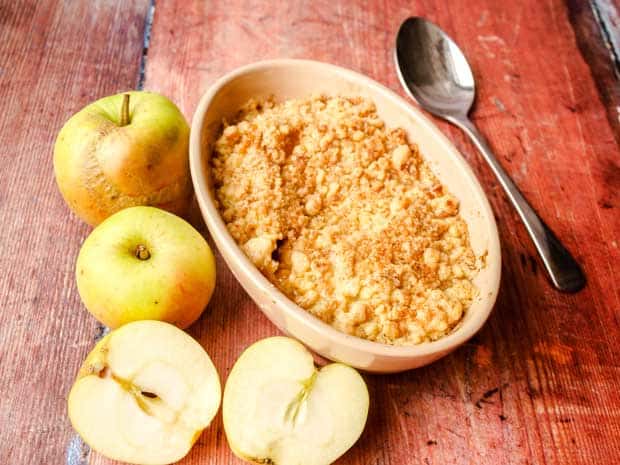 Bake the Classic Apple Crumble
Bake the apple crumble for about 40 minutes until the fruit is bubbling up the sides and the crumble is golden.
The apples are soft and the crumble topping is crisp and slightly caramelised from the demerara sugar.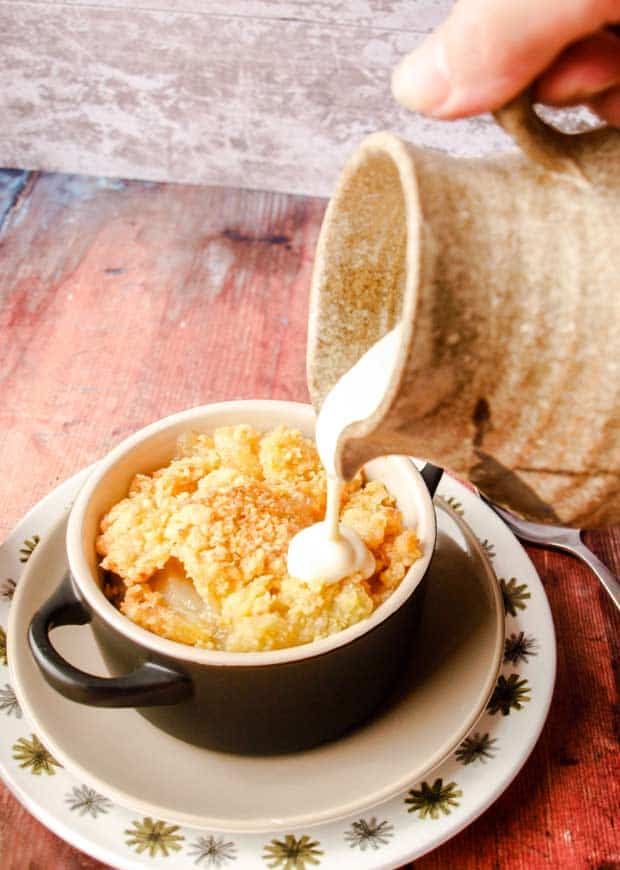 How do I serve Classic Apple Crumble?
Serve the apple crumble with Easy Vanilla Custard Sauce for the total comfort food experience. You can also serve the crumble with vanilla ice cream, pouring cream, clotted cream, or Greek yogurt. It's entirely up to you and what you like. It's also a good excuse to keep making Classic Apple Crumble until you find the perfect combination.
More Apple Recipes from Farmersgirl Kitchen

Sweet Apple Slices make the perfect autumn (fall) snack when apples are plentiful and, if like me you have an apple tree, you will be actively looking for recipes to make the most of your seasonal produce.

Salted Caramel Apple Cupcakes are sweet little sponge cakes with a surprising caramel apple filling and a salted caramel buttercream topped with fudge pieces.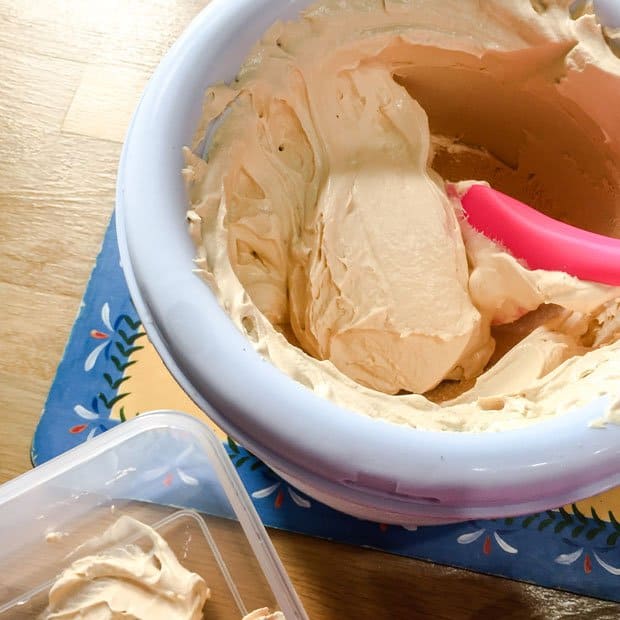 Homemade Caramel Apple Ice Cream brings together the special combination of apples and caramel familiar from our childhood in toffee (candy) apples and bringing back memories of funfairs and Hallow'een.
More Dessert Recipes
You can find the recipe index in the menu at the top of every page along with other ways to sort recipes including a handy shortcut to find more dessert recipes.
More Apple Recipes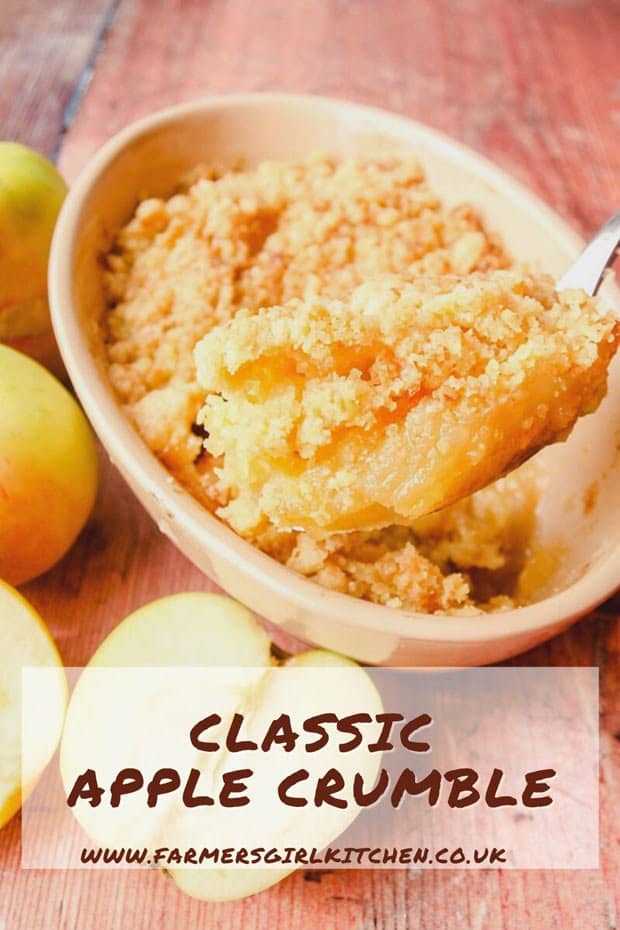 PIN FOR LATER
Let's connect!
Stay in touch with everything that's going on at Farmersgirl Kitchen.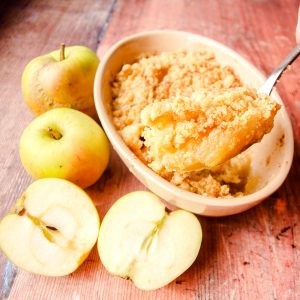 Classic Apple Crumble
A classic combination of apples with a sweet crumble, it's the perfect comforting dessert to serve with custard. 
Ingredients
350

grams

apples

60

grams

granulated sugar

100

grams

plain flour

50

grams

butter or spread

40

grams

Demerara sugar
Instructions
Peel, core and slice the apples. Put into an oven proof baking dish with the granulated sugar.

Put the flour and the butter or spread into a bowl, and rub the fat into the flour until it resembles breadcrumbs, stir in the demerara sugar.

Cover the fruit with the crumble mixture and bake in the oven for about 40 minutes until the fruit is bubbling and the crumble is golden brown.
Notes
Serve Classic Apple Crumble with custard, cream, or ice cream.
Nutrition
Calories:
325
kcal
Carbohydrates:
55
g
Protein:
3
g
Fat:
11
g
Saturated Fat:
7
g
Cholesterol:
27
mg
Sodium:
91
mg
Potassium:
152
mg
Fiber:
4
g
Sugar:
34
g
Vitamin A:
360
IU
Vitamin C:
4
mg
Calcium:
15
mg
Iron:
1
mg
Don't Miss My Latest Recipes
CLICK TO SUBSCRIBE NOW to join my newsletter list & receive a FREE 'How To Adapt Recipes For Your Slow Cooker' printable!
Share by Email