Easy Vanilla Custard Sauce is a rich and creamy sweet pouring sauce made with full cream whole milk, eggs, flour, and sugar. It's ideal to serve with warm desserts and is also a brilliant custard for chilled desserts.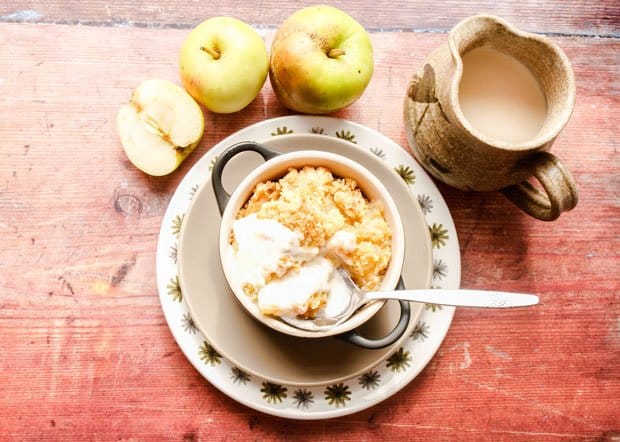 This is my Mum's recipe for Vanilla Custard and I've been making it for many years. I have it copied out into one of my many recipe notebooks and now I think it is time I shared it with you.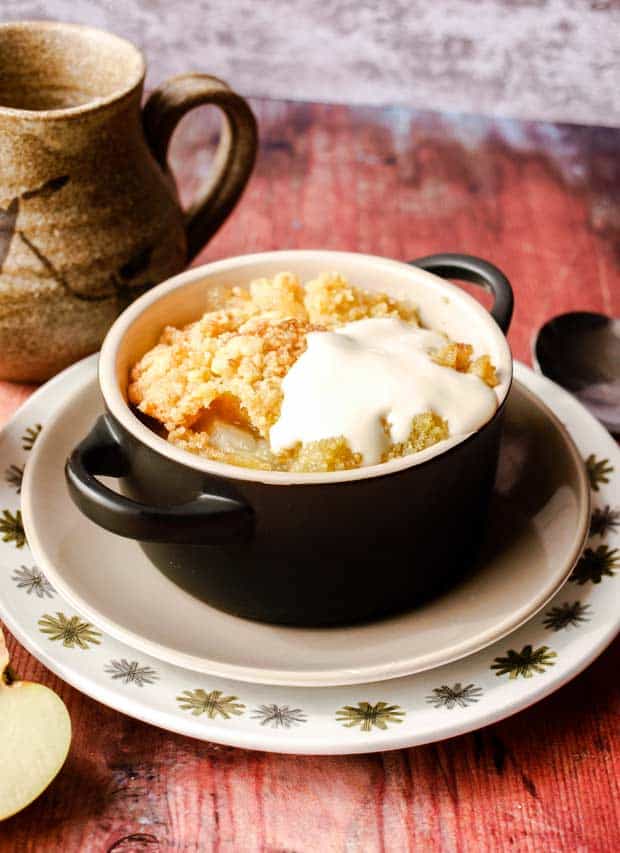 What is Custard?
Custard is a mix of milk and eggs, the protein in the eggs helps to make the custard set. My Easy Vanilla Custard Sauce is a sweet sauce therefore it also contains sugar, vanilla extract and I use flour to help to stabilise it.
There are other ways of making custard using cream and eggs with no flour. There are also baked custards and savoury custards, the filling in a quiche or tart is a type of savoury custard, like in my Easy Tomato & Bacon Tart.
Is Custard the same as Creme Anglaise?
Yes, this kind of custard sauce is often called creme anglaise.
What is custard powder?
Custard powder is cornflour (cornstarch) flavoured with vanilla and a little yellow colouring. It was invented by Mr Bird because his wife was unable to eat eggs and still wanted to enjoy custard. Birds Custard is a really convenient way to make a simple sweet sauce.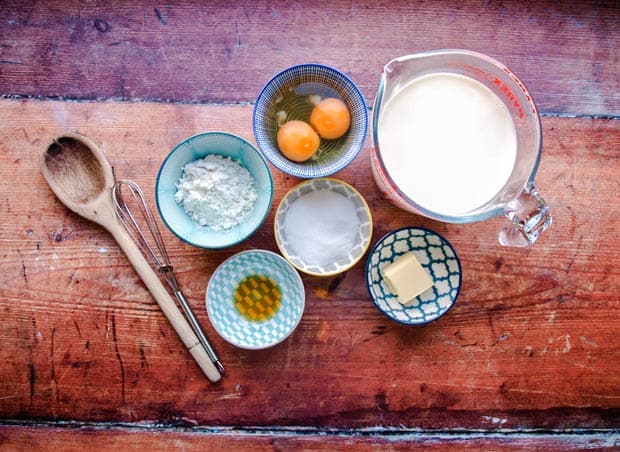 What ingredients do I need to make Easy Vanilla Custard Sauce?
Eggs
Whole full cream milk
Plain (all-purpose) flour
Caster (superfine) sugar
Vanilla Extract
Butter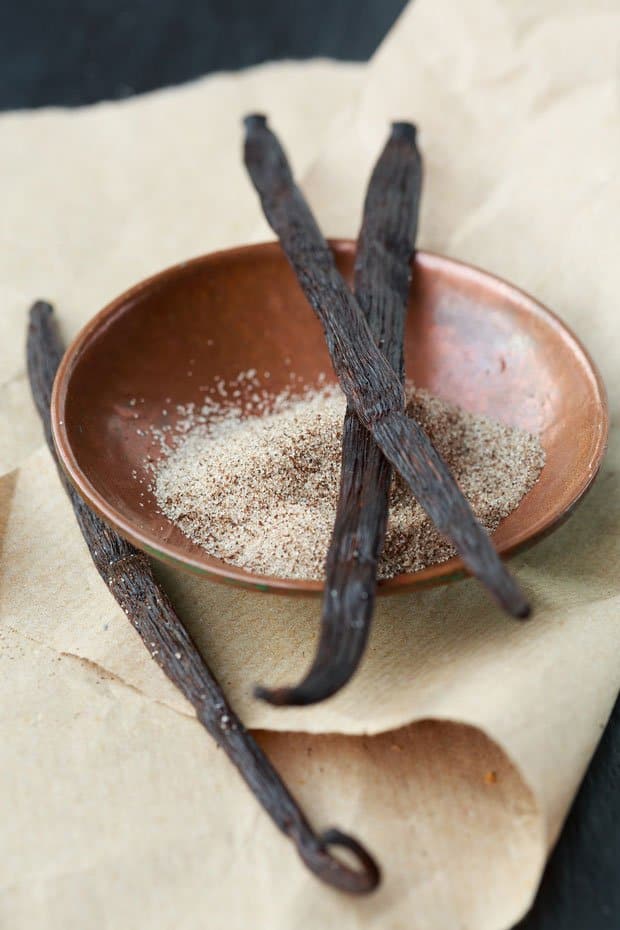 What is Vanilla?
Vanilla pods are the seed pods of a specific species of flowering orchids that grow close to the equator. The pods then go through a number of processes before being dried and conditioned.
What is Vanilla Extract
Pure Vanilla Extract is made by soaking vanilla beans in alcohol. The liquid is then given time to age and mellow before bottling. Always check that you are buying pure vanilla extract and not anything that says imitation or vanilla flavouring.
Can I use a whole Vanilla Bean?
Yes, you can split the pod and scrape the seeds into the milk before heating.
Can I use Vanilla Bean Paste?
Yes, vanilla bean paste is a good choice, particularly if you want to have the little flecks of vanilla seeds show in your Easy Vanilla Custard Sauce.

How to make Easy Vanilla Custard Sauce
It is easy to make this Vanilla Custard Sauce but you do need to devote your whole attention to every part of the process. This is because milk boils over really quickly and once the eggs are included, you might end up with scrambled eggs rather than custard if you don't pay attention.
Once you have made the custard once, you will soon get the hang of it and you can be confident about turning out this delicious sauce whenever you want. You will never go back to powdered custard again.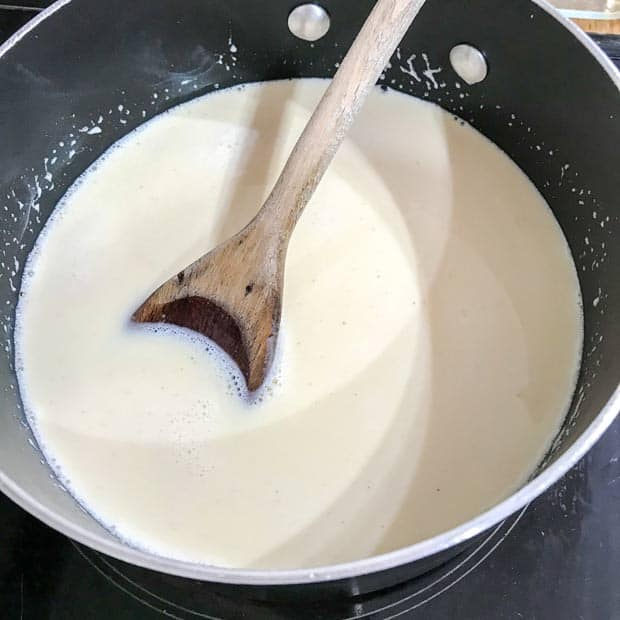 Heat the milk
Put the milk in a saucepan and heat gently until just under boiling point.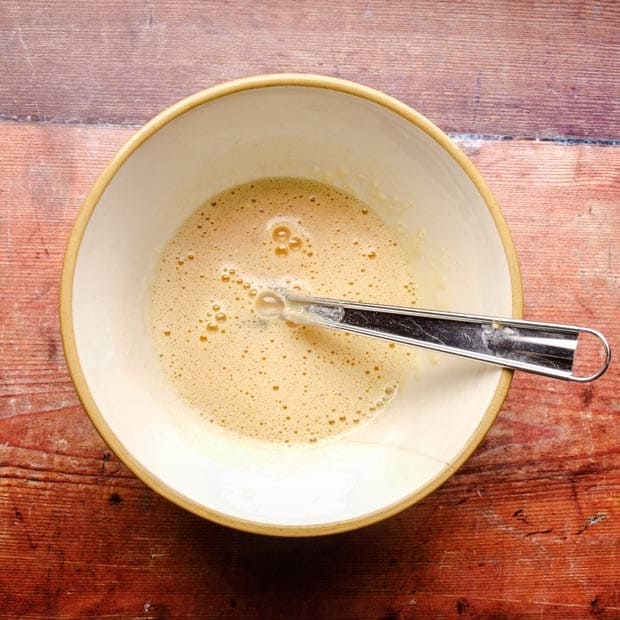 Prepare the egg mixture
Mix together the flour and sugar.
Beat the eggs in a bowl.
Mix the flour and sugar mixture into the eggs until it makes a smooth paste
I use a hand whisk but you can also use an electric whisk to ensure the mixture is completely smooth.
Add the milk
Slowly pour on the warm milk, whisking all the time.
Strain the milk through the sieve into a clean pan.
Thicken the custard
Heat the custard sauce gently until the sauce thickens enough to heat the back of a spoon.
DO NOT ALLOW IT TO BOIL
Once thickened, take the pan off the heat and stir in the butter and vanilla extract.
Why is it so important the Easy Vanilla Custard Sauce does not boil?
Because, if the custard boils it will go grainy, like very fine scrambled eggs rather than a smooth sauce.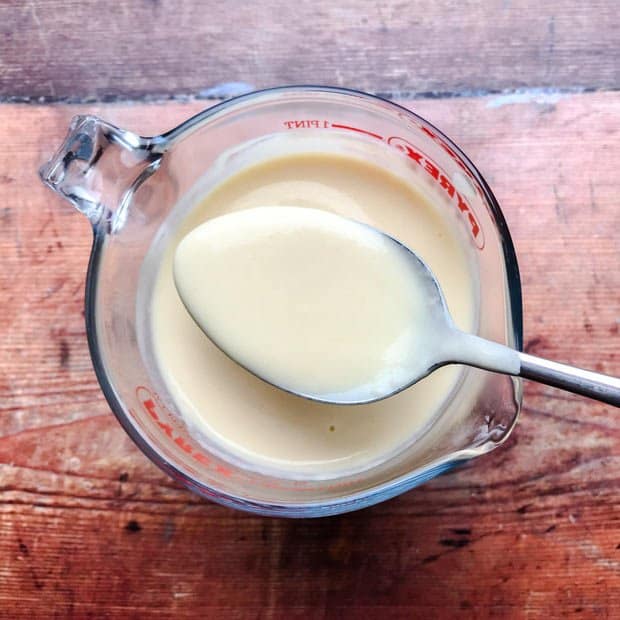 How thick is the Easy Vanilla Custard Sauce?
The Vanilla Custard Sauce is the consistency of double (heavy) cream when it is warm. It thickens as it cools, so if you plan to use it for a chilled dessert it will be quite thick enough once cold.
Can you make the custard ahead of time?
Yes, you can make it ahead of time and keep chilled in the fridge overnight. Then reheat it very gently in a saucepan until just warm to serve with your dessert.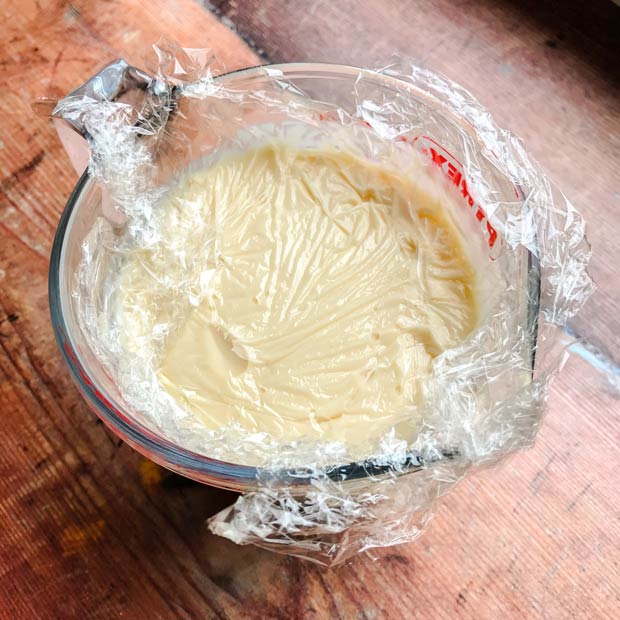 Cover the custard
For a cold dessert or if you plan to reheat the custard later, cover the top of the custard with plastic wrap or wet baking parchment. The wrap must touch the custard to prevent the skin from forming.
Can you freeze Easy Vanilla Custard Sauce?
The custard won't freeze successfully as it is, but you can add double (heavy) cream and churn in an ice cream machine to make delicious ice cream.
Serve Easy Vanilla Custard Sauce with these desserts

This Easy Rhubarb Tart recipe creates a really delicious dessert from simple ingredients. Make your own melt in the mouth shortcrust pastry or use ready-made all-butter pastry for an even quicker fix.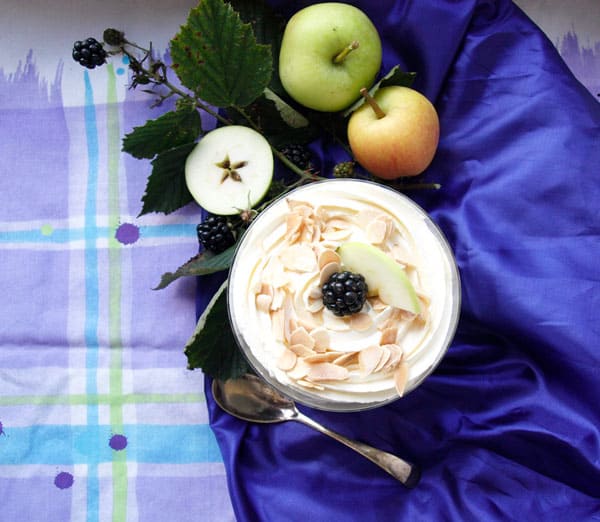 Easy Blackberry and Apple Trifle is an ideal dessert to make the most of foraged blackberries and homegrown apples. It's simple to make and the layers of cake, fruit, custard, and cream make it one of my very favourite desserts.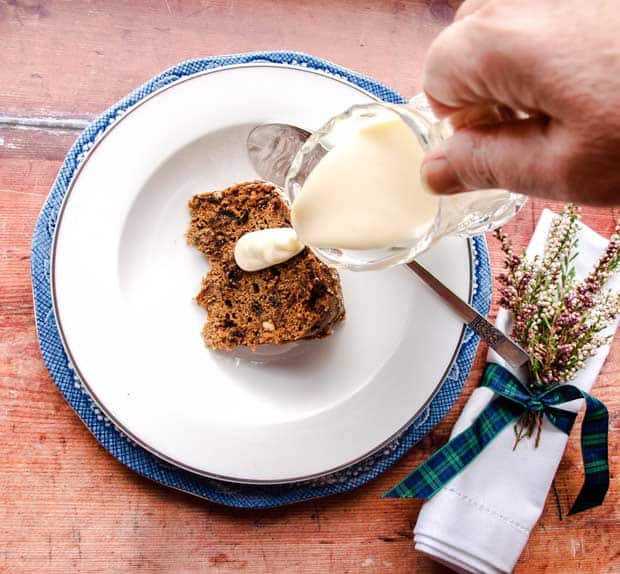 Slow Cooker Scottish Cloutie Dumpling is an updated recipe for a delicious traditional Scottish steamed 'pudding' dessert. It tastes exactly as it should, retaining all the expected flavours but I make it in my slow cooker for maximum convenience.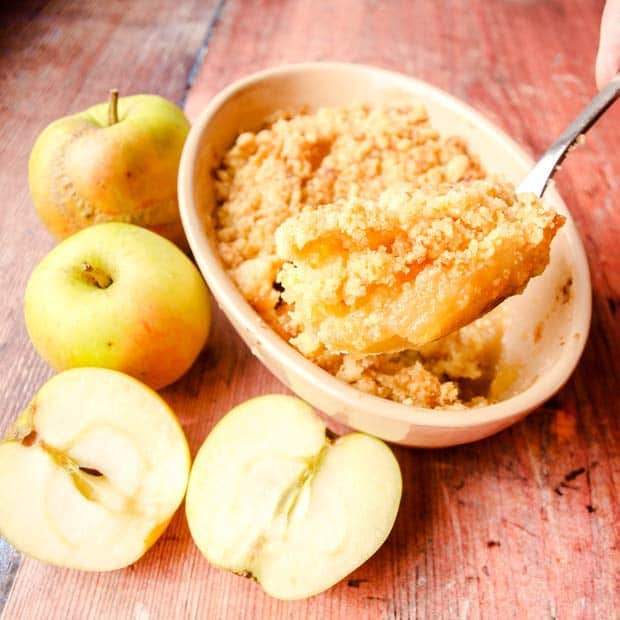 Classic Apple Crumble is a traditional and very popular warm apple dessert. Soft sweet apples are topped with a crisp buttery crumble topping to make one of the simplest desserts and one that makes everyone smile.
More Sweet Sauces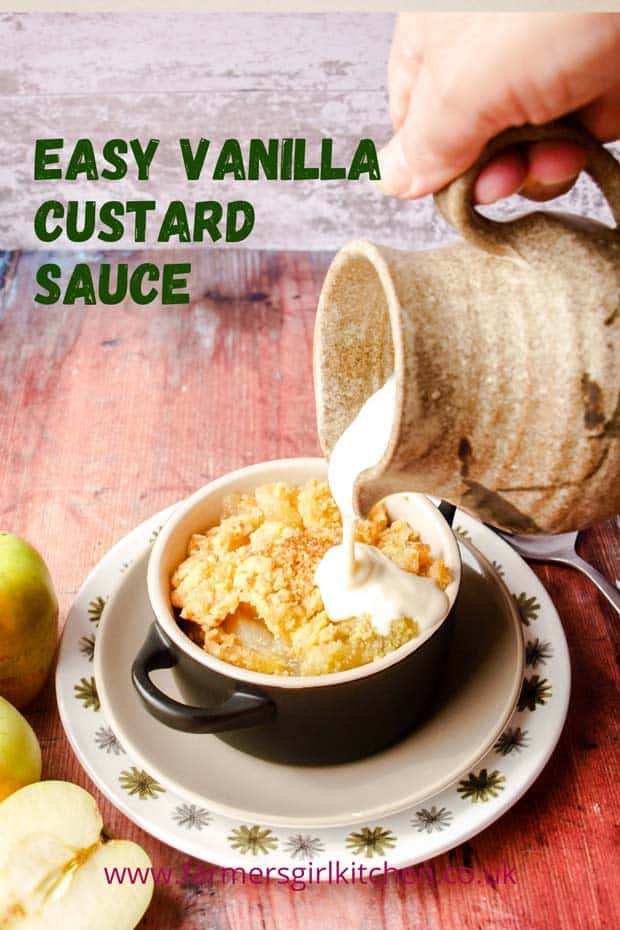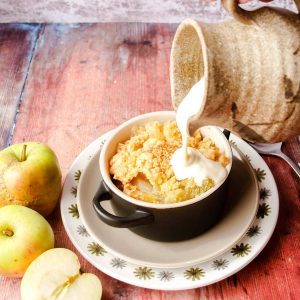 Easy Vanilla Custard Sauce
A creamy vanilla egg custard sauce that is ideal to serve warm with comforting desserts. Or serve chilled in a trifle.
Equipment
weighing scales

Measuring spoons

jug

Medium saucepan

whisk

medium bowl

wooden spoon

Sieve
Ingredients
500

ml

full cream milk

2

medium

eggs

2

tbsp

plain flour

all-purpose flour

30

g

caster sugar

superfine sugar

1/4

tsp

vanilla extract

15

g

unsalted butter
Instructions
Put the milk into the pan and heat gently until just under boiling point.

Mix together the sugar and flour.

Beat the eggs and add the flour and sugar mixtures to make a smooth paste.

Pour on the warm milk whisking all the time.

Strain the milk through the sieve into a clean pan.

Heat through over a low heat until the sauce thickens and coats the back of a spoon. DO NOT ALLOW IT TO BOIL.

Once thickened take the pan off the heat and stir in the vanilla extract and butter.

If using immediately, pour into a serving jug.
Notes
If you are making the Easy Vanilla Custard Sauce ahead of time, or plan to chill it for a cold dessert, then place either a piece of plastic wrap or a damp piece of baking parchment, on top of the custard in the bowl or jug.  This will stop a skin from forming. 
You can gently reheat the custard sauce but you may have to sieve it again to remove any tiny pieces of protein (egg) that form.  
Nutrition
Calories:
119
kcal
Carbohydrates:
11
g
Protein:
5
g
Fat:
6
g
Saturated Fat:
3
g
Cholesterol:
68
mg
Sodium:
57
mg
Potassium:
130
mg
Fiber:
1
g
Sugar:
9
g
Vitamin A:
277
IU
Calcium:
102
mg
Iron:
1
mg
Don't Miss My Latest Recipes
CLICK TO SUBSCRIBE NOW to join my newsletter list & receive a FREE 'How To Adapt Recipes For Your Slow Cooker' printable!
Share by Email