Homemade Caramel Apple Ice Cream brings together the special combination of apples and caramel familiar from our childhood in toffee (candy) apples and bringing back memories of funfairs and Hallow'een.
Ice cream and cookies are always a winning combination, and this Caramel Apple Ice Cream is served in edible cookie cups. The chewy, chocolate cookie dough comes ready-made for a super quick way to serve dessert.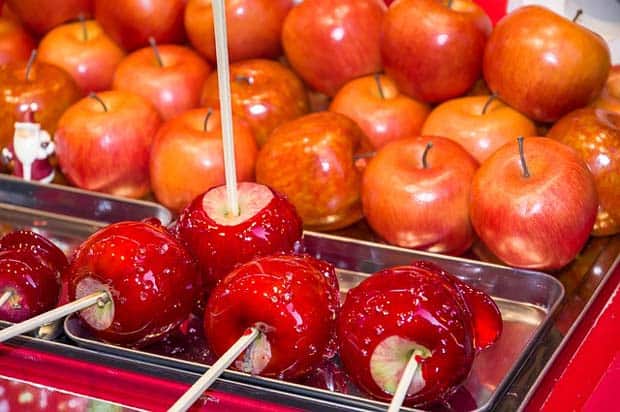 Toffee Apple Memories
My own memory of caramel and apples is rooted in my childhood when my granny would make Toffee Apples. She made the caramel and dipped the apples into it, then set them on greaseproof paper to set. The caramel didn't always turn out as it should (granny didn't have a sugar thermometer) but I loved the toffee when it was soft and chewy rather than crisp!
My grandpa made the sticks to put in them. These were not a slim lolly stick, they were chipped out of logs and looked like a piece of kindling wood for the fire, they were certainly sturdy.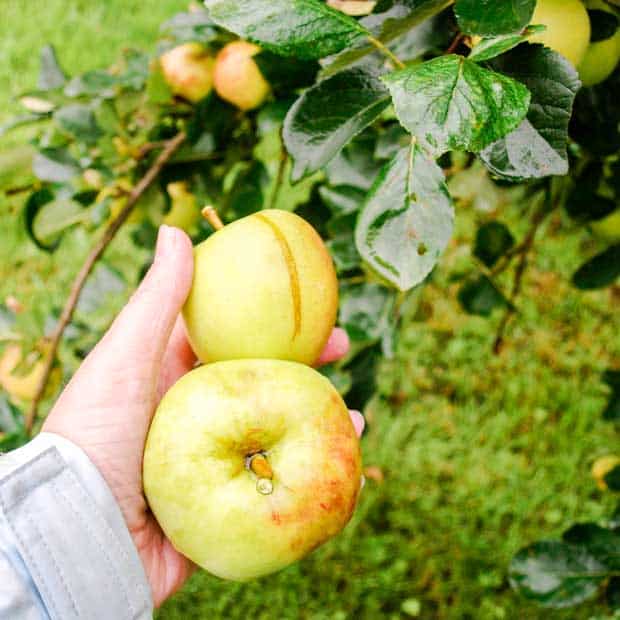 What kind of apples should I use?
You can use any apples, but the recipe is best if you use apples that will break down a little but still have some soft chunky pieces when cooked. Cooking apples like Bramly Seedlings are good as long as you don't cook them too long because they break down very easily.
I use Discovery apples from the apple tree in my garden, but Cox's Orange Pippins have a great flavour and just the right kind of consistency for this recipe too.
What is Dulce de Leche?
Dulce de Leche is a creamy caramel originally from South America.  It is sweet milk that is cooked down until it's the colour and consistency of caramel sauce.  Buy it ready-made or make your own Homemade Dulce De Leche with this recipe from The Petite Cook.
Can I make the Caramel Apple Ice Cream without an Ice Cream machine?
Yes, you can because the dulce de leche has a high sugar and fact content, the ice cream doesn't set too hard. Follow the instructions in the notes on the recipe card for a no-churn version.
How long can you keep homemade ice cream in the freezer?
Homemade ice cream will keep for 3-6 months in a sealed container in the freezer. It is still edible after that time, but ice crystals may start to form.
Remove the container from the freezer for 20 minutes before serving because homemade ice cream freezes much more firmly than manufactured ice cream. Also, the flavour is better if the ice cream has softened slightly.
How to make Caramel Apple Ice Cream

Prepare the apples
Peel and chop two of the apples.
Put butter, sugar and cinnamon into a pan and heat until bubbling.
Add the apples and cook, stirring until the apples are soft.
Add the vanilla extract and leave to cool.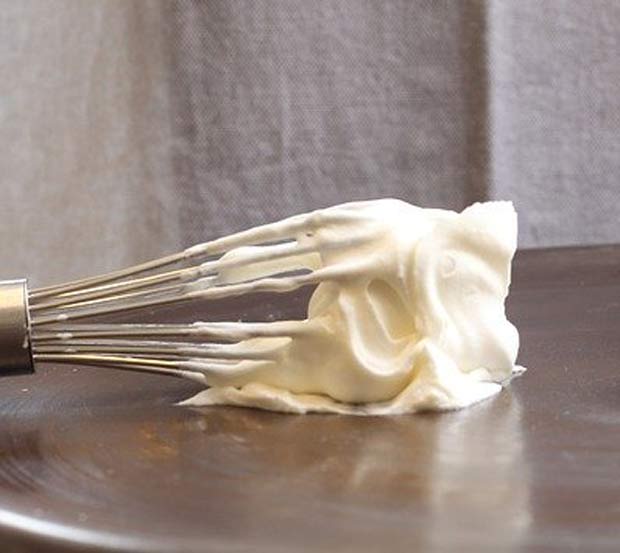 Make the Ice Cream base
Whip the cream until it forms stiff peaks.
Stir in the can of dulce de leche.
Chill for an hour in the fridge.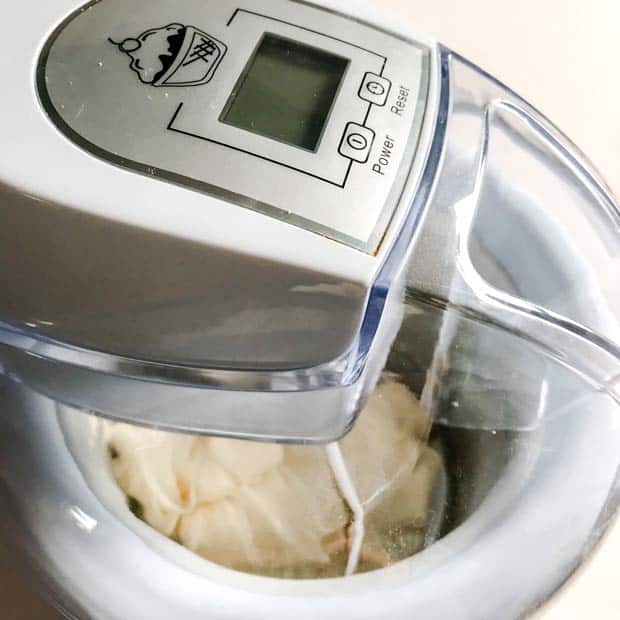 Churn the Ice Cream
Churn the ice cream mixture in an ice cream maker following the manufacturer's guidelines on time. See notes in recipe card for no-churn recipe instructions.
Top Tip
Remember to freeze the bowl for the ice cream machine for 12 hours before using it.
Combine the ice cream with the apples
When the ice cream is thickened, remove it from the churn into a container.
Stir in the cooled cooked appled mixture.
Put the container into the freezer.
Make the caramelised apple slices
Peel, core and slice the remaining apple.
Cook as before in butter and sugar until the slices are just soft but not falling apart.
Remove from the pan onto a plate with the juice from the pan.
Leave to cool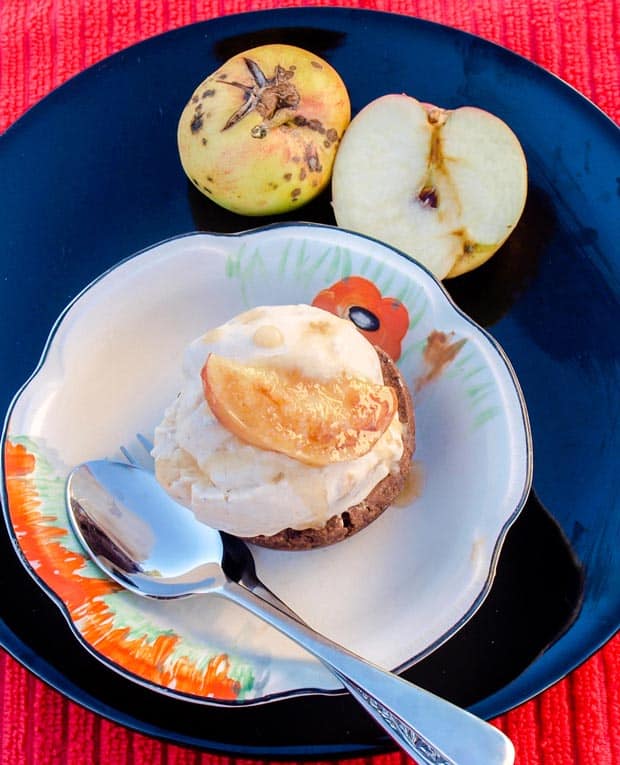 The Homemade Caramel Apple Ice Cream is rich and creamy. It doesn't taste too sweet as the acidity of the apple helps to counteract the sweet caramel.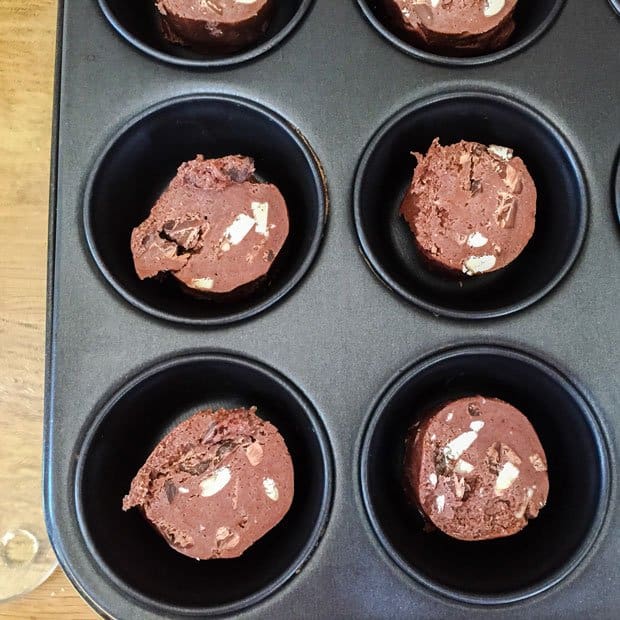 Make the Cookie Cups
Our local supermarket started selling ready-made cookie dough in a tube This is something that I know is widely available in the USA but less common in the UK.
I would usually make my own cookie dough, but I wanted to try out this cookie dough because you never know when you might need to use it in a hurry!
It was incredibly easy to make the cookie cups this way. Simply slice the cookie dough and place each slice in a muffin tin cup. Bake according to the packet instructions.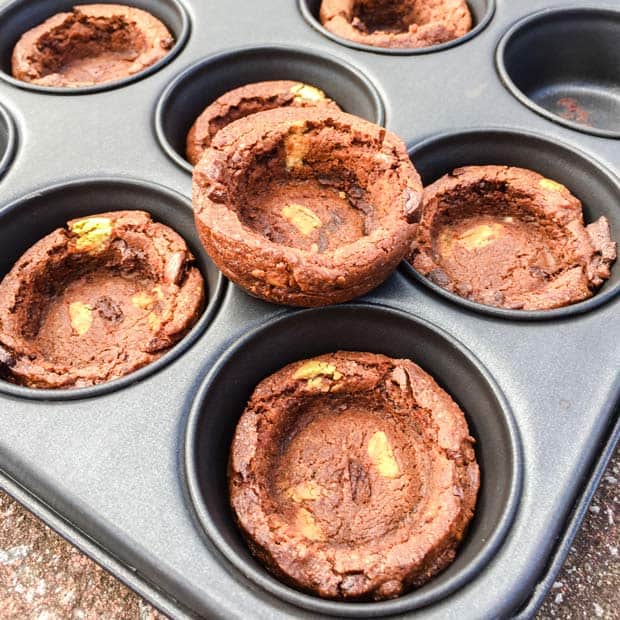 When it is time to remove the cookie cups from the oven. Use a small glass to push the soft dough down in the middle to form a little cup. Once cooled, the cookie cups are ready to be filled.
I think it works really well and the cookies are good. I'm going to try to make cookie cups with homemade cookie dough and see if I can get the same effect.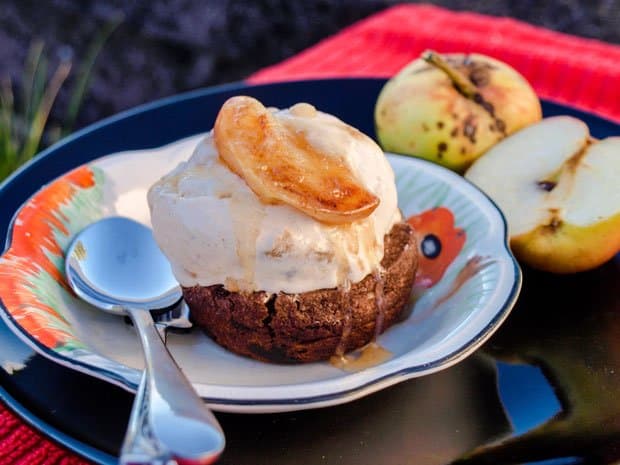 Serving Suggestions
We loved the ice cream in the cookie cup bowls, but it is really good served on its own too.
Serve with warm apple desserts such as apple crumble, apple pie, or perhaps with a warm brownie.
Homemade Caramel Apple Ice Cream would be lots of fun to serve in a cone with extra caramel sauce and sprinkles.  
More ice cream recipes from Farmersgirl Kitchen
Easy Lemon Raspberry Ripple Ice Cream is rich and creamy with the sharp flavours of lemon and raspberry contrasting with the sweetness of the ice cream. Made with lemon curd, this recipe works perfectly as a No-churn, or make it extra smooth by churning in your ice cream maker.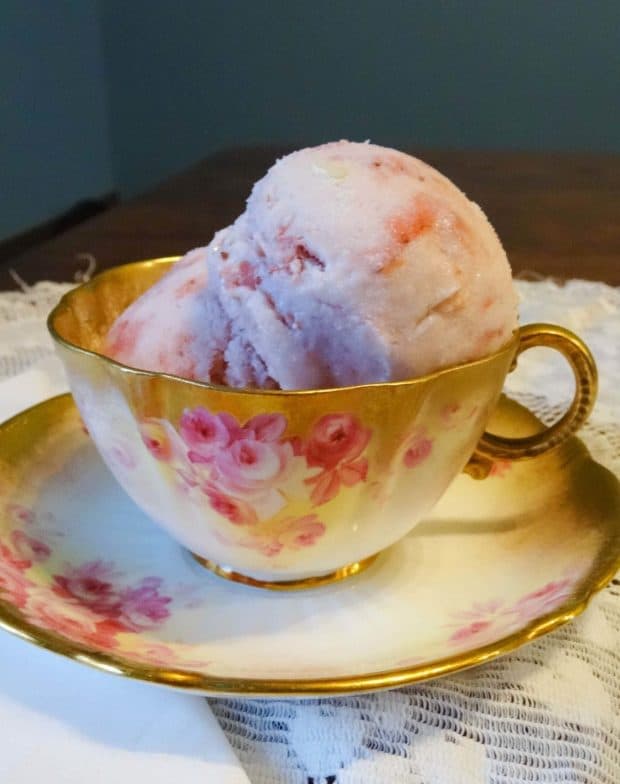 Easy White Chocolate Eton Mess Ice Cream brings together the traditional ingredients of Eton Mess, strawberries, cream, and pieces of crisp meringue with the added creamy sweetness of white chocolate.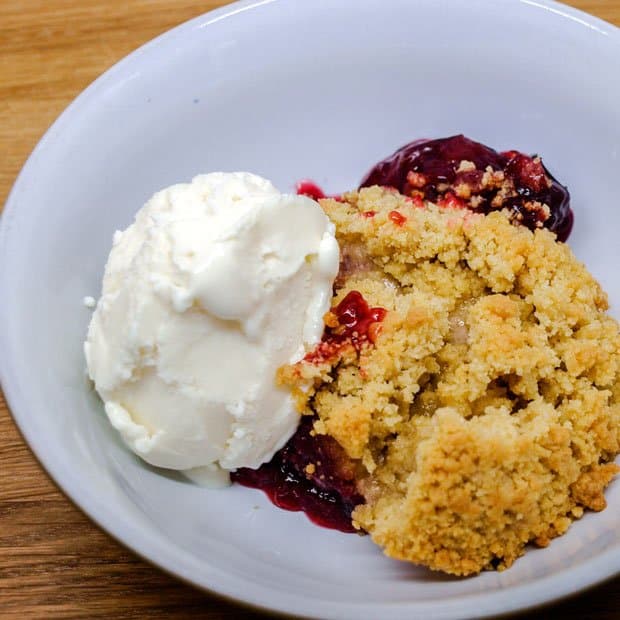 3 Ingredient Vanilla Frozen Yogurt is a really easy recipe to make in your ice cream machine. The result is a light, fresh but still creamy frozen dessert. It is delicious on its own or serve it with other desserts.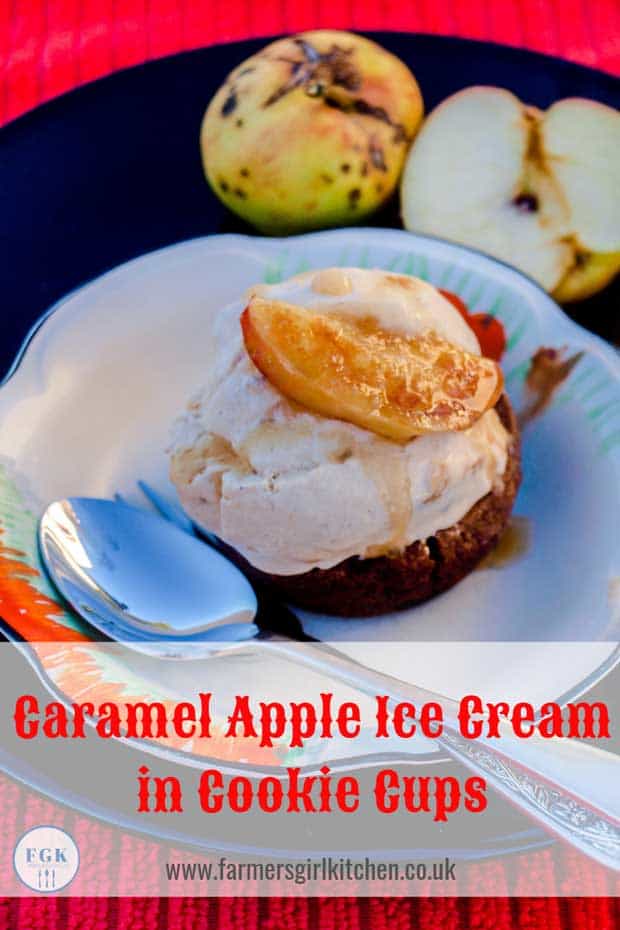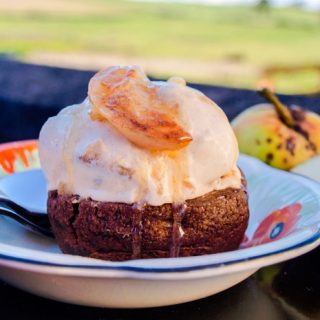 Homemade Caramel Apple Ice Cream
Luscious homemade Caramel Apple Ice Cream, super simple to make and perfect for using the bounty of the autumn/fall harvest.
Equipment
ice cream machine

Sharp knife

Large bowl

electric mixer or whisk

saucepan

muffin tin (for cookie cups)
Ingredients
3

medium apples

60

g

butter

60

g

soft brown sugar

1

tsp

cinnamon

1/2

tsp

vanilla extract

1 375

g

can Carnation Caramel or Dulce de Leche

500

ml

chilled double cream

heavy cream

1/2

tsp

vanilla extract
Instructions
Peel and chop 2 apples

Put 40 g butter and 40 g brown sugar and cinnamon in a skillet and heat gently until the butter is bubbling and the sugar has dissolved.

Raise the heat to medium and add the apples and cinnamon and cook, stirring until the apples are soft and pulpy, add the vanilla extract and leave to cool.

Whip the double cream until it forms stiff peaks.

Gently stir in the can of caramel/dulce de leche.

Chill the mixture for an hour in the refrigerator.

Churn the ice cream mixture in an ice cream maker following manufacturer's instrucitons. See notes for alternative.

When the ice cream is churned and thickened, remove from the ice cream maker into a container.

Stir the cooled apple mixture into the churned ice cream, until the apple mixture is well distributed. Place the container in the freezer.
To make the caramelised apple slices
Slice and core the remaining apple and cook as before with the remaining butter and sugar until the apples are just yielding and are golden but not falling apart.

Remove from the apples from the pan onto a plate with the juice and leave to cool.

Serve scoops of Caramel Apple Ice Cream (in cookie cups if making) with a slice of apple and some of the caramel drizzled over.
Notes
If you don't have an ice cream maker, freeze the mixture in a shallow freezer-proof dish breaking up any ice crystals that form with a fork every couple of hours until it is frozen. It is a very rich and sweet mixture so won't freeze too hard, but remove from the freezer 20 minutes before serving for best flavour.
Adapted from A Latte Food
Nutrition
Calories:
336
kcal
Carbohydrates:
19
g
Protein:
2
g
Fat:
29
g
Saturated Fat:
18
g
Cholesterol:
102
mg
Sodium:
78
mg
Potassium:
120
mg
Fiber:
2
g
Sugar:
15
g
Vitamin A:
1143
IU
Vitamin C:
4
mg
Calcium:
50
mg
Iron:
1
mg
Don't Miss My Latest Recipes
CLICK TO SUBSCRIBE NOW to join my newsletter list & receive a FREE 'How To Adapt Recipes For Your Slow Cooker' printable!
Share by Email
I'm adding Homemade Caramel Apple Ice Cream to the following recipe Linkups:
Tea Time Treats: is featuring Halloween and Bonfire Night Treats in this popular linky run by Karen at Lavender and Lovage, Manjiri at Travels for Taste and Jo at Jo's Kitchen – Jo is hosting for October.
Treat Petite: full of gorgeous makes and bakes in bite-sized portions and run by Stuart at Cakeyboi and Kat at Baking Explorer – Kat is hosting the October Linky.
Simple and in Season: celebrating seasonal ingredients with Katie from Feeding Boys