Easy Wild Garlic Hummus is a really versatile recipe using chickpeas and wild garlic to make a flavour-packed dip or spread in your food processor. Hummus always contains garlic so wild garlic is an easy substitution.

I do love a recipe that is as simple and delicious as this one. Everything goes into the food processor and is whizzed into a wonderful dip or spread.
What is hummus?
Hummus is a Middle Eastern dip or spread made with chickpeas (garbanzo beans), tahini (sesame seed paste), olive oil, lemon and garlic. It's easy to make using a food processor to blend the ingredients together.

What are chickpeas?
Chickpeas are a pea or bean which is high in fibre an protein. They are also known as garbanzo, gram and Egyptian pea.
For best texture buy the chickpeas dried and soak overnight, then cook until just tender.
For maximum convenience buy ready to use in a can.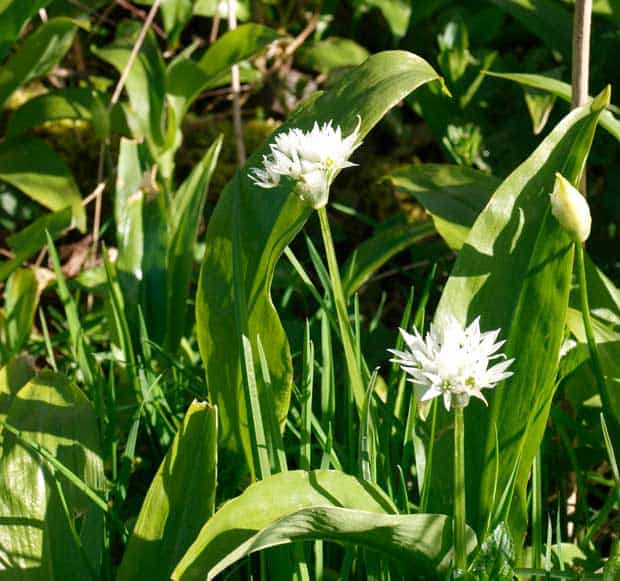 What is Wild Garlic?
Wild Garlic is also known as Ransoms and is a leafy plant which appears in spring. You can eat the young leaves and the flowers which both have a pungent smell of garlic but are mild in flavour.
It's best to pick the leaves when they are young before the flowers start to bloom. Later in the season, the wild garlic leaves become tough.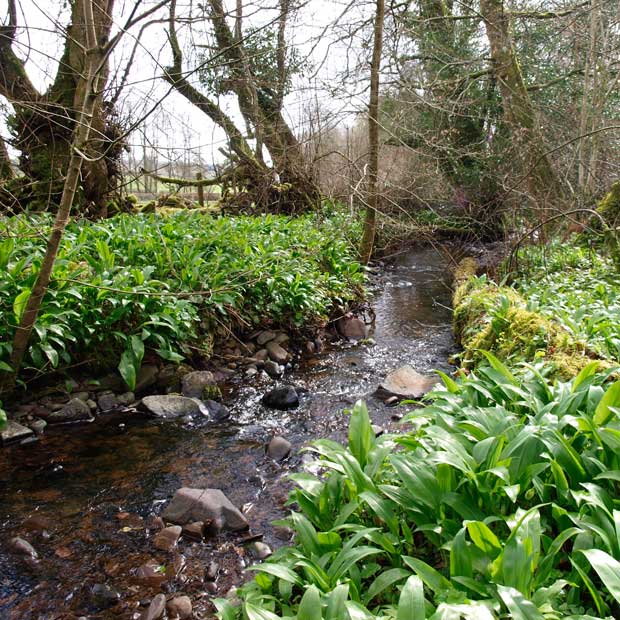 Where does Wild Garlic grow?
It grows on the woodland floor often close to water. Always pick wild garlic far from the roadside and traffic pollution. Get more information about foraging for wild garlic on the Countryfile website
Please be very careful what you pick and where you pick it from, getting someone to show you which plants are safe is the best way to learn.
Sometimes I forget just how fortunate I am to live in the country. When Spring comes I am reminded of the joys of country living when everything starts to grow again.
Close to where I live there are some woods with a burn (stream) running through them and this is my favourite place to walk. The Wild Garlic (Ransoms) grows all along the banks of the burn and into the woodland. It even spills out onto the roadsides.

How do I prepare Wild Garlic?
Wash the Wild Garlic carefully then you can use it just as you would other herbs. Or store it wrapped in damp kitchen paper and a plastic bag in the salad drawer of the fridge. It will keep for 2 or 3 days stored like this without any ill effect.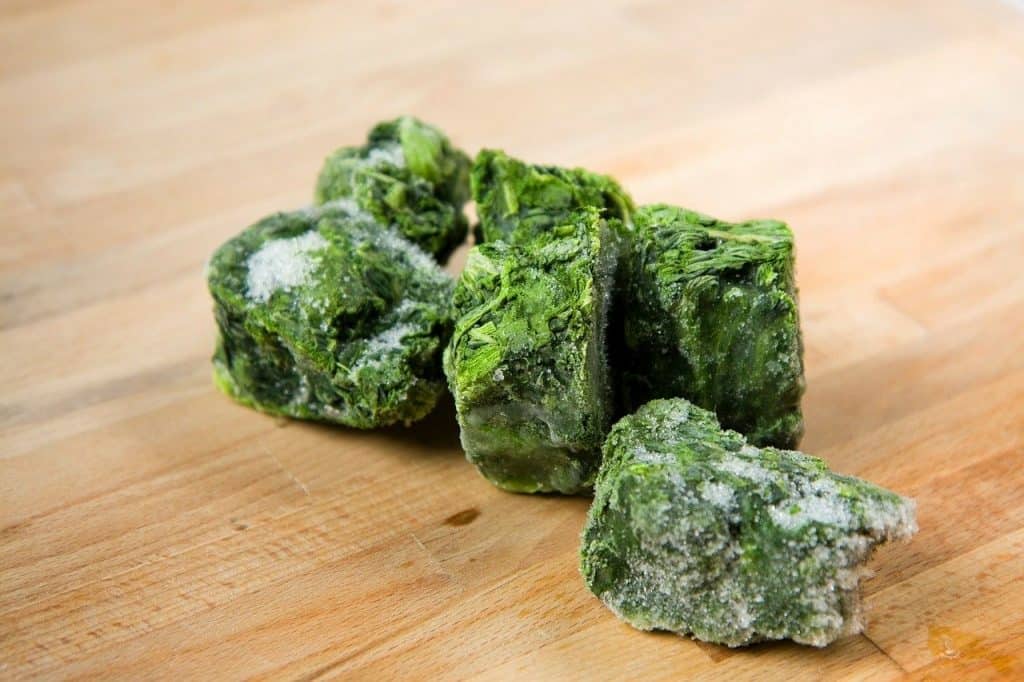 Can I freeze Wild Garlic?
You can chop it finely and put in ice cube trays then cover with olive oil. Drop these cubes into soups and stews to add a little wild garlic flavour.

What is Tahini?
Tahini is made by grinding sesame seeds to a fine paste and is used in middle-eastern recipes. This is a similar method to that used for making peanut butter. Sometimes the oil in tahini floats to the top of the jar, so make sure you stir it thoroughly before using.

How long can I keep hummus in the fridge?
You can keep hummus in an airtight container in the fridge for 3-5 days depending on the rating for your fridge.

Can I freeze Easy Wild Garlic Hummus?
Yes, this hummus freezes really well. Divide your hummus into individual containers label and freeze. Thaw the hummus overnight in the fridge and give it a stir, then it's ready to serve

How to make Easy Wild Garlic Hummus
Follow the simple steps to make this delicous and versatile dip.

What ingredients do I need to make Easy Wild Garlic Hummus?
Cooked Chickpeas (garbanzo beans)
Wild Garlic Leaves
Tahini
Olive Oil
Fresh lemon juice
Salt

Put the ingredients in the Food Processor bowl
Drain the chickpeas and KEEP the liquid from the can, or if you have soaked and cooked your chickpeas keep some of the cooking liquid.
Roughly tear up the Wild Garlic leaves and add them to the bowl.
Squeeze the lemon and add the juice.
Finally add the oil, tahini and salt.

Process the ingredients
Pulse the food processor to break up the chickpeas and wild garlic leaves.
Run the processor on a medium speed and start to add the chickpea liquid, DON'T add it all otherwise the hummus may be too thin.
Stop to push down any chickpeas that don't get processed.
Process the hummus until it is smooth and the thickness that you want it to be. If you don't have enough chickpea water, you can use tap water.
Taste the hummus and adjust the seasoning to suit your taste, add a little more salt, lemon, or wild garlic, and process again. Your Easy Wild Garlic Hummus is now ready to serve.

How do I serve Easy Wild Garlic Hummus?
Spoon the Wild Garlic Hummus into a bowl, make a swirl on top of the hummus with a spoon, and drizzle with olive oil. Garnish with finely chopped wild garlic leaves and slivers of lemon zest.
Serve as a dip with toasted flatbread and raw vegetables like carrot batons and red pepper strips.
Make a thicker hummus and use it as a spread on a sandwich with salad.
Wild Garlic Hummus is ideal as an appetiser or canape on a crisp cracker or a chunky piece of cucumber.
Thin down your hummus with more lemon, olive oil and chickpea water and use as a dressing for salad or roasted spiced vegetables.

More Wild Garlic Recipes from Farmersgirl Kitchen
Wild garlic has a short season so forage responsibly but make sure you gather enough to make more than one recipe.

Wild Garlic, Ham and Pea Chowder is the most delicious hearty soup. It has a mild garlic flavour and a creamy texture.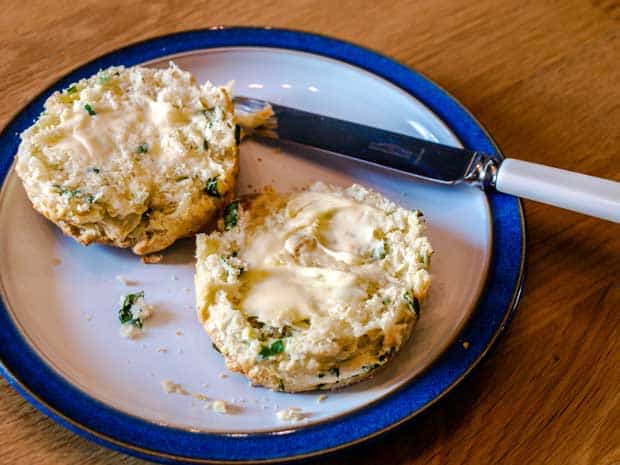 Savoury Cheese and Wild Garlic Scones are perfect to serve with Wild Garlic Hummus or cheese as a snack or packed lunch. Or serve as a tasty alternative to bread with soup.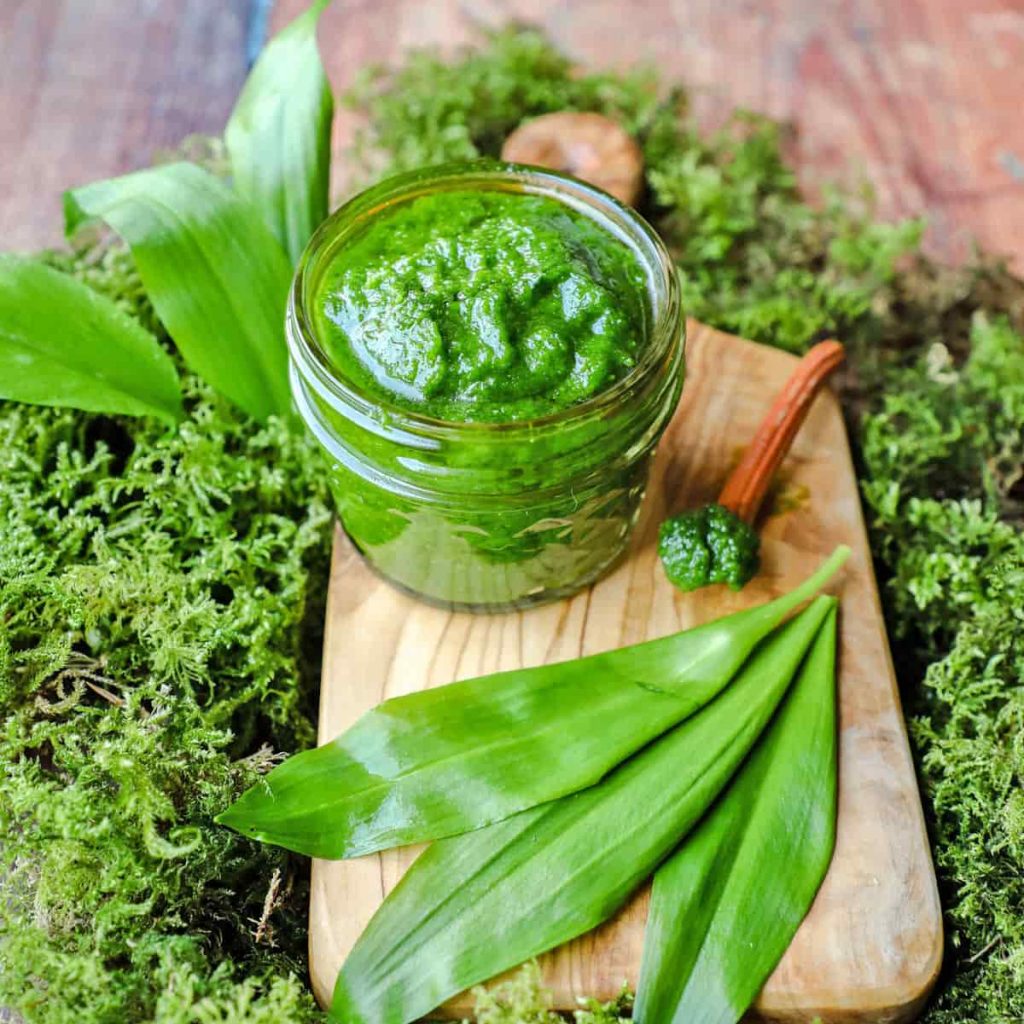 Wild Garlic Blender Pesto is such a quick and easy sauce to make. Serve with pasta, risotto and grilled meats.
More Wild Garlic Recipes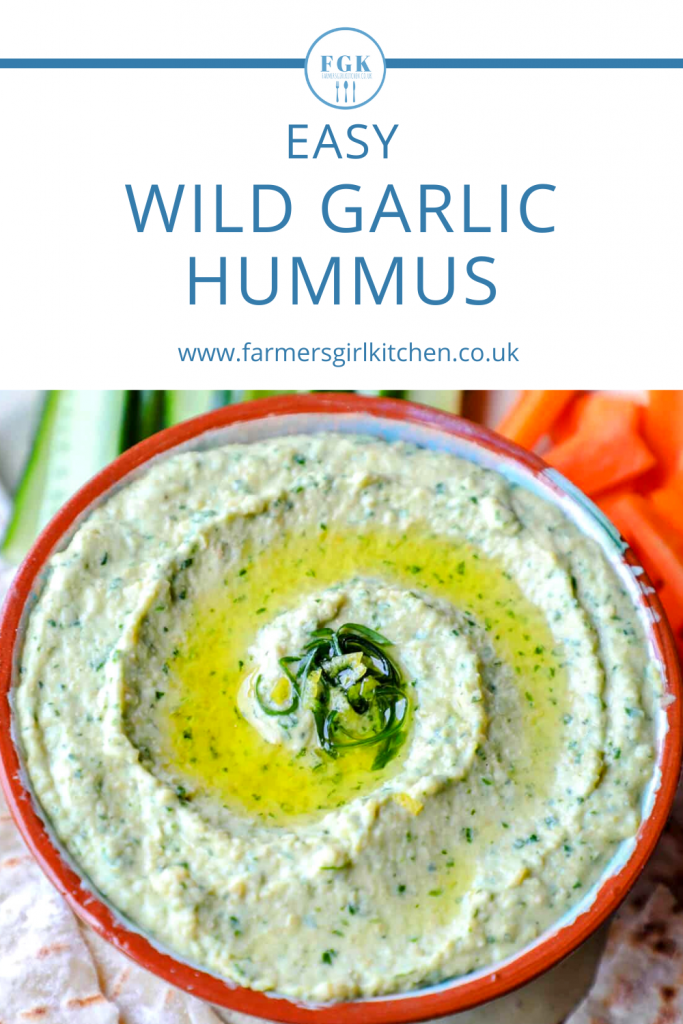 Stay in touch with everything that's going on at Farmersgirl Kitchen.

Easy Wild Garlic Hummus
A simple recipe for this chickpea dip or spread using wild garlic leaves for a mild garlic flavour.
Equipment
Food Processor

measuring jug

Measuring spoons

Lemon squeezer
Ingredients
250

g

cooked chickpeas

3

tablespoons

tahini

1

lemon

juiced

50

g

wild garlic

roughly torn

60

ml

olive oil

1/2

tsp

salt
Instructions
Put all the ingredients into your food processor and process until you have a smooth textured paste.

Add chickpea cooking liquid (or liquid from the can) or water until you have the thickness and texture you prefer.
Notes
Use more liquid if you want to use your hummus as a dip and less if you want a thick spread for crackers or bread. 
If you like some texture in you hummus, keep aside some chickpeas and crush them lightly with a potato masher then stir into the processed hummus. 
Nutrition
Calories:
192
kcal
Carbohydrates:
13
g
Protein:
4
g
Fat:
15
g
Saturated Fat:
2
g
Sodium:
121
mg
Potassium:
119
mg
Fiber:
3
g
Sugar:
1
g
Vitamin C:
13
mg
Calcium:
51
mg
Iron:
1
mg
Don't Miss My Latest Recipes
CLICK TO SUBSCRIBE NOW to join my newsletter list & receive a FREE 'How To Adapt Recipes For Your Slow Cooker' printable!
Share by Email
This recipe was first published April 13, 2015
I'm linking this recipe to Cook Blog Share the recipe link up for food bloggers this week hosted at Melissa Traub – Plant Based Nutrition.