Wholemeal Bread is so much more delicious when you make it at home.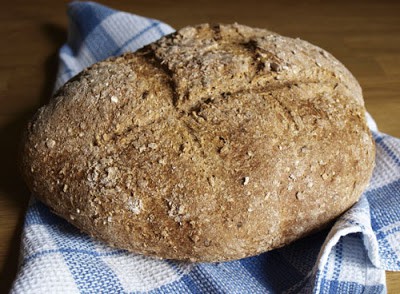 I'm not the family bread maker, that honour goes to Mr Farmer. He used to make all our bread by hand BC (before children). Now he still makes all the bread but in the bread maker, the 'children' left several years ago. However I had bought this bag of flour (see below)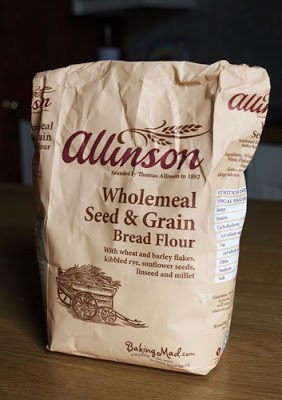 and never used it, so thought I would make a loaf myself. I did mix it with the breadmaker but put it on dough setting as I really prefer the bake in the oven in a nice rustic shape. I'm sure Paul Hollywood (Great British Bake Off) would throw up his hands in horror, but I've tried kneading bread and I'm not very good at it, I also find it intensely boring. The recipe is ultra simple:
500g Wholemeal Seed & Grain Bread Flour
2 tsp yeast
1tbsp caster sugar
1tsp salt
50g butter
375ml water
Chuck it all in the bread machine on dough setting, when it is mixed, place on a baking tray. Leave to rise for a further 20 minutes, then bake at 180C for 30-40 minutes until the loaf sounds hollow when you tap the base.
The loaf turned out well, I think I might make some scones with the rest of this flour, I think they would be rather tasty.