This Tomato Chilli Jam is really delicious and easy to make at home, it's ideal to make when you have a glut of tomatoes or when you can buy them cheaply.
You can also make it with a mixture of fresh and tinned tomatoes making it really economical. It's sweet and spicy and packs a chilli punch. Serve it with cold meats and cheeses or add to sauces and recipes for an extra kick!
How to make Tomato Chilli Jam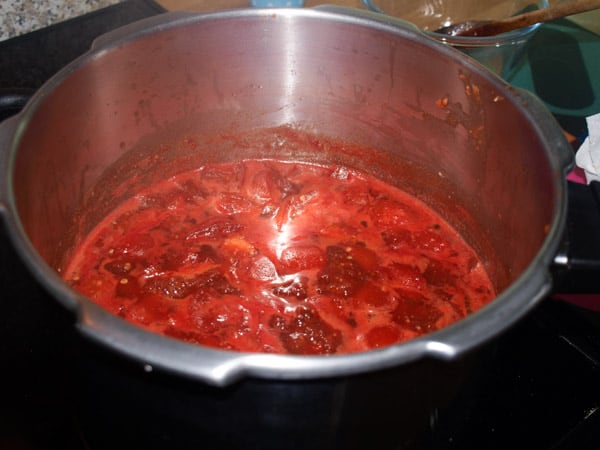 This Tomato Chilli Jam recipe is so simple so please don't be put off if you have never made any savoury jams, jellies, relishes or chutney.
The most work is in preparing the chillies and garlic cloves then it's all into the pan and simmers until it's thick.
I had a little taste and, oh boy is it hot when it's first made, but it matures nicely to a more manageable heat level. I had to hide it from my husband as he would put it on everything and it would soon be gone.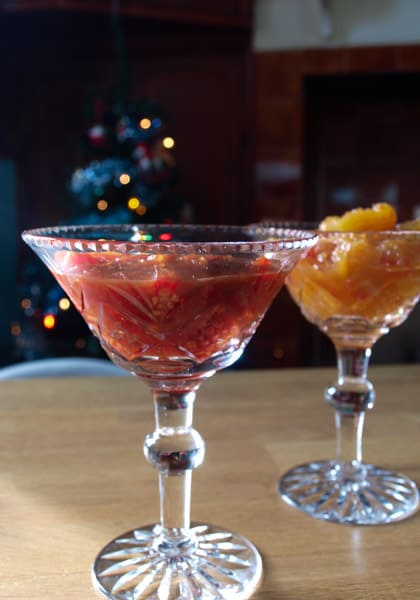 The Tomato Chilli Jam recipe made two Kilner jars and a small jar from this quantity. I may try and make it again using only tinned tomatoes,
I've made tomato chutney with tinned tomatoes before and you get a brilliant colour and as you are cooking the tomatoes anyway there is no real difference in taste although the fresh toms give a bit more texture.
If you like the Tomato Chilli Jam you are also going to love my Pineapple Chilli Jam, This was the result of a buy one get one free pineapple deal that left me wondering what to do with the extra pineapple.
It has a truly awesome flavour reminiscent of mango chutney but with a bit more acidity.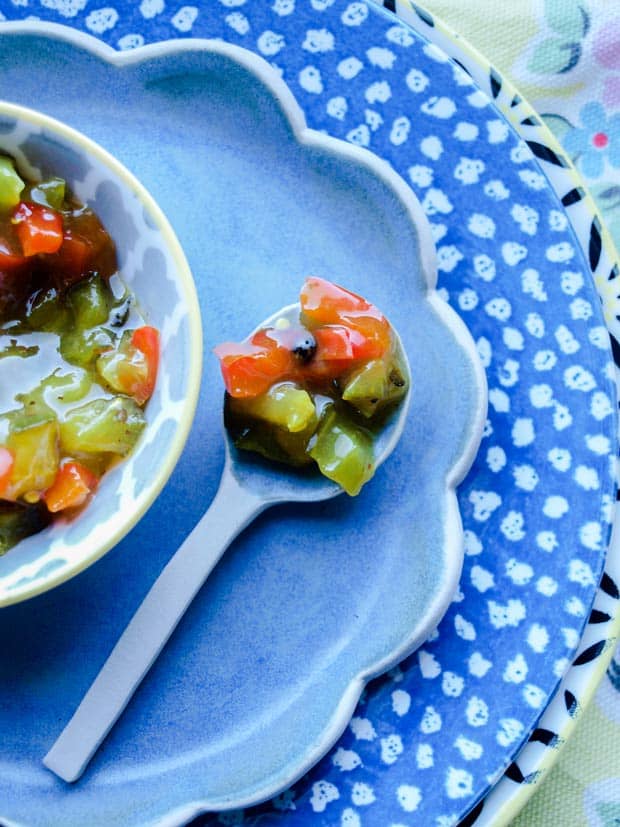 More Spicy Chilli preserves
Mango Date and Chilli Chutney – Kavey Eats
The Best Chilli Sauce you will ever taste – Tin & Thyme
Hot Chilli & Ginger Pickle – Kavey Eats
Beetroot & Chilli Ketchup – The Veg Space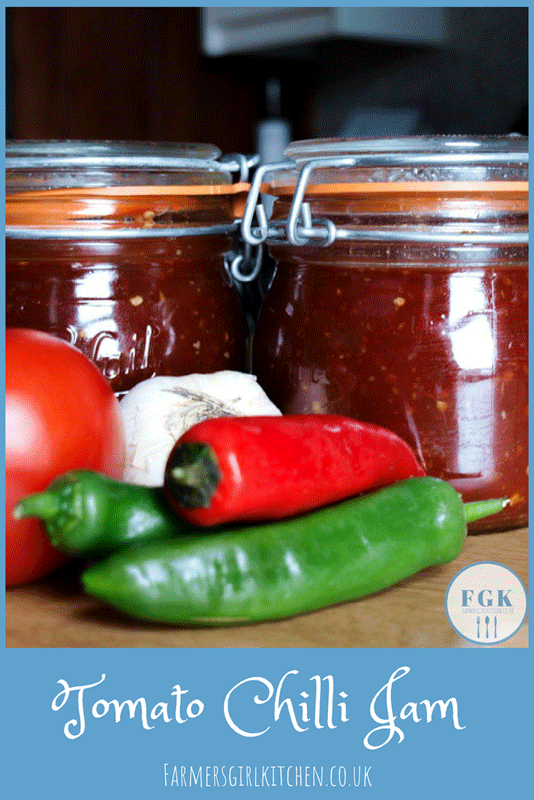 Are we connected?
Stay in touch with everything that's going on at Farmersgirl Kitchen.
Facebook Pinterest Instagram Twitter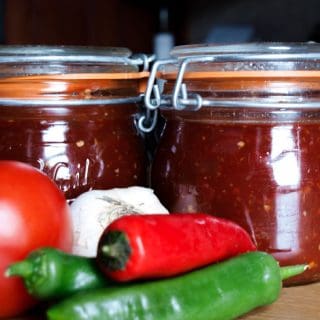 Tomato Chilli Jam
Sweet and Spicy Tomato Chilli Jam is a tasty preserve which is easy to make, add it to your buffet table or a spoonful in a sauce will add some pizazz!
Ingredients
1.8

kg

very ripe tomatoes

I used two tins of plum tomatoes and 2lb of ripe tomatoes

4

red chillies with their seeds

2

green chillies with their seeds

10

fat garlic cloves

5

thumbs of fresh root ginger

peeled and roughly chopped

80

ml

Thai fish sauce

675

grams

unrefined golden caster sugar

200

ml

red wine vinegar
Instructions
Chop the whole fresh tomatoes into small dice and set aside. Put the tinned tomatoes into the food processor with the chillies and their seeds, garlic, ginger and fish sauce and blitz into a fine puree.

Spoon the puree into a deep, heavy-bottomed pan and add the sugar and wine vinegar.  Bring to the boil slowly, stirring as you go.  When it comes to the boil, turn down to a simmer and add the diced tomatoes.

Skim off any foam that rises to the surface and cook gently for up to 1 1/2 hours, stirring from time to time, to prevent the mixture catching and burning. Scrape the sides of the pot too, so that everything cooks evenly. The mixture thickens as it cooks - as it reduces and the pectin in the tomatoes takes effect

When the mixture seems thick to the stir of a wooden spoon, decant it into warm, sterilised jars and seal.
Notes
Store in a larder or cool place, not the fridge, for up to 9 months.
Don't Miss My Latest Recipes
CLICK TO SUBSCRIBE NOW to join my newsletter list & receive a FREE 'How To Adapt Recipes For Your Slow Cooker' printable!
Share by Email