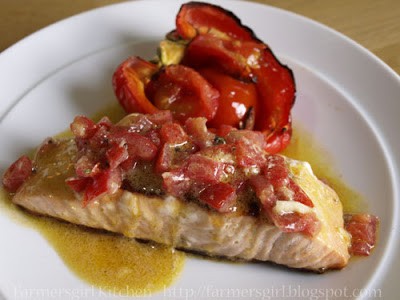 I love olive oil, so I was intrigued when I was asked to review some oils from Groovy Food, I was sent two different oils:
Omega Cool Oil –a
clever organic blend of Omega 3, 6 and 9. Specially pressed from flax, hemp,
pumpkin and evening primrose seed oils, serving up a perfectly balanced amount
of essential fatty acids, which our bodies crave. Cool Oil is also the perfect
accompaniment to cold foods and as such is ideal when drizzled onto salads,
blended into smoothies or used simply for dipping breads and olives.
High Five Cooking Oil –
sees a unique yet complimentary fusion of five cold pressed virgin seed oils.
Blended to perfection High Five Cooking Oil is the ideal healthier alternative
to other cooking fats. Offering high nutritional properties whilst graced with
a subtle flavour, the oils unique characteristics ensure the great taste is
retained even when cooking at high temperatures.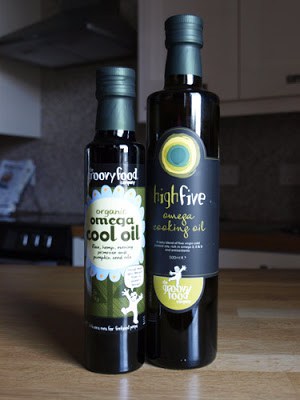 I thought I'd put the oil to the test with a bit of baking and some cooking.
Groovy Focaccia
500g strong white flour
2tsp dried yeast
1 1/2tsp salt
1 tsp caster sugar
175ml water
75ml white wine
75ml High Five Omega Cooking Oil
2 tbsp rosemary, finely chopped
3 tbsp Omega Cool Oil for drizzling
Sea salt flakes for scattering
1. Put the flour, yeast, salt, sugar, water, wine and High Five Cooking Oil into your bread maker and set for dough.
2. When the dough programme finishes, roll or pull the dough out, oil a baking sheet or roasting tin and fill with the dough.
3. Cover with a tea towel and put in a warm place to rise for about an hour to an hour and a half.
4. Us your fingertips to gently press into the surface of the dough, brush with a little High Five Cooling Oil and scatter over the rosemary and sea salt.

5. Heat the oven to 200C and bake for 30 minutes until golden brown.
6. Sprinkle with the remaining Omega Cool Oil.

The Groovy Focaccia was very good, although I did miss the taste provided by the olive oil. I also tried dipping the focaccia in the Omega Cool Oil but I felt that the flavour of the oil didn't lend itself to dipping.

I was planning on having some salmon fillets for supper so used the oil in Recipe #2:
Salmon with Tomato Vinaigrette
4 salmon fillets
2 tbsp Omega Cool Oil
1 tbsp champagne or wine vinegar
1 tsp Dijon mustard
2 garlic cloves, crushed
1 tsp caster sugar
4 ripe tomatoes, deseeded and finely chopped
salt & freshly ground pepper
1. Mix the Omega Cool Oil, mustard, vinegar, garlic and sugar together. Add the diced tomatoes.

2. Brush the salmon with oil and place in a hot frying pan skin side down to crisp the skin, when skin is brown, turn the salmon and cook for 2 minutes, then switch off the heat and leave as the heat in the pan will cook the salmon through.
3. Place the salmon onto the plate and spoon over the vinaigrette.

Serve with roasted red peppers filled with chopped tomatoes and garlic and drizzled with High Five Cooking Oil.
The salmon was delicious as was the roasted red pepper and I would say that the lighter flavour of the seed oil was a really good match for the fish and the vinaigrette was quick easy and one of the best ways of adding a bit of zing to farmed salmon that I have found.
The Groovy Food Oils collection is available
throughout Tesco and Sainsbury's stores nationwide, selected health food
retailers and online at
freefromandfinefoods.co.uk
.
Omega Cool Oil – 250ml – from £8.49
High Five Cooking Oil – 500ml – from £6.99
The company themselves are very passionate about their products as you can see
from their website:
www.groovyfood.co.uk
.
Disclosure Statement: I received two bottles of oil from Groovy Foods to review. I was not required to write a positive
review. The opinions I have expressed are my own. The prices are
correct at time of posting.