The January challenge at Fresh from the Oven was to make this No Knead Bread in a cast iron casserole! It sounded quite easy and didn't involve too much work so I had a go. Here is the recipe supplied by Claire:

No Knead BreadThe Mix
15oz Strong White bread flour – it works best with all white I think
¼ tsp instant easibake yeast (out of a sachet)
1 tsp table salt
Stir together well then add 10.5 fl oz of lukewarm water (a mugful)Slosh it round into a gooey lump of dough with a forkLeave in a big bowl and cover with cling film or put the bowl in a bin bag
Leave it in kitchen for 16-18 hours – or more if you forget.
The 16hr SlooshUse a dough scraper/cutter or your fingers, to scrape the wet porridgy dough away from the sides, using plenty of flour to stop it sticking, and shuffle it back into a nice round shape. Don't be tempted to knead it.Cover with a tea towel and leave for 2 more hours.The BakePreheat oven to 200-220 and put in a lightly oiled Le Creuset or other large cast iron casserole with a lid on until the oven and the pan are super hot.Again use the scraper and a good sprinkle of flour to detach the dough from the bowl without puncturing it's airy goodness. Then quick as you can, without losing the heat from the oven and pan, tip the dough onto one hand then flop it into the hot pan the right way up again and put the lid back on and get it back in the oven immediately.
Bake for 30 minutes lid-on
Then cook for 10-12 minutes more, lid-off until golden brown
If it's not hollow sounding on the bottom put it back in, without it's tin for an extra 5 minutes. Tip out and cool well before trying to sliceTips
I find this works best for me if I make the dough around the school run (3.30pm) then do the first dough slooshing when I get up, then bake it mid morning. As you can see, the times can be very approximate! Another option might be to mix the dough on a Friday when you get in from work, sloosh it mid morning on Saturday and bake it at lunch time ready for Saturday evening. It seems like a long process but it really is no effort when you get your head round it.
If you haven't got one yet it's worth getting a dough cutter/scraper to save on sticky fingers. My plastic one was only 90p from a local cook shop.
My new Le Creuset (25cm) is a little bit too big for this recipe so I sit my lightly oiled 20cm mermaid pie tin in the bottom to help shape the loaf to be a bit taller and rounder. I also sometimes scatter a bit of semolina in the base for an extra crunchy bottom. You can use oil instead of flour to de-stick the dough from the mixing bowl, but it makes for a wetter and slighty denser outcome like the one shown at the end of this post. It is one of those loaves that comes out a little bit different every time anyway due to the extended prove.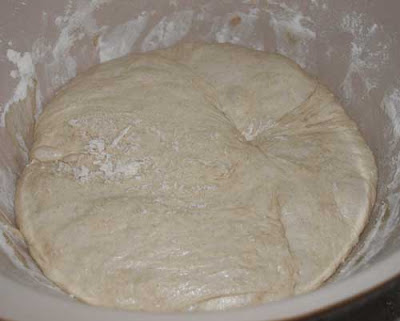 The picture above is the gloopy, fermenting mixture of flour, yeast, water and salt.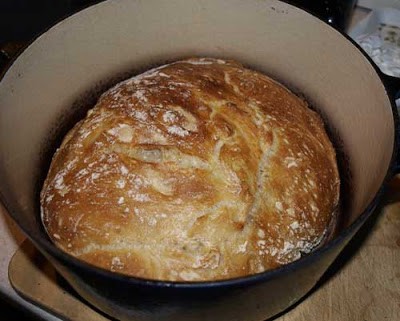 and here is the cooked bread in it's Le Creuset casserole, it came out remarkably easily, I was a bit concerned that it would stick.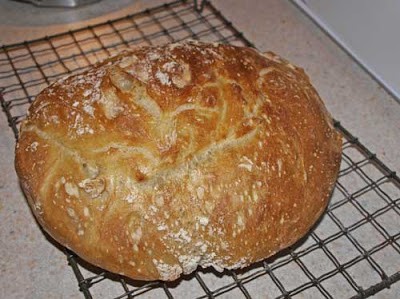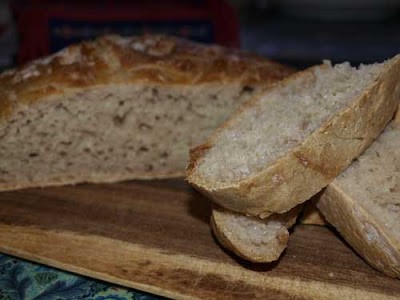 The loaf is remarkably like a Ciabatta, it has the same open texture and chewiness, it also kept very well. I would definitely recommend this loaf and I know that other bakers who didn't have a Le Creuset casserole used other kinds of pots with lids (it's the steam that is important), so why not check out their blogs via the Fresh from the Oven blog and have a go yourself.