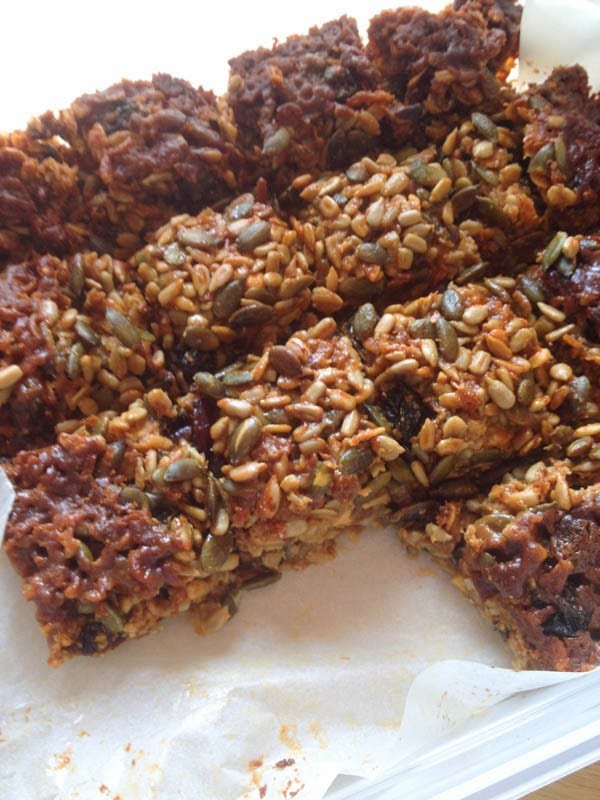 There was nothing in the biscuit tin. There was nothing in the cake tin. I wanted something sweet now what did I have in the cupboard that would make a quick and easy sweet treat? I always have oats, dried fruits and a mix of pumpkin and sunflower seeds that we use in our bread, so I went looking for a FLAPJACK recipe and found this one by Hugh Fearnley-Whittingstall in River Cottage Every Day:
Honey and Peanut Butter Booster Bars
Makes 16
125g unsalted butter
150g soft brown sugar or light muscovado sugar
125g no-sugar-added crunchy peanut butter
75g honey, plus a little more to finish
Finely grated zest of 1 orange
Finely grated zest of 1 lemon
200g porridge oats (not jumbo)
150g dried fruit, such as raisins, sultanas and chopped apricots, prunes or dates, either singly or in combination
150g mixed seeds, such as pumpkin, sunflower, poppy, linseed and sesame
Preheat the oven to 160C/gas mark 3. Grease and line a baking tin, about 20cm square.
Put the butter, sugar, peanut butter, honey and grated citrus zests in a deep saucepan over a very low heat. Leave until melted, stirring from time to time.
Stir the oats, dried fruit and three-quarters of the seeds into the melted butter mixture until thoroughly combined. Spread the mixture out evenly in the baking tin, smoothing the top as you go.
Scatter the remaining seeds over the surface and trickle with a little more honey. Bake for about 30 minutes, until golden in the centre and golden-brown at the edges.
Leave to cool completely in the tin (be patient – it cuts much better when cold), then turn out and cut into squares with a sharp knife. These bars will keep for 5-7 days in an airtight tin.
These bars are really very moreish and you only need a small piece to fill you up. The fruit I used was mainly raisins with some dried cranberries and dried apricots. I used a mixture of smooth, crunchy and three nut peanut butter, because that's what I had in the house. The peanut butter doesn't dominate the taste of the bars and they are the soft and fudgy type of flapjack rather than the crisp, crunchy type.