Fruity, Nutty Flapjacks are easy to make and brilliant for filling lunch boxes and cake tins. Best of all they are endlessly adaptable to the ingredients you have in your larder.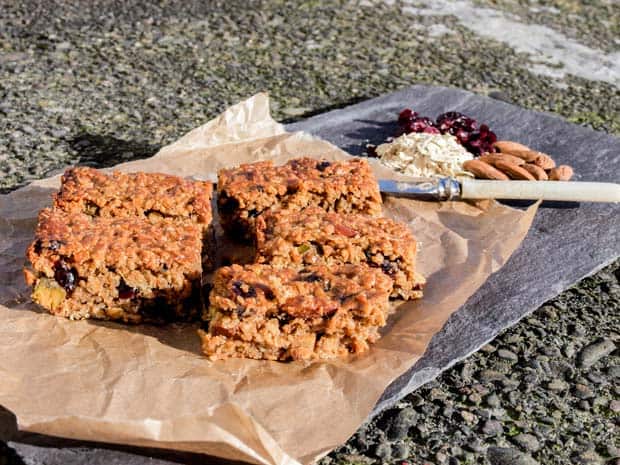 These Flapjack Bars are ideal to add to a lunch box or take on a long walk or picnic as they are packed full of energy.  Children love the natural sweetness of the ingredients and can also help to make this easy recipe.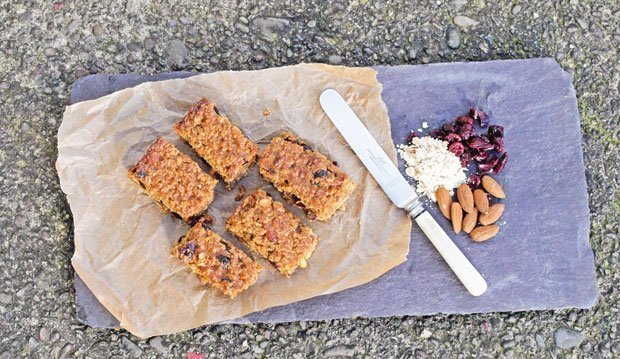 What ingredients do I need to make Fruity Nutty Flapjacks?
You will need bananas, peanut butter, dried cranberries, pistachios, and almonds. However, you can use any dried fruit and nuts and also include seeds.  

Why include bananas in flapjacks?
Bananas add natural sweetness and moistness to these flapjacks. They are a great source of potassium, vitamin B6, fibre and carbohydrate, and some vitamin C. These fruity flapjacks are also a great alternative to Banana Bread as a way to use overripe bananas.

What kind of Peanut Butter should I use?
I use crunchy peanut butter because I like the texture of the crunchy nuts in the butter. However, you can use smooth peanut butter its all a matter of personal taste.
What kind of dried fruit should I use?
I use dried cranberries in this recipe because I like the slight sharpness that they bring to this sweet bake. Use whatever dried fruit you have in your larder. I also make Fruity, Nutty, Flapjack Bars with raisins and sultanas, you can also try dates.
What kind of nuts can I add to the Fruity Nutty Flapjacks?
I use pistachios and blanced almonds, chopped into small pieces. Hazelnuts would also be a good choice, use walnuts only if you and your family like the taste as not everyone does.

What kind of seeds can I use in Fruity Nutty flapjacks?
Seeds are a great addition to oaty flapjacks. I like to use sunflower seeds, pumpkin seeds, sesame seeds and linseeds. Seeds are great sources of fibre. They contain monounsaturated fats, polyunsaturated fats and many important vitamins, minerals and antioxidants.

Can I make Fruity, Nutty Flapjacks dairy-free?
Yes, you can make the Flapjack Bars dairy-free by replacing the butter with coconut oil.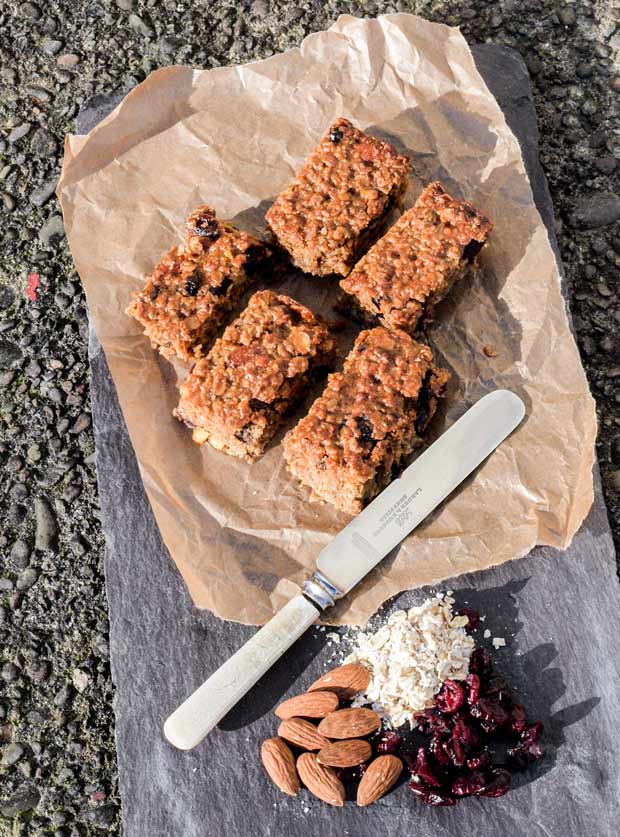 If you read the ingredients on most commercial flapjacks you will be horrified at just how processed they actually are.  At least if you make them yourself you will know exactly what you are eating. 
More Oaty Bakes from Farmersgirl Kitchen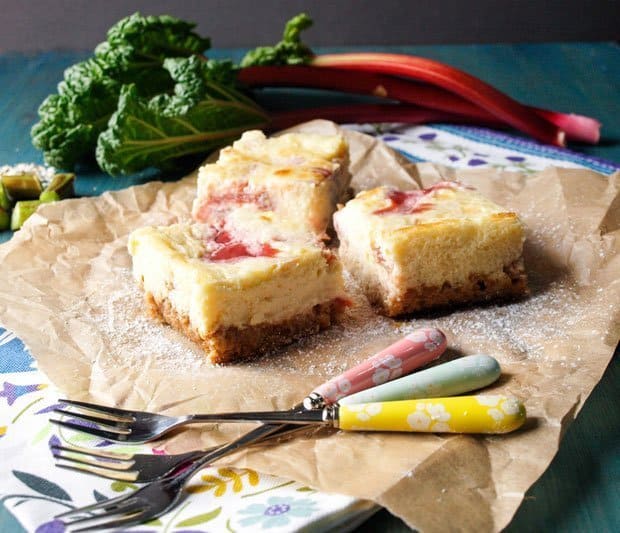 Rhubarb Cheesecake Bars are a delicious combination of flavours and textures.  The base is a bit like a flapjack, sweet, crisp, and oaty topped with a rich smooth baked cheesecake and layered with pieces of roasted rhubarb.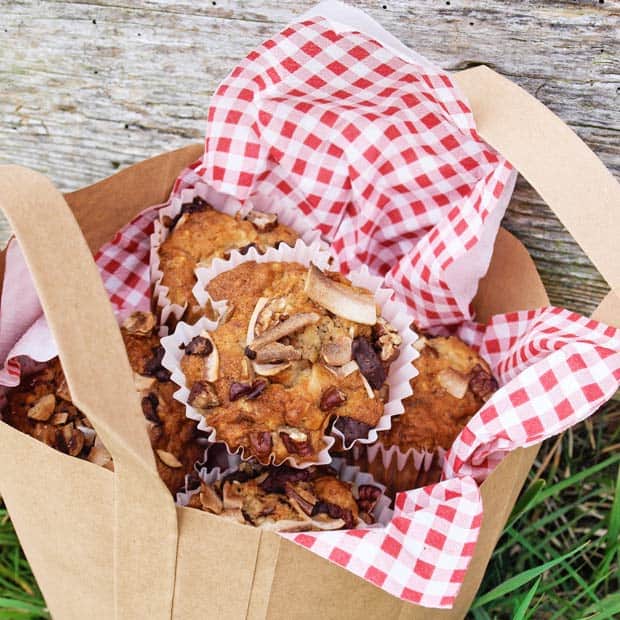 Another great bake that includes oats and bananas. These muffins are also packed with nuts and chocolate chunks, so delicious.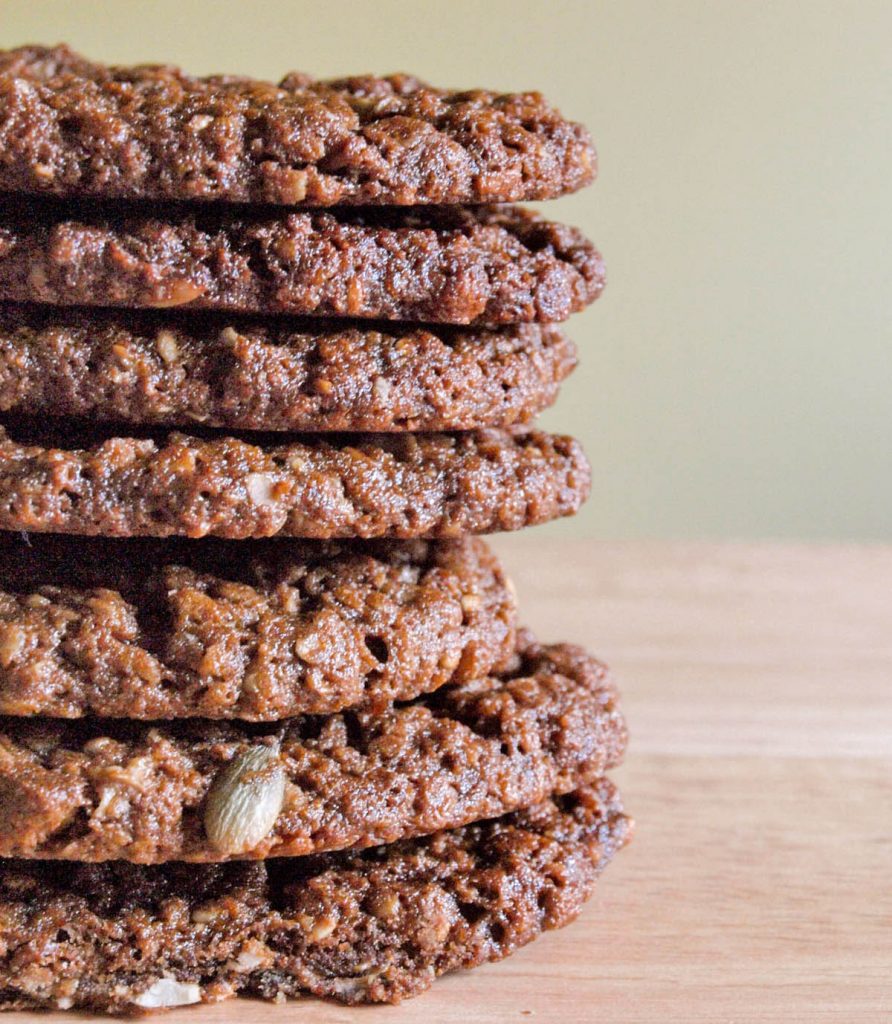 Treacle Oat Cookies are crisp and delicious cookies made with oats, coconut and the rich taste of treacle (molasses). They are such a good biscuit, and are easy to make and  I would urge you to give them a try.
More Flapjack Recipes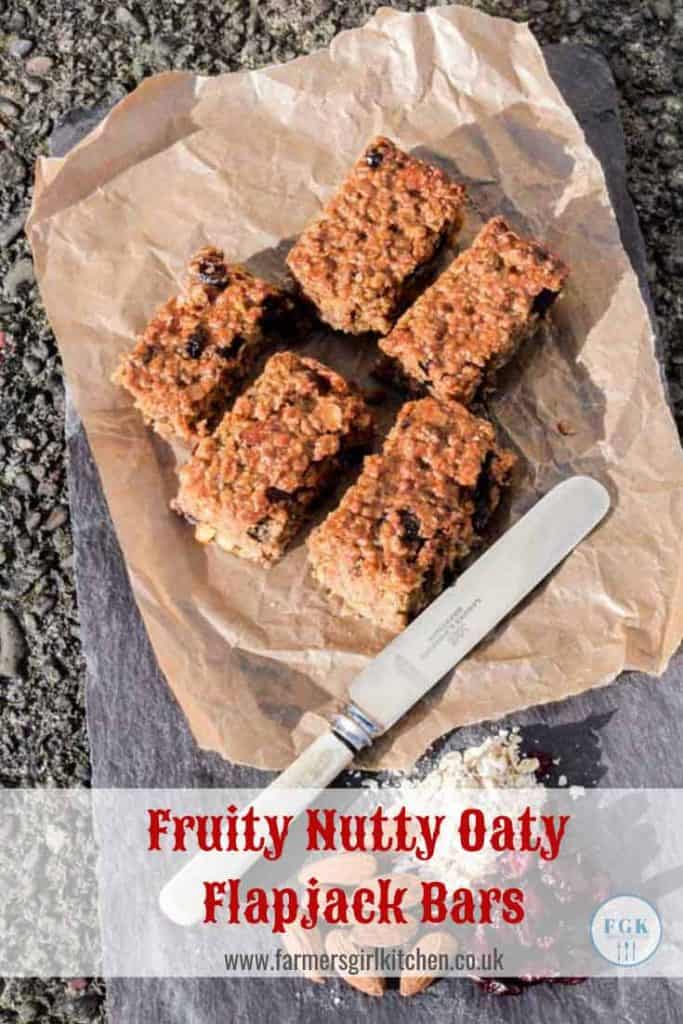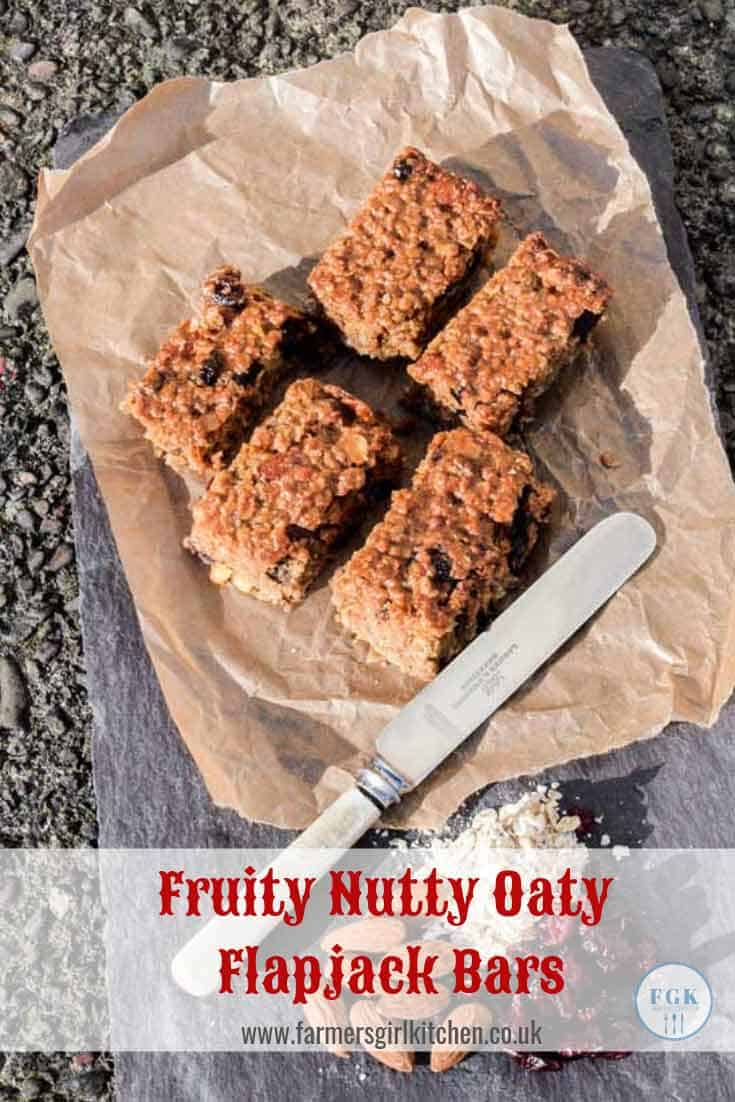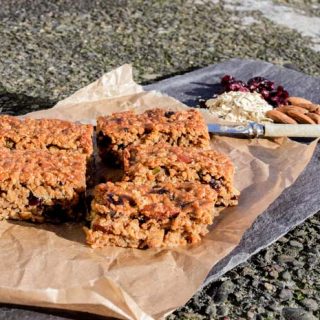 Fruity, Nutty Flapjack Bars
A soft and chewy bar cookie, filled with dried fruit and nuts, ideal for lunch boxes or as a tasty snack.
Ingredients
125

g

of butter or coconut butter

150

g

dark brown

muscovado sugar

125

g

crunchy peanut butter

2

ripe bananas

zest of an orange

zest of a lemon

75

g

Agave syrup

250

g

rolled oats

150

g

dried cranberries or other dried fruits

100

g

pistachio nuts

roughly chopped

50

g

almonds

roughly chopped
Instructions
Preheat the oven to 160C

Line a 30cm x 20cm (11″ x 7″) baking tray

Put butter or coconut butter, peanut butter, sugar, agave syrup and citrus fruit zests in a pan and heat gently until the sugar has dissolved.

Mash the bananas and add to the mixture.

Put all the dry ingredients in a large bowl, add the wet ingredients and stir until thoroughly mixed.

Press the mixture into the tin.

Bake for 30 minutes until golden brown.
Nutrition
Calories:
490
kcal
Carbohydrates:
61
g
Protein:
9
g
Fat:
25
g
Saturated Fat:
8
g
Cholesterol:
26
mg
Sodium:
153
mg
Potassium:
419
mg
Fiber:
6
g
Sugar:
34
g
Vitamin A:
370
IU
Vitamin C:
2.6
mg
Calcium:
60
mg
Iron:
2.1
mg
Don't Miss My Latest Recipes
CLICK TO SUBSCRIBE NOW to join my newsletter list & receive a FREE 'How To Adapt Recipes For Your Slow Cooker' printable!

I'm adding this recipe for Flapjack Bars to the Credit Crunch Munch Linky as it's made from ingredients in the larder and, not only tastes better but is a cheaper alternative to bought flapjacks and snack bars. Credit Crunch Munch is devoted to thrifty recipes and is run alternately by Helen at Fuss Free Flavours and Camilla at Fab Food 4 All.