How do you fancy some Super Simple Chicken Curry from Masterchef winner Dhruv Baker? What a super delicious recipe this is, if you have never made a curry from scratch I would recommend this recipe as the place to start.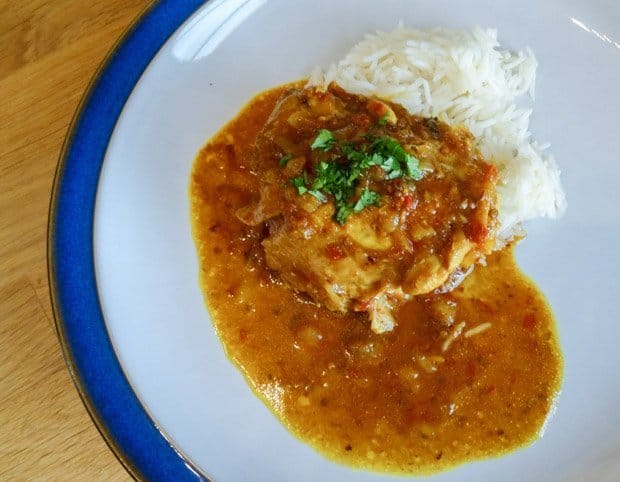 This chicken curry comes from 2010 Masterchef winner, Dhruv Baker's, cookbook: Spice – Layers of Flavour. It's an interesting book covering a wide range of spices, read on for my review.

About the author
Dhruv Baker was born in Mexico and moved to India when he was four years old. He has lived in Spain and Tanzania and his travelling and rich cultural background has included how he cooks and the spices he uses in his dishes www.dhruvbaker.com
Introduction
Dhruv Baker describes his love of spices in a well-written introduction, citing his mum as the 'best cook I've ever known and has a culinary heritage that is impressive. This is followed by Dhruv's Spice Philosophy and his Flavour Map, both of these are well worth reading before starting to make the recipes.
Small Plates: some of the dishes that appealed to me were Butternut Squash with Red onion, Feta and Coriander, Cheese and Cumin Croquettes ooh and a recipe for Crab Cakes (see my adventures in Nova Scotia).
Fish and Seafood: Wow, some fabulous dishes in this chapter, how about Garlic and Chilli Clams, Harissa Sardines, Malabar Prawn Curry and Monkfish with Chilli and Black Cardamom.
Meat: features a variety of different spiced dishes includes 'The Best Spare Ribs Ever', Slow-Roasted Pork Belly with Fennel and Coriander, Lamb and Lentil Shami Kebabs and Homemade Salt Beef.
Chicken and other birds: I made the Super Simple Chicken Curry (see photo above), not only because it was straight forward but because it was the first dish that Dhruv cooked using spices, one which his mother taught him when he was 11 years old. Other recipes in this chapter include Roast Chicken with Garlic and Paprika, Turkey Mole and Achari Spiced Duck.
Vegetables and Grains: this chapter takes classics and spices them up like Saffron Pommes Anna and Cauliflower Cheese with a Cumin and Macadamia Crust. Other highlights are Cumin and Chilli Potatoes, Miso and Ginger Glazed Aubergine and Cauliflower and Peas with Chilli and Coriander.
Sweet: Oh my, how droolworthy are these desserts? The titles alone should tempt you, I know that I am totally mesmerised by Lemon, Lime and Cardamom Tart, White Chocolate and Cardamom Mousse, Rum and Star Anise Poached Figs, Masala Chai Ice Cream with Poached Pears and Chocolate Truffles and Pistachio and Cardamom Shortbread.
Something to Drink: Cheers! Pear and Prosecco Spritz, Cardamom Martini, Cinnamon & Star Anise Hot Chocolate and Masala Chai.
Relishes and Accompaniments: relishes are such a great way to add to your meals, I like the look of the Kachumber, a cross between a salad and a salsa, the Plum and Black Cardamom Sauce and a tangy and sweet Tomato Relish.
Unlocking the Spice Cupboard provides a comprehensive guide to spices one of the best I've read, so much information about how to use each spice, what it tastes like, examples of how to cook with it and dishes where it plays a key role. There is also information about 'The Many Ways to Use Spices' like infusing, dry roasting and making marinades and rubs.
Who is it for?
This is not a book of curries, there are some curried dishes but it is much more than that. It's a book which is accessible to pretty much anyone who likes to cook with spices.
Pros
It's a well laid out book with a lot of background information to help the cook get the best from the recipes. The recipes are clearly laid out and easy to follow. There are some nice little stories from Dhruv scattered through out the book which I enjoyed reading.
Cons
Many of the dishes would be for special occasions and some require a long list of ingredients, but there are also recipes which are simple and you would have the ingredients in your larder and fridge.
Here is the Super Simple Chicken Curry recipe for I made from Spice, it was delicious and even better when it was reheated the next day, do try it, you won't regret it.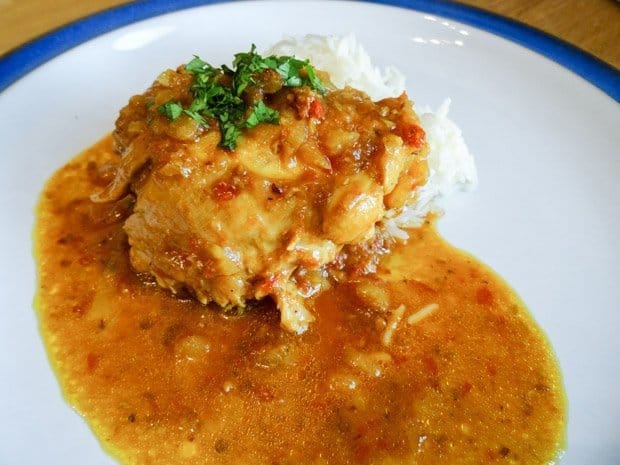 Super Simple Chicken Curry Recipe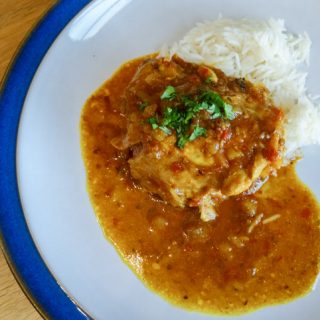 Super Simple Chicken Curry
It really is super simple and the curry spices are well balanced with a lovely sauce. If you've never made a curry from scratch start here.
Ingredients
2

tbsp

vegetable oil

6

cloves

4

green Cardamom pods

1

cinnamon stick

2

onions

finely chopped

4

cloves

garlic

very finely chopped

4

cm

piece fresh ginger

peeled and very finely grated

1

tsp

turmeric

4

tsp

ground turmeric

4

tsp

ground coriander

2

tsp

ground cumin

1/2

tsp

red chilli powder

75

ml

water

250

g

fresh tomatoes

whizzed in a blender

1

whole chicken

jointed into 8 pieces or chicken thighs

250

ml

chicken stock

4

tbsp

roughly chopped fresh coriander

Salt and freshly ground black pepper
Instructions
Heat the oil in a  large, lidded pan and, when hot, add the cloves, cardamom pods and cinnamon stick.  Fry for about 3-4 minutes over a medium heat.

Add the onions and fry for 10-15 minutes, until golden.  Add the garlic and ginger and cook for a further 2 minutes then pour in the water and cook for another 5 minutes stirring constantly.

Ad the blended tomatoes and cook for 10 minutes before adding the chicken pieces. Cover and cook for 5 minutes, then add the stock and cook, covered, for 10 minutes.  Remove the lid, increase the heat and cook for a further 10 minutes until the chicken is cooked through and the sauce has stared to thicken up.
Notes
Season to taste and sprinkle over the chopped coriander. Serve with steamed rice, naan bread and Cucumber Raita.
Nutrition
Calories:
567
kcal
Carbohydrates:
18
g
Protein:
39
g
Fat:
37
g
Saturated Fat:
14
g
Cholesterol:
144
mg
Sodium:
241
mg
Potassium:
838
mg
Fiber:
5
g
Sugar:
5
g
Vitamin A:
925
IU
Vitamin C:
18.6
mg
Calcium:
110
mg
Iron:
5.2
mg
Don't Miss My Latest Recipes
CLICK TO SUBSCRIBE NOW to join my newsletter list & receive a FREE 'How To Adapt Recipes For Your Slow Cooker' printable!
Share by Email
I was delighted to receive this tweet from Dhruv Baker, I'm sure you will enjoy this Super Simple Chicken Curry as much as I did.
@FarmersgirlCook thank you so much for your review of the book – I'm delighted you like it! @orionbooks
— Dhruv Baker (@DhruvBaker1) July 19, 2014
Spice – Layers of Flavour by Dhruv Baker
Publisher: Weidenfeld and Nicholson
RRP: £25 (eBook £12.99)
More Chicken Curry Recipes