This Slow Cooker Italian Sausage Casserole is a warming bowl of spicy sausages and creamy beans. It's a one-pot wonder with all the ingredients going into your Slow Cooker in the morning. Leave it to do its work and your delicious casserole will be ready for you to eat at supper time.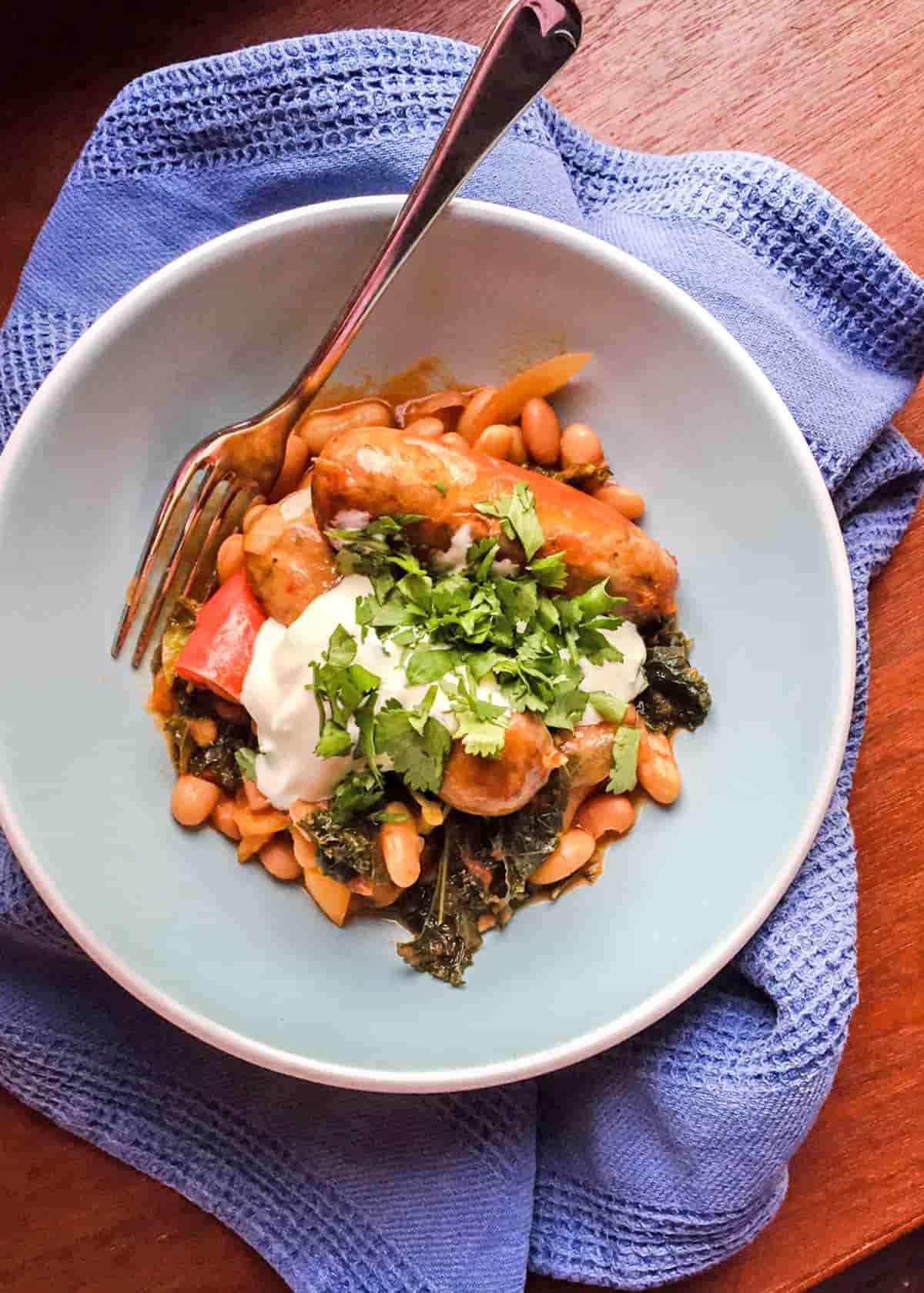 Why should I make Slow Cooker Italian Sausage Casserole?
Here are some good reasons to make this sausage casserole:
It tastes great. This is because the flavour from the sausages and the sauce ingredients are absorbed by the beans.
It's a really convenient recipe, just soak the beans overnight (or use a can of beans) and pop everything into your slow cooker in the morning. Switch on and leave it to cook.
It's a meal that all the family will love. I mean it's sausages and beans, right?
It's easily adaptable. You can vary the type of sausages, the kind of beans and the vegetables you use.
What makes this casserole Italian?
This is very much my interpretation of an Italian casserole. I use beans and tomatoes which are frequently used in Italian cooking. Cannellini Beans, known as fagioli are the most popular Italian beans and they are produced in the region of Tuscany in northern Italy. I also use 'Italian-style' sausages which contain herbs and spices
What do I need to make Slow Cooker Italian Sausage Casserole?
You will need:
Sausages
Beans
Canned tomatoes
Onion
Red (Bell) Pepper
Kale
Paprika
Stock
Sour Cream
Coriander leaves
Salt
Pepper

What kind of sausages can I use in the Slow Cooker Italian Sausage Casserole?
For this recipe, I use Italian-style sausages with herbs, but it is good with any kind of sausages. Choose the sausages that you and your family like and they will be coming back for more.
Can I use vegetarian sausages?
This recipe is a good one to use for a meat-free meal. Choose a vegetarian sausage that is in a casing like a regular meat sausage because otherwise, it will fall apart.

What kind of beans can I use?
I use a combination of cannellini beans and pinto beans. However, you can use any kind of dried beans. PLEASE NOTE: If you use dried kidney beans you MUST soak them, then boil for 10 minutes to destroy the toxin in these beans. After that, you can use them as for any other beans.
Can I use canned beans?
Canned beans are already cooked and are very convenient to use. Use two 400 g cans of beans in place of the 500 g of dried beans. Use canned beans if you want to reduce the cooking time, the casserole will cook in 4 hours on LOW if you use canned beans. Of course, you can leave the casserole for the full time, your slow cooker will not burn the casserole.

Why do you use kale in the Sausage Casserole?
Kale is a fantastic deep green leafy vegetable and is part of the cabbage family. Kale is an excellent source of vitamins K, A and C. It is also a source and is rich in lutein, an antioxidant that can help keep your eyes healthy. Kale is also really robust and can stand up to long slow cooking. So it's ideal to add to slow cooker casseroles.
What vegetables can I subtitute for kale?
You can add any robust vegetable to this casserole, here are some suggestions:
Savoy cabbage
Carrots
Swede
Turnips
Parsnips
Buttrnut squash

Can I freeze Slow Cooker Italian Sausage Casserole?
Yes, you can freeze this sausage casserole. After cooking, pack the casserole into freezer-proof containers and cool in the fridge. Then freeze for up to 3 months.
Defrost the casserole overnight in the fridge, then heat until piping hot. Top with sour cream and coriander and serve.

How to make Slow Cooker Sausage Casserole
All quantities and full instructions are in the recipe card at the bottom of this article.
There is something so very comforting about a Sausage Casserole. and this recipe is so simple to make. Here are the basic steps:
Soak the dried beans overnight.
Brown the sausages in a frying pan.
Turn the heat down and saute the onion and pepper for a few minutes.
Add all the other ingredients and slow cook on Low.
Add the kale, season and cook for another 30 minutes (optional)

How do I serve Slow Cooker Italian Sausage Casserole?
Serve the casserole in large bowls or plates. Pile up the beans and vegetables and put the sausages on top, then add a spoonful of sour cream and sprinkle with the chopped coriander.

I can't eat coriander, what can I substitute?
Many people find that coriander tastes like soap. I am fortunate that I can enjoy this versatile herb, but If you can't eat coriander, use chopped fresh parsley instead.
Can I serve the casserole without sour cream?
You can serve it without the cream, but it really does add amazing richness to the casserole. You can also use Greek Yogurt, creme fraiche, or a dairy-free substitute.
More Sausage Recipes from Farmersgirl Kitchen

Cider, Apple and Sausage Casserole is a total comfort food one-pot meal. Whatever the season this Sausage Casserole would is the ideal one-pot to serve to your family and friends.

Lean and tasty Venison Sausages with Red Cabbage and Apple is a recipe that brings so much flavour. If you haven't tried venison sausages then I can highly recommend them.

One-Pan Polish Breakfast is a simple recipe idea, featuring Polish Kielbasa sausage which makes it really rather special and totally delicious.
More Sausage Recipes
Easy One-Pot Sausage Casserole – Easy Peasy Foodie
Honey and Mustard Sausage Traybake – Hungry, Healthy, Happy
Sweet Chilli Sausage Plait – Fab Food 4 All

PIN FOR LATER
Let's get social!
Stay in touch with everything that's going on at Farmersgirl Kitchen.
Facebook Pinterest Instagram Twitter

Slow Cooker Italian Sausage Casserole
A comforting, slowly cooked dish of spicy Italian sausages, beans, peppers and kale with a creamy finish.
Ingredients
1

onion

roughly chopped

12

sausages

I use spicy Italian sausages

1 400

g

can of tomatoes

250

g

dried cannelini beans

250

g

dried pinto beans

1

tsp

sweet paprika

pimenton

1

red pepper

100

g

chopped kale

400

ml

hot chicken stock

100

ml

soured cream

salt and freshly ground pepper
To garnish
50

g

fresh coriander leaves

100

ml

soured cream
Instructions
250 g dried cannelini beans

,

250 g dried pinto beans

Soak the beans in water overnight

Brown the sausages in a pan or in the oven, so the skins start to turn golden but remove before the sausages are cooked and put in a dish.

Soften the onion and red pepper in the oils left from the sausages.

Drain the beans and place in the base of the slow cooker (crockpot)

1 tsp sweet paprika

,

400 ml hot chicken stock

,

1 400 g can of tomatoes

Add the onions and pepper, tomatoes, stock and sweet paprika (pimenton) and mix through.

Place the sausages on top of the beans, put on the lid and cook on Low for 7 hours 30 minutes

100 g chopped kale

,

salt and freshly ground pepper

Add the kale, and season with salt and pepper to taste, replace the lid and cook on High for 30 minutes

Just before serving stir 100ml of soured cream through the beans.

100 ml soured cream

,

50 g fresh coriander leaves

Serve each portion with a spoonful of soured cream and a sprinkling of fresh coriander.
Notes
You could use pre-cooked beans or canned beans and reduce the cooking time by 2 hours and reduce the chicken stock to 200ml.
Nutrition
Calories:
1083
kcal
Carbohydrates:
59
g
Protein:
56
g
Fat:
69
g
Saturated Fat:
24
g
Cholesterol:
182
mg
Sodium:
1583
mg
Potassium:
2207
mg
Fiber:
14
g
Sugar:
5
g
Vitamin A:
3390
IU
Vitamin C:
53
mg
Calcium:
241
mg
Iron:
10
mg
Don't Miss My Latest Recipes
CLICK TO SUBSCRIBE NOW to join my newsletter list & receive a FREE 'How To Adapt Recipes For Your Slow Cooker' printable!
Share by Email
I'm adding this post to Cook Blog Share, the link up for great recipes this week hosted by Casa Costello.