Pear and Caramel Tart is a glorious combination of seasonal pears, sweet caramel and soft whipped cream in a crisp, buttery shortcrust pastry pie shell. Autumn brings us a feast of beautiful fruits ripe and ready to eat. I love apples and plums, but there is something rather special about a perfectly ripe pear that is difficult to beat.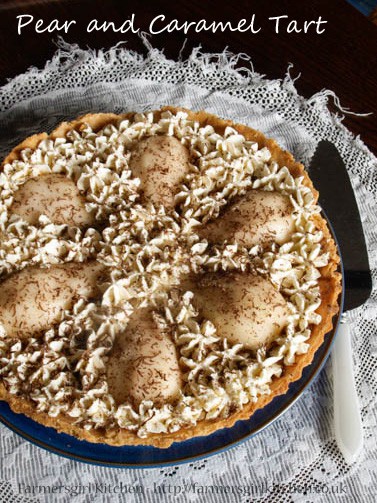 I found that the fresh pears cut through the sweetness of the caramel rather well and the crisp pastry added texture, the Pear and Caramel Tart was a big success that I would definitely make it again.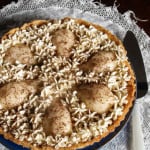 Pear and Caramel Tart
2015-10-24 18:34:47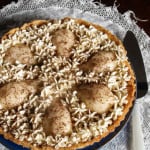 Serves 6
A crisp, buttery shortcrust pastry pie shell, filled with sweet caramel, topped with fresh, ripe pears and whipped cream.
Ingredients
For the Shortcrust pastry
225g/8oz plain flour
150g/5oz butter, diced
25g/1oz caster sugar
1 whole egg
For the filling
397g/14 oz can of caramel (dulce de leche)
3 ripe pears
150 ml/5 fl oz double cream
2 squares of chocolate
Make the pastry
Put the flour into a bowl and add the pieces of butter. Rub the butter into the flour until it looks like breadcrumbs.
Add the sugar and stir into the mixture, then add the egg and mix to form a dough. You can add a little water if the pastry is not coming together.
Wrap in clingfilm and put in the fridge for about 30 minutes.
Remove from the fridge and roll out to fit 28cm/11 in loose bottomed flan tin.
To bake the pastry, cover with baking paper and fill with baking beans, dried beans or rice.
Bake in an oven preheated to 180C/350F/Gas Mark 4 for 20 minutes, then remove the beans and paper and return to the oven for a further 10-15 minutes or until golden brown.
Leave to cool
While the pastry case is cooling, peel and half the pears, removing the seeds and stalk.
Whip the cream until it will stand up in soft peaks
Fill the pastry case with the can of caramel or dulce de leche, spreading evenly.
Arrange the pear halves evening around the tart
Using a piping bag with a 1M nozzle, pipe rosettes of cream around the pears, covering the caramel.
Finely grate the chocolate over the tart
Notes
Cheats and Alternatives
Buy a shortcrust pastry case (pie shell)
Use tinned (canned) pears or if fresh pears are not fully ripe, poach them in fruit juice or wine until tender
If you don't have a piping bag, spread the whipped cream over the caramel and then place the pears on top.
Farmersgirl Kitchen https://www.farmersgirlkitchen.co.uk/
If you liked my Pear and Caramel Tart you might also enjoy some of these lovely pear desserts from Top Food Blogs.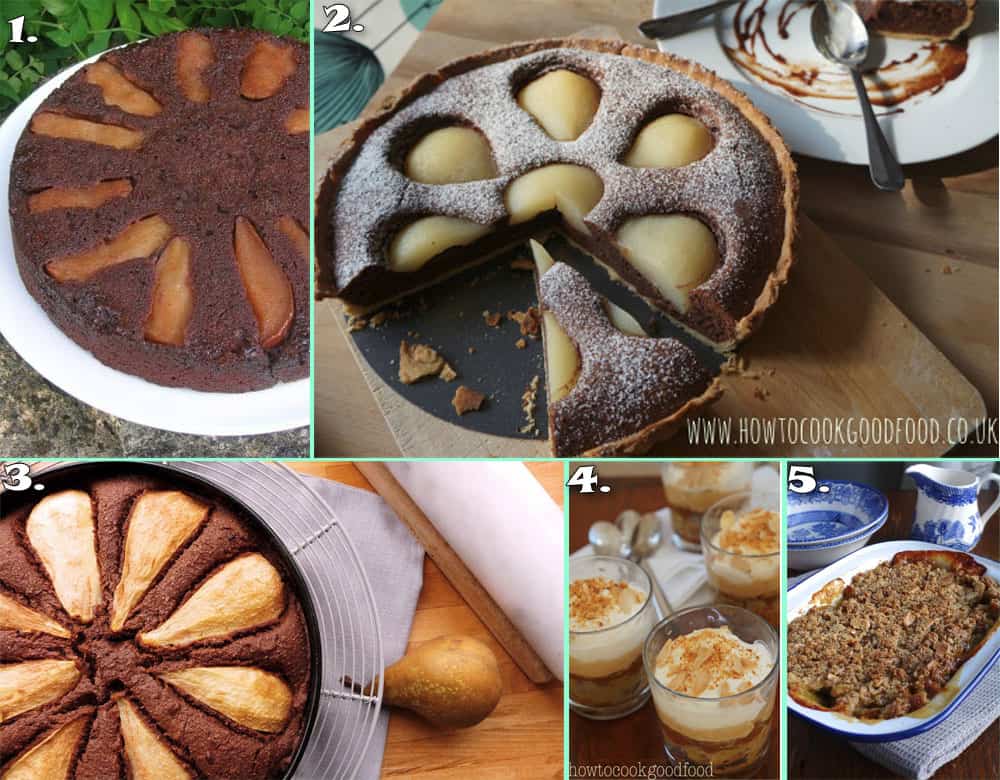 I'm entering this tart for Perfecting Patisserie, the monthly blogging challenge run Baking Queen 74