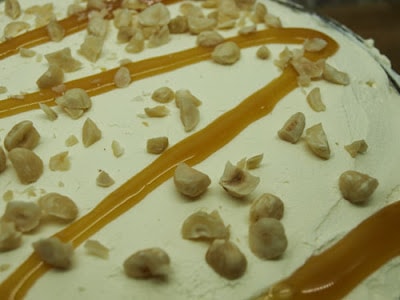 I should have been entertaining my husband's cousins tomorrow, but we have had to call it off because of the snow. However, I had already bought all the stuff for this trifle recipe so I made it anyway. We will be eating it all week, but that isn't necessarily a bad thing is it?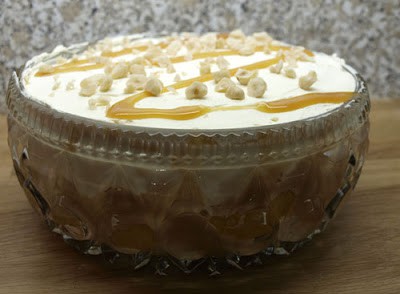 The recipe has been adapted from one in the Woman & Home Magazine supplement 'Tastes of Christmas'.
Peach and salted caramel trifle
Serves 8-12
8 trifle sponges
2 400g jars peach slices in light syrup
1 tbsp Amaretto liquer (or brandy)
397g can Carnation Caramel
1 tsp Maldon sea salt
1 litre (1 3/4 pint) ready-made vanilla custard ( I used Tesco Cornish Custard)
284ml carton double cream
2 tbsp toffee sauce
handful of hazelnuts roughly chopped
1. Place the trifle sponges in the bottom of the trifle dish. Cover with the peaches and the syrup from one of the tins mixed with the Amaretto or brandy.
2. Mix the caramel with the sea salt and pour over the peaches and sponge.
Spoon the custard on top. Chill while you whip the cream.
3. Whip the cream to soft peaks, spoon over the caramel. Chill for at least 30 minutes.
4. Just before serving, drizzle with toffee sauce and scatter the nuts over the top.

I have to say it doesn't look that great in the bowl, but it tastes divine …mmmmmm.