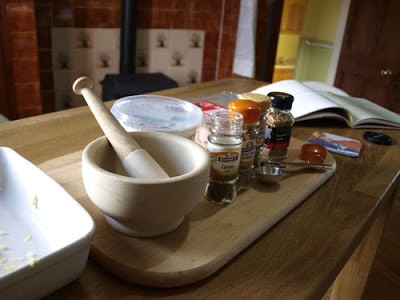 It's Total Yogurt time again! This time I'm marinading lamb chops in a super easy recipe by Anjum Anand in her book Indian Food Made Easy.
Easy All-in-one Lamb Curry
Serves 4 – 6
800g lamb, cut into small pieces with the bone in
300ml Total Greek Yogurt
3/4 tsp turmeric powder
1 tbsp ginger paste
1 tbsp garlic paste
1 tsp cumin powder
2 tsp coriander powder
1 tsp ground mustard seeds (ideally grind them yourself in a spice grinder)
1 heaped tbsp white poppy seeds, made into a paste with a pestle & mortar and a splash of water) I didn't have any and it tasted fine without.
Salt to taste
3 tbsp vegetable oil
1 large onion, peeled and finely chopped
1-2 green chillies forked once
1 tsp garam masala
1/2 tsp freshly ground black pepper
good handful of fresh coriander stalks and leaves, chopped ( I didn't have any of this either and I know it would definitely bring a freshness to the dish)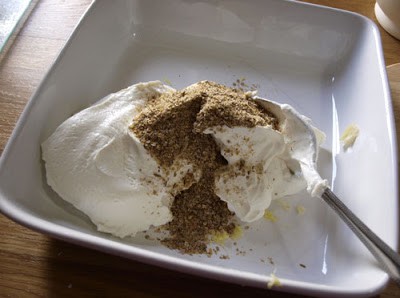 .
Mix the lamb with the yogurt, turmeric, ginger and garlic pastes, cumin, coriander and mustard seed powder, poppy seed paste and salt. Leave to marinate in a non-metallic bowl for as long as possible or at least until you chip and cook the next batch of ingredients.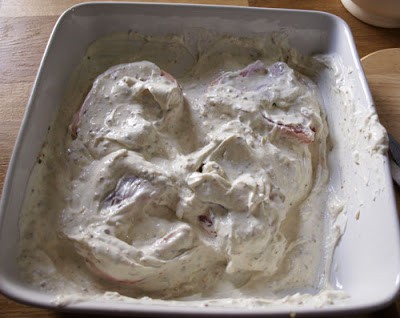 Heat the oil in a non-stick saucepan, add the onion and green chillies and fry until the onions are brown, around 6-7 minutes. Add the meat, and its marinade and stir-fry over a low heat for 3 minutes. Cover and continue to cook over a low heat for 45-50 minutes or until done, giving the pot a gentle stir every now and then. If the pan is running dry, add a splash of water from the kettle.
Once tender, stir in the garam masala and black pepper; check and adjust seasoning. Always make sure there is enough water in the pan for a little gravy by adding extra from the kettle or cook the lamb over a high flame to dry of any excess water. Stir in the coriander and serve.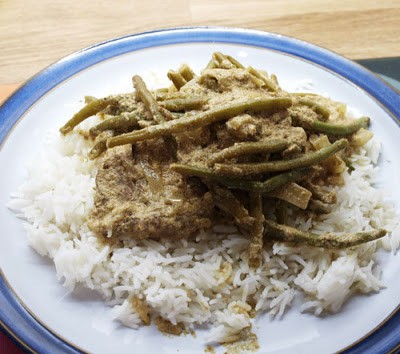 I added some french beans to the sauce and served with basmati rice, it would definitely have looked prettier if I had had some coriander!!