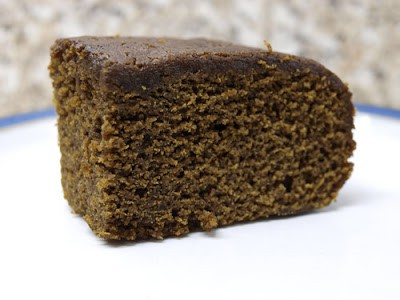 I've had visitors for the past two weekends, I don't often have people to stay and rarely two weekends in a row, but my son and DIL just had a gorgeous little boy, and as they live right next door, my relatives have stayed at my house.
I made the gingerbread and some Peanut Butter and Chocolate Chip Cookies last weekend. I had to hide the gingerbread to stop my husband, Brian, from eating it! I also stashed some cookies so there were still plenty for the second wave of visitors. You learn a few things by the time you become a grandmother, especially when you have had two sons!
Gingerbread is always better when it has been 'matured' anyway and this one was moist, gingery and nicely sticky. The recipe comes from the Good Housekeeping Complete Book of Home Baking.
Gingerbread Slab Cake
Makes 20 – 24 slices
125g (4oz) black treacle
125g (4oz) golden syrup
50g (2oz) butter or margarine (I used 100g butter and no lard)
50g (2oz) lard
225g (8oz) plain white flour
1.25ml (1/4 tsp) bicarbonate of soda
5ml (1 level tsp) mixed spice
5ml (1 level tsp) ground ginger
100g (4oz) dark brown soft sugar
150ml (1/4 pint) milk
1. Grease a deep 18cm (7 in) square cake tin. Line with greaseproof paper and then grease the paper.
2. Put the black treacle, golden syrup, butter and lard into a saucepan and heat gently until melted.
3. Sift the flour, bicarbonate of soda and spices into a bowl and stir in the sugar. Make a well in the centre and pour in the milk and treacle mixture. Beat well until smooth and of a thick pouring consistency.
4. Pour into the prepared tin and bake in the oven at 170c (325F) mark 3 for 1 – 1 1/4 hours or until a fine warmed skewer inserted in the centre of the cake comes out clean. Cool in the tin for 1 hour then turn out and cool completely on a wire rack.
5. Wrap in greaseproof paper and foil and store in an airtight tin for 2 days before eating.