This cake was created as a result of a glut of rhubarb and those peaches you buy to ripen at home and then they all ripen at once and you have to use them quickly before they get over-ripe! Peach and Rhubarb Upside Down Cake is really moist and the perfect 'pudding cake', it can be eaten as warm or cold as a dessert with cream, yogurt, custard or ice-cream. It is also just as nice as a slice of cake with a cup of tea or coffee.
Peach and Rhubarb Upside Down Cake
Topping
4 peaches or nectarines
1 large or two medium stalks of rhubarb, thinly sliced
125g butter
1/2 tsp vanilla extract
125g soft brown sugar
Cake
125g softened butter
125g soft brown sugar
2 eggs, beaten
125g self-raising flour
1 tsp baking powder
For the topping
Melt the butter and mix with the soft brown sugar. Grease a 20cm round cake tin and spread the butter and sugar mixture in the base of the tin.
Skin the peaches by placing in a bowl and covering with boiling water, leave for 2 minutes, then lift them out and the skin should slip off easily. Slice the peaches into even slices and place on the sugar mixture in a pleasing pattern.
Cover the peaches with the thinly sliced rhubarb.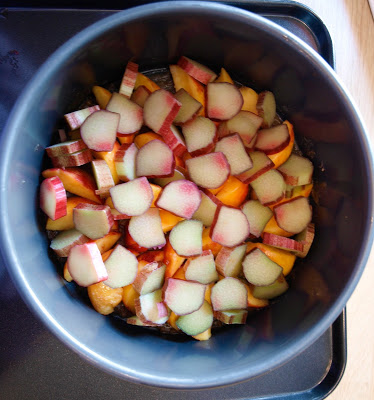 For the cake
Place all the ingredients in a bowl and beat well with an electric mixer for about 2 minutes until well blended.
Spoon the mixture over the peaches and rhubarb and smooth the top.
Bake at 190C/170C fan for 25 minutes or test with a skewer, the cake is done when the skewer, when placed into the centre of the cake, comes out clean.
Leave to cool in the tin for 10 minutes then remove from the tin and either serve warm or cool on a cooling rack.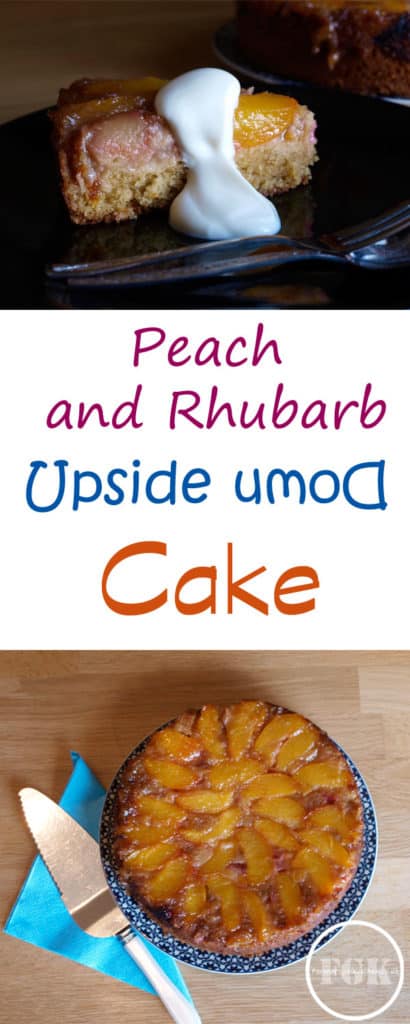 PIN FOR LATER
As it is the season for peaches, here are a few more ideas for cooking, baking and preserving them:
Peach Coffee Cake – Little Sunny Kitchen
Cinnamon Peach and Ice Cream Waffles – Made With Pink
Peach and White Chocolate Cake – Tin and Thyme
Peach, Marzipan and Amaretto Crumble – Casa Costello
Peach and Apricot Jam – Fab Food 4 All
Peach and Ginger Compote – Natural Kitchen Adventures
Peach Upside Down Cake – Jen's Food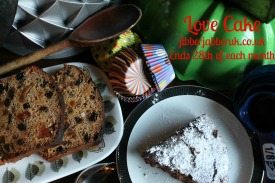 I'm adding this Peach and Rhubarb Upside Down Cake to the Midsummer Madness themed Love Cake Linky run at JibberJabber UK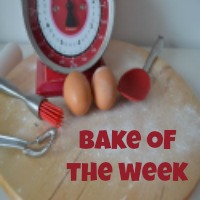 This will also be my contribution to Bake of the Week over at
Casa Costello